Family Resources in Southwest Idaho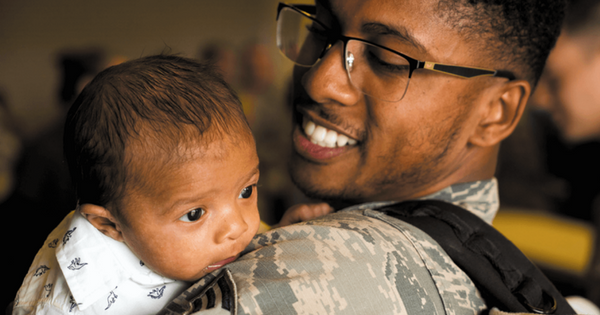 Picking up from one place and moving to another is always a hassle, especially when kids and pets are involved. Knowing whom to call or where to find information can help make the transition easier.
Local government websites are valuable resources for newcomers to Mountain Home Air Force Base because they provide important connections to other residents, local businesses and public safety. These sites give up-to-date information on local happenings, municipal contacts, weather and events such as city council meetings:
FAMILY, CHILDREN AND CHILD CARE SERVICES
Child Care Aware
Improving access to affordable, quality child care is one of Child Care Aware of America's top goals. Click on the site's "Search by State" button to connect with national organizations and associations that provide information for families regarding child development, parenting, and child care concerns and questions.
The site will also help you find information on locating quality child care, the types of child care available to you and how to evaluate the child care providers you visit.
There's also a special section for the military child covering topics such as military fee assistance, payments and provider services.
Idaho Department of Health and Welfare – Child & Family Services
1720 Westgate Drive
Boise, ID 83704
208-334-6800
2420 American Legion Blvd.
Mountain Home, ID 83647
208-587-9061
http://healthandwelfare.idaho.gov
The Idaho Department of Health and Welfare has many programs and services designed to enrich and protect the lives of its residents, from the youngest to the oldest. The Child and Family Services department includes programs that assist with child protection, foster care licensing, day care licensing, adoptions, newborn screenings, immunizations, genetic services, kinship care, adolescent pregnancy prevention, mental health and developmental disabilities.
Friends of Children & Families Inc.
1745 American Legion
Mountain Home, ID 83647
208-587-3192
www.focaf.org
This nonprofit corporation administers Head Start and Early Head Start programs in Elmore County in areas including children's services, family services, health services and administration. In Head Start, FOCAF serves children 3 to 5 years of age; the Early Head Start program benefits families, pregnant mothers and children from newborns to those 3 years old. The Mountain Home Center has three preschool classrooms offering education-rich learning environments.
Pets
Use these steps to protect your pet from being lost during your move.
Keep a collar with an ID tag on your pet at all times with your current phone number on it.
Microchip your pets, especially if they are good at slipping their collars. It's important to keep your contact information up to date so the chip can reconnect your pet to you. All animal shelters and vet clinics can scan for microchips.
Have a current license on your dog. It is the ID given to an animal by a city or county and can be another way your dog can be restored to you.
Keep cats indoors; it's much safer for them. Cats are domestic animals and don't need to be outside where there are coyotes and owls, among other predators. Give cats a post to scratch on, a window to perch in and plenty of toys, and they will love the great indoors.
Your pet faces many new outside dangers such as wolves, which stand about 30 inches at the shoulder and can be over 6 feet long from the tip of nose to point of tail and can weigh 70 to 110 pounds. Wolves are not afraid to attack animals that are larger than they are, including humans. There are a number of other wild animals that might be found in the area, including mountain lions and deer, which could pose a threat to your pet.
Animal Services
Department of Fish and Game
Boise headquarters 208-334-3700
Report poaching 800-632-5999
Idaho's Department of Fish and Game's mission is to protect, preserve, perpetuate and manage Idaho's wildlife resources. This is done through fish- and wildlife-based recreational opportunities and educational experiences as well as fostering solutions to fish and wildlife issues that are ecologically viable, economically feasible and socially acceptable.
Mountain Home Animal Shelter
295 N.W. Elmcrest
Mountain Home, ID 83647
208-587-2111
www.mountainhomeanimalshelter.org
The Mountain Home Animal Shelter services the city of Mountain Home as well as its surrounding area. The shelter is in charge of caring for stray animals until they are adopted, as well as responding to animal control calls. The Mountain Home Police Department responds to all after-hours animal calls including those about animal bites and stray animals. For more information on the county's animal shelter and pet adoption, visit the shelter's website.
Veterinary Services
Veterinary services in Boise, Glenns Ferry, Grand View and Mountain Home are plentiful; see the Advertiser Directory in this guide to connect with local providers. Another place to look is the Idaho Veterinary Medical Association at http://ivma.org/site, and the Idaho Humane Society has a veterinary directory as well on its website, https://www.idahohumanesociety.org/veterinary/directory.
Safety

State of Idaho
Idaho Transportation Department – Office of Highway Safety
Nonemergency 208-334-8000
http://itd.idaho.gov/safety
The Headquarters Traffic Section and the Office of Highway Safety were combined into one office in 2004, and in 2006, the Maintenance Section was added to form the Highway Operations and Safety Section. The Office of Highway Safety is under the Division of Engineering Products and Plans of the Idaho Transportation Department and works closely with other department sections and districts to promote safe driving behaviors and improve the safety of roadways on the state highway system.
Bureau of Homeland Security
Nonemergency 208-422-3040
www.bhs.idaho.gov
Idaho Bureau of Homeland Security is a part of the Idaho Military Division. Its mission is to facilitate emergency management in Idaho and to assist neighboring states.
Elmore County
Sheriff
Nonemergency 208-587-2100
www.elmorecounty.org/Sheriff
Boise
Emergency Management
Nonemergency 208-577-4750
https://adacounty.id.gov/accem/#
Ada County Emergency Management in Boise works closely with other local, state, and federal agencies to help the community mitigate, prepare for, respond to and recover from all technological and natural disasters and emergencies in Ada County.
Fire Departments
Nonemergency 208-570-6500
http://fire.cityofboise.org
Visit Boise Fire Department's website for a full list of facilities in the city.
Sheriff
Nonemergency 208-577-3000
https://adasheriff.org
Mountain Home
Fire Department
Nonemergency 208-587-2117
www.mhfd.us
Police Department
Nonemergency 208-587-2101
www.mhpd.net