Economic Impact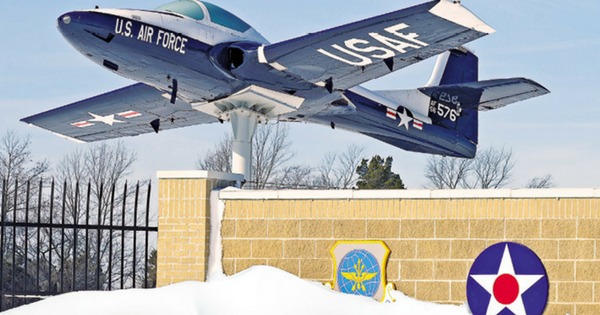 Dover Air Force Base's total impact on the local economy in fiscal year 2015 was approximately $629.8 million; the base is the fifth-largest employer in the state of Delaware.
READY RESOURCES
Air Mobility Command Museum 302-677-5938
Airman and Family Readiness Center 302-677-6930
www.fb.com/Dover-AFB-Airman-and-Family-Readiness-106143736141112
Airman's Attic 302-677-3731
www.fb.com/Dover-AFB-Airmans-Attic-100307610049534
Arts & Crafts Center 302-677-3246
Eagle Lanes Bowling Center 302-677-3950
www.fb.com/436FSSBowlingCenter
Family Child Care 302-677-3712
www.fb.com/Dover-AFB-FCC-274496166007039
Family Housing 302-678-3603
Information, Tickets and Travel 302-677-6772
www.fb.com/436FSSTicketsAndTravel
Outdoor Recreation 302-677-3959
www.fb.com/436FSSOutdoorRecreation
Sports and Fitness Center 302-677-3962
www.fb.com/436FSSFitnessAndSportsCenter
USO Delaware 302-677-2491
www.fb.com/USO-Delaware-107006896014336
Team Dover News

DOVER AFB MARKS 75 YEARS
From World War II to the Global War on Terrorism, Dover AFB's rapid global mobility mission has been at the forefront of American military might, and Dec. 17, 2016, marked 75 years of American Air Power in Dover.
Just 10 days after the attack on Pearl Harbor, the Municipal Airport, Dover Airdrome, opened on Dec. 17, 1941, and was assigned to the 1st Air Force. Throughout the war, the base underwent several name changes, from Municipal Airport, Dover Airdrome, to Dover Army Airbase, Dover Subbase, Dover Army Airfield and, finally in 1948, Dover Air Force Base.
"This base has gone from a small World War II coastal patrol base, which was looking for German U-Boats off the coast, to the strategic installation it is today," said Col. Ethan Griffin, 436th Airlift Wing commander. "Today, Dover's rapid global mobility capability means that our C-5s and C-17s deliver combat power anytime and anywhere."
Today, Dover AFB is home to a fleet of 18 C-5M Super Galaxy and 13 C-17 Globemaster III airlifters, operated jointly by the active-duty 436th AW since 1966, and the Reserve 512th AW since 1973. This represents 20 percent of the nation's out-sized airlift capacity. These two wings have a combined total force strength of more than 11,000 individuals.
In addition to the two airlift wings, the base is also home to several mission partners, to include: the Air Force Mortuary Affairs Operations, the Armed Forces Medical Examiner System, and the Joint Personal Effects Depot. AFMAO is responsible for the base's most well-known mission, returning America's fallen heroes by a dignified transfer. Since opening in 1955, Dover AFB's Port Mortuary has processed the remains of more than 58,000 service members. It has also processed the remains of victims from other major events, such as the Jonestown mass murder-suicide, the Space Shuttles Challenger and Columbia, and military personnel killed in the 9/11 terrorist attacks.
"How appropriate that America's fallen heroes should come home to the place where what they fought for and the values they fought for were first ratified," said Robin Christiansen, Mayor of Dover.
Not only has Dover AFB had a national impact, it has had a lasting impact on the local community. Currently, Dover AFB has an approximate $629.8 million economic impact on the local area.
AIRMAN RECEIVES STEP PROMOTION, ONE OF 14 IN AMC
Lt. Gen. Samuel Cox, 18th Air Force commander, presented then-Staff Sgt. Chad Hardesty, 436th Force Support Squadron Airman Leadership School instructor, a promotion to technical sergeant through the Stripes for Exceptional Performers promotion program at an all-call here on March 3, 2017.
Hardesty was one of 14 Air Mobility Command members selected for STEP promotion in 2017.
"Earning this promotion is clearly a rare and impressive achievement," said Col. Ethan Griffin, 436th Airlift Wing commander. "Tech. Sgt. Hardesty's inspiration, dedication and professionalism while serving in our Airman Leadership School has been nothing short of outstanding. … We're honored to serve alongside the excellent Airmen of Team Dover, such as men like Tech. Sgt. Hardesty."
According to Air Force Instruction 35-2502, "this program supplements existing Airman Promotion programs and is designed to accommodate unique circumstances that, in the commander's judgement, clearly warrant promotion. It is intended to provide a means to promote Airmen for compelling, although perhaps not quantifiable, reasons."
To Hardesty, this is the key when pursuing an Air Force award or the top ratings.
"You have to leave no doubt that you're the best pick," Hardesty said. "At the end of the day, you can look back and know that you left everything on the table — there was nothing more you could have done to make your package or EPR better. Even if you don't win the award or get the rating you worked for, you can be proud of your hard work and accomplishments along the way."
Col. Griffin added one final statement in a wingwide statement: "Please share your congratulations next time you see him and keep 'Delivering Excellence'!"
DAFB HONOR GUARD PAYS TRIBUTE TO TUSKEGEE AIRMAN
The Dover AFB Honor Guard performed military honors at a funeral service for retired Maj. John L. Harrison Jr., World War II veteran and Tuskegee Airman, March 31, 2017, at the Chapel of the Four Chaplains at the Navy Yard in Philadelphia.
"It's a great honor to give military funeral honors to the fallen Tuskegee Airman," said Tech. Sgt. Isaiah Martin, NCO in charge of the Dover AFB Honor Guard. "I was able to step in his footsteps; he paved the way for us to do what we do today. It was a great honor to give back to him."
The Tuskegee Airmen are a group of African-American military pilots who fought in WWII with the 332nd Fighter Group and the 477th Bombardment Group of the U.S. Army Air Forces. Harrison was one of nearly 1,000 pilots who trained at the Tuskegee Army Air Field, near Tuskegee, Alabama, as a segregated unit.
"We were Americans, we were young, and we wanted to defend our country, just like everyone else," Harrison said in a 2009 oral history.
During the war, Harrison saw combat over Italy. During the later stages of his Air Force career, Harrison also was the first African-American pilot to regularly fly passengers and cargo across both the Pacific and Atlantic Oceans. He retired in June 1963.
AIRMEN, COPS FACE OFF FOR CHARITY
The Dover Eagles and Fraternal Order of Police Lodge 15 hockey teams played against each other in a charity game March 11, 2017, at the Centre Ice Rink in Harrington, Delaware.
The proceeds from the game, totaling $2,800, went to the family of Correctional Officer Lt. Steven Floyd, who was killed in the line of duty during a riot at the James T. Vaughn Correctional Center. Floyd's widow, Saundra Floyd, attended the game and dropped the ceremonial first puck.
"These are a great bunch of people," said David Gist, FOP Lodge 15 president. "We have fun every year, it's competitive and, most importantly, we filled the stands. So it's a win-win for everybody."
Charity hockey games between the Eagles and FOP are nothing new. Over the past few years, the organizations have played an annual game to raise money for good causes and organizations. As for the gameplay, it was a close competitive matchup. The 2015 game saw an Eagle 7-5 victory, while 2016 went the other way with a 9-7 FOP win. This year's match up came down to the end, with a 6-4 Eagles win.
DENTAL CLINIC WINS AIR FORCE AWARD
The 436th Aerospace Medicine Squadron's dental flight was recognized in February 2017 as the Air Force's 2016 Medium Dental Clinic of the Year.
The dental clinic currently operates as a team of six dentists and 18 dental technicians and serves 3,700 active-duty patients. This is the second time the flight has won the award in the past five years.
"This award is not only a testament to the hard work and dedication of the personnel of the dental operations flight but also a reflection of the commitment of the men and women of Dover Air Force Base as a whole," Capt. Matthew Pastewait, 436th AMDS dentist. "With support from leadership at all levels, we frequently examine our internal processes and look for ways to provide the highest quality of care for our patients while maintaining a high rate of readiness."
The award highlights the clinic's dedication to Team Dover and its mission to "Deliver Excellence." During runway construction last year, many of Team Dover members followed the installation's C-5M Super Galaxy aircraft temporarily located at Joint Base McGuire-Dix-Lakehurst. During this time, many of the Airmen were at risk of going overdue on readiness on dental items, but the clinic was still able to maintain 99.5 percent base readiness, through a proactive partnership with JB MDL.
TEDDY-GRAMS FOR TROOPS
The USO hosted a Teddy-Grams for Troops event on Feb. 10, 2017, with food donated by the Dover Mission BBQ and Teddy-Grams donated by the Delaware State Police and community members. Several beauty queens — Rose Buckley, International Ms. 2017; Elysa Acosta-Millan, Elite Miss Delaware 2017; Kimberly Phillips, Mrs. Camden Delaware America 2017; and Elissa Troise-Greco, Mrs. Lewes Delaware America 2017 — volunteered their time to hand out Teddy-Grams and serve meals to Airmen and their families at the USO.
A total of 155 teddy bears were donated by the Delaware State Police and community members to be distributed to local troops and their families. The teddy-gram messages were written by students from William Henry Middle School and the 21st Century Community Learning Center.
RUNWAY REOPENS WITH RIBBON-CUTTING CEREMONY
More than 200 members of Team Dover and the local community attended a ribbon cutting ceremony Sept. 23, 2016, on the flightline behind the 436th Civil Engineer Squadron Fire Department on Dover AFB. Those in attendance included several U.S. senators, local government members and members of the 436th Airlift Wing, 512th AW, 166th AW and Joint Base McGuire-Dix-Lakehurst, New Jersey.
The ribbon cutting ceremony commemorated the completion of Phase II of runway construction and celebrated the effective partnerships between various organizations at every level of cooperation that culminated in the successful conclusion to this phase. It featured static C-5M Super Galaxy and C-17A Globemaster III displays, which were made available for viewing and tours, and concluded with the touchdown of a C-5M and C-17A, the first to land on the newly reconstructed Runway 01-19.
Though the runway has reopened, runway construction is not yet complete. As the construction moves into Phase III, Dover AFB's shorter Runway 14-32 will close to allow construction on a portion in proximity to Runway 01-19 as well as several taxiways.
All construction is slated for completion during the summer of 2017, ending the 28-month long, $112 million construction project.
TEAM DOVER EXERCISES FUEL SPILL CONTAINMENT
Team Dover emergency responders from several base agencies participated in a fuel spill exercise April 20, 2017.
The scenario: A hurricane struck the coast of Delaware and approximately 2.5 million gallons of Jet-A fuel spilled when a housing container was damaged. The high winds spread fuel outside the permanent containment area surrounding the silos. One person suffered full-body exposure to the fuel and needed immediate medical treatment.
The exercise, conducted under the Commander's Inspection Program, was designed to fulfill annual requirements and test the emergency response capabilities and readiness of the installation, said Tech. Sgt. Rachel Weis, Inspector General NCO in charge of wing exercises.
Members from the 436th Security Forces Squadron; 436th Civil Engineer Squadron's Fire Department and Infrastructure and Utilities shop; 436th Airlift Wing Emergency Management; 436th Medical Operations Squadron ambulance response team; and 436th Aerospace Medicine Squadron's bioenvironmental engineering flight came together to provide a unified response to the simulated threat.
MIDDLE SCHOOL RECOGNIZED AS NATIONAL BLUE RIBBON SCHOOL
On Sept. 28, 2016, U.S. Secretary of Education John B. King Jr. recognized the Dover AFB Middle School as a 2016 National Blue Ribbon School.
The school is one of nearly 330 public and private schools across the nation selected for this prestigious title, which recognizes elementary, middle and high schools where students achieve at high levels or significant improvements are observed in students' level of achievements.
DAFBMS was the only middle school in Delaware selected and one of 27 in the U.S.
COLOR RUN RAISES AWARENESS FOR SEXUAL ASSAULT
About 200 runners participated in the Sexual Assault Awareness Month Color Run on April 21, 2017, at Dover Air Force Base. The event was aimed at raising awareness of sexual assault and to reinforce that "protecting our people protects our mission."
The annual run was open to the entire Team Dover community. Volunteers waited at five different color stations to cover passing runners in brightly colored powder. The powder is environmentally friendly and is made up of mostly cornstarch, baking soda and dyes. Although the powder is not harmful, runners are provided scarves to prevent them from inhaling it during the run.
The 5k course started and finished at the Joint Personal Effects Depot and ran along the full distance of Atlantic Avenue.
Some runners chose to run as a team while others ran individually. The run was one of several events hosted by the Dover AFB Sexual Assault Prevention and Response Office during Sexual Assault Awareness Month.
In Kent County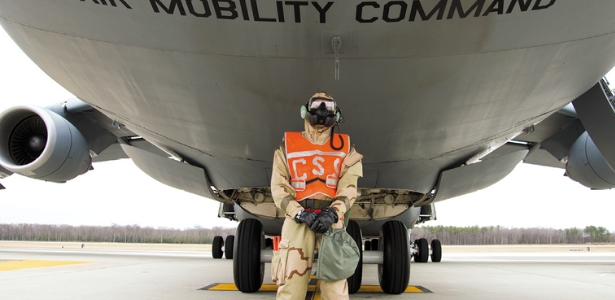 Dover Air Force Base is in the "First State" and the center of the Delmarva — Delaware, Maryland and Virginia — Peninsula. The base is 2 miles south of the city of Dover, the capital of Delaware, and close to several major metropolitan areas: Washington, D.C., Philadelphia, Baltimore and Wilmington, Delaware, are all within a two-hour commute.
The base is home to the 436th Airlift Wing, the "Eagle Wing," and the 512th Airlift Wing, an Air Force Reserve associate, the "Liberty Wing." Together, these two wings make up "Team Dover."
The 436th Airlift Wing is the active-duty military host unit at Dover and provides command and staff supervision and support functions for assigned airlift, providing worldwide movement of outsized cargo and personnel on scheduled, special assignment, exercise and contingency missions. Dover's C-5M Super Galaxy and C-17 Globemaster III aircraft are flown by the Eagle Wing on hundreds of missions throughout the world.
Dover AFB operates the largest and busiest air freight terminal in the Department of Defense and is also home to the Air Mobility Command Museum, which welcomes thousands of visitors each year.
The Charles C. Carson Center for Mortuary Affairs at Dover AFB is the DOD's largest joint-service mortuary facility and the only one in the continental United States.
The Dover AFB workforce consists of 6,400 military personnel: 3,900 active-duty personnel, 1,500 reservists and 1,000 civilians. The base also supports approximately 5,100 family members.
HISTORY
Immediately after the U.S. entered World War II in 1941, the newly completed Dover Municipal Airfield was leased to the U.S. Army Air Corps and assigned to the Eastern Defense Command as a coastal patrol base. By Christmas of that year, the 112th Observation Squadron, a federalized Ohio National Guard unit, flew the first missions from the field. During the next 55 years, a variety of flying organizations would call Dover home. Eventually, the base became home to the only all-C-5 wing in Air Mobility Command and the largest, busiest airport facility on the East Coast.
Early in 1942, a construction program began extending the runway and making the airfield suitable for operation of heavy aircraft. In April, the 39th Bombardment Squadron, equipped with B-25 Mitchell medium bombers, conducted anti-submarine patrols. In February 1943, the 39th Bombardment Squadron moved to Fort Dix Army Field, New Jersey, and Dover closed to air traffic until runway construction was complete. The 7,000-foot runway and 29,000 square yards of paved apron was completed in August 1943 and the airfield reopened. The Army Air Forces used Dover as a training base for hundreds of P-47 Thunderbolt fighter pilots. These pilots earned their wings under the watchful eyes of live combat instructors.
In addition to fighter pilot training, the base became a site for the development of air-launched rockets, manned by a special unit of the Air Technical Service Command. The weapons construction and experimentation played a decisive role in the final phase of World War II.
After the war, Dover Army Airfield became a pre-separation processing center until its inactivation. The field reactivated in 1951 and was assigned under the Air Defense Command. The 148th Fighter Interceptor Squadron of the Pennsylvania National Guard was assigned to Dover and a year later the 80th Air Base Squadron activated, maintained and provided support services for the squadron and three other units.
On April 1, 1952, the Military Air Transport Services assumed command jurisdiction over Dover and the base began its important strategic airlift mission, which it continues to this day. In a little more than a year, four support units of the MATS Atlantic Division set up on the base and became the nucleus that formed the 1607th Air Transport Wing. The wing activated Jan. 1, 1954, and took over host unit responsibility for Dover. MATS was redesignated Military Airlift Command on Jan. 1, 1966. Simultaneously, the 436th Military Airlift Wing replaced the inactivated 1607 Air Transport Wing as host wing for Dover AFB.
ORGANIZATIONS
436TH AIRLIFT WING
The 436th Airlift Wing, known as the "Eagle Wing," is the active-duty military host unit at Dover AFB. The wing provides command and staff supervision, as well as support functions, for assigned airlift providing worldwide movement of outsized cargo and personnel on scheduled, special assignment, exercise and contingency airlift missions. The wing is a subordinate of 18th Air Force, headquartered with the Air Mobility Command at Scott Air Force Base, Illinois. The wing consists of operations, maintenance, mission support and medical groups and 14 staff divisions.
Using C-5M Super Galaxy and C-17A Globemaster III aircraft, the wing flies hundreds of missions throughout the world and provides 25 percent of the nation's strategic airlift capability, projecting global reach to more than 100 countries around the globe.
512TH AIRLIFT WING
The 512th Airlift Wing, also known as the "Liberty Wing," is a subordinate of 4th Air Force, headquartered at March Air Reserve Base, California, and Air Force Reserve Command, headquartered at Robins Air Reserve Base, Georgia. The wing provides integrated support in the form of aircrews, maintenance, aerial port and allied administrative support, delivering full utilization of the C-5M Super Galaxy and C-17 Globemaster III under all conditions, up to and including full mobilization.
AIR FORCE MORTUARY AFFAIRS OPERATIONS
Air Force Mortuary Affairs Operations fulfill the nation's sacred commitment of ensuring dignity, honor and respect to the fallen and care, service and support to their families. A solemn dignified transfer of remains is conducted upon arrival at Dover AFB from the aircraft to a transfer vehicle to honor those who have given their lives in the service of the country. The vehicle then moves the fallen to the Port Mortuary at the Charles C. Carson Center for Mortuary Affairs. Once positively identified, fallen service members are prepared for transport to their final destination as determined by the family.
ARMED FORCES MEDICAL EXAMINER SYSTEM
The Armed Forces Medical Examiner System provides medical-legal services and emerging technologies essential for the readiness, sustainability and survivability of service members. The system provides the DOD and other federal agencies comprehensive forensic investigative services, to include forensic pathology, DNA forensics, forensic toxicology and medical mortality surveillance. The system is not only the single worldwide medical examiner system, but it also supports the entire U.S. federal government.
Arrival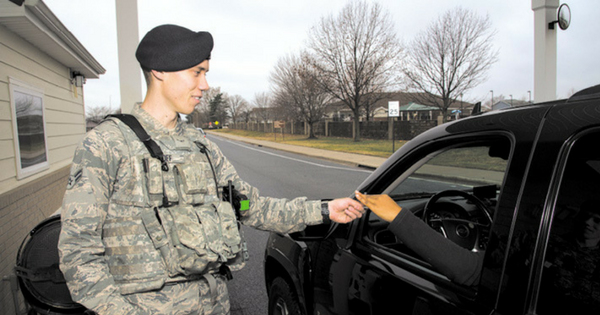 See the Getting To & Around Kent County chapter on Page 18 for information about local airports, train service and public transportation. There are two major airports that are approximately two hours from Dover AFB: the Baltimore-Washington International Airport and the Philadelphia International Airport. Transportation is not provided to the base.
SPONSORSHIP
Contact your sponsor with your estimated arrival time and flight information if applicable before your arrival at Dover AFB.
Sponsorship is vital to the relocation process. Don't PCS without talking to your sponsor before departing for Dover AFB. Your sponsor will answer any questions you have about the base and the local area, make lodging or dorm arrangements and meet you upon arrival. Your sponsor will be there to help you and your family until you are settled into your new community.
If you have not been in touch with a sponsor and your departure is nearing, contact your gaining unit or call the Airman & Family Readiness Center at 302-677-6930.
DRIVING DIRECTIONS
Cellphone use by the driver of a moving motor vehicle is prohibited on all Department of Defense installations unless the cellphone is used with a hands-free device.
From Baltimore-Washington International Airport
Take Interstate 97 south to U.S. Route 50/301 (near Annapolis, Maryland). Drive east on 50/301 toward the Bay Bridge (a toll bridge). After crossing the bridge, continue traveling on Route 50/301 east until you reach Queenstown, Maryland. The highway splits at this point. Go north on 301 until you come to Road 300, then take a right and go until you reach Road 44, where you turn right again. Stay on 44 until it joins Route 8, and continue to Dover. Keep going east through town until you intersect U.S. Highway 13, and take a right (south). Bear left onto state Route 113 from U.S. Highway 13, past the Blue Hen Corporate Center, then bear right onto state Route 113/1. Take Exit 93 for the Dover AFB main gate.
From Philadelphia International Airport
Take Interstate 95 south to Dover. Stay south on either Interstate 495 or I-95. Head to I-95 south (Baltimore). Take Exit 4A off I-95 south toward Christiana Mall and follow signs for Route 1 south to Dover. On this highway there are two toll booths. Take Exit 93 for the Dover AFB main gate.
From Washington, D.C.
Travel east on Highway 50 past Annapolis and across the Bay Bridge (a toll bridge) until you reach U.S. Highway 301. Go north on 301 until you come to Road 302, then take a right and go until you reach Road 454, where you turn right again. Stay on 454; it will turn into Route 8, and bring you into Dover. Keep going east through town until you intersect Highway 13, and take a right (south) turn. Bear left on state Route 113 from Highway 13, past the Blue Hen Corporate Center, and within approximately 2 miles Dover AFB will be on the left.
From Wilmington, Delaware
Travel south on Route 1 toward Dover/Shore Points. Travel approximately 3 miles past the city of Dover until you reach the base (Exit 93).
From Baltimore
Take Interstate 97 south to U.S. Route 50/301 and go east toward the Bay Bridge (a toll bridge). Then follow the aforementioned Washington, D.C., instructions.
CHECK-IN PROCEDURES
Military Personnel Flight
Building 520
302-677-4585
www.dover.af.mil/About-Us/Newcomers
If you arrive during normal duty hours, report to your squadron to receive a duty information sheet. Take the duty information sheet, your orders and your in-processing package (a large sealed envelope) to the Military Personnel Flight. Your squadron will assist you with your mandatory in-processing appointments to include the Newcomer's Orientation. Spouses are highly encouraged to attend the orientation.
If you arrive after normal duty hours or on a holiday or weekend, report to the Eagle's Rest Inn to sign in, then report to your squadron during normal duty hours.
First duty station airmen will be scheduled for a two-week session of orientation briefings at the First Term Airmen Center upon completion of in-processing. The First Term Airmen Center briefings are mandatory for all newly arriving enlisted first-termers if Dover is their first duty station.
TEMPORARY LODGING
Eagle's Rest Inn
800 14th St.
302-677-2840/2841
www.doverafb436fss.com/eagle-s-rest-inn
The Eagle's Rest Inn provides safe, comfortable and clean accommodations for families who are being assigned to Dover AFB.
Temporary lodging facilities feature one- or two-bedroom suites with washers and dryers, cooking facilities, flat-screen TVs, wireless internet and more. Pet-friendly units are available.
Arrange for temporary quarters as soon as you receive your PCS; check availability and room rates online. Contact the lodging office directly for reservations with children and pet-friendly rooms.
Getting Settled

HEALTH CARE
436th Medical Group
Building 300, 300 Tuskegee Blvd.
Appointments 302-730-4633
Pharmacy 302-677-2019
www.airforcemedicine.af.mil/MTF/Dover
The 436th Medical Group provides a full spectrum of health care for Dover AFB personnel and more than 11,000 TRICARE beneficiaries. It also supports the Air Force Mortuary Affairs Operations Center.
Clinics and services include dentistry, family health, flight medicine, immunizations, lab testing, mental health care, optometry, pediatrics, a pharmacy and more.
In general, dental care services are available to active-duty military only. Family members of active-duty personnel are encouraged to use the TRICARE Dental Program. Program information is available by visiting www.tricare.mil/CoveredServices/Dental/TDP.
TRICARE
TRICARE is the health care program for active-duty and retired service members, their families and survivors. TRICARE provides health plans, prescriptions, dental plans and other special health programs to its beneficiaries. TRICARE's mission is to enhance the Department of Defense and the nation's security by providing health support for the full range of military operations and sustaining the health of all those entrusted to their care.
TRICARE offers a range of health care plans. TRICARE Prime is the mandatory health care option for active-duty service members. Family members of active-duty service members, retired service members and their families may also use this option. If you use TRICARE Prime, you are assigned a primary care manager at a military or network provider who delivers most of your care. If you need care your PCM cannot provide, you are referred to a specialist. Active-duty service members and their families pay nothing out of pocket for this option; however, there is less freedom to choose your provider. On Jan. 1, 2018, TRICARE Standard and Extra were combined into a new plan, TRICARE Select. Select is a standardized fee-for-service plan available to family members of active-duty service members, retired service members and their families. After you enroll in TRICARE Select, you may schedule an appointment with any TRICARE-authorized provider. Referrals are not required, but you may need prior authorization from your regional contractor for some services. You will pay a copay or cost share based on the type of care and provider you see. Costs for Select vary, but you will pay an annual deductible as well as a percentage of covered services. Non-network providers may charge up to 15 percent more than the TRICARE allowable charge; you are responsible for these extra charges. TRICARE also offers plans for remote and overseas locations, reserve military members, young adults who are no longer covered under regular TRICARE coverage and other scenarios.
TRICARE coverage is completely portable, so it moves with you when you relocate. Follow these simple steps to ensure you have no break in coverage when you move:
Do not cancel your TRICARE Prime enrollment option before you move.
Update your personal information in DEERS immediately when you arrive at your new location.
Select a new primary care manager.
If you are already using TRICARE Select, moving is easy. When you arrive at your new location, update your personal information in DEERS. Then find TRICARE-authorized providers in your new area. Remember, you may have a new regional contractor and claims filing address.
TRICARE's online tools can help you find and compare plans that you are qualified to use. Beginning in 2019, however, TRICARE will allow you to switch between plans only if you have a "qualifying life event" such as the birth of a baby or a move. For a complete description of the types of coverage programs and regions, visit www.tricare.mil . For more information about recent changes to TRICARE, visit https://tricare.mil/changes.
HOUSING
Housing Management Office
600 Chevron Ave.
302-677-6969
www.housing.af.mil/Units/Dover
The Housing Management Office is ready to support you in the transition to your new home and community. When you arrive at Dover AFB, visit the HMO for valuable information, counseling and guidance before signing any lease or sales contract for housing.
Dover Family Housing
1069 High St.
888-696-3194
www.doverfamilyhousing.com
At Dover AFB, military family housing is privatized. In addition to your option to purchase and rent housing in the local community, you may choose to live in privatized housing by signing a tenant lease agreement with Hunt Military Communities, which owns the family housing and is responsible for constructing, maintaining, repairing and managing the community.
For comprehensive information about homes and amenities in the Dover privatized housing community, visit the Dover family housing website.
Unaccompanied Housing
414-106 Evreux St.
302-677-2074
www.housing.af.mil/Units/Dover
Unaccompanied housing is provided for unaccompanied airmen in the ranks of E-1 to E-3 and E-4 with less than three years of service. Each airman is provided with a private sleeping room, furnishings, bed linens and supplies required for comfortable living. Permanent party unaccompanied housing consists of six dormitories with 617 rooms, ranging from 1+1, the Dorms-4-Airmen quad and single-occupancy apartments.
Unaccompanied airmen in the rank of E-4 with three years or more of service will move into housing in the local community.
MAIL
Post Office
442 13th St.
302-677-6196
www.usps.com
The base post office handles postal needs for military personnel, civilian employees and their families at Dover AFB. To receive mail for general delivery, use the following address:
Your Name and Rank
General Delivery
Dover AFB Base Post Office
442 13th St.
Dover AFB, DE 19902
PETS
Veterinary Services
643 Atlantic Ave.
302-677-5252
The veterinary clinic is professionally staffed by personnel with the primary mission of providing complete veterinary care for all government-owned animals. The facility also offers many types of routine care services for the pets of military families, including vaccinations and health certificates. However, due to limited resources, most veterinary emergency cases are best served through a full-service civilian veterinary hospital; see the Military Buyer's Guide tab to connect with local veterinarians.
All pets living on base must be registered with the veterinary clinic upon arrival. On-base housing limits the number and breed of pets that can live in on-base housing. Check with Dover Family Housing, www.doverfamilyhousing.com, for specifics.
RELIGIOUS GUIDANCE
Air Force Chaplain Corps
417 Tuskegee Blvd.
302-677-3932
www.dover.af.mil/Units/436th-AW-Chaplain
The Air Force Chaplain Corps ministers to a range of faiths to provide spiritual and pastoral care to airmen, their families and the base community. The Chapel Center (Chapel 1, Building 417) and Carpenter Chapel (Chapel 2, Building 2998) offer Catholic and Protestant services, as well as religious programs.
VEHICLE REGISTRATION
Private vehicles do not have to be registered with Dover AFB, but all vehicles on base must be insured and license plates must be current. Delaware state traffic laws apply on base; see the Getting To & Around Kent County chapter on Page 18 for more information. All vehicles entering or leaving base are subject to search.
Serving You

DINING
King Pin Cafe (at the Bowling Center)
420 Tuskegee Blvd.
302-677-5323
The Landings
479 Chevron Ave.
302-677-6024
The Lift at Heavy Lifters Flightline Kiosk
Building 794
443-465-0908
Mugs Coffee Bar (at The Landings)
479 Chevron Ave.
302-677-4879
Mulligans Sports Bar & Grill (at the Golf Course)
810 14th St.
302-677- 6038
Patterson Dining Facility
403 Ninth St.
302-677-3926
For hours of operation, menus and special event information, visit www.doverafb436fss.com and click on selections under the "Dining & Lodging" tab.
EDUCATION
Education and Training Center
261 Chad St.
302-677-4630
www.doverafb436fss.com/education-center
The Education and Training Center provides educational opportunities and counseling services to military personnel and their family members. Staff members and can provide information about degree requirements for the Community College of the Air Force and civilian institutions, earning credits through the College Level Testing Program and applying for Air Force commissioning programs. Information on financial aid — including veterans' benefits, tuition assistance, federal financial aid, scholarships, grants and loans — is also available. The center provides a variety of examination services as well.
On-base colleges and universities include Southern Illinois University, Wesley College and Wilmington University. For more information on programs and on-base university offices, visit the center's website.
FAMILY SUPPORT
Airman & Family Readiness Center
846 Sumner Drive
302-677-6930
www.doverafb436fss.com/airman-family-readiness
The Airman & Family Readiness Center, a one-stop information and referral center, is the cornerstone of the Dover AFB family support system, helping airmen and their families enhance their readiness and quality of life.
The center has many resources and services available to make the transition to Dover AFB easier. Programs include information and referral resources, a personal financial management program, a relocation program, personal and family readiness programs, and transition programs. Free child care is available through the Child Care for PCS program for 20 hours per child within 60 days of your arrival.
The center serves active-duty military members, family members, Guard and reserve members, retired military members and civilian employees.
Child Development Center
212 Chad St.
302-677-3716
www.doverafb436fss.com/child-development-center
The Child Development Center offers services for children 6 weeks to 5 years old. Programs include full-day and hourly care. Fees are based on a sliding scale according to annual income. Limited spots are available. Check with the center for availability.
Exceptional Family Member Program
846 Sumner Drive
302-677-6930
www.doverafb436fss.com/airman-family-readiness
This program provides special-needs families with information and referral services.
Family Child Care
864 Center St.
302-677-6115
www.doverafb436fss.com/family-child-care
Family Child Care facilitates care in the private homes of certified providers. In-home child care programs offer comparable care to a CDC but include arrangements for night, weekend and flexible hourly care. The program also offers an opportunity for spouses to contribute to the family income while caring for their own children. Providers are screened for qualifications through the Air Force and licensed to operate a home business by the state of Delaware.
Youth Center
864 Center St.
302-677-6376
www.doverafb436fss.com/youth-center
The youth center offers developmentally appropriate activities for young people, including school-age programs, open recreation programs, sports leagues and instructional classes for interests such as music and taekwondo. The center also collaborates with the Boys & Girls Club and 4-H.
Patrons using the center must have a membership card, available at a reasonable cost and renewable annually. All DOD family member cardholders, ages 5 to 18 years, are eligible. Visit the center's website for more information on programs and events.
FINANCIAL SERVICES
Dover Federal Credit Union
418 Atlantic St.
302-678-8000
www.doverfcu.com/locations/dover-air-force-base
FSNB
266 Galaxy St. (at the exchange)
800-749-4583
www.fsnb.com/locations
LEGAL SERVICES
Law Center
Building 200
302-677-3300
Legal assistance is provided on personal and civil matters to military members, dependents and retirees on such matters as wills, powers of attorney, notary services, landlord-tenant issues, domestic relation issues, consumer issues and taxes.
RECREATION
For information about the recreational programs at Dover AFB, visit the 436th Force Support Squadron online at www.doverafb436fss.com.
Aero Club
1360 Las Vegas St.
302-677-6365
www.doverafb436fss.com/aero-club
The Aero Club provides members with the least expensive flying and training possible and maintains the highest standards of safety. Currently, the center operates a fleet of 10 aircraft that are available for rent or flight training.
Arts and Crafts Center
476 Chevron Ave.
302-677-3242
www.doverafb436fss.com/arts-crafts-center
Feeling crafty? Unleash your creativity using the center's tools and amenities. The center features frame, graphic and engraving shops, classes and more.
Auto Hobby Shop
477 Chevron Ave.
302-677-3249
www.doverafb436fss.com/auto-hobby-shop
The Auto Hobby Shop has everything you need for DIY auto care and certified mechanics if you prefer to leave the repairs in expert hands.
Bowling Center
420 Tuskegee Blvd.
302-677-3950
www.doverafb436fss.com/eagle-lanes-bowling-center
Strike up some family fun at the Eagle Lanes Bowling Center. Shoe rental, bowling leagues and a snack bar are available.
Fam Camp
Building 67510
302-677-3959
www.doverafb436fss.com/outdoor-recreation
The Fam Camp has full-service recreational vehicle sites with electric, water and sewer hookups, shower and laundry facilities, picnic facilities and more.
Fitness Center
423 Chevron Ave.
302-677-3962
www.doverafb436fss.com/fitness-center
The fitness center has cardiovascular, selectorized and free weight strength training equipment, as well as a multiuse gymnasium. Other amenities include a child play area, equipment checkout, a racquetball court, a jogging track, and football, soccer and softball fields.
Golf Course
810 14th St.
302-677-2988
www.doverafb436fss.com/eagle-creek-golf-course
The Eagle Creek Golf Course features youth and intramural golf programs, golf lessons and clinics, a pro shop, and a sports bar and grill.
Information, Tickets & Travel
475 Chevron Ave.
302-677-6772
www.doverafb436fss.com/information-tickts-travel
Find information and get military discount tickets for area attractions. Whatever travel destinations you seek, the ITT staff can help you plan your trips with assistance with airline tickets, hotels, rental cars and even cruises.
Movie Theater
12th Street
302-677-6890
www.aafes.com/exchange-stores/Movie-Guide/showtimes-Dover-AFB.htm
For current showtimes at the Reel Time Theater, visit its website.
Outdoor Recreation
475 Chevron Ave.
302-677-3959
www.doverafb436fss.com/outdoor-recreation
Outdoor Recreation has equipment rentals, an adventure program, a bike shop, RV storage and a vehicle resale area. The adventure program organizes local area outings for activities such as camping, hiking, kayaking, paddleboarding, skiing, white-water rafting, zip lining and more.
SHOPPING
Commissary
268 Galaxy St.
302-677-3919
www.commissaries.com
Save your hard-earned dollars when shopping for groceries at the commissary.
Exchange
The Dover AFB exchange wants to be your first choice for shopping and offers a price-match program that guarantees the lowest prices in town. Hours of operation for services outside the main exchange vary, so call or visit the website for detailed information.
Main Exchange
Building 266, Galaxy Street
302-678-2515
Services
Barbershop 302-734-1747
GNC 302-678-9915
Laundry and Dry Cleaners 302-736-5171
Military Clothing Store 302-674-3512
Mobile Center 302-677-0001
Optical Center 302-730-8784
Exchange Restaurants
Building 222
Burger King 302-734-7464
Express with Class Six and Gas Pumps
Building 421
Express 302-744-8049
Redbox no phone
Subway 302-857-3885
Tim Hortons 302-883-2144
Express
Building 845
Express 302-674-3551
Redbox no phone