Fairchild Air Force Base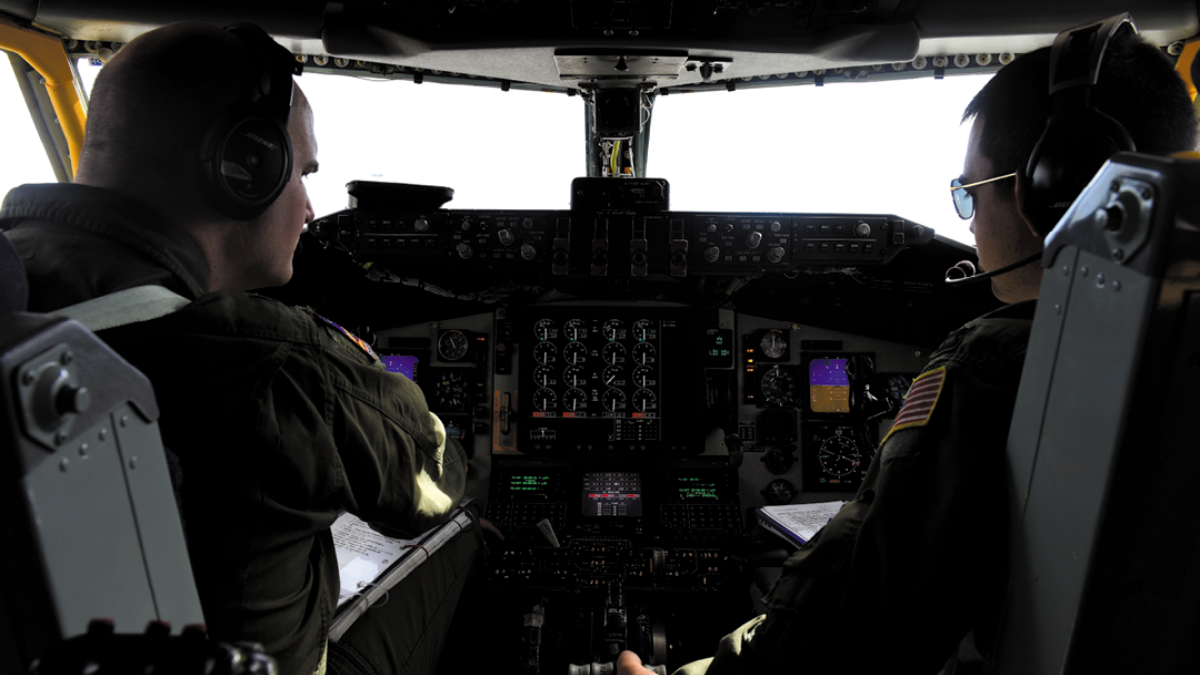 Fairchild Air Force Base is in the eastern part of Washington state in Spokane County. The base is 12 miles west of Spokane, 279 miles east of Seattle and 45 miles west of Coeur D'Alene, Idaho. The closest communities are Airway Heights, Cheney and Medical Lake.
The host unit at Fairchild AFB controls more than 6,150 acres and nearly 650 buildings.
Fairchild is home to a wide variety of units and missions. Most prominent is its air refueling mission with the 92nd Air Refueling Wing, which is the host wing, and the Washington Air National Guard's 141st ARW.
Tenant units at Fairchild AFB include the 509th Weapons Squadron; 336th Training Group; 368th Recruiting Squadron; Joint Personnel Recovery Agency; 373rd Training Squadron, Detachment 13; and Air Force Office of Special Investigations, Detachment 322.
Population
The base has more than 6,000 active-duty personnel, Air National Guard, Army National Guard members and civilian members. The base's total population exceeds 9,000 with approximately 9,000 retirees in the area, representing an annual payroll of $236 million.
Economic Impact
Fairchild AFB's total impact on the local economy in fiscal year 2015, the most recent analysis available, was approximately $420 million. It is one of the largest employers in the Spokane region and created 2,314 jobs in FY 2015.
History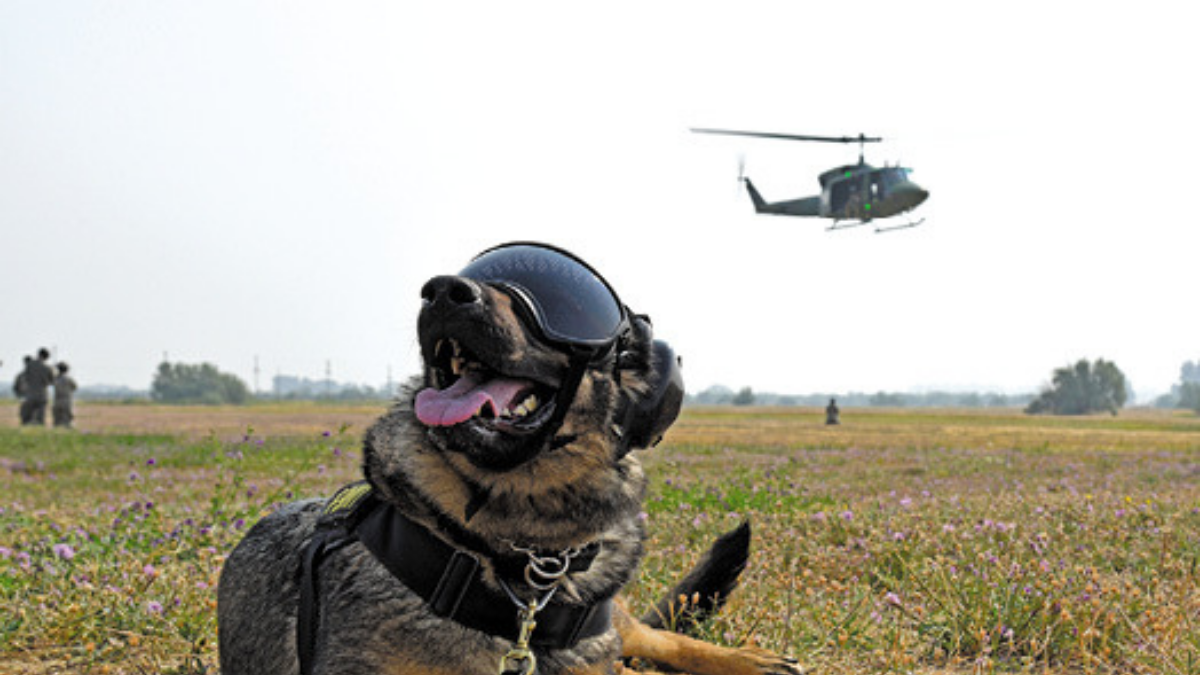 Since 1942, Fairchild AFB has been a key part of our nation's defense strategy — from World War II repair depot, to Strategic Air Command bomber wing during the Cold War, to Air Mobility Command air refueling wing during Operation Enduring Freedom and other contingency operations. Today, Fairchild's aircraft and personnel are the backbone of the Air Force's tanker fleet on the West Coast.
Fairchild's location, 12 miles west of Spokane, resulted from a competition with the cities of Seattle and Everett in western Washington. The War Department chose Spokane for several reasons: better weather conditions, its location 300 miles from the coast and the Cascade mountain range providing a natural barrier against possible Japanese attack.
As an added incentive to the War Department, many Spokane businesses and public-minded citizens donated money to purchase land for the base. At a cost of more than $125,000, these supporters bought 1,400 acres and presented the title to the War Department in January 1942. That year, the government designated $14 million to purchase more land and begin building the new Spokane Army Air Depot.
From 1942 until 1946, the base served as a repair depot for damaged aircraft returning from the Pacific theater. In the summer of 1946, the base was transferred to the Strategic Air Command and assigned to the 15th Air Force. Beginning in the summer of 1947, the 92nd and 98th bomb groups arrived. Both units flew the most advanced bomber of the day, the B-29 Superfortress. In January 1948, the base received the second of its three official names: Spokane Air Force Base.
With the outbreak of hostilities in Korea, both bomb groups deployed to Japan and Guam. After only a few months, Gen. Douglas MacArthur released the 92nd to return to the states while the 98th remained in the Far East. The 98th was then reassigned to Nebraska.
Upon its return to Fairchild, the 92nd was redesignated the 92nd Bombardment Wing (Heavy). In November 1950, the base took its current name in memory of Air Force Vice Chief of Staff Gen. Muir S. Fairchild, a native of Bellingham, Washington. The general entered service as a sergeant with the Washington National Guard in June 1916 and died while on duty at the Pentagon in March 1950. The formal dedication ceremony was held July 20, 1951, to coincide with the arrival of the wing's first B-36 Peacemaker.
In 1956, the wing began a conversion that brought the B-52 Stratofortress to Fairchild, followed by the KC-135 Stratotanker in 1958. In 1961, the 92nd became the first "aerospace" wing in the nation with the acquisition of Atlas intercontinental ballistic missiles. Given its new role and the addition of missiles, the 92nd Bomb Wing was redesignated the 92nd Strategic Aerospace Wing, though the designation lasted longer than the missiles, the missiles themselves being removed in 1965.
On March 15, 1966, the 3636th Combat Crew Training Group was established at Fairchild. In 1971, it became a wing and assumed control over all Air Force survival schools. Today, the 336th Training Group continues this mission for Air Education and Training Command.
As military operations in Vietnam escalated in the mid-1960s, the demand for air refueling increased. Fairchild tanker crews became actively involved in Operation Young Tiger, refueling combat aircraft in Southeast Asia. The wing's B-52s were not far behind, deploying to Andersen Air Force Base, Guam, for Operation Arc Light and the bombing campaign against enemy strongholds in Vietnam.
In late 1974, the Air Force announced plans to convert the 141st Fighter Interceptor Group of the Washington Air National Guard at Geiger Field to the 141st Air Refueling Wing and move it to Fairchild. Work began soon after, and by 1976, eight KC-135E aircraft transferred to the new 141st Air Refueling Wing.
Following Iraq's invasion of Kuwait in August 1990, 560 base personnel deployed to Desert Shield and Desert Storm from August 1990 to March 1991. The 43rd and 92nd air refueling squadrons flew a combined total of 4,004 hours and 721 sorties and off-loaded 22.5 million pounds of fuel to coalition aircraft.
On Sept. 1, 1991, the Air Force redesignated the 92nd Bombardment Wing (Heavy) as the 92nd Wing, emphasizing its dual bombing and refueling role.
Dec. 7, 1993, marked the beginning of a significant change in the mission of Fairchild when a wing B-52 transferred to another base, the first step in Fairchild's transition to an air refueling wing. The departure of B-52s continued throughout the spring of 1994, with the last bomber leaving May 25, 1994. On July 1, 1994, the 92nd Wing was redesignated the 92nd Air Refueling Wing and Fairchild was transferred from Air Combat Command to Air Mobility Command in a ceremony marking the creation of the largest air refueling wing in the Air Force. Dubbed the new "tanker hub of the Northwest," the wing was capable of maintaining an air bridge across the nation and the world in support of U.S. and allied forces.
In 1995, Fairchild crews flew to Travis Air Force Base in California in support of its first Strategic Arms Reduction Treaty mission, transporting Russian inspectors to sites in the western U.S. In May 2000, the wing became the first active-duty KC-135 unit to transport U.S. inspectors on a START mission into Ulan-Ude, Russia.
Throughout much of the '90s, the wing took part in missions to suppress the aggression of Iraqi President Saddam Hussein. Wing personnel answered the call for operations such as Desert Strike and Phoenix Scorpion and routinely deployed in support of operations Southern Watch and Northern Watch. Operations Southern Watch and Northern Watch required a constant presence of tankers and associated support personnel to help enforce the United Nations-sanctioned no-fly zones in Iraq. Southwest Asia, however, was not the only trouble spot, as the wing also had to deploy aircraft and personnel in 1999 to support Operation Allied Force, the mission to stop Serbian aggression in Kosovo.
Following the 9/11 terrorist attacks on our nation, the wing began providing around-the-clock air refueling of Combat Air Patrol fighter aircraft and initiated 24-hour ground alert operations in support of Operation Noble Eagle, the defense of our homeland. Preparations also began for what would become a series of extended Operation Enduring Freedom deployments for aircrews and maintainers, as well as combat support and medical personnel. Wing personnel were also deployed from 2003 to 2011 in support of Operation Iraqi Freedom and Operation New Dawn. In 2011, wing personnel supported Operation Odyssey Dawn, the mission to resolve the crisis in Libya.
In March 2017, the Air Force relocated the 384th Air Refueling Squadron — nine KC-135 refueling tankers and their 50 crew members — from McConnell Air Force Base in Kansas to Fairchild, bringing the base tanker component to 44 aircraft. With the addition, the 92nd Air Refueling Wing now has three refueling squadrons: the new 384th, the 92nd and the 93rd.
Since its inception, the 92nd Air Refueling Wing has been involved in virtually every contingency mission around the world. Whether participating in combat operations or humanitarian relief missions, Fairchild tankers are force extenders, enabling U.S. and allied aircraft to successfully complete their missions. In addition, the wing's KC-135s routinely support special airlift missions in response to world events or international treaty compliance requirements.
Organizations

92ND AIR REFUELING WING
The 92nd Air Refueling Wing operates KC-135 R/T Stratotanker aircraft to support worldwide military missions. The wing provides aerial refueling, as well as rapid and reliable passenger and cargo airlift and aeromedical evacuations. Fairchild's missions support U.S. and coalition conventional operations and U.S. Strategic Command strategic deterrence missions.
Fairchild directly supports Air Mobility Command's mission, providing global reach airpower and deploying expeditionary combat support forces to meet worldwide contingency requirements. The wing's aerial refueling enhances the Air Force's ability to accomplish its primary missions of global reach and global power.
The 92nd Air Refueling Wing comprises four groups, as well as numerous staff agencies. The 92nd Operations Group is responsible for the wing's three flying squadrons and oversees the following functions: weather, tactics, aircrew training, aircrew flight equipment, airfield management, air traffic control, combat crew communications, current operations and the wing's flight simulator. The 92nd Maintenance Group provides field-level maintenance support for the aircraft and aerospace ground equipment, supporting worldwide aerial refueling and airlift operations. The 92nd Mission Support Group provides professional civil engineers; communications; contracting; logistics; force support; security forces; and combat, community and family support services for Fairchild and expeditionary commanders. The 92nd Medical Group provides health care services for more than 11,000 beneficiaries, including active-duty members, retirees and their families. Wing staff agencies include legal, plans and programs, safety, command and control, the chapel, public affairs, equal opportunity, information protection, community support coordinator, drug demand reduction program, the comptroller squadron, the sexual assault prevention program, protocol, the historian and the inspector general.
141ST AIR REFUELING WING
The Air National Guard's 41st Air Refueling Wing reports through the Washington state adjutant general to the governor to respond to natural disasters and civil unrest. In addition to its missions to protect life and property and preserve peace, order and public safety for the state, the wing also has a federal mission: to train, equip and deploy forces worldwide in support of specific contingency operations.
When mobilized by Congress or the president, the wing fulfills its constitutional role and supports Air Mobility Command's airlift and aerial refueling requirements under the 18th Air Force. The 141st Air Refueling Wing trains to provide global aerial refueling to U.S. and allied aircraft, counterdrug surveillance and interdiction, and combat support across the spectrum of conflict.
The mobility needs of the modern military have seen 141st Air Refueling Wing tankers in all corners of the world. The wing has supported Air Expeditionary Forces in Saudi Arabia, Qatar, Bahrain, Kyrgyzstan, Germany, France, Italy, Denmark, Turkey, Hungary, North and South America, and Australia. Since becoming a refueling wing, the unit has supported American forces and allies in conflicts in Europe and the Middle East, as well as numerous peacetime and humanitarian missions at home and abroad.
The unit, which has approximately 900 authorized personnel, works in conjunction with the 92nd Air Refueling Wing, highlighting total force integration between active-duty and Air National Guard wings.
Arrival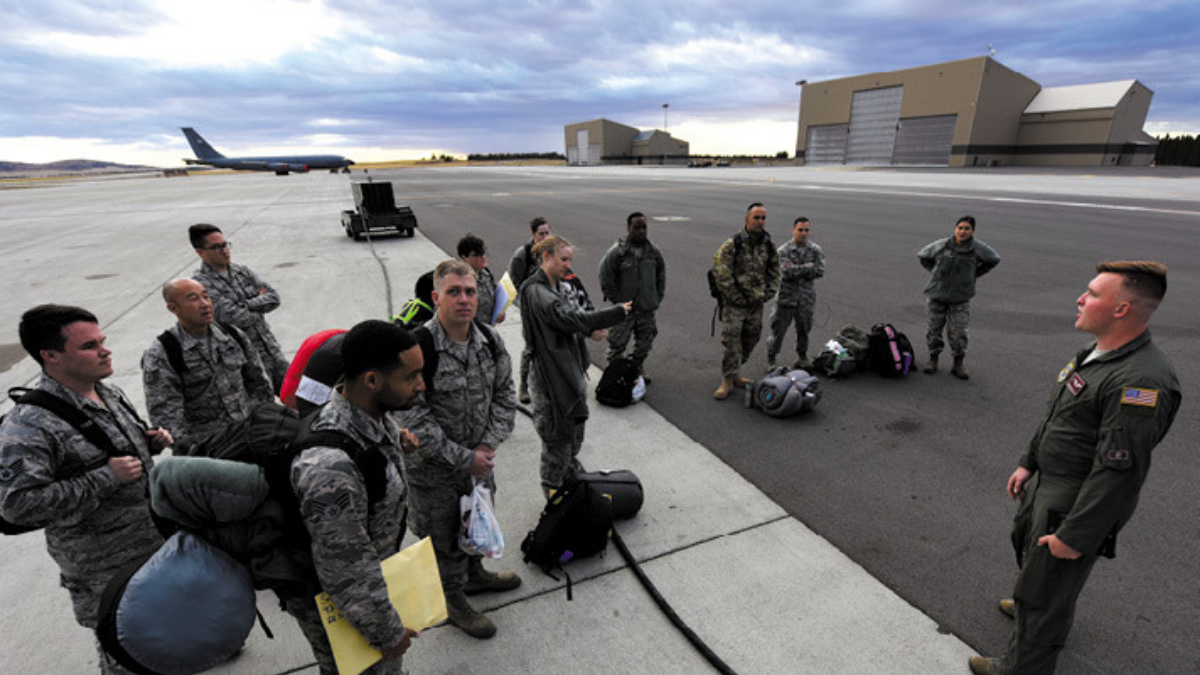 See the Getting To & Around Spokane County chapter for information about local airports, train service and public transportation. The closest commercial flights land at Spokane International Airport, about 10 miles from the base. Stars and Stripes Shuttle provides transportation to the base from the airport. Call 509-244-0730 for more information.
SPONSORSHIP
Contact your sponsor with your estimated arrival time and flight information, if applicable, prior to your arrival at Fairchild AFB.
Sponsorship is vital to the relocation process. Don't PCS without talking to your sponsor before departing for Fairchild AFB. Your sponsor will answer any questions you have about the base and the local area, make lodging or dorm arrangements and meet you upon arrival. Your sponsor will be there to help you and your family until you are settled into your new community.
If you have not been in touch with a sponsor and your departure is nearing, contact your gaining unit as soon as possible, or the Fairchild AFB Airman and Family Readiness Center at 509-247-2246.
DRIVING DIRECTIONS
Cellphone use by the driver of a moving motor vehicle is prohibited on all Department of Defense installations, unless the cellphone is used with a hands-free device.
The national Real ID Act now governs access to Fairchild AFB. Many acceptable forms of identification, including a current U.S. passport, will get you on base, and these are listed in the government's Real ID Act Pamphlet online at https://tinyurl.com/yaccqfgw. Several other forms of identification, among them some state driver's licenses, do not comply with the act, and those seeking to use them to enter the base will be turned away.
From Spokane International Airport
Exit the airport via West Airport Drive toward U.S. Highway 2. Travel west toward Airway Heights. Fairchild AFB is 3 miles past Airway Heights.
From Interstate 90
If you are traveling west on Interstate 90, take Exit 277. If traveling east, take Exit 277 B. These exits will take you to U.S. Highway 2 heading west. Continue on Highway 2 through Airway Heights. Fairchild is approximately 3 miles from Airway Heights on the left-hand side of the road. You will see signs indicating where to turn into the base.
CHECK-IN PROCEDURES
Military Personnel Flight
7 W. Arnold St., Suite 41B 509-247-9292
www.fairchildfun.com/mpf.html
Your sponsor will inform you of unit reporting procedures and assist you with inprocessing appointments. If you arrive after duty hours, report in the next duty day. You will need to bring your records packet from your losing base, your medical and dental records (if hand-carrying), and your leave and earnings statement. You will be scheduled to inprocess with the Military Personnel Section, and you will be provided with an inprocessing checklist.
Part of the inprocessing checklist includes attending Right Start newcomer orientation. This orientation program focuses on welcoming you and ensuring you have a positive experience when beginning your tour at Fairchild. You will be scheduled for Right Start when you inprocess with the Military Personnel Section. Spouses are highly encouraged to attend and should call 509-247-2246 for the next date, time and location.
First Term Airman Center
716 W. Castle St. 509-247-8020
The First Term Airman Center program, for first-term, first-base airmen, provides a streamlined process for base inprocessing and an organized transition for these airmen from a controlled training environment (basic, technical) to one of self-efficiency as an Air Force member. The FTAC positions airmen for success, welcoming them onto Fairchild AFB and providing a setting in which airmen can network and learn what resources are available.
TEMPORARY LODGING
Fairchild Inn
300 N. Short St. 509-244-2290/247-5519
www.fairchildfun.com/finn.html
The Fairchild Inn provides safe, comfortable and clean accommodations for TDY, PCS and Space A guests. If no reservations are available, lodging personnel can assist with finding off-base temporary housing. Lodging consists of 283 guest rooms, 16 of them pet-friendly, and 42 temporary lodging facilities. Check-in time is 2 p.m., and checkout is 11 a.m. All lodging facilities are nonsmoking. Personnel with pets unable to secure space in one of the pet-friendly rooms must kennel their animals off base.
Survival Inn
1000 Survival Loop 509-247-5127/3571
509-244-3028
www.fairchildfun.com/sinn.html
The Survival Inn accommodates survival school students. CONUS survival students may arrive one day before their class start date; OCONUS students may arrive two days before their class start date. Check-in time is 2 p.m. and checkout time, 11 a.m.
Getting Settled

HEALTH CARE
92nd Medical Group
701 Hospital Loop 509-247-2361
www.airforcemedicine.af.mil/MTF/Fairchild
www.fb.com/92MDG
The 92nd Medical Group is an outpatient ambulatory health care clinic offering patient-centered primary care though Family Health, Flight and Operational Medicine, and Pediatric Clinics. It provides lab, radiology, pharmacy, immunology and health promotion support services. Clinical specialties available include Women's Health and Maternal Care, Behavioral/Mental Health, Physical Therapy and Optometry, the Exceptional Family Member Program, Post-Traumatic Stress Disorder treatment, Suicide Prevention and the ADAPT Program to prevent and treat substance abuse.
Active-duty service members and their families enrolled in TRICARE Prime receive highest priority when making appointments; followed by retirees and their families enrolled in TRICARE Prime, and TRICARE for Life (age 65 and older) who are in the same priority category. TRICARE Select patients are seen on a space-available basis.
The 92nd Medical Group does not have an Emergency Department or an Urgent Care Clinic. All emergency services are handled by local civilian hospitals. The closest emergency rooms are at Providence Sacred Heart Medical Center and Deaconess Hospital; both are about 20 minutes away in Spokane. For emergencies, call 911. Emergency care does not require prior authorization or a referral. For urgent care authorization after hours, call the Nurse Advice Line at 800-874-2273, option 1.
Dental care is available to active-duty military only. Family members of active-duty personnel are encouraged to use the TRICARE Dental Program. Program information is available by visiting www.tricare.mil/CoveredServices/Dental/TDP.
TRICARE
TRICARE is the health care program for active-duty and retired service members, their families and survivors. TRICARE provides health plans, prescriptions, dental plans and other special health programs to its beneficiaries. TRICARE's mission is to enhance the Department of Defense and the nation's security by providing health support for the full range of military operations and sustaining the health of all those entrusted to their care.
TRICARE offers a range of health care plans. TRICARE Prime is the mandatory health care option for active-duty service members. Family members of active-duty service members, retired service members and their families may also use this option. If you use TRICARE Prime, you are assigned a primary care manager at a military or network provider who delivers most of your care. If you need care your PCM cannot provide, you are referred to a specialist. Active-duty service members and their families pay nothing out of pocket for this option; however, there is less freedom to choose your provider. On Jan. 1, 2018, TRICARE Standard and Extra were combined into a new plan, TRICARE Select. Select is a standardized fee-for-service plan available to family members of active-duty service members, retired service members and their families. After you enroll in TRICARE Select, you may schedule an appointment with any TRICARE-authorized provider. Referrals are not required, but you may need prior authorization from your regional contractor for some services. You will pay a copay or cost share based on the type of care and provider you see. Costs for Select vary, but you will pay an annual deductible as well as a percentage of covered services. Non-network providers may charge up to 15 percent more than the TRICARE allowable charge; you are responsible for these extra charges. TRICARE also offers plans for remote and overseas locations, reserve military members, young adults who are no longer covered under regular TRICARE coverage and other scenarios.
TRICARE coverage is completely portable, so it moves with you when you relocate. Follow these simple steps to ensure you have no break in coverage when you move:
Do not cancel your TRICARE Prime enrollment option before you move.
Update your personal information in DEERS immediately when you arrive at your new location.
Select a new primary care manager.
If you are already using TRICARE Select, moving is easy. When you arrive at your new location, update your personal information in DEERS. Then find TRICARE-authorized providers in your new area. Remember, you may have a new regional contractor and claims filing address.
TRICARE's online tools can help you find and compare plans that you are qualified to use. Beginning in 2019, however, TRICARE will allow you to switch between plans only if you have a "qualifying life event" such as the birth of a baby or a move. For a complete description of the types of coverage programs and regions, visit www.tricare.mil. For more information about recent changes to TRICARE, visit https://tricare.mil/changes.
Accessing Care
The 92nd Medical Group is open from 7:30 a.m. to 4:30 p.m. Monday through Friday. The clinic is closed on federal holidays, Air Mobility Command family days and Wingman Days as approved by the 92nd Air Refueling Wing Commander. The clinic also closes at noon on the third Wednesday of every month for staff training.
Appointment Line Call Center: There is no sick call or acute walk-in clinic at the 92nd MDG Family Health Clinic. Only flying personnel are authorized to go to sick call in the Flight and Operational Medicine Clinic (7:30 to 8 a.m. Monday through Friday). All patients who are enrolled in TRICARE Prime may call 509-247-2361 to schedule appointments. The appointment line operates from 7:30 a.m. to 4:30 p.m. Monday through Friday during clinic operating days. The appointment line number after hours will have an option for connection to the Nurse Advice Line.
Nurse Advice Line: You can reach the nurse advice line by calling the appointment line at 509-247-2361 or directly at 800-874-2273. The NAL can provide assistance with urgent care referrals or home care advice until you are able to contact the appointment line the next business day. All urgent care visits must have prior authorization.
Same Day Services: The Physical Therapy clinic operates a Direct Access clinic for musculoskeletal issues from 8 to 11 a.m. Monday through Friday. Patients do not need a referral to access this service. The Physical Therapy clinic is on the third floor of the Medical Group.
Depending on your acute medical needs, you may be seen in the Family Health Clinic the same day. Your needs will be triaged by one of 92nd MDG's nursing personnel and you will be offered appropriate care based upon need.
Mental Health: The Mental Health Clinic sees all active-duty members and other categories of beneficiaries on a space-available basis. Patients are encouraged to call 509-247-2731 for appointments. For additional helpful information from the Fairchild Airman & Family Readiness Center, go to www.fairchildfamilysupport.org/mental-health.
Family Advocacy: The staff at Family Advocacy offers numerous prevention classes including Water Babies, Stress and Anger Management, Couples Communication, 1-2-3 Magic, Love & Logic, and Dads: The Basics. For more information or to sign up, call 509-247-2687.
Behavioral Health Optimization: Your primary care provider may recommend you be seen by one of our BHOP professionals. These individuals work in the Family Health Clinic and can offer short-term counseling and interventions that help patients identify and remove obstacles to meeting their health-care goals. To schedule directly with the BHOP provider, call the appointment line at 509-247-2361.
MiCare (Secure Messaging – RelayHealth): The 92nd MDG now uses a secure messaging application called MiCare as the primary means of communication between patients and their PCM team for routine issues. With MiCare you can avoid lengthy and missed telephone calls. You can send a message to your provider or your child's provider at your convenience and for the following reasons:
Requesting appointments.
Requesting medication refills.
Requesting referral renewals.
Getting lab results.
Simply asking your team a health-care question.
Talk to your PCM team to get enrolled with MiCare, or email 92MDSS.SGST.MICARE@us.af.mil.
TRICARE Online: TRICARE Prime patients can schedule appointments using TRICARE Online. Patients can go to www.tricare.mil to register for an account, and then start scheduling or canceling appointments 24/7. Prescription refills can be requested through TRICARE Online as well. You can also visit www.tricareonline.com/welcome.do.
Out-of-Area Care: If you are traveling out of the local area, you can seek emergency care without pre-authorization. For nonemergent care, call UnitedHealthcare Military & Veterans at 877-988-9378 for authorization.
Appointment Day: It is important that you arrive on time for your appointment; this allows the staff to take care of all of your appointment-related health-care needs. If you arrive 10 minutes past your scheduled appointment time, you may be asked to reschedule. If you have an acute medical need, you will be assessed and may be worked into the clinical day. Be sure to bring a list of the concerns you'd like addressed along with a list of any medications, supplements or herbs you are taking.
ID/Eligibility: You must bring a valid, unexpired and nonmutilated DOD identification card to all appointments. Dependents 10 years old and older must have their own ID cards.
Other Health Insurance: The 2569 Third Party Collection Program allows us to collect necessary information about additional insurance you may have. The 2569 will be verified electronically at every appointment and will be updated annually. Please remind the staff at the check-in desk if you have insurance.
Patients with Disabilities: The 92nd MDG works to meet the requirements of the Americans with Disabilities Act. If you encounter physical or communication barriers in the clinic, please ask a staff member for assistance. The clinic can provide you with assistance including wheelchairs for use in the clinic, interpreters and translators and help with reading or filling out forms, or using the computers.
General Information
Inclement Weather: In the case of inclement weather, patients should watch local TV stations, listen to local radio stations or call the Fairchild AFB Snow Hotline at 509-247-5100 for up-to-date base delay and closure information before coming to the clinics. For appointments scheduled at or after the delayed reporting time, patients report for their appointment as scheduled. However, patient care may also be delayed due to staff delayed reporting. If you cannot make it to your appointment due to inclement weather, please call 509-247-2361 to cancel your appointment. If Fairchild AFB is closed due to inclement weather, the clinic on the base will also be closed for all services; and all patient appointments for the closed base are automatically cancelled. The clinic staff will contact patients as soon as possible to reschedule cancelled appointments.
Customer Service Program: The 92nd MDG is dedicated to providing patients with quality health care in a safe, customer-friendly environment. Please fill out a patient comment card after your visit. We value your feedback and use your recommendations to improve care. If, for any reason, you are dissatisfied with your treatment, care or customer service or wish to report concerns about safety issues, please contact the clinic patient advocates. If you require assistance or have concerns about patient care and safety that cannot be resolved within the service area, ask to speak to the 92nd MDG Patient Advocate.
Safety: If you have any concerns about your safety or think there was a mistake in patient care or medication, please tell a clinic supervisor, any patient advocate or the MDG Patient Safety Manager.
Smoking Policy: The 92nd MDG is a tobacco-free facility. Smoking is permitted on Fairchild AFB only in designated smoking areas.
Family Members under 18 Years of Age: Family members under the age of 18 must be accompanied by a parent or legal guardian. Nonparental adults accompanying minors must have in their possession a medical power of attorney for the minor. Emancipated minors must carry with them their Proclamation of Emancipation to receive services. In an emergency situation the staff will attempt to contact the next of kin to obtain permission for treatment. However, these patients will be treated and/or transported as required in emergency situations.
Referral Management: Once a referral is generated by a provider at the 92nd MDG, it will be reviewed by the Referral Management Center staff to determine the best place to obtain the specialty care, which may be provided at one of the local hospitals or by civilian specialists. Stop by the referral office, on the first floor of the Fairchild Clinic, before you leave your appointment to authorize a release of information so clinic staff can send the necessary medical records to the specialty care provider, or call the Release of Information office directly at 509-247-5758.
Patients can check the status of a referral by calling 877-988-9378, at www.uhcmilitarywest.com or stopping by the Referral Management Center.
Support Services
Radiology 509-247-2617
The radiology department provides routine X-ray services. For safety reasons, only children who are patients are allowed in the exam rooms. Patients who must remove their clothing to be examined will be given a cover gown, and a chaperone will be provided if requested. Results of the test will be given by the provider who ordered the diagnostic examination, not by the radiology department staff. Copies of the digital images are stored on discs.
Laboratory 509-247-4343
The provider who requested the lab work will give the patient the results. Laboratory staff are not authorized to reveal results. Lab services are provided to active duty, retirees and their dependents.
Pharmacy
Main Pharmacy
Building 9000, Room 117 509-247-5567
Satellite Pharmacy
Building 2460 509-247-5568
The pharmacy fills prescriptions from both military and civilian providers, but prescriptions can be filled only for those items on the formulary. Special-order prescriptions are filled on a case-by-case basis. Information on the TRICARE National Mail Order Pharmacy is available.
The pharmacy also has an automated pharmacy dispensing machine located in the BX for patient convenience. The APM allows patients using a secure log-on to pick up prescription refills at their convenience. The APM is available during BX hours, including weekends and some holidays. Those interested in this service should ask the main pharmacy staff how to use the APM.
TRICARE Operations/TOPA
Beneficiary Services 509-247-5575
Referral Management 509-247-9032
For information on accessing your medical records, go to https://tinyurl.com/yak86kbg.
The "I want to …" section of www.tricare.mil is your gateway to:
Book appointments.
Enroll in or purchase a plan.
File or check a claim.
View referrals and prior authorizations.
Find a doctor.
Change your primary care manager.
See what's covered.
Compare plans.
Manage prescriptions.
Check a military health record.
Obtain proof of TRICARE coverage.
Download a form.
Enrollment assistance and answers to common TRICARE questions can also be answered by TRICARE West Region at 877-988-9378 or www.tricare-west.com.
The TOPA office provides assistance to beneficiaries in the following areas: referral management, health benefits and dental plan information, TRICARE for Life, medical claims and debt collection, medical evaluation boards, copies of medical records, release of information requests, and patient travel.
Exceptional Family Member
Program-Medical 509-247-5574/2246
The Exceptional Family Member Program-Medical is part of a triad of services (Assignments and Family Support are the other components) that determines the availability of medical and special education services for spouses and children prior to relocation. All active-duty sponsors who have dependent family members with medical or special education needs (per DOD criteria) are enrolled in the EFMP-M program. The EFMP-M program is administered by a special needs coordinator who is a licensed clinical social worker and a family member relocation clearance coordinator who is a medical administrative member. Each sponsor who has family members enrolled in the program will receive an annual contact and a record review before relocation. All sponsors relocating OCONUS will also have their family member's records reviewed to ensure the right level of care and services is available at the gaining location.
Dental Services
709 Hospital Loop,
Building 9008 509-247-5820/5829
The 92nd Dental Clinic provides a full range of dental services, including diagnostic exams, preventive care, restorative procedures, periodontics, prosthodontics and oral surgery. Active-duty personnel receive priority care, with limited emergency services for other authorized beneficiaries seeking dental care. Family members of active-duty personnel are encouraged to use the TRICARE Dental Program. Go to www.tricare.mil/CoveredServices/Dental/TDP for more information.
Health Promotion Center Services
Health Promotions
300 W. Castle St.
(in Fitness Center) 509-247-5590
Appointments: Sign-up for healthy lifestyle courses at https://booknow.appointment-plus.com/6brne058.
The Health Promotion Team emphasizes policy, systems and environmental changes that facilitate healthy behaviors. The health promotion office has moved away from a facility-centric emphasis and now is devoted to an "all in" approach toward driving a culture of health. This approach implies that we all must become advocates and role models for health, including discouraging tobacco use, encouraging healthy snacks and personally investing in improved physical fitness and performance. Each of these can affect the health and resiliency of the Fairchild community. The Health Promotion office can help squadrons implement policies and make environmental changes that ensure the healthy option is the best option.
If you have a particular health promotion need not addressed here, contact the Health Promotion Center at 509-247-5590.
Nutrition
The "Healthy Weight Program" is designed to help those seeking to lose or maintain their weight and enjoy an overall healthy lifestyle. This course includes general information on nutrition and behavioral issues including stress, sleep and physical fitness. It helps participants identify personal goals along with ways to make healthy behavior changes to meet those goals. The program is open to everyone including dependents and retirees. It's a four-week class but is flexible and fluid and allows participants to enter the program at any time, as each module stands independently.
Individual nutrition consultations are available by appointment.
Healthy cooking classes: Learn how to use fresh foods to make healthy, great-tasting food. Classes are taught by a registered dietitian using seasonal items to help you save money on your grocery bill.
Smoking Cessation
Smoking cessation classes are not on the schedule, but classes can be scheduled for a flight or squadron. For those interested in quitting tobacco, a service offered through the American Lung Association communicates directly with the pharmacy department (The Lung and Tobacco Quitline 877-695-7848). Additional resources during your journey to becoming tobacco-free include: continued phone consultations with the lung-line and online or telephone consultations at https://tricare.mil/ucanquit2. Other options include scheduling an on-site session with the Behavioral Health Optimization Program or the Health Promotion Office.
Running
The running clinic's goal is to help individuals run faster with fewer injuries, and the good news is that many running injuries can be avoided entirely. The clinic presents the components for a safe and effective running program and recommends the best type of running shoe for those participating. A running form video assessment also will be offered. The running clinic can be scheduled for a group of 10 or at the flight level, or go to https://booknow.appointment-plus.com/6brne058 for the next available class.
Pre-and Postnatal Care
Obstetrics Orientation is held weekly for new moms-to-be. Classes are taught by a New Parent Support Nurse and Registered Dietician; they include OB support and information, prenatal and post-partum administrative information, prenatal safety, nutrition and support services for new families. The nutritionist reviews food safety concerns, calories and healthy food options.
The Third Trimester class invites new parents to attend during their third trimester of pregnancy. The nurse reviews pregnancy symptoms, getting ready to have a baby, what to expect during labor and delivery, breastfeeding, newborn care, post-partum care, pediatric care, safety and new parenting skills. The Third Trimester class is held once a month.
The OB Orientation and Third Trimester classes are held in the Health Promotions classroom. Call 509-247-2687 for information and times.
Dads: The Basics is a hands-on class for expectant fathers. Learn how to change a diaper, swaddle and hold a baby, pack a diaper bag, tips on calming a crying baby, what to expect at the hospital and during the post-partum period, and newborn parenting skills. Call 509-247-3249 to sign up. This class is held quarterly at the Education Center.
Stress Management
Lower stress levels with one of our three massage chairs and a room that can be dedicated to relaxation. The relaxation room features a massage chair and a seasonal affective disorder lamp. Visit https://booknow.appointment-plus.com/6brne058 to schedule an appointment.
Body Composition
The Bod Pod, considered the practical gold standard for accurate, safe and easy body composition analysis, will provide you with an unbiased assessment of body fat, lean body mass and resting metabolic rate.
HOUSING
Housing Management Office
210 E. Bong St. 509-247-5185
www.housing.af.mil/Units/Fairchild
The Fairchild AFB Housing Management Office is ready to help you transition to your new home and community. Use its resources to become familiar with available housing options and support services. When you arrive at Fairchild Air Force Base, visit the HMO for valuable information, counseling and guidance before signing any lease or sales contract for housing.
Unaccompanied Housing
6 W. Bong St. 509-247-3275
www.housing.af.mil/Units/Fairchild
Unaccompanied housing is provided for unaccompanied airmen in the ranks of E-1 to E-3, and E-4 with less than three years of service. Each airman is provided a private sleeping room, furnishings, bed linens and supplies required for comfortable living. Permanent party unaccompanied housing consists of 10 buildings, divided by unit.
Unaccompanied airmen in the rank of E-4 with more than three years of service will move into housing in the local community.
Fairchild AFB Homes
210 E. Bong St., Building 2190 509-244-6500
www.fairchildafbhomes.com
At Fairchild Air Force Base, military family housing is privatized. In addition to your option to purchase and rent housing in the local community, you may choose to live in privatized housing by signing a tenant lease agreement with Balfour Beatty Communities, which owns the family housing and is responsible for constructing, maintaining, repairing and managing the community.
For comprehensive information about homes and amenities in the Fairchild privatized housing community, visit the Fairchild AFB Homes website.
MAIL
Post Office
100 N. Chennault Ave.,
Suite 100 509-244-6398
The full-service Post Office on base provides window service on weekdays, and the lockbox lobby is always open. To receive mail by general delivery, use the following address:
Your Name and Rank
100 N. Chennault Ave., Box 3500
Fairchild AFB, WA 99011
If you plan to reside in the dormitory, request a PSC mailbox in advance. Send your sponsor a copy of your orders and ask the sponsor to obtain a PSC box assignment from the Postal Service Center for you. For more information about postal services and post office box rentals, call the Fairchild Air Force Base post office.
PETS
Veterinary Services
402 N. Vet Road, Building 2424 509-247-2538
The Fairchild Veterinary Clinic is professionally staffed by personnel whose primary mission is providing complete veterinary care for all government-owned animals. The facility also offers many routine care services for pets of military families, among them ID microchips, well-pet exams, and allergy and heartworm testing. However, most veterinary emergencies are best served by a full-service civilian veterinary hospital; see the Military Buyer's Guide tab to connect with local veterinarians.
All pets living on base must be registered with the clinic upon arrival. On-base housing limits the number and breed of pets that can live there.
RELIGIOUS GUIDANCE
Fairchild Chapel
300 E. Poplar Ave., Suite 113 509-247-2264
www.fairchild.af.mil/units/base-chapel
The United States Air Force Chaplain Corps is dedicated to preserving your right to worship. It provides, or finds a way to provide, for a broad spectrum of worshipers. If you are seeking spiritual support for any denomination or faith group, it will do its best to assist you.
The Fairchild Air Force Base Chapel offers counseling and seminars that include pre-marital, marital, religious, stress, grief and loss, etc. All counseling sessions are covered by privileged communication.
VEHICLE REGISTRATION
Fairchild Air Force Base does not require you to register your vehicles on base, but all privately owned vehicles there must be insured and have current license plates. Washington state traffic laws apply on base; see the Getting To & Around Spokane County chapter for more information. All vehicles entering or leaving base are subject to search.
Serving You



DINING
Catering 509-795-4100
Final Point
1010 Survival Loop 509-244-2865
Flight Kitchen
100 W. Bong St. 509-247-2614
Sgt. Roger A. Ross Dining Facility
1020 W. Survival Loop 509-247-5553
SkyBox Cafe & Bar
801 S. Taxiway Road 509-244-2162
Warrior Inn Dining Facility
100 W. Bong St. 509-247-5348
For hours of operation, menus and special event information, visit www.fairchildfun.com.
EDUCATION
Education Services/University Center
6 W. Castle St. 509-247-2348
www.fairchildfun.com/education.html
The Education Center provides educational opportunities and counseling services to all Air Force members assigned to Fairchild Air Force Base, active-duty personnel, DOD civilian employees, adult family members and military retirees.
There are four on-base universities — Bellevue University, Community Colleges of Spokane, Embry-Riddle Aeronautical University and Park University — offering both undergraduate and graduate programs.
FAMILY SUPPORT
Airman & Family Readiness Center
4 W. Castle St., Building 2365 509-247-2246
www.fairchildfun.com/afrc.html
http://fairchildfamilysupport.org
The Airman & Family Readiness Center, a one-stop information and referral center, is the cornerstone of the Fairchild family support system, helping airmen and their families enhance their readiness and quality of life.
Services and resources are provided in many areas, including relocation, employment, personal financial readiness, personal and family readiness for deployments, and family life. A loan closet provides household items such as pots and pans, dishes, silverware, and irons for those waiting for their household goods to arrive. Free child care is available through the Child Care for PCS Moves program for 20 hours per child within 60 days of your arrival, and through the Returning Home Care program for 16 hours per child within six months of a deployment longer than 30 days.
Child Development Center
201 E. Fairchild Highway 509-247-2403/2408
www.fairchildfun.com/cdc.html
The Child Development Center offers weekly care for children from 6 weeks to 6 years old, and hourly care is available by reservation on a space-available basis. The center's safe, nurturing environment promotes the social, cognitive, language and physical development of youngsters. The center is nationally accredited and DOD-certified.
Children of active-duty military personnel, DOD civilian personnel, reservists on active duty and DOD contractors are eligible. Fees are based on total family income. Registration requires a completed DD Form 2606, immunization records, leave and earnings statements, and emergency contact information.
Exceptional Family
Member Program 509-247-2246
www.fairchildfamilysupport.org/efmp
Enrollment in the Exceptional Family Member Program provides special assignment consideration to a service member who has a spouse, child or dependent adult with special educational needs or medical conditions requiring prolonged hospitalizations or outpatient treatment. EFMP helps ensure that needed services are available, on or off base, at the gaining location prior to a PCS.
Family Child Care
610 N. Depot Road,
Building 2447 509-247-5336
www.fairchildfun.com/fcc.html
Family Child Care provides an alternative to child development center care for families that need evening care, weekend care, or care for children with special needs or infants and school-age children, as well as care during swing and midnight shifts.
FCC providers are well-trained and certified and undergo a thorough background check, and their homes are regularly inspected throughout the year.
The program also offers an opportunity for spouses to contribute to the family income while caring for their own children.
Teen Center
5 W. Bong St. 509-247-8043
www.fairchildfun.com/tcenter.html
The Teen Center offers after-school programming for young people in middle school and high school. Core programs provide activities that focus on character and leadership, careers and education, the arts, sports and fitness, and health and life skills. The center is affiliated with the Boys and Girls Clubs of America and partners with Washington State 4-H. Visit the website for costs and school year and summer hours.
School Liaison
4 W. Castle St. 509-657-2246
www.fairchildfamilysupport.org/youth-education
https://tinyurl.com/yd6s5txa
The school liaison office is the connection between Fairchild AFB families and private and public schools. The office supports service members during all stages of transition and deployment to ensure children receive every possible opportunity for quality education.
On-base children in pre-K through fifth grade attend the on-base Michael Anderson Elementary School. The name memorializes Col. Michael Philip Anderson, an astronaut killed in the Space Shuttle Columbia disaster. The facility features modern classrooms, playgrounds and a cafeteria.
Youth Center
200 W. Castle St. 509-247-5601
www.fairchildfun.com/ycenter.html
Young people will find many ways here to enrich and develop their lives through fun-filled and educational programs. The facility houses an arts and crafts room, a computer room, a game room and a complete gym. Special programs include the FitFamily initiative, which stresses the importance of healthy choices and encourages all family members to be active together.
FINANCIAL SERVICES
Armed Forces Bank
101 W. Spaatz Road,
Building 2465 509-244-6289
www.afbank.com
Global Credit Union
107 E. Spaatz Road 509-455-4700, ext. 4326
www.globalcu.org
LEGAL SERVICES
Legal Office
1 E. Bong St., Suite 103 509-247-2838
www.fairchild.af.mil/Units/Legal
Legal assistance for wills, estate planning, family law taxation and more is provided on select days. Visit the website for hours. While active-duty members may fill out worksheets for wills, powers of attorney, etc., online at the U.S. Air Force Legal Assistance website, https://aflegalassistance.law.af.mil, they must visit the official Air Force legal office to receive the actual legal documents.
LIBRARY
2 W. Castle St. 509-247-5556/5228
www.fairchildfun.com/library.html
A wealth of information awaits you at the base library, where resources include books for all ages, DVDs, CD-ROMs, magazines, audio books on tape, CDs and MP3s, music CDs, CLEP and DANTES study materials, new releases, weekly story time, year-round programs for all ages, and special collections.
All military members and their families, military retirees and their family members, DOD civilians and their families, DOD contractor personnel working at Fairchild and on-base students are eligible for library accounts.
RECREATION
For information about the recreational programs at Fairchild Air Force Base, visit the 92nd Force Support Squadron online at www.fairchildfun.com.
Arts & Crafts Center
610 N. Depot Ave. 509-247-3038
www.fairchildfun.com/ac.html
Feeling crafty? Unleash your creativity using the center's tools and tables, or sign up for one of the classes offered.
Engraving Shop 509-247-3038
www.fairchildfun.com/engraving.html
Whatever your design needs — cutting boards, clocks, pens, mugs, flag boxes, keepsake boxes and more — the experienced engraving shop staff has them covered.
Wood Craft Center 509-247-5189
www.fairchildfun.com/wood.html
Use the shop's tools to complete small-scale projects after completing safety training. There is also a variety of classes where you can learn pen-making, or how to create a cutting board or keepsake box, or basic bowl turning.
Aquatics Center
Indoor Pool
300 W. Castle St. 509-247-2242
Outdoor Pool
121 N. Doolittle Ave. 509-247-2242
www.fairchildfun.com/aquatics.html
The pools offer lap swim, open swim, water aerobics, lessons and classes. For information on current hours for each activity, visit the center's website.
Auto Hobby Shop
220 W. Castle St. 509-247-2310
www.fairchildfun.com/auto.html
Do your own automobile maintenance at the center using its stalls, lifts and tools. It also offers auto classes for do-it-yourselfers and mechanics if you prefer to leave the repairs in expert hands. There is an automatic car wash for a reasonable price. See the website for rate information.
FamCamp
326 El Paso 509-247-5920
www.fairchildfun.com/famcamp.html
FamCamp is nestled beneath a grove of locust trees in a meadow of native grasses. There are 32 campsites, each with water, power and sewer hookups. Restrooms, showers and laundry facilities are available, as is a dry-camp overflow area. Spaces are first-come, first-served — no reservations.
Fitness Center
300 W. Castle St. 509-247-2791/2792
www.fairchildfun.com/fitness.html
The center offers the latest fitness equipment, group exercise and specialty classes. Intramural and varsity sports are also available. Contracted services include massage therapists, boxing, yoga and personal trainers.
Information, Tickets & Travel
101 W. Spaatz Road 509-247-5649/244-4797
www.fairchildfun.com/itt.html
Find information and get military discount tickets for attractions like Raptor Reef and Silverwood or seats for a Mariners or Seahawks game. You can get discounts for vacation spots such as Walt Disney World, Disneyland, Universal Studios and more.
Whatever travel destinations you seek, the ITT staff can help you plan your trips by assisting with airline tickets, hotels, rental cars and even cruises.
Outdoor Recreation Connection
610 N. Depot Ave. 509-247-5920
www.fairchildfun.com/orc.html
The Outdoor Recreation Connection has equipment rentals, the outdoor adventure program, and a resale area as well as the Resource Center for guide books, maps and instructional books. Plan your own trip by using these materials or purchase them for future use. The Resource Center is open during the Outdoor Recreation Connection's normal business hours. Services are available to military ID cardholders, DOD employees and dependents.
SHOPPING
Fairchild AFB Commissary
105A W. Spaatz Road 509-244-5591
www.commissaries.com
Save an average of 30 percent of your hard-earned dollars when shopping for groceries at the Fairchild AFB Commissary. In-store amenities and specialties include an ATM, bakery, custom photo cakes, a deli, fresh sandwiches to go, plants, rotisserie chicken and sushi.
Fairchild Exchange
www.shopmyexchange.com
The Fairchild Air Force Base Exchange wants to be your first choice for shopping. It offers a price-match program that guarantees the lowest prices in town. Hours of operation for services outside the Main Exchange vary, so call or visit the website for detailed information.
Main Exchange
101 W. Spaatz Road,
Building 2465 509-244-3641
Exchange Mobile Center 509-244-8502
Military Clothing Store 509-244-3324
Exchange Restaurants
Bravo Burrito 509-244-6596
Burger King 509-964-0789
Starbucks 509-244-8389
Sushi Kyo & Teriyaki 509-244-8499
Concessions
Alterations 509-244-6348
Barbershop 509-244-2848
Betty Jean's BBQ 509-828-5931
Floral Shop 509-244-5002
GNC 509-244-9948
Optical Center 509-244-9729
Other Facilities
Class Six, Building 2463 509-244-2601
Express, Building 2383 509-244-5095
Survival Troop Store, Building 1252 509-244-9615