Welcome to the U.S. Air Force Academy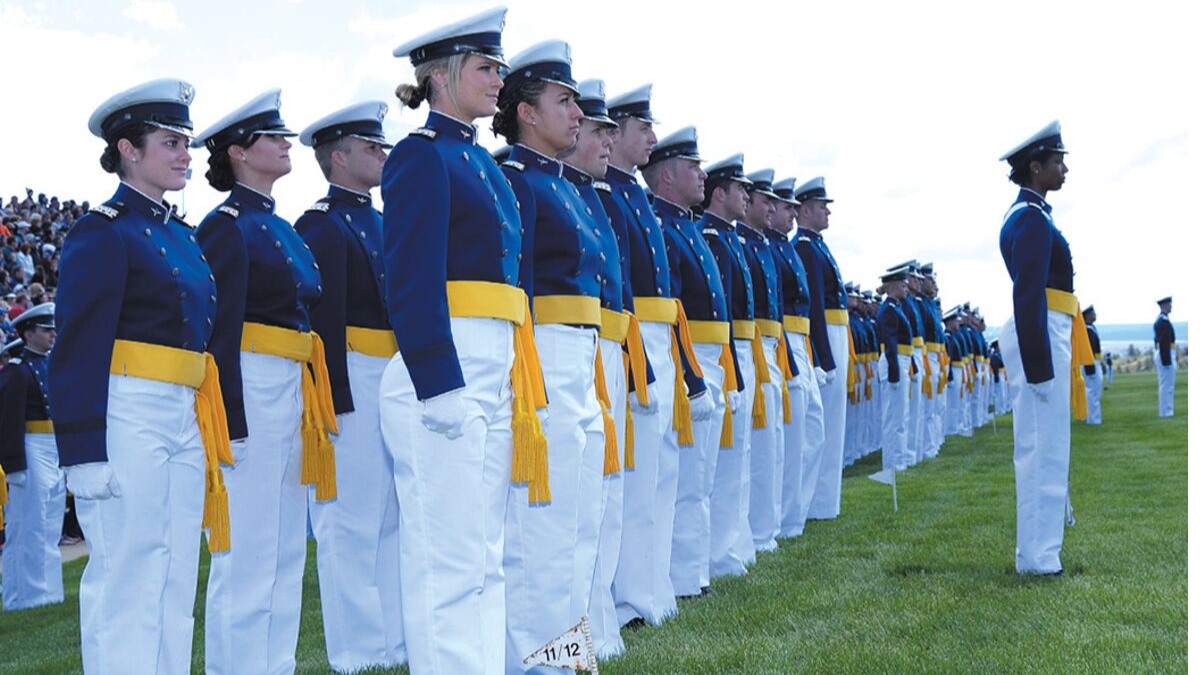 It's a great time to visit the U.S. Air Force Academy.
WELCOME TO THE U.S. AIR FORCE ACADEMY, WHO HAS COMMISSIONED OUR NATION'S LEADERS THROUGH AN IMMERSIVE AND RIGOROUS ACADEMIC AND MILITARY TRAINING ENVIRONMENT FOR MORE THAN 60 YEARS.
Our distinguished faculty and staff are dedicated to providing a world-class education for a diverse and informed cadet wing. Through mentorship and collaboration, military and career professionals remain highly visible in the classroom, in the community and in the research field. We require excellence from our educators because excellence is expected from our cadets.
Our campus facilities and programs are also reaching for new horizons. We've designed our labs and research centers to be the best in the world. You'll find cutting-edge technology like trisonic blowdown tunnels and rocket test cells in our aeronautics laboratory, and classrooms designed for open conversation and collaboration. From a curricular standpoint, we've added technology-driven fields of study, including coursework in cyber warfare and remotely piloted aircraft. We develop cadets who are prepared leaders in a global society.
As we modernize and move forward, we have a renewed commitment to being good stewards of our environment. From our recently completed construction of a 6-megawatt solar array covering 30 acres, to a fleet of hybrid and E-85 vehicles, we're working to become a net-zero energy base — and that's just one part of a larger vision.
Whether you've come to Colorado Springs as a visitor, cadet or by permanent change of station, one thing is certain: The Academy experience — decades in the making — is unlike any other, and we're proud to say that we operate at a different altitude by educating, training and inspiring men and women to become officers of character, motivated to lead the U.S. Air Force in service to our nation.
WHAT CAN I DO AS A VISITOR?
There are many sights to explore at the Academy. We invite you to visit the breathtaking Cadet Chapel, with its towering spires reaching 150 feet in the air, or sneak a peek of Polaris Hall, home to our new Center for Character & Leadership Development.
Head over to Falcon Stadium for a game or enjoy beautiful vistas from one of our publicly accessible hiking and biking trails.
WHAT CAN I DO AS STAFF, A DEPENDENT OR A RETIREE?
You can take advantage of our beautiful recreational facilities like Eisenhower Golf Course, Academy Lanes Bowling Center, and the Base Library, to name a few. You are also invited to connect with the cadets by watching intramural, club, and intercollegiate athletics and activities, attending lectures from guest speakers, becoming a squadron participant and, if eligible, becoming a cadet sponsor.
While grounded in our rich heritage, the Academy also aims to become extraordinary by creating excitement and focus around innovation, excellence in cadet and faculty development, and partnerships with alumni, industry and the surrounding community. Your time at the Academy will be a rewarding experience and critical to the preparation of our future leaders who will serve their nation in government, business and community.
About the Academy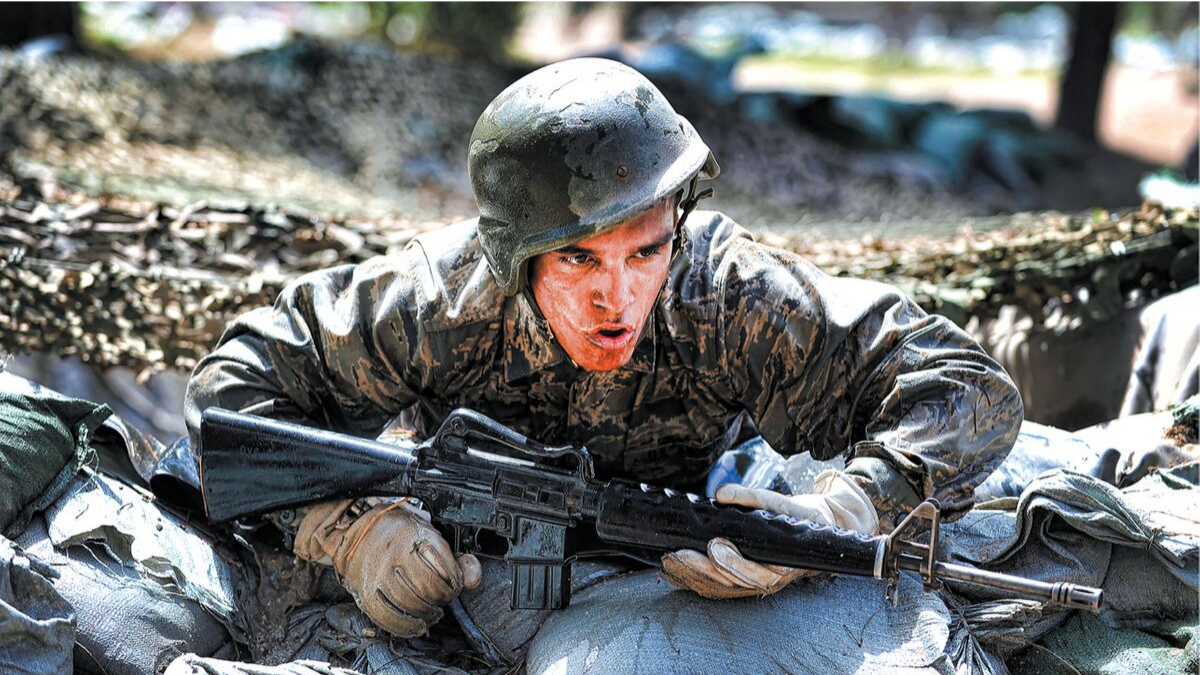 Among the numerous colleges and universities nationwide, the U.S. Air Force Academy experience stands alone. Within a single immersive course of instruction, cadets receive an accredited Bachelor of Science degree, undergo an intensive program of physical education, develop enduring leadership capabilities and receive extensive military training.
ACADEMICS
From computer engineering to philosophy, Academy graduates must be prepared to assume 21st century professional and leadership roles, both within and outside the Air Force. The Academy offers a balanced curriculum of 27 majors and three minors, comprised of more than 500 courses in basic sciences, engineering, humanities and social sciences. Cadets complete a core curriculum of 97 semester hours in all four academic areas, as well as five hours of physical education and 45 hours of major-specific courses.
PHYSICAL TRAINING
The Academy's athletic program develops leadership, teamwork, self-confidence and physical courage. All cadets are athletes and participate in intramural or intercollegiate athletic programs in addition to the required physical education curriculum, which offers 23 courses in combatives, aquatics, lifetime sports and developmental subject areas.
CHARACTER DEVELOPMENT
The Profession of Arms requires officers to have the highest ethical and moral standards. Cadets are challenged to reflect upon their beliefs and values from the moment they arrive at the Academy through a variety of programs and activities facilitated through the cadet wing and the Center for Character & Leadership Development. Cadets also abide by the cadet honor code, pledging: "We will not lie, steal or cheat, nor tolerate among us anyone who does."
MILITARY TRAINING
The Academy's military training program is what really sets it apart from other colleges and universities. This program exists to provide today's cadets with the knowledge and skills needed to meet the challenges of tomorrow's Air Force.
These four primary areas are stressed:
Professional military studies.
Theoretical and applied leadership experiences.
Aviation science.
Airmanship programs and military training.
Whether on or off duty, this course of instruction is intended to prepare young men and women to go forward with distinction as they serve our nation overseas and at home.
Our Mission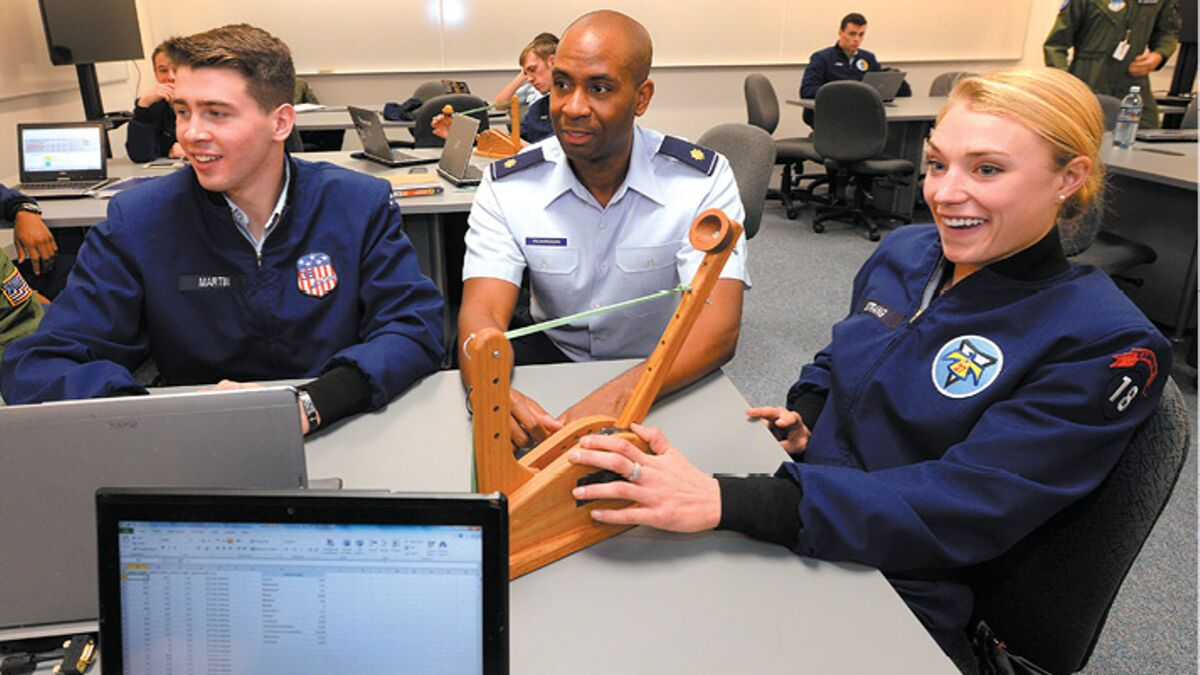 THE MISSION OF THE U.S. AIR FORCE ACADEMY IS TO EDUCATE, TRAIN, AND INSPIRE MEN AND WOMEN TO BECOME LEADERS OF CHARACTER, MOTIVATED TO LEAD THE U.S. AIR FORCE IN SERVICE TO OUR NATION.
The U.S. Air Force Academy's purpose is developing women and men to lead as officers in the U.S. Air Force. The Academy focuses its efforts on producing leaders of character — officers who, above all, exemplify the U.S. Air Force's core values of "integrity first, service before self and excellence in all we do." Building on the foundation of integrity, the U.S. Air Force Academy forges cadets, through academic, military and athletic training, into resilient, innovative airmen who understand and appreciate the full spectrum application of airpower in air, space and cyberspace and are able to operate and lead in the most challenging environments.
The Academy doesn't just graduate lieutenants — it develops leaders of character. From the application process to the first day of Basic Cadet Training to final exams, the Academy seeks out and trains cadets to adhere to qualities of moral excellence.
This character and leadership development is as much a part of the Academy experience as academics, athletics and military training. It is built into specific programs, and more importantly, into the foundation of the Academy — its mission, core values and vision.
VISION
TO BE THE AIR FORCE'S PREMIER INSTITUTION FOR DEVELOPING LEADERS OF CHARACTER
The U.S. Air Force Academy is a world-class institution providing an immersive, comprehensive developmental experience to produce the world's most innovative, resilient and committed leaders of character. We are an elite installation that combines top-tier education, facilities and infrastructure in a superior training environment, with historic and iconic structures that inspire our cadets by linking them to the Air Force's legendary heritage and boundless future. We provide an intensive immersion in leadership training and officer development that is founded on integrity, built on the pillars of academic, military and athletic excellence, which inculcates in our cadets a spirit of selfless service to our nation. The Academy fosters a culture of commitment and climate of respect, and focuses future leaders on innovation and continual improvement. The Academy produces air-minded leaders and career officers with the character, critical thinking skills and strategic agility to lead our nation's Air Force today and into the future. America is — and always will be — an aerospace nation. We are its Academy.
CORE VALUES
INTEGRITY FIRST. SERVICE BEFORE SELF. EXCELLENCE IN ALL WE DO.
First and foremost, our officers must be leaders of character who have internalized and exhibit the Air Force's core values. These core values of integrity, service and excellence are central to everything we do as an institution in developing our future leaders and should focus the efforts of our cadets, faculty, staff and mission elements on a daily basis.
EXCELLENCE
Excellence inspires us to develop a sustained passion for innovation, continuous improvement and superior performance at the personal, unit and institutional levels. Additionally, leaders of character must be trained professionals who have the skills and abilities to excel as operators and leaders in today's Air Force and the agility and resilience to adapt and win in the future global environment.
INTEGRITY
Integrity drives us to do what is right even when no one is looking. It is the moral compass and the basis for the trust that is imperative in today's military. It encompasses honesty, courage, justice, responsibility and accountability.
SERVICE
Service makes us realize that professional duties take precedence over personal desires. Service is exhibited through rule-following, discipline, respect and self-control.