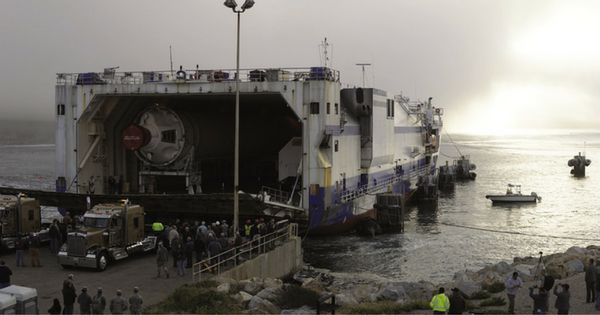 Vandenberg's military service started in 1941 as an Army training center called Camp Cooke, built as part of America's effort to strengthen its military in preparation for a war in which it anticipated involvement in Europe and the FarEast. Between March and September 1941, the Army acquired about 86,000 acres of ranchland in northern Santa Barbara County between Lompoc and Santa Maria. By 1942, additional land acquisitions had increased the camp's size to nearly 94,000 acres. With its flat plateau, surrounding hills, numerous canyons, ocean access, moderate weather and relative remoteness from populated areas, the area seemed like the ideal training location for Army infantry forces.
Construction of the Army camp began in mid-September 1941, and though still months away from completion, the Army activated it on Oct. 5 and named it Camp Cooke in honor of Maj. Gen. Philip St. George Cooke, a cavalry officer whose military career spanned almost half a century from his graduation from the United States Military Academy at West Point in 1827 to his retirement in 1873. Cooke saw considerable service on the frontier during the Indian wars, the Mexican War (1846-1848) and the Civil War (1861-1865).
During World War II, the 5th, 6th, 11th, 13th and 20th Armored Divisions; the 86th and 97th Infantry Divisions; and the 2nd Filipino Infantry Regiment trained at Cooke, along with an assortment of anti-aircraft artillery, combat engineer, ordnance and hospital units. All told, more than 400 outfits passed through Camp Cooke.
As the war progressed, German and Italian prisoners of war were quartered at Cooke. Having surrendered to the Allies in 1943, many of the Italians volunteered to work for the U.S. Army, which organized them into Italian Service Units. The Germans and the Italians were kept separate in accordance with the Geneva Conventions and worked on the post alongside Americans at various jobs including mechanical and civil engineering services, clerical positions, food service and the main laundry. To ease the severe labor shortage in the commercial market created by wartime exigencies, the Germans also worked in local communities at agricultural jobs.
A maximum security Branch Disciplinary Barracks was constructed on post in 1946 to confine Army and Navy military prisoners. When Camp Cooke closed in June 1946, personnel at the Disciplinary Barracks were given the additional duty as caretakers for the entire installation. Almost the entire camp was then leased for grazing and agriculture.
From August 1950 until its final closure in March 1953, Camp Cooke served as a training center for Army units slated for combat in Korea and as a summer training base for many detached Reserve or National Guard outfits. The largest units stationed at Cooke were two National Guard infantry divisions, the 40th from California and the 44th from Illinois. On March 31, 1953, the camp was closed permanently. In August 1959, the Army's Branch Disciplinary Barracks was transferred to the U.S. Bureau of Prisons, and today, it is known as the U.S. Penitentiary at Lompoc.
The Air Force Takes Over
With the advent of the missile age in the 1950s, an urgent need arose for an adequate training site that could also be America's first combat-ready missile base. In January 1956, a select committee was formed that examined more than 200 potential sites before deciding upon the vacant Camp Cooke, essentially for the same characteristics the Army had found desirable in 1941. Cooke's coastal location would allow missiles to be launched into the Pacific Ocean without population overflights. Its geographic location also enabled satellites to be placed into polar orbit directly toward the South Pole without overflying any land mass until reaching Antarctica.
In September 1956, Air Force Secretary Donald Quarles accepted the committee's recommendation. A few weeks later on Nov. 16, 1956, Defense Secretary Charles E. Wilson directed the Army to transfer 64,000 acres of North Camp Cooke to the Air Force for use as a missile launch and training base. In June 1957, this portion of the camp was renamed Cooke Air Force Base and was officially transferred to the Air Force.
During the next two years, missile launch and control facilities began to appear as tons of concrete and steel transformed the landscape. Old buildings were renovated and new ones built, including Capehart military family housing. The work was already in progress when the Air Force hosted the official groundbreaking ceremonies on May 9, 1957.
Five months later, on Oct. 4, 1957, Russia hurled its Sputnik satellite into orbit, followed in November by Sputnik 2 carrying a dog into space. Launched by modified intercontinental ballistic missiles, these operations had clear military implications. The U.S. Air Force responded by pushing its missile program into high gear. It also transferred management responsibilities for Cooke Air Force Base from Air Research and Development Command to an operational organization, the Strategic Air Command, on Jan. 1, 1958. Along with the transfer, SAC acquired most of the ARDC organizations on the base and responsibility for attaining initial operational capability for the nascent U.S. missile force. Their mission also included training missile launch crews.
ARDC retained responsibility for the design and activation of launch and support facilities. It also retained research and development testing of ballistic missiles and space systems. These activities were carried out by a field office established immediately after the realignment, which also produced the seeds for later organizations including the 6595th Aerospace Test Wing, the Western Test Range, the Space and Missile Test Center and the Western Space and Missile Center. Space launches were to be conducted by ARDC and SAC, with the vast majority of these operations being handled by ARDC. In 1961, ARDC was redesignated Air Force Systems Command. For the next 30 years, AFSC and SAC cultivated a close working relationship at Vandenberg.
On Oct. 4, 1958, Cooke Air Force Base was renamed Vandenberg Air Force Base in honor of the late Gen. Hoyt S. Vandenberg, the Air Force's second chief of staff.
Launch Vehicles and Programs
The transition from Army camp to missile base was realized on Dec. 16, 1958, when Vandenberg successfully launched its first missile, a Thor Intermediate Range Ballistic Missile. Vandenberg set another record Feb. 28, 1959, when it launched the world's first polar orbiting satellite, Discoverer I. The launch vehicle for this mission was a Thor-Agena rockets combination.
The Discoverer series of satellites provided other significant firsts for Vandenberg. In August 1960, the data capsule ejected from Discoverer XIII in orbit and recovered from the Pacific Ocean became the first man-made object ever retrieved from space. A week later, on Aug. 19, the descending capsule from Discoverer XIV was snared by an aircraft in flight for the first air recovery in history. Shrouded in a cover story of scientific research, Discoverer was actually the cover name for Corona, America's first photo reconnaissance satellite program, which continued until 1962.
The first intercontinental ballistic missile, the Atlas ICBM, flew from Vandenberg AFB on Sept. 9, 1959. The following month, equipped with a nuclear warhead, the Atlas at Vandenberg became the first ICBM to be placed on alert in the United States. In 1961, the Titan I entered the inventory at Vandenberg Air Force Base but was soon replaced by the more advanced Titan II with storable propellants, all-inertial guidance and in-silo launch capability.
Over the years, unmanned satellites of every description and purpose, including international satellites, were placed in orbit from Vandenberg AFB by a widening variety of boosters. Among the parade of newer space boosters were the Titan IV (March 1991), Taurus (March 1994), Pegasus (April 1995), Delta II (February 1996), Atlas IIAS (December 1999), Minotaur (January 2000), Delta IV (June 2006) and Atlas V (March 2008).
The most ambitious Air Force endeavors at Vandenberg have been the Manned Orbiting Laboratory and the Space Shuttle programs. The MOL vehicle consisted of a Titan III booster carrying a modified Gemini B capsule attached to a space laboratory. Construction work for MOL began at Space Launch Complex 6 on South Vandenberg in March 1966. Beginning in January 1979, it underwent an estimated $4 billion modification program in preparation for the Space Shuttle. A joint decision by the Air Force and NASA to consolidate shuttle operations at Cape Canaveral in Florida, following the Challenger tragedy in 1986, officially terminated Vandenberg's shuttle program on Dec. 26,1989.
Organizational Structures
On Oct. 1, 1979, Air Force Systems Command established the Western Space and Missile Center at Vandenberg. As the launch arm of a research and development command, WSMC conducted R&D missile launches and various space launches. It also managed the Western Test Range. Meanwhile, the Strategic Air Command continued to operate the base through its 1st Strategic Aerospace Division. Beginning in 1990 and throughout the decade, a series of reorganizations occurred that altered these organizational structures. On July 31, 1 STRAD was redesignated the Strategic Missile Center. Two months later, on Oct. 1, 1990, most of WSMC was reassigned to Air Force Space Command. Other elements of the original WSMC involved in R&D launch programs remained with AFSC as separate entities at Vandenberg. They were later consolidated as Detachment 9, Space and Missile Systems Center, based in Los Angeles.
The next big organizational change occurred Jan. 15, 1991, when host base responsibilities for Vandenberg transferred from SAC to AFSPC's WSMC. Also transferred to WSMC were all base support organizations. On Sept. 1, 1991, SAC reactivated the 20th Air Force at Vandenberg as a replacement for the Strategic Missile Center. Less than a year later, on June 1, 1992, Air Combat Command replaced SAC and picked up the 20th Air Force. On Oct. 1, 1993, the 20th relocated to F.E. Warren Air Force Base, Wyoming, and was assigned to Air Force Space Command.
Meanwhile, on Nov. 19, 1991, WSMC was redesignated the 30th Space Wing. In actuality, its Operations Group assumed the lineage and history of the 30th Bombardment Group (Heavy) and shared the number designation with its reporting unit, the former WSMC.
With the activation of Headquarters 14th Air Force at Vandenberg on July 1, 1993, the 30th Space Wing that had reported directly to HQ AFSPC was now reassigned to the numbered Air Force. In 2002, the 14th became the Air Force space operational component of United States Strategic Command. In 2007, the 14th added the parenthetical title "Air Forces Strategic" to its name.
Today, with an expanse of 99,604 acres, Vandenberg is the third-largest U.S. Air Force base in the United States, after Eglin Air Force Base in Florida and Edwards Air Force Base in California. It's the sole U.S. military installation that launches unmanned commercial and government satellites into polar orbit, as well as the only land-based U.S. site that test-fires intercontinental ballistic missiles westward, to target areas in the Pacific Ocean. Vandenberg also is the only site able to receive and process Boeing's X-37 Orbital Test Vehicle.