in Santa Barbara County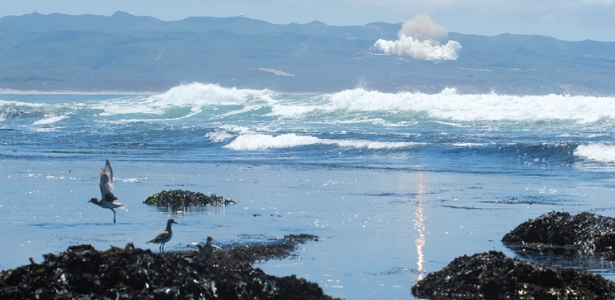 On California's Central Coast, Vandenberg Air Force Base is near Lompoc and Santa Maria in northern Santa Barbara County with Lompoc, 11 miles from the base, being the closest town. For drivers, it's 160 miles northwest of Los Angeles on U.S. Highway 101; 375 miles south of San Francisco by way of U.S. 101, with a jog west at the Betteravia Exit in Santa Maria to California Highway 135, then California Highway 1; 1,600 miles west of Dallas; 1,170 miles west of Denver; and 2,167 miles southwest of Chicago.
The base encompasses almost 99,600 acres, with 42 miles of pristine coastline stretching along the Pacific Ocean. There are 9,000 acres of sand dunes, 5,000 acres of wetlands, more than 1,600 prehistoric archeological and 14 rock art sites, five Native American villages, the Juan Bautista de Anza National Historic Trail and a National Historic Landmark (Space Launch Complex 10), 26 Cold War-era complexes, and 15-plus endangered or threatened species.
Vandenberg Air Force Base was named in honor of the late Gen. Hoyt S. Vandenberg, second Air Force chief of staff of the United States Air Force and chief architect of today's modern Air Force. In honor of his service to the nation, the aerospace base, formerly Cooke Air Force Base, was rechristened Vandenberg AFB on Oct. 4, 1958.
The base is home to the 30th Space Wing, which manages DOD space and missile testing and uses expendable boosters to place satellites into polar orbit. Wing personnel also support the Minuteman III Intercontinental Ballistic Missile Force Development Evaluation program.
Population
Vandenberg's population of military, family members, contractors and civilian employees totals more than 18,000, the base says. There are approximately 2,595 Air Force personnel assigned, 2,943 family members, 1,081 Department of Defense civilians, 233 contractors and about 8,000 retirees in the region.
Economic Impact
The most recent figures available show Vandenberg Air Force Base's annual impact on the local economy to be approximately $1.75 billion. It is among the largest employers in Santa Barbara County and the Lompoc Valley.
History
Vandenberg's military service started in 1941 as an Army training center called Camp Cooke, built as part of America's effort to strengthen its military in preparation for a war in which it anticipated involvement in Europe and the Far East. Between March and September 1941, the Army acquired about 86,000 acres of ranchland in northern Santa Barbara County between Lompoc and Santa Maria. By 1942, additional land acquisitions had increased the camp's size to nearly 94,000 acres. With its flat plateau, surrounding hills, numerous canyons, ocean access, moderate weather and relative remoteness from populated areas, the area seemed like the ideal training location for Army infantry forces.
Construction of the Army camp began in mid-September 1941, and though still months away from completion, the Army activated it on Oct. 5 and named it Camp Cooke in honor of Maj. Gen. Philip St. George Cooke, a cavalry officer whose military career spanned almost half a century from his graduation from the United States Military Academy at West Point in 1827 to his retirement in 1873. Cooke saw considerable service on the frontier during the Indian wars, the Mexican War (1846-1848) and the Civil War (1861-1865).
During World War II, the 5th, 6th, 11th, 13th and 20th Armored Divisions; the 86th and 97th Infantry Divisions; and the 2nd Filipino Infantry Regiment trained at Cooke, along with an assortment of anti-aircraft artillery, combat engineer, ordnance and hospital units. All told, more than 400 outfits passed through Camp Cooke.
As the war progressed, German and Italian prisoners of war were quartered at Cooke. Having surrendered to the Allies in 1943, many of the Italians volunteered to work for the U.S. Army, which organized them into Italian Service Units. The Germans and the Italians were kept separate in accordance with the Geneva Conventions and worked on the post alongside Americans at various jobs including mechanical and civil engineering services, clerical positions, food service and the main laundry. To ease the severe labor shortage in the commercial market created by wartime exigencies, the Germans also worked in local communities at agricultural jobs.
A maximum security Branch Disciplinary Barracks was constructed on post in 1946 to confine Army and Navy military prisoners. When Camp Cooke closed in June 1946, personnel at the Disciplinary Barracks were given the additional duty as caretakers for the entire installation. Almost the entire camp was then leased for grazing and agriculture.
From August 1950 until its final closure in March 1953, Camp Cooke served as a training center for Army units slated for combat in Korea and as a summer training base for many detached Reserve or National Guard outfits. The largest units stationed at Cooke were two National Guard infantry divisions, the 40th from California and the 44th from Illinois. On March 31, 1953, the camp was closed permanently. In August 1959, the Army's Branch Disciplinary Barracks was transferred to the U.S. Bureau of Prisons, and today, it is known as the U.S. Penitentiary at Lompoc.
The Air Force Takes Over
With the advent of the missile age in the 1950s, an urgent need arose for an adequate training site that could also be America's first combat-ready missile base. In January 1956, a select committee was formed that examined more than 200 potential sites before deciding upon the vacant Camp Cooke, essentially for the same characteristics the Army had found desirable in 1941. Cooke's coastal location would allow missiles to be launched into the Pacific Ocean without population overflights. Its geographic location also enabled satellites to be placed into polar orbit directly toward the South Pole without overflying any land mass until reaching Antarctica.
In September 1956, Air Force Secretary Donald Quarles accepted the committee's recommendation. A few weeks later on Nov. 16, 1956, Defense Secretary Charles E. Wilson directed the Army to transfer 64,000 acres of North Camp Cooke to the Air Force for use as a missile launch and training base. In June 1957, this portion of the camp was renamed Cooke Air Force Base and was officially transferred to the Air Force.
During the next two years, missile launch and control facilities began to appear as tons of concrete and steel transformed the landscape. Old buildings were renovated and new ones built, including Capehart military family housing. The work was already in progress when the Air Force hosted the official groundbreaking ceremonies on May 9, 1957.
Five months later, on Oct. 4, 1957, Russia hurled its Sputnik satellite into orbit, followed in November by Sputnik 2 carrying a dog into space. Launched by modified intercontinental ballistic missiles, these operations had clear military implications. The U.S. Air Force responded by pushing its missile program into high gear. It also transferred management responsibilities for Cooke Air Force Base from Air Research and Development Command to an operational organization, the Strategic Air Command, on Jan. 1, 1958. Along with the transfer, SAC acquired most of the ARDC organizations on the base and responsibility for attaining initial operational capability for the nascent U.S. missile force. Their mission also included training missile launch crews.
ARDC retained responsibility for the design and activation of launch and support facilities. It also retained research and development testing of ballistic missiles and space systems. These activities were carried out by a field office established immediately after the realignment, which also produced the seeds for later organizations including the 6595th Aerospace Test Wing, the Western Test Range, the Space and Missile Test Center and the Western Space and Missile Center. Space launches were to be conducted by ARDC and SAC, with the vast majority of these operations being handled by ARDC. In 1961, ARDC was redesignated Air Force Systems Command. For the next 30 years, AFSC and SAC cultivated a close working relationship at Vandenberg.
On Oct. 4, 1958, Cooke Air Force Base was renamed Vandenberg Air Force Base in honor of the late Gen. Hoyt S. Vandenberg, the Air Force's second chief of staff.
Launch Vehicles and Programs
The transition from Army camp to missile base was realized on Dec. 16, 1958, when Vandenberg successfully launched its first missile, a Thor Intermediate Range Ballistic Missile. Vandenberg set another record Feb. 28, 1959, when it launched the world's first polar orbiting satellite, Discoverer I. The launch vehicle for this mission was a Thor-Agena rockets combination.
The Discoverer series of satellites provided other significant firsts for Vandenberg. In August 1960, the data capsule ejected from Discoverer XIII in orbit and recovered from the Pacific Ocean became the first man-made object ever retrieved from space. A week later, on Aug. 19, the descending capsule from Discoverer XIV was snared by an aircraft in flight for the first air recovery in history. Shrouded in a cover story of scientific research, Discoverer was actually the cover name for Corona, America's first photo reconnaissance satellite program, which continued until 1962.
The first intercontinental ballistic missile, the Atlas ICBM, flew from Vandenberg AFB on Sept. 9, 1959. The following month, equipped with a nuclear warhead, the Atlas at Vandenberg became the first ICBM to be placed on alert in the United States. In 1961, the Titan I entered the inventory at Vandenberg Air Force Base but was soon replaced by the more advanced Titan II with storable propellants, all-inertial guidance and in-silo launch capability.
Over the years, unmanned satellites of every description and purpose, including international satellites, were placed in orbit from Vandenberg AFB by a widening variety of boosters. Among the parade of newer space boosters were the Titan IV (March 1991), Taurus (March 1994), Pegasus (April 1995), Delta II (February 1996), Atlas IIAS (December 1999), Minotaur (January 2000), Delta IV (June 2006) and Atlas V (March 2008).
The most ambitious Air Force endeavors at Vandenberg have been the Manned Orbiting Laboratory and the Space Shuttle programs. The MOL vehicle consisted of a Titan III booster carrying a modified Gemini B capsule attached to a space laboratory. Construction work for MOL began at Space Launch Complex 6 on South Vandenberg in March 1966. Beginning in January 1979, it underwent an estimated $4 billion modification program in preparation for the Space Shuttle. A joint decision by the Air Force and NASA to consolidate shuttle operations at Cape Canaveral in Florida, following the Challenger tragedy in 1986, officially terminated Vandenberg's shuttle program on Dec. 26, 1989.
Organizational Structures
On Oct. 1, 1979, Air Force Systems Command established the Western Space and Missile Center at Vandenberg. As the launch arm of a research and development command, WSMC conducted R&D missile launches and various space launches. It also managed the Western Test Range. Meanwhile, the Strategic Air Command continued to operate the base through its 1st Strategic Aerospace Division. Beginning in 1990 and throughout the decade, a series of reorganizations occurred that altered these organizational structures. On July 31, 1 STRAD was redesignated the Strategic Missile Center. Two months later, on Oct. 1, 1990, most of WSMC was reassigned to Air Force Space Command. Other elements of the original WSMC involved in R&D launch programs remained with AFSC as separate entities at Vandenberg. They were later consolidated as Detachment 9, Space and Missile Systems Center, based in Los Angeles.
The next big organizational change occurred Jan. 15, 1991, when host base responsibilities for Vandenberg transferred from SAC to AFSPC's WSMC. Also transferred to WSMC were all base support organizations. On Sept. 1, 1991, SAC reactivated the 20th Air Force at Vandenberg as a replacement for the Strategic Missile Center. Less than a year later, on June 1, 1992, Air Combat Command replaced SAC and picked up the 20th Air Force. On Oct. 1, 1993, the 20th relocated to F.E. Warren Air Force Base, Wyoming, and was assigned to Air Force Space Command.
Meanwhile, on Nov. 19, 1991, WSMC was redesignated the 30th Space Wing. In actuality, its Operations Group assumed the lineage and history of the 30th Bombardment Group (Heavy) and shared the number designation with its reporting unit, the former WSMC.
With the activation of Headquarters 14th Air Force at Vandenberg on July 1, 1993, the 30th Space Wing that had reported directly to HQ AFSPC was now reassigned to the numbered Air Force. In 2002, the 14th became the Air Force space operational component of United States Strategic Command. In 2007, the 14th added the parenthetical title "Air Forces Strategic" to its name.
Today, with an expanse of 99,604 acres, Vandenberg is the third-largest U.S. Air Force base in the United States, after Eglin Air Force Base in Florida and Edwards Air Force Base in California. It's the sole U.S. military installation that launches unmanned commercial and government satellites into polar orbit, as well as the only land-based U.S. site that test-fires intercontinental ballistic missiles westward, to target areas in the Pacific Ocean. Vandenberg also is the only site able to receive and process Boeing's X-37 Orbital Test Vehicle. Team Vandenberg also supports SpaceX's Falcon 9 launches.
Organizations
30TH SPACE WING
The 30th Space Wing, Vandenberg's host unit, supports West Coast launch activities for the Air Force, Department of Defense, National Aeronautics and Space Administration, national programs and various private industry contractors. The wing supports the processing and launch of expendable vehicles including the Atlas V, Delta IV, Delta II, Pegasus, Minotaur and Taurus. The wing also supports the Minuteman III intercontinental ballistic missile force development evaluation program. The wing is over the 30th Space Wing Staff Offices, Operations Group, Mission Support Group and Medical Group.
Associate units at Vandenberg Air Force Base include the 14th Air Force, the Combined Space Operations Center, the 381st Training Group, the 576th Flight Test Squadron, the 21st Space Operations Squadron, Civil Air Patrol, Area Defense Counsel and the Air Force Office of Special Investigations.
30th Operations Group
The 30th Operations Group commands and controls the Western Range and directs range resources to support space and missile test launches and aeronautical and space surveillance operations. The 30th OG also operates and maintains base communication systems and provides direct support for range operations, maintenance and modernization and sustainment efforts.
30th Mission Support Group
The 30th Mission Support Group provides critical infrastructure support, security and disaster response to the base, tenant units and mission partners.
30th Medical Group
The 30th Medical Group provides medical, dental, bioenvironmental and public health services for those assigned to Vandenberg Air Force Base, their families and retirees.
ASSOCIATE UNITS
14th Air Force
The 14th Air Force is responsible for the organization, training, equipping, command and control, and employment of Air Force space forces to support operational plans and missions for U.S. combatant commanders and their subordinate components, and is the Air Force Component to U.S. Strategic Command for space operations.
Combined Space Operations Center
The Combined Space Operations Center reports to the Joint Force Space Component Commander and executes the operational command and control of space forces to achieve theater and global objectives.
381st Training Group
The 381st Training Group is the gateway into the U.S. Air Force for airmen entering the space, missile or missile maintenance career fields. The 381 TRG provides initial operations and maintenance training for the nation's space and missile forces.
576th Flight Test Squadron
The 576th Flight Test Squadron is America's only dedicated Intercontinental Ballistic Missile test squadron professionally executing tests that accurately measure the current and future capability of the ICBM force.
21st Space Operations Squadron
21 SOPS is a unit of the 50th Network Operations Group, 50th Space Wing, Schriever Air Force Base, Colorado, hosted as a tenant organization at Vandenberg Air Force Base.
Civil Air Patrol
The Civil Air Patrol is the official civilian auxiliary of the U.S. Air Force that assists with emergency services, which include search and rescue (by air and ground) and disaster relief operations; aerospace education for youth and the public; and cadet programs for teenagers. In addition, CAP has been tasked with homeland security and courier service missions.
Area Defense Counsel
The counsel provides legal advice for those advised of their rights under Article 31, UCMJ, and also represents clients in courts-martial, Article 15 proceedings, discharge boards, Letters of Reprimand, reports of survey, line of duty investigations, Officer Performance Report and Enlisted Performance Report referrals, and promotion or demotion actions.
AFOSI
The Air Force Office of Special Investigations provides professional investigative service to commanders of all Air Force activities. Its primary responsibilities are criminal investigations and counterintelligence services.
Arrival
See the Getting To & Around Santa Barbara County chapter on Page 19 for information about local airports, train service and public transportation. The closest commercial flights land at Santa Maria Airport in Santa Maria, about 15 miles from the base. Transportation is not provided to the base.
SPONSORSHIP
Contact your sponsor with your estimated arrival time and flight information if applicable before your arrival at Vandenberg AFB.
Sponsorship is vital to the relocation process. Don't PCS without talking to your sponsor before departing for Vandenberg AFB. Your sponsor will answer any questions you have about the base and the local area, make lodging or dorm arrangements and meet you upon arrival. Your sponsor will be there to help you and your family until you are settled into your new community.
If you have not been in touch with a sponsor and your departure is nearing, contact your gaining unit or call the Airman & Family Readiness Center at 805-606-0039.
DRIVING DIRECTIONS
Cellphone use by the driver of a moving motor vehicle is prohibited on all Department of Defense installations unless the cellphone is used with a hands-free device.
From Santa Maria Airport
As you leave the airport, turn right onto Skyway Drive. Take Skyway Drive to Highway 135, also called South Broadway, and then turn right. Stay on Highway 135 until it merges into Highway 1 and follow the signs to Vandenberg Air Force Base.
From Santa Barbara Airport
Exiting the airport, head east onto Fowler Road and follow the signs to Highway 101 North. Turn onto Highway 246 west toward Lompoc (about 17 miles). Just before reaching Lompoc, take the right turn onto Purisima Road (sign says Purisima Road and Vandenberg Village). Purisima Road will merge with Highway 1 just north of town. Follow Highway 1 north past Vandenberg Village for about 5 miles to the Vandenberg Air Force Base Santa Maria Gate. Don't take any other turnoffs; Highway 1 will take you to the gate.
From the North
Travel 101 South to the Clark Street exit (ignore the exit onto Betteravia). Proceed west to Highway 135, which merges onto Highway 1 southbound and follow the signs to Vandenberg Air Force Base.
From the South
Take Highway 101 North to Buellton. Turn onto Highway 246 West toward Lompoc (about 17 miles). Just before reaching Lompoc, take the right turn onto Purisima Road (sign says Purisima Road and Vandenberg Village). Purisima Road will merge with Highway 1 just north of town. Follow Highway 1 north past Vandenberg Village for about 5 miles to the Vandenberg Air Force Base Santa Maria Gate. Don't take any other turnoffs; Highway 1 will take you to the gate.
CHECK-IN PROCEDURES
Military Personnel Section
Building 11777,
Room C-114 805-606-2276
When you arrive at the base, you must inprocess with the Military Personnel Section within 24 hours or the next duty day. Those arriving on a Friday must inprocess the following Monday. Report in uniform with your sponsor to Building 11777, Room C-114 with a copy of your orders and your sealed documentation from your outprocessing appointment at your previous duty station. First-term airmen must also provide a copy of their tech school certificates and Basic Military Training, or BMT, paperwork; new 2nd lieutenants must provide a copy of their travel voucher. Those assigned to the following units must see their commander's support staff for inprocessing (not the MPS): 14 AF/614 AF; 30 CES; 30 SFS; 30 OG; 30 MDG; 381 TRS (only inprocessing students); 381/533/532 TRS and permanent party (must visit Customer Support). Those with Service Members' Group Life Insurance and Family Servicemembers' Group Life Insurance must print and complete SGLV 8286 or SGLV 8286A and take them to the MPS Customer Support Section for processing. Go to www.30fss.com/mpf-customersupport and click on "Resources forms" to print out the forms you need.
TEMPORARY LODGING
Vandenberg Lodge
Building 13001, Oregon Ave. 805-606-1844
The Vandenberg Lodge office is the first point of contact for most people arriving on temporary duty or permanent change of station orders. Military and civilian TDY and military PCS members can make reservations up to one year prior to their arrival date. Military PCS incoming members can make reservations for up to 30 days, and PCS outgoing military can make reservations for up to 10 days. Lodging guests must provide a credit card number when making a reservation.
Pet-friendly rooms are available; contact the lodging office directly for reservations with pets or with children. Lodge amenities include Wi-Fi, DVD and board game rentals, sundries, a playground and more. Check the website for current room rates.
Getting Settled
HEALTH CARE
30th Medical Group
Building 13850, 338 South Dakota Ave.
Appointments 805-606-2273
Pharmacy 805-606-7440
Refill Line 805-605-0200
Suicide Crisis Lifeline
and Chat 800-273-8255
TRICARE 844-866-9378
www.airforcemedicine.af.mil/MTF/Vandenberg
The 30th Medical Group provides medical, dental, bioenvironmental and public health services for people assigned to Vandenberg AFB, their families and retirees. The group has multiple facilities to provide care in family medicine, space missile medicine, mental health, dental, immunizations, optometry, pediatrics, physical therapy, radiology and more.
There is no on-base emergency room. Patients are asked to contact their primary care manager within one duty day to report any care received at an emergency room to ensure proper follow-up.
Dental care is available to active-duty military with only emergency dental care for other eligible individuals. Family members of active-duty personnel are encouraged to use the TRICARE Dental Program. Program information is available by visiting www.tricare.mil/CoveredServices/Dental/TDP.
TRICARE
TRICARE is the health care program for active-duty and retired service members, their families and survivors. TRICARE provides health plans, prescriptions, dental plans and other special health programs to its beneficiaries. TRICARE's mission is to enhance the Department of Defense and the nation's security by providing health support for the full range of military operations and sustaining the health of all those entrusted to their care.
TRICARE offers a range of health care plans. TRICARE Prime is the mandatory health care option for active-duty service members. Family members of active-duty service members, retired service members and their families may also use this option. If you use TRICARE Prime, you are assigned a primary care manager at a military or network provider who delivers most of your care. If you need care your PCM cannot provide, you are referred to a specialist. Active-duty service members and their families pay nothing out of pocket for this option; however, there is less freedom to choose your provider. On Jan. 1, 2018, TRICARE Standard and Extra were combined into a new plan, TRICARE Select. Select is a standardized fee-for-service plan available to family members of active-duty service members, retired service members and their families. After you enroll in TRICARE Select, you may schedule an appointment with any TRICARE-authorized provider. Referrals are not required, but you may need prior authorization from your regional contractor for some services. You will pay a copay or cost share based on the type of care and provider you see. Costs for Select vary, but you will pay an annual deductible as well as a percentage of covered services. Non-network providers may charge up to 15 percent more than the TRICARE allowable charge; you are responsible for these extra charges. TRICARE also offers plans for remote and overseas locations, reserve military members, young adults who are no longer covered under regular TRICARE coverage and other scenarios.
TRICARE coverage is completely portable, so it moves with you when you relocate. Follow these simple steps to ensure you have no break in coverage when you move:
Do not cancel your TRICARE Prime enrollment option before you move.
Update your personal information in DEERS immediately when you arrive at your new location.
Select a new primary care manager.
If you are already using TRICARE Select, moving is easy. When you arrive at your new location, update your personal information in DEERS. Then find TRICARE-authorized providers in your new area. Remember, you may have a new regional contractor and claims filing address.
TRICARE's online tools can help you find and compare plans that you are qualified to use. Beginning in 2019, however, TRICARE will allow you to switch between plans only if you have a "qualifying life event" such as the birth of a baby or a move. For a complete description of the types of coverage programs and regions, visit www.tricare.mil. For more information about recent changes to TRICARE, visit https://tricare.mil/changes.
HOUSING
Housing Management Office
602 Juniper St. 805-606-3434
www.housing.af.mil/Units/Vandenberg
The Vandenberg Housing Management Office is ready to help you transition to your new home and community. Use its resources to become familiar with available housing options and support services. When you arrive at Vandenberg AFB, visit the HMO for valuable information, counseling and guidance before signing any lease or sales contract for housing.
Unaccompanied Housing
347 South Dakota Ave. 805-605-2048
www.housing.af.mil/Units/Vandenberg
Unaccompanied housing is provided for unaccompanied airmen in the ranks of E-1 to E-3, and E-4 with less than three years of service. Each airman is provided a private sleeping room, furnishings, bed linens and supplies required for comfortable living. Most permanent party unaccompanied housing consists of single-occupant rooms, a shared bathroom and an in-house laundry facility open 24/7. The campus is within walking distance to the chow hall and PSC mailboxes.
Unaccompanied airmen in the rank of E-4 with more than three years of service will move into housing in the local community.
Vandenberg Family Homes
602 Juniper St. 805-734-1445
At Vandenberg AFB, military family housing is privatized. In addition to your option to purchase and rent housing in the local community, you may choose to live in privatized housing by signing a tenant lease agreement with Balfour Beatty Communities, which owns the family housing and is responsible for constructing, maintaining, repairing and managing the community.
For comprehensive information about homes and amenities in the Vandenberg privatized housing community, visit the Vandenberg Family Homes website.
MAIL
Postal Service Center
Building 13001 805-606-1841
https://30fss.com/postal-service
The Postal Service Center serves airmen relocating to and from Vandenberg as well as airmen on the base for training. It also distributes mail for dorm residents.
PETS
Veterinary Treatment Facility
Building 10314 805-606-3019
The Vandenberg veterinary personnel provide complete veterinary care for all government-owned animals. The VTF offers many routine care services for pets of military families.
All pets living on base must be registered with the VTF upon arrival. On-base housing limits the number, type and breed of pets that can live in on-base housing.
Due to limited resources, most veterinary emergency cases are best served through a full-service civilian veterinary hospital; see the Military Buyer's Guide tab to connect with local veterinarians.
RELIGIOUS GUIDANCE
Vandenberg Air Force Base Chapel
Building 16200
587 Summersill Road 805-606-5773
The United States Air Force Chaplain Corps is dedicated to delivering robust spiritual care through unit integration and resource-focused quality program with the twin goals of caring for people and building a strong spiritual community. Priorities are airmen, families and spiritual resiliency.
Vandenberg Air Force Base chaplains offer counseling and seminars including premarital, marital, religious, stress, grief and loss, etc.
VEHICLE REGISTRATION
Vehicle decals are not required for vehicles entering Vandenberg Air Force Base, nor must they be registered with Pass and Registration, though Pass and Registration, in Building 11777, Room C 111, still issues vehicle decals if desired. To receive a vehicle decal, bring proof of current state registration, auto insurance information, a valid driver's license and a military-affiliated ID card. All vehicles must pass California smog requirements; emissions testing is available at certified locations in nearby communities. Call Pass and Registration at 805-606-3923 with any questions. All privately owned vehicles on base must be insured, and a current license plate is required. California state traffic laws apply on base; see the Getting To & Around Santa Barbara County chapter on Page 19 for more information. All vehicles entering or leaving the base are subject to search.