At Naval Construction Battalion Center Gulfport

Our Military
at Naval Construction Battalion Center Gulfport
You can find Naval Construction Battalion Center Gulfport on the beachfront of the Gulf of Mexico, in Harrison County in the city of Gulfport, Mississippi. The center is home to the Atlantic Fleet Seabees, known as the East Coast Seabees. NCBC Gulfport is in the middle of the intermodal system that includes the Mississippi State Port of Gulfport, the Gulfport-Biloxi International Airport, Interstate 10 and a regional rail system. New Orleans is only 90 miles west.
NCBC Gulfport sits on 1,100 acres. The center hosts 39 tenants, more than 4,400 active-duty personnel and their families, 6,400 retirees and their families, plus nearly 800 DOD civilians. The center stores millions of dollars in gear and equipment on 500 acres of warehouse space, which contains everything a Seabee battalion needs to deploy — from trucks and weapons to bulldozers and cranes as well as food, ammunition and communications equipment.
The center exists to maintain and operate facilities and provide services and material in support of Naval Construction Force units, to include Amphibious Construction Fleet units, the Maritime Prepositioning Force (enhanced), and other fleet and assigned organizational units deployed from or homeported at NCBC Gulfport, and to perform such other functions and tasks as may be assigned by higher authority.
On June 2, 1942, an Advanced Base Depot was established in Gulfport and the first Seabees started arriving. In 1992, the center celebrated its 50th anniversary on the Gulf Coast. Today, the Seabees occupy a special place throughout the mid-South. The men and women of the center have been honored for their distinguished community service and awarded the prestigious Laurel Wreath Award for significant contributions to local communities.
History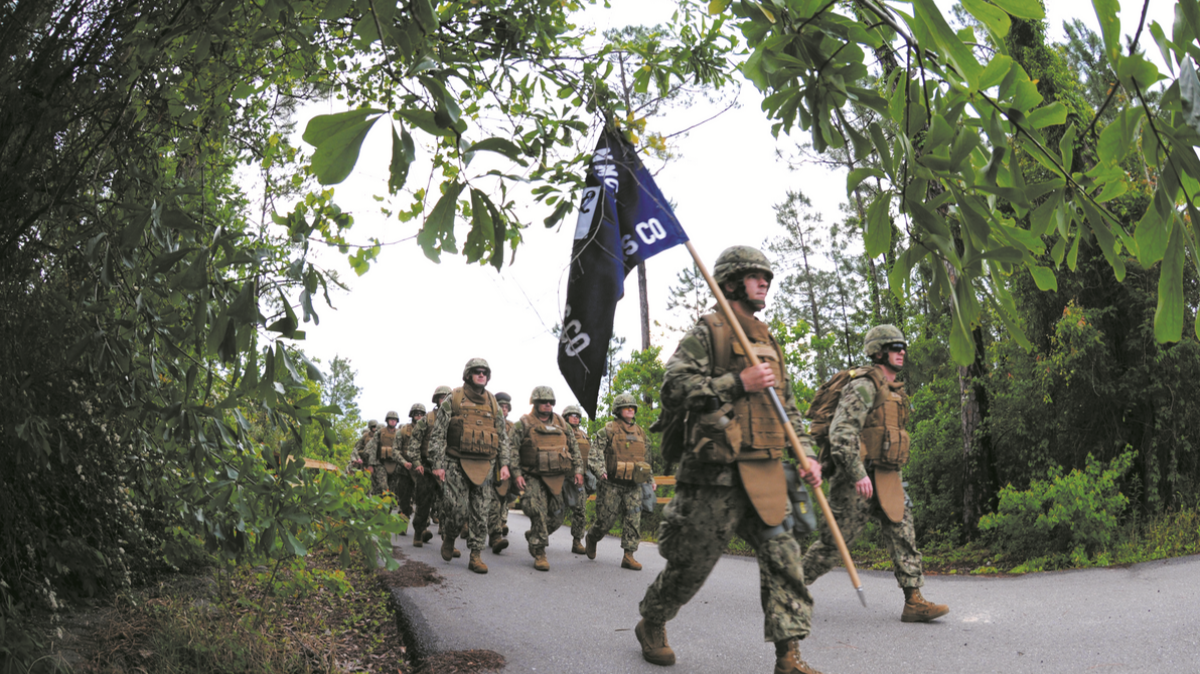 Land for the installation was acquired on a plot a mile northwest of the Port of Gulfport in April 1942, and an Advanced Base Depot was established June 2, 1942, in Gulfport. An Armed Guard School and a Cooks and Bakers School were added in October 1942, followed by an advanced base receiving barracks in November, at which time some of the first Seabees were stationed on the Mississippi Gulf Coast.
The mission of the center changed from a receiving organization to a U.S. Naval Training Center in March 1944, and provided for training in basic engineering, diesel, radioman, quartermaster and electrician ratings. Continuing realignments occurred, creating a single command of the Naval Training Center and the Advanced Base Depot. The depot became the U.S. Naval Storehouse in 1945 and the training center was decommissioned in 1946. In 1948, the station became custodian of certain national stockpile materials. Bauxite, tin, copper, sisal and abaca were stored at the center in varying quantities. Huge piles of bauxite, the imported ore from which aluminum is extracted, covered an estimated 24 of the center's 1,098 acres. The last of the red dirt was shipped off base at the end of 2003 to be made into aluminum. The low-grade ore was given to the United States in 1948 as a war debt payment by the Netherlands East Indies, now known as Indonesia. Alcoa bought the ore in 2000 for $1 million. Hauling it away cost about $6 million.
People who have been on the coast for some time report that there were times when some 25,000 naval personnel were stationed at the center. They lived in wooden barracks, tents and Quonset huts. The population between the late 1940s and early 1960s dropped to about 10 officers and enlisted personnel. Civilian employees fluctuated with the amount of strategic supplies and construction equipment being received, stored and transshipped.
Some important organizational changes were made early in 1952 when the Naval Storehouse was disestablished and the U.S. Naval Construction Battalion Center was established.
The Navy's mushrooming commitments for construction forces in Southeast Asia led the way to an increased mission for the center in February 1966. The first group of 509 Seabees arrived unannounced from Davisville, Rhode Island, in March 1966. The galley, barracks and other personnel support facilities were still closed and locked. A base fireman, with a knack for cooking, was hastily recruited to prepare fried chicken and mashed potatoes. Other civilian employees opened the barracks, turned on gas and electricity, installed bunks and served as mess cooks.
The 20th Naval Construction Regiment was recommissioned April 17, 1966, nearly two decades after its decommissioning following World War II. The regiment was re-established to support the buildup of the Naval Construction Force during the United States' involvement in Vietnam.
Eight months later, the center had expanded to include new functions such as Seabee team training and a new tenant, the Construction Training Unit. The staff for the Naval Construction Battalion Center had expanded to 183 military and 523 civilian personnel to support approximately 4,200 Seabees. A personnel training facility, inactive for 20 years, was effectively forming, staging, training and homeporting naval mobile construction battalions.
After the terrorist attacks on Sept. 11, 2001, the wars in Afghanistan and Iraq called for more Seabees to be added to the force. The 20th Naval Construction Regiment became the 20th Seabee Readiness Group on Jan. 9, 2003, in order to more effectively function as the training arm of the Atlantic Fleet Seabees.
On Sept. 14, 2007, in an attempt to meet the overwhelming demand for Naval Construction Forces throughout the world, Naval Mobile Construction Battalion 11, which was decommissioned Dec. 15, 1969, and the 25th Naval Construction Regiment, which was deactivated Nov. 30, 1945, were recommissioned in Gulfport.
The Naval Mobilization Processing Site was also established. The site has processed thousands of active-duty personnel and reservists through Gulfport. The Expeditionary Combat Skills site was also stood up. Since 2008, ECS has trained thousands of Navy personnel in essential life-saving battlefield skills.
Contributing to the local community is a Seabee norm. Seabee volunteers have contributed hundreds of thousands of volunteer hours assisting in the local community since Hurricane Katrina, and they continue to be a good neighbor answering various requests for help from the local community on a daily basis. In the midst of the Gulf Coast recovery process, the Seabee Center built more than $450 million worth of new facilities as a result of damage caused by Hurricane Katrina. Permanent repairs, which included the Military Construction Program Recapitalization Plan, were completed in 2009.
Like the landscape of the base, NCBC Gulfport's tenants have changed. With the drawdown in Afghanistan and tighter budgets, force reductions and restructuring needed to occur. On Sept. 5, 2012, Naval Mobile Construction Battalion 7 was decommissioned. Six months later, on Feb. 26, 2013, a significant realignment and decommissioning ceremony took place. Prior to the ceremony, the base and 20th Seabee Readiness Group were governed by one commanding officer. The ceremony saw the two separated under two commanding officers and the decommissioning of the 25th Naval Construction Regiment. The 20th Seabee Readiness Group was renamed Naval Construction Group 2 as part of the massive Naval Construction Force restructuring. Included in the transformation, the 22nd Naval Construction Regiment became an embedded yet independent command capable of the forward deployment of an integrated battle staff that is able to execute combat service support missions across the spectrum of joint and combined military operations while providing command and control over Navy Expeditionary Combat Command units as part of a robust adaptive force package.
Organizations

NCBC Gulfport is home to the Atlantic Fleet Seabees. The active units currently stationed at the base include:
• Naval Construction Group 2.
• 22nd Naval Construction Regiment.
• Inspector-instructor staff.
• Naval and Marine Corps Reserve Center.
• Naval Construction Training Center.
• Naval Mobile Construction Battalion 1.
• Naval Mobile Construction Battalion 11.
• Naval Mobile Construction Battalion 133.
There are also 39 tenants who call the base home.
Arrival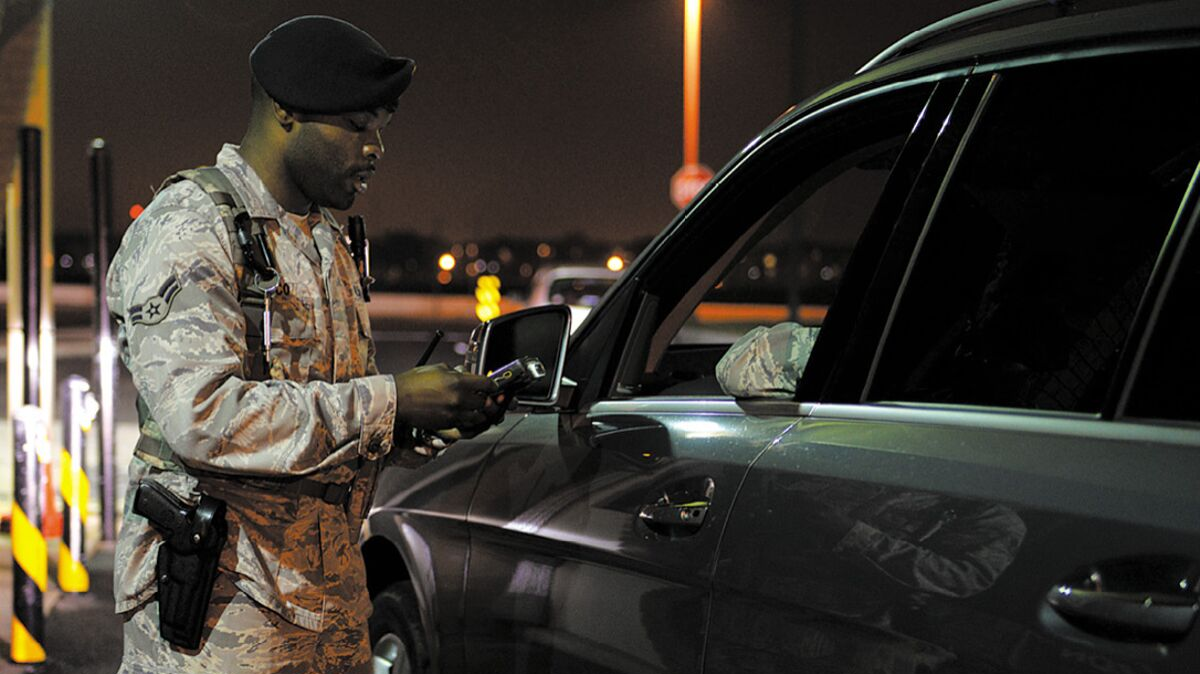 See the Getting To & Around Harrison County chapter on Page 27 for information about local airports, train service and public transportation. The closest commercial flights land at Gulfport-Biloxi International Airport, about 7 miles from the base. Transportation is not provided to the base.
SPONSORSHIP
Contact your sponsor with your estimated arrival time and flight information if applicable before your arrival at NCBC Gulfport.
Sponsorship is vital to the relocation process. Don't PCS without talking to your sponsor before departing for NCBC Gulfport. Your sponsor will answer any questions you have about the base and the local area, make lodging or dorm arrangements and meet you upon arrival. Your sponsor will be there to help you and your family until you are settled into your new community.
If you have not been in touch with a sponsor and your departure is nearing, contact your gaining unit or the quarterdeck at 228-871-2555.
DRIVING DIRECTIONS
Cellphone use by the driver of a moving motor vehicle is prohibited on all Department of Defense installations unless the cellphone is used with a hands-free device.
From Gulfport-Biloxi International Airport
Take Highway 49 south until the Naval Construction Battalion road sign is visible. Take a right on Pass Road, and this will lead you into Gate 2.
From Louis Armstrong New Orleans International Airport
Take Interstate 10 Exit 34A to Highway 49 south toward Highway 90 (the beach). Turn right on Highway 90. Go to the third traffic light (Broad Avenue), and turn right on Broad Avenue, which will dead end at the main gate.
CHECK-IN PROCEDURES
All check-ins will report to their respective commands during duty hours. Prior arrival arrangements should be made through the command sponsor coordinator. After-hours check-in will be done through the quarterdeck, which can be contacted at 228-871-2555.
If you marry before your PCS, you must inform your command and follow the procedures exactly as given. Failure to follow proper procedures will result in the military not paying for travel or housing of your spouse. The same policy is true for moving personal effects (household goods) to your new duty assignment. You must have prior approval from the Military Transportation Office. The Gulfport office can be contacted at 228-871-4741.
TEMPORARY LODGING
Navy Gateway Inns & Suites
Building 313, 5401 Sixth St.
...........................................................................................228-871-2505
http://ngis.dodlodging.net/propertys/Gulfport-NCBC-
Navy Gateway Inns & Suites provides safe, comfortable and clean accommodations for incoming personnel and their families. Amenities include internet access, high-definition TVs with cable, microwaves, mini refrigerators, coffee makers, housekeeping services and guest laundry facilities. Pet-friendly rooms are available.
Reservations are on a first-come, first-served basis without regard to rate or rank. Check the website for current room rates.
Navy Lodge Gulfport
3300 Pass Road.....................................................................228-864-3101
The Navy Lodge also offers accommodations for incoming personnel and their families. Amenities include high-definition TVs with cable, internet access, kitchenettes and breakfast to go. Pet-friendly rooms are available. Check the website for current room rates.
Getting Settled

HEALTH CARE
Naval Branch Health Clinic Gulfport
5501 Marvin Shields Blvd.
Appointments...............................................................................228-871-4033
Pharmacy.....................................................................................228-822-5784
NBHC Gulfport is one of 10 branch clinics assigned to Naval Hospital Pensacola. Services include dentistry, immunizations, a laboratory, physical therapy and radiology.
Dental care is available for active-duty military. Family members of active-duty personnel are encouraged to use the TRICARE Dental Program. Program information is available by visiting www.tricare.mil/CoveredServices/Dental/TDP.
TRICARE
TRICARE is the health care program for active-duty and retired service members, their families and survivors. TRICARE provides health plans, prescriptions, dental plans and other special health programs to its beneficiaries. TRICARE's mission is to enhance the Department of Defense and the nation's security by providing health support for the full range of military operations and sustaining the health of all those entrusted to their care.
TRICARE offers a range of health care plans. TRICARE Prime is the mandatory health care option for active-duty service members. Family members of active-duty service members, retired service members and their families may also use this option. If you use TRICARE Prime, you are assigned a primary care manager at a military or network provider who delivers most of your care. If you need care your PCM cannot provide, you are referred to a specialist. Active-duty service members and their families pay nothing out of pocket for this option; however, there is less freedom to choose your provider. On Jan. 1, 2018, TRICARE Standard and Extra were combined into a new plan, TRICARE Select. Select is a standardized fee-for-service plan available to family members of active-duty service members, retired service members and their families. After you enroll in TRICARE Select, you may schedule an appointment with any TRICARE-authorized provider. Referrals are not required, but you may need prior authorization from your regional contractor for some services. You will pay a copay or cost share based on the type of care and provider you see. Costs for Select vary, but you will pay an annual deductible as well as a percentage of covered services. Non-network providers may charge up to 15 percent more than the TRICARE allowable charge; you are responsible for these extra charges. TRICARE also offers plans for remote and overseas locations, reserve military members, young adults who are no longer covered under regular TRICARE coverage and other scenarios.
TRICARE coverage is completely portable, so it moves with you when you relocate. Follow these simple steps to ensure you have no break in coverage when you move:
Do not cancel your TRICARE Prime enrollment option before you move.
Update your personal information in DEERS immediately when you arrive at your new location.
Select a new primary care manager.
If you are already using TRICARE Select, moving is easy. When you arrive at your new location, update your personal information in DEERS. Then find TRICARE-authorized providers in your new area. Remember, you may have a new regional contractor and claims filing address.
TRICARE's online tools can help you find and compare plans that you are qualified to use. Beginning in 2019, however, TRICARE will allow you to switch between plans only if you have a "qualifying life event" such as the birth of a baby or a move. For a complete description of the types of coverage programs and regions, visit www.tricare.mil. For more information about recent changes to TRICARE, visit https://tricare.mil/changes.
HOUSING
Housing Service Center
Building 452, 3502 E. Eighth St................................................228-871-2586
The Housing Service Center is ready to help you transition to your new home and community. Use its resources to become familiar with available housing options and support services. When you arrive at NCBC Gulfport, visit the center for valuable information, counseling and guidance before signing any lease or sales contract for housing.
Unaccompanied Housing
............................................................................................228-938-6861
Unaccompanied housing is provided for most personnel in pay grades E-1 through E-4. Unaccompanied housing is conveniently located near the center of the base and is close to the main dining facility, chapel, gym and fitness center. It's just a short walk away from the exchange, commissary, McDonald's and the MWR Liberty Center, as well.
At NCBC Gulfport, unaccompanied housing serves service members in seven buildings, providing accommodations for permanent party personnel and personnel temporarily assigned duty under instruction to the Naval Construction Training Center.
Unaccompanied housing features lounges equipped with televisions and vending machines. Cable television, high-speed internet and landline phone service are available at the resident's expense.
NCBC Gulfport Homes
Building 452, 3502 E. Eighth St..................................................228-863-0424
NCBC Gulfport Homes offers move-in ready two-, three- and four-bedroom homes in both single-family and townhome styles. Located at NCBC Gulfport in Mississippi, residents enjoy a secure and comfortable hometown environment with the convenience of 24-hour maintenance, lawn care services and community events.
All homes are equipped with a dishwasher, central heating and air conditioning, a fenced-in yard, a garage, and washer and dryer connections. Currently, all average utility costs, with the exception of telephone and cable television services, are included in the monthly rent. Community amenities include basketball courts, playgrounds and tot lots, and a community pool.
For active-duty military with family, the maximum rental rate is equal to the member's local-with-dependent BAH. Note: For unaccompanied service members, the rental rate is set at the member's local-with-dependent BAH with roommate options available. Housing is available to Federal Civil Service employees, retired active-duty personnel and DOD contractors at a fair market rate that can be obtained by contacting the community office.
NCBC Gulfport Homes is a privatized housing community managed and maintained by Balfour Beatty Communities. Information about housing services can be obtained by contacting the community office or by visiting the NCBC Gulfport Homes website.
MAIL
Post Office
Building 393,
5301 Bainbridge Ave........................................................228-871-2259
The full-service post office and official mail center on base provide window service Monday through Saturday.
While in transit, mail can be forwarded to your new command and picked up on arrival. As soon as you have established an address, have mail forwarded there.
PETS
Only two pets are permitted for those who reside in base housing and certain breed restrictions apply. Pets must be registered within five days after initial occupancy and annually at the housing office with proof of vaccination (rabies). Gulfport does not have an on-base veterinary clinic. Limited services are available through the veterinary treatment center at nearby Keesler Air Force Base. Due to limited resources, most veterinary emergency cases are best served through a full-service civilian veterinary hospital.
RELIGIOUS GUIDANCE
Seabee Memorial Chapel
Building 366................................................................228-871-2454
The mission of the chapel is to ready sailors and Marines and their families — demonstrating spiritual, moral and ethical maturity — and to support them by the innovative delivery of religious ministry and compassionate pastoral care. Programs include prevention and relationship enhancement, grief counseling, premarriage counseling, critical incident stress management and debriefing counseling, religious education and other spiritual counseling. To reach the duty chaplain, call the quarterdeck at 228-871-2555.
VEHICLE REGISTRATION
All privately owned vehicles on base must be insured, and a current license plate is required. Mississippi state traffic laws apply on base; see the Getting To & Around Harrison County chapter on Page 27.
Serving You

DINING
Galley (Colmer Dining Facility)
Building 367.................................................................228-871-3463
The Grill
Building 418.................................................................228-871-2494
Subway
Building 174.................................................................228-871-5799
EDUCATION
Navy College Program
Navy College offices now use a virtual service delivery model. The Navy College Program provides online access and support to sailors pursuing voluntary education at the time and place most convenient for them, using already familiar virtual tools. Visit the program's website for information on education counseling, education and career paths, tuition assistance and more.
FAMILY SUPPORT
Fleet & Family Support Center
Building 30....................................................................228-871-3000
Email: ncbc_gulfport_ffsc@navy.mil
FFSC is the cornerstone of the NCBC Gulfport family support system, helping service members and their families enhance their readiness and quality of life.
Navy Fleet & Family Support Programs are organized into three subfunctional areas: deployment readiness, career support and retention, and crisis response. Services include information and referral, individual clinical and nonclinical consultation, and educational classes and workshops.
Programs include:
Deployment and ombudsman support.
Personal and family wellness education and counseling.
Emergency preparedness and response.
Crisis intervention and response.
Military and personal career development.
Financial education and counseling.
Exceptional Family Member Program support.
Relocation assistance.
Transition assistance and spouse employment.
Navy Gold Star family support.
FFSC is the place to go when you don't know where to go.
Child Development Center
Building 31, Snead Street.........................................................228-871-2323
Teams of caring, knowledgeable professionals plan developmentally appropriate programs that are responsive to the unique needs, abilities and interests of children. The staff fosters a sense of independence, trust and responsibility within each child through understanding and respectful interactions. Likewise, through positive relationships, the center's programs respect and support the ideals, cultures, and values of families in their task of nurturing children and youth. Center personnel are advocates for children, families, and the child and youth professionals within its programs and surrounding communities.
Accredited by the National Association for Education of Young Children, the center is available for children 6 weeks of age to 5 years old. Hourly care is available.
Exceptional Family Member Program
This program provides special-needs families with detailed information and referral services, individualized service plans and case management from one duty station to the next. Email ncbc_gulfport_ffsc@navy.mil for more information.
School Liaison Office
Building 352,
1706 Bainbridge Ave...............................................................228-871-2117
The school liaison officer's main objective is to serve as a link between parents, educators and the command so the military-connected child can have a smooth school transition. Other duties include creating partners in education, home-school linkage, postsecondary preparations, special education systems navigation, and serving as a subject matter expert for education-related issues.
The Gulf Coast School Guide is available on the office's website.
Youth Centers and Programs
Youth Activities Center
Building 335, Bainbridge Avenue..............................................228-871-2251
Teen Center
Building 335A, Bainbridge Avenue
............................................................................................228-822-5074
The youth centers at NCBC Gulfport offer a variety of programs and events that focus on character and leadership development, education and career development, health and life skills, the arts, sports, fitness and recreation. Programs include before- and after-school care, summer camp, 4-H programs, and special events like dances, pool parties, field trips, lock-ins, holiday carnivals and more.
School-age care at the Youth Activities Center is available for youth kindergarten to 12 years old who are enrolled in elementary school. The program provides before- and after-school care with educational and recreational pursuits, including arts and crafts, group games, guest speakers, special projects, volunteer projects and special events. The center is an affiliate member of the National Boys & Girls Club of America.
The Teen Center provides activities for teens ages 13 to 18 who are enrolled in school. Center programs include homework help and tutoring, the Keystone Club, archery, camping, rock climbing, paintball and more. The center's Career Launch program prepares teens for the working world. The CIT Program gives teens the opportunity to compete for six paid positions as junior camp counselors at the summer camp program.
The Youth Sports Program covers a wide variety of sports and instructional classes for military and DOD youth 3 to 17 years old. The program features sports leagues such as flag football, basketball, roller hockey, T-ball, soccer and sand volleyball.
The Youth Sponsorship Program provides incoming youth with information and tools to help them cope with their transition to NCBC Gulfport.
FINANCIAL SERVICES
Navy Federal Credit Union
Building 448.......................................................................888-842-6328
This member-owned credit union provides on-base ATMs, online banking services, direct deposit, IRAs, traveler's checks, wire transfers, loans, investment services and more.
LEGAL SERVICES
Naval Legal Service Office
Building 30........................................................................228-871-2626
The Gulfport branch of Region Legal Service Office Southeast provides general legal assistance to military personnel, their family members and retired military personnel. Assistance is provided for powers of attorney, notary services, wills and estate planning, family law, landlord-tenant matters, consumer and financial affairs, immigration, small claims court matters and more.
RECREATION
For information about the recreational programs at NCBC Gulfport, go to www.navymwrgulfport.com.
Aquatics
Building 445, Fifth Street..................................................228-871-2668
The fitness center's outdoor heated pool is
25 meters with 10 lanes. The depth ranges from 4 to 6 feet. Swim lessons are offered.
Auto Skills Center
Building 397, Rodgers Avenue...........................................228-871-2804
Do your own automobile maintenance at the Auto Skills Center using its stalls, lifts and tools. The center offers technical assistance and tire mounting and balancing as well.
Clubs
Anchors & Eagles
Building 303, John Paul Jones Avenue .....................................................228-871-4607
The Hive
Building 352.........................................................................................228-871-4009
Designated as a place of relaxation for chiefs and officers, the Anchors & Eagles club has four big-screen TVs and is manned by friendly bartenders. The Hive is an all hands club. Throw darts, shoot pool, watch a game on one of six TVs or just relax with a cold one.
Fitness Center
Building 445, Fifth Street......................................................................228-871-2668
The fitness center has an Olympic weight room, a cycling room, cardio machines and strength-training equipment, basketball and racquetball courts, two softball fields, a running track, steam rooms and saunas, fitness classes and more. The center also has information about the intramural sports program.
Liberty Center
Building 365, 5300 Second St...............................................................228-871-4684
The Liberty Center is the Navy's home for positive recreational options targeted at 18- to 25-year-old single or unaccompanied service members. Day trips, computers with Wi-Fi, video game consoles, darts, and pool and pingpong tables are just some of the center's offerings.
Movie Theater
Building 446, Marvin Shields Boulevard..................................................228-871-3299
Catch new movies, 3D movies and advanced screenings at the Seabee Cinema. Concessions are available.
Outdoor Rental Center
Building 456.......................................................................................228-871-2127
Community Recreation offers a variety of equipment rentals — including sports gear, party supplies, bounce houses, tools, camping gear, boats and cooking equipment. Reservations may be made up to six months in advance.
Parks and Recreational Areas
Seabee Lake and Park
Off 11th Street....................................................................................228-871-2127
Shields RV Park
Building 453, Katrina Court...................................................................228-871-5435
Seabee Lake, at the northwest end of base, has everything a family needs to enjoy a day at the lake. Canoes, kayaks and life jackets are available on-site. The lake has a floating dock, a fishing pier, pavilions, picnic tables, barbecue grills, a covered playground and restroom facilities. The park area near Seabee Lake offers batting cages, a speedball and paintball course, a dog park, soccer and football fields, and plenty more.
Shields RV Park is within a mile of the beautiful beaches of the Gulf of Mexico. The Navy Getaways park has more than 100 full-hookup sites. There are also bathroom, shower and laundry facilities. For reservations, visit www.dodlodging.net.
Seabee Heritage Center
Building 446.......................................................................................228-871-3619
The center's exhibits depict the history of the Seabees, and the gift store carries a variety of Seabee swag such as challenge coins, T-shirts, flags and jewelry.
Tickets and Travel
Building 365, 5303 Second St...............................................................228-871-2231
Find information and get military discount tickets for regional and national attractions, including Gulf Islands Water Park, Walt Disney World and Universal Studios, New Orleans Saints games and more. Whatever travel destinations you seek, the Tickets and Travel staff can help you plan your trips with assistance with airline tickets, hotels, rental cars and more.
SHOPPING
Commissary
Building 32, 1707 CBC Second St..........................................................228-871-2039
Save your hard-earned dollars when shopping for groceries at the Gulfport commissary.
Exchange
The Gulfport exchange wants to be your first choice for shopping. It offers a price-match program that guarantees the lowest prices in town. Hours of operation for services outside of the main exchange vary so call or visit the website for detailed information.
Main Exchange
5303 CBC Second St...........................................................................228-864-6877
Shops and Services
Barbershop........................................................................................228-871-2350
Beauty Shop......................................................................................228-863-4820
Flower Shop......................................................................................228-864-1514
Laundry and Dry Cleaning...................................................................228-863-5078
Navy Pride Shop................................................................................228-864-1514
Sight and Sound................................................................................228-871-3085
Tailor Shop.......................................................................................228-863-5078
Uniform Center..................................................................................228-868-6069
Western Union and UPS......................................................................228-864-1514
Mini Mart
Building 470, 470 Seventh St..............................................................228-864-8565