Newcomer's Information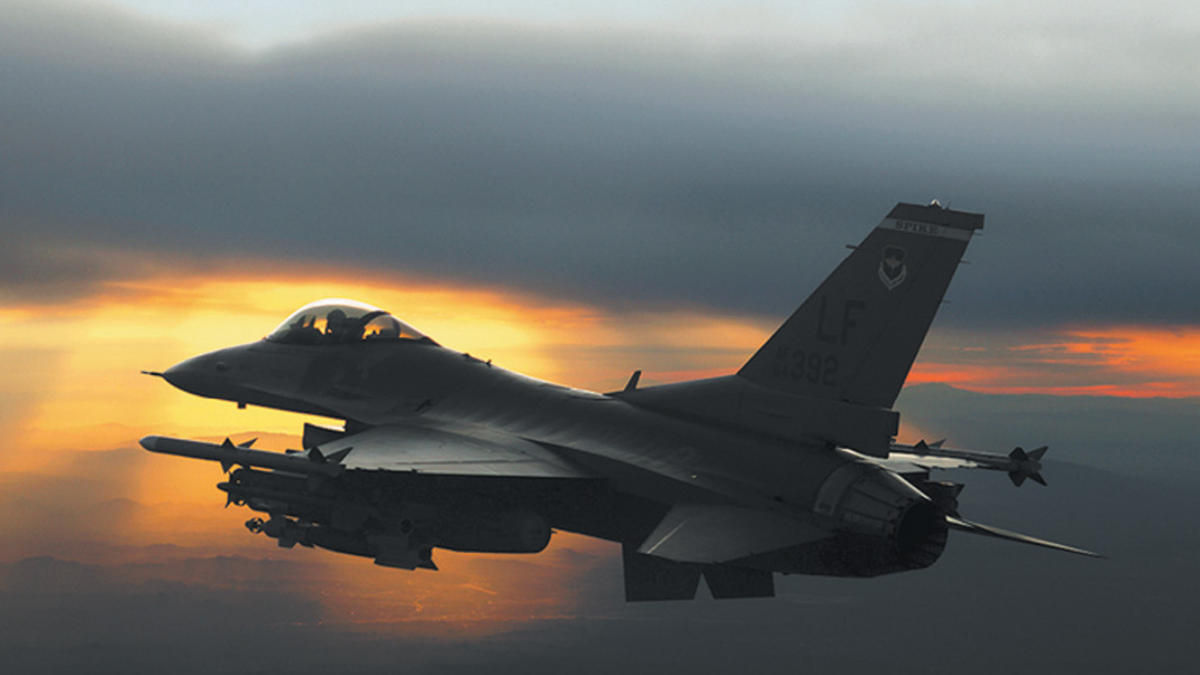 Preplanning is essential for newcomers moving to Luke Air Force Base, whether for a permanent change of station, a temporary-duty assignment or a school tour. Three excellent sources of information for military moves are the websites for Air Force Housing, Military OneSource and the Automated Housing Referral Network.
The Air Force Housing website, www.Homes.mil, provides information about privatized and unaccompanied housing, as well as community housing, school, local weather and other useful information to help Airmen, accompanied or unaccompanied, make a smooth transition to their new duty location. The Homes.mil housing referrals website is sponsored by the Department of Defense including all service branches to help military members and their families find housing at their duty stations. Homes.mil is the preferred and trusted housing referral resource for U.S. military members and their families around the world. The site provides military members with access to information on available housing from anywhere in the world 24/7, allowing them to start their home-finding process as soon as they receive their orders.
Military OneSource, www.militaryonesource.com, provides information about a range of subjects, including relocation, personal finances and child care, as well as emotional support during deployments.
There are a number of actions you should take as soon as you receive permanent change of station (PCS) orders, such as arranging movement of your household goods, requesting on-base family housing (if desired), arranging for temporary quarters while you house hunt and enrolling your children in the on-base Child Development Center program (if appropriate).
Newcomers are encouraged to contact their local Personal Property office as soon as possible after receiving orders to arrange shipment of household goods. Most of this process can now be handled online by using the Defense Personal Property System. You can schedule delivery directly with your carrier. If you do not have your carrier's phone number, call the Traffic Management Office (TMO) at 623-856-6425 to get it.
All single Airmen, E-3 and below or E-4 with less than three years' time in service, must reside in on-base dormitories. All single E-4 Airmen with three years' time in service and above are eligible to live in the local area. Military families and bachelor officers can apply to live in on-base housing or reside in the local community. Applications for on-base housing can be submitted to the Housing Referral Office as soon as orders are received. See "Housing" for details.
Temporary lodging should be requested at the Fighter Country Inn on base by calling 623-856-3941. Space can fill up quickly, so make your reservations as soon as possible. New parents who are active-duty members, E-5 and below, can also receive complimentary baby items through the layette program, which is funded by the Officers' Spouse's Club.
Families requiring on-base child care through the Child Development Center (CDC) or Family Child Care (FCC) can register for the waiting list by visiting www.militarychildcare.com.
All new personnel should hear from a gaining command sponsor shortly after receiving orders. If not, contact your gaining unit and ask for your sponsor's name and contact information.
When you depart from your previous home, remember to hand-carry your important paperwork such as military service record, PCS orders, passports, leave and earning statements, proof of car registration and insurance, marriage certificate, immunization records of children, household goods inventory lists and military ID cards.
While traveling, be sure to document all travel expenses for reimbursement at Luke Air Force Base.
Arrival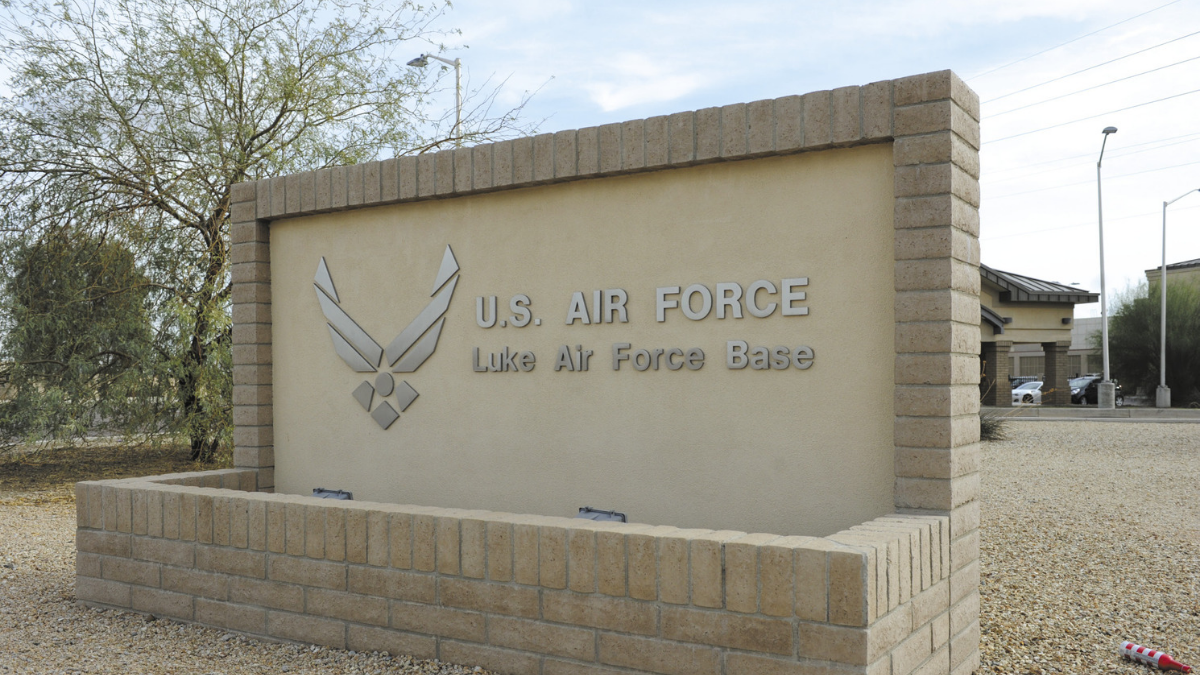 Located in the Valley of the Sun, Luke AFB is 30 miles northwest of downtown Phoenix in Glendale, Arizona. Luke AFB is accessible by any mode of transportation. It is within easy driving distance of recreational and sightseeing points, including the Grand Canyon and Flagstaff ski slopes to the north, the beaches of California to the west and Mexico and the Sea of Cortez to the south.
Newcomers should enter the base through the South Gate, off Litchfield Road, where the main visitor center is located. The base is immediately west of Litchfield Road and Glendale Avenue.
By automobile, take Interstate 10 to Exit 128 and then travel north on Litchfield Road to the South Gate. If traveling on I-17, take Loop 101 west and exit on Glendale Avenue, which dead-ends at the base. Turn left on Litchfield Road to get to the South Gate and visitors center.
By air, you will arrive at Sky Harbor International Airport, south of Phoenix. Taxi and limousine charges to Luke AFB are expensive, but a shuttle service is available at a more reasonable fare.
Base Entry Procedures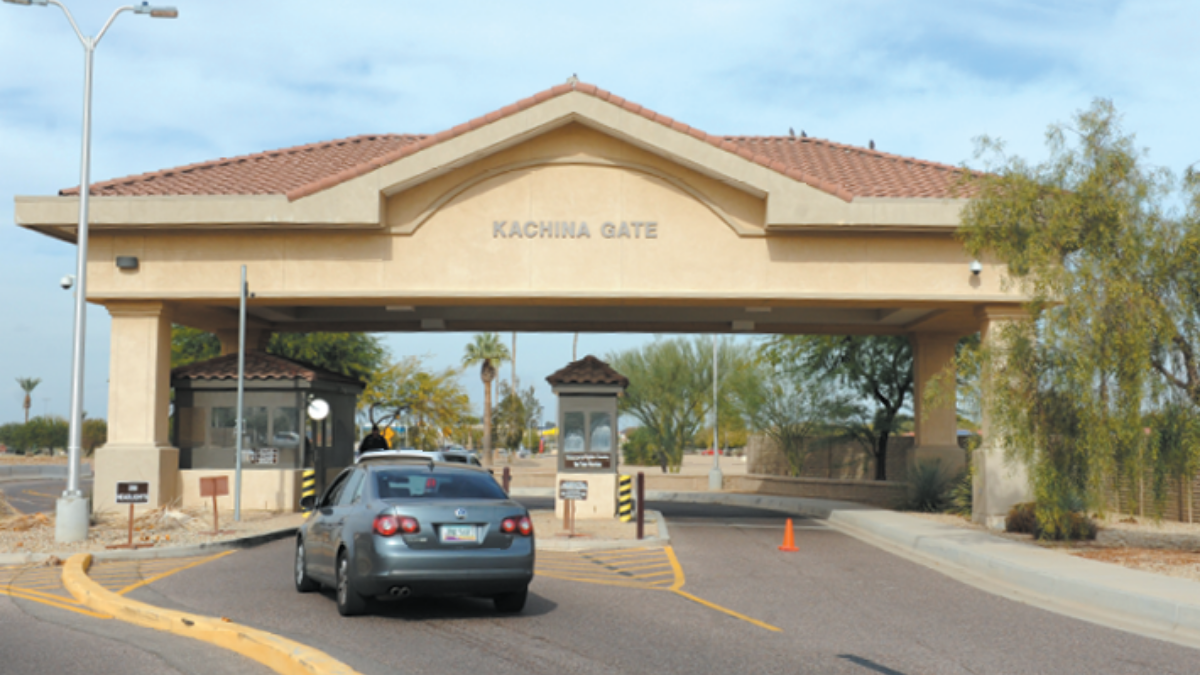 Military members, their dependents and civilian employees are admitted to the base using common access cards or dependent ID cards that are electronically scanned by gate guards when entering the installation. ID cards are updated electronically during inprocessing to show current assignment at Luke Air Force Base.
Any visitor (age 16 or older) must be screened and issued a pass by security forces prior to gaining access to the installation. To obtain a visitor's pass, the sponsor will meet their guest(s) at the South Visitor's Reception Center open seven days a week, 7 a.m. to 5 p.m. During non-duty hours, passes are issued at the South Gate.
Online prescreening for passes is available to expedite processing time. Before entering the installation, visitors should process their request online at https://dbids-global.dmdc.mil/enroll#!/.
To operate a vehicle on base, drivers are required to maintain a valid stateside driver's license, vehicle registration and proof of insurance. Failure to show these documents could result in a six-month suspension of on-base driving privileges.
All drivers on base must also comply with the Arizona Clean Air Act, which requires vehicles to be in compliance with local emissions-inspection requirements. Emissions testing must be successfully completed on all vehicles in Maricopa County at a state-operated emissions testing facility. This requirement includes motorcycles, diesels, motor homes and recreational vehicles. Vehicles with out-of-state license plates are included in this requirement.
Contractors must complete a "Luke AFB Contractor Affidavit" along with all other required documentation. The "Sponsoring Organization" must also submit supporting documentation to the visitor center. Security Forces will then initiate a background check using the Arizona Criminal Justice Information System and other state and federal law enforcement databases. Based on results, a contractor can be issued base access for up to one year. Contractors requiring access for more than one year must renew the package annually.
Traffic Regulations — The speed limit on Luke AFB is 25 mph unless otherwise posted. Speed laws are strictly enforced by radar. Luke AFB prohibits all drivers from using hand-held telephones while operating a motor vehicle; hands-free devices are allowed.
Motorcycle Operation — Motorcycle operators must have an appropriate endorsement on their driver's license. When operating a motorcycle on base, the owner must have completed an approved motorcycle-safety course and possess a course completion card or a letter from the base safety office indicating enrollment in an approved motorcycle-safety course.
Personal protective equipment is mandatory for all motorcycle operators on base. Military members are also required to wear a helmet at all times, on or off base, while operating a motorcycle.
Vehicle License Tax Exemption — Military members may operate motor vehicles in Arizona using their home state's driver's license and license plates or register their vehicles in Arizona. Family members must obtain an Arizona license to drive legally. Service members with vehicle titles solely in their name and who are nonresidents of Arizona may register their cars in the state without paying the Arizona Vehicle License Tax but must pay a small vehicle registration fee. A service member who holds joint title to a vehicle with a spouse is entitled to the tax exemption for only half the tax.
A Vehicle License Tax Exemption form can be obtained from the Luke AFB Legal Office. This form may be signed either by their commander or a designated representative from Judge Advocate. Once completed, take the form and an emissions test certification to the Motor Vehicle Division to register your vehicle in the state.
If you intend to purchase a new vehicle overseas, you can save thousands in sales tax if you have it delivered and registered overseas and then shipped back to the U.S. Arizona does not charge sales tax as long as you have a valid overseas registration with your name on it. Arizona considers such vehicles "gray market" vehicles. There is other paperwork that will be required, such as the certificate of origin and customs clearance letter (you get that from the port of entry). Laws change frequently, so check the Arizona Motor Vehicle Division website at www.azdot.gov/mvd for more information before making any financial commitment.
Weapons Storage — The Security Forces Armory is the designated storage area for privately owned weapons. Firearms (handguns and rifles) and bow storage of privately owned weapons is primarily provided for dormitory and lodging residents. Courtesy storage is also available for on-base housing residents who provide child care in their homes. On-base housing residents will register privately owned weapons with 56th Security Forces Squadron Armory. Squadron commanders or their designated representative may request courtesy storage of privately owned weapons for personnel assigned to their unit on a space-available basis.
Accommodations
Fighter Country Inn provides temporary lodging for military personnel and their dependents, sponsored friends, sponsored family members, Reservists, DOD employees, civilian contractors and retired military personnel. Rooms can be reserved for permanent-change- of-station orders, temporary-duty orders and leisure travel. PCS families may stay in one of 30 temporary lodging facilities for up to 30 days, based on availability. Fourteen units are pet-friendly; vaccination records are required at time of check-in.
Fighter Country Inn is in Bldg. 660 and is open 24 hours a day. Reservations may be made by calling a guest service representative at 623-856-3941 or DSN 896-3941.
Enlisted single Airmen, E-3 and below or E-4 with less than three years' time in services arriving for a PCS after duty hours or on weekends are lodged in hospitality rooms by getting a key with your supervisor from Fighter Country Inn until their first duty day. They are then assigned their squadron dormitory. Military personnel who expect to live in the local community must check with the Housing Referral Office at 1368 Kachina St. for a briefing and counseling before seeking off-base housing. Rental and sales information are available there as well.
P.O. Box and General Delivery Service
Located in Bldg. 545 on Mustang Street, this service is for inbound PCS, TDY and dormitory residents only. Hours are 9 a.m. to 4 p.m. Monday through Friday. Mail can be addressed or forwarded to:
Your Rank and Name
General Delivery
Luke AFB, AZ 85309-9999
People who intend to reside off base may continue to receive general delivery service for a limited time. For single military personnel who will reside in on-base single quarters, the member's sponsor can get a post office box number 90 days in advance by presenting a copy of the member's PCS orders to the Postal Service Center.
Regardless of a person's intended residence location, he or she should personally contact the Postal Service Center upon arrival. Be prepared to present a copy of your orders and military ID card.
Inprocessing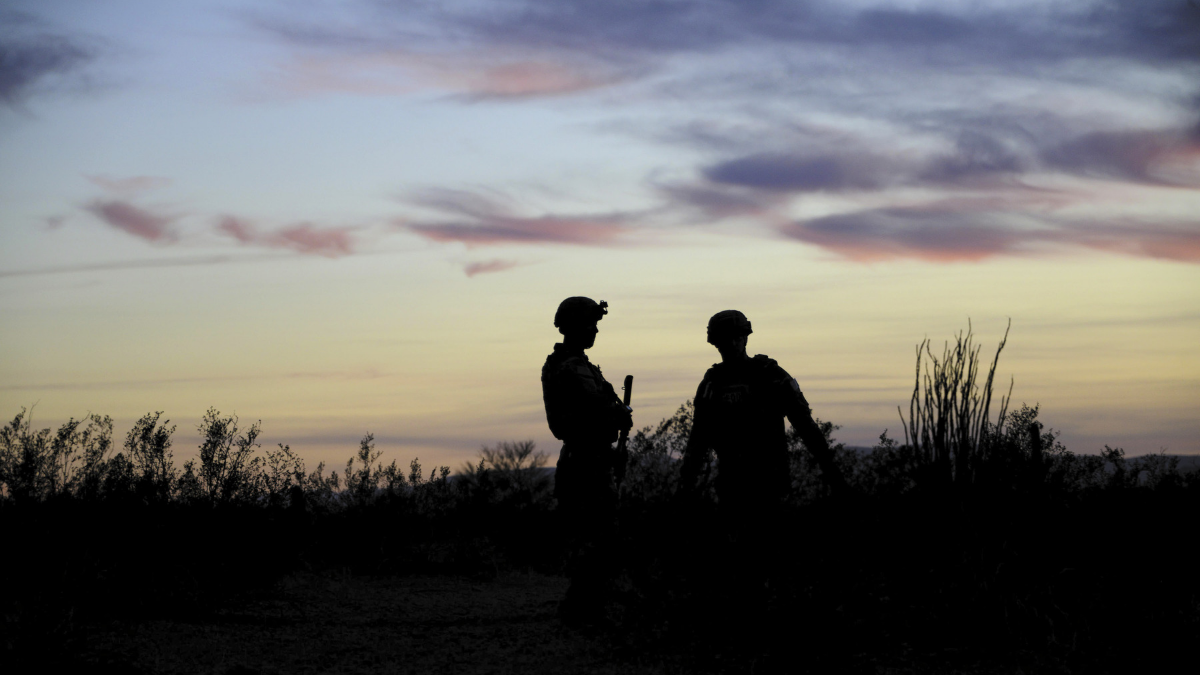 During duty hours (weekdays from 7:30 a.m. to 4:30 p.m.) new arrivals should report to their unit of assignment, where they will inprocess. Base inprocessing is conducted Monday, Wednesday and Friday beginning at 8 a.m. in Room 3149 of Bldg. 1150.
Inprocessing members must bring a pen, three copies of their PCS orders, their personnel and finance records, if applicable, and the envelope provided to them by their previous Outbound Assignments Office. Members are required to be in uniform.
The actual inprocessing will take about one hour. However, customer support will provide members with a base inprocessing checklist that may take up to two days to complete. In addition, all newcomers will be scheduled to attend a Wing Orientation and will attend mandatory courses in drug abuse, education and driver's training. If required, some members will also attend maintenance training.
First-term Airmen reporting to their first duty station also will be scheduled for an eight-day training program at the First Term Airman Center. During that time, they will receive inprocessing briefings as well as base and community information and ancillary training.
At inprocessing, members will complete all paperwork related to their move. As part of this process, the members' ID cards will be updated to reflect their new duty assignment.
As part of the inprocessing program, newcomers are scheduled for a finance briefing where they will be assisted in completing their travel vouchers, and pay questions will be answered. Their master military pay account will be updated to reflect their entitlements at Luke AFB. Direct deposit is required for all military personnel, so to help smooth inprocessing, newcomers are encouraged to maintain their direct deposit during PCS.
As part of the "Medical Right Start" program, newcomers are oriented to services provided by the 56th Medical Group and are educated on how and when to access care.
Beneficiaries are also informed of their TRICARE options, and enrollment is transferred. Medical and immunization records are reviewed to determine health care needs. This program is mandatory for all active-duty members, but dependents and retirees are also welcome.
Civilian employees should report to the Civilian Personnel Office on weekdays between 7:30 a.m. and 4:30 p.m. to inprocess. The Civilian Personnel Office is in Room 1179 of Bldg. 1150.
RELOCATION ASSISTANCE
Newcomers are encouraged to visit the Airman and Family Readiness Center, in Bldg. 1113 across from Fowler Park, shortly after arrival. As part of its relocation assistance program, newcomers are provided information about the local area including community maps, brochures, school data, crime rates, recreational activities and Heartlink, which is an orientation for military spouses.