Davis and Weber Counties

Utah is the crossroads of the West, with Davis and Weber counties serving as a rail hub and transportation nexus. The area's metro-to-mountain terrain contains some of the nation's newest transportation corridors. U.S. Route 89 and Interstates 15 and 84 cross both counties north to south, and all western metropolitan areas are within a day's drive.
For those flying in, there are two airports close by. Ogden-Hinckley Airport has passenger flights to and from Phoenix-Mesa Gateway Airport; Salt Lake City International Airport, the largest airport in the area, is only 30 minutes from Hill Air Force Base.
Both counties have extensive public transportation networks, and Ogden has a Greyhound Bus Station.
AIRPORTS
Ogden-Hinckley Airport
3909 Airport Road
Ogden, UT 84405 801-629-8251
www.flyogden.com
Ogden-Hinckley Airport, just north of Hill Air Force Base, is Utah's busiest municipal airport for private planes. The airport also offers commercial passenger flights through Allegiant Air between Ogden and Phoenix-Mesa Gateway Airport, where passengers can catch connecting flights. Ground transportation at Ogden-Hinckley Airport includes taxi service, public transit and a rental car company.
Salt Lake City International Airport
776 N. Terminal Drive
Salt Lake City, UT 84122 801-575-2400
www.slcairport.com
Salt Lake City International Airport is approximately 30 miles from Hill Air Force Base and serves nearly 23 million travelers each year. Its nine major carriers include Alaska Airlines, American Airlines, Air Canada, Delta Air Lines, Frontier Airlines, JetBlue, KLM Royal Dutch Airlines, Southwest Airlines and United Airlines.
Ground transportation includes bus, taxi, shuttle, light rail, hotel transportation, Lyft and Uber, and rental car service. Service to Amtrak and Greyhound stations from the airport is provided by shuttle companies. There are 10 car rental companies at the airport; regular shuttles take passengers to five more off airport grounds.
A bike trail provides bicycle/pedestrian access to the airport along the airport's south side, but security concerns mean those planning to use it must apply for an airport access badge, which takes three to five business days to process. Go to www.slcairport.com/parking-and-transportation/biking for details.
PUBLIC TRANSPORTATION
Ogden Greyhound Station
2393 Wall Ave.
Ogden, UT 84401 801-394-5573
www.greyhound.com
Greyhound provides bus service between several points in Utah and across the United States. Call for hours of operation and ticketing schedules, or book online.
Utah Transit Authority
801-743-3882
www.rideuta.com
The Utah Transit Authority (UTA) provides transportation services through Utah and has one of the largest geographical service areas of any transit agency in the nation: more than 1,600 square miles. Its seven categories of service include buses; MAX bus rapid transit; FLEX routes adaptable to passenger needs; seasonal ski buses; paratransit buses for qualified riders; the TRAX light rail system; the FrontRunner commuter rail; and the S-Line streetcars.
UTA serves both Davis and Weber counties with bus and rail service, and in 2016 launched a free bus route, the Midtown Trolley that carries passengers between the FrontRunner rail stations in Clearfield and Layton with multiple stops along the way for shopping, state offices, medical care, etc. Bus routes were added and hours were extended in 2016 as well.
Bus service includes stops at Hill Air Force Base, Ogden, Clearfield, Layton and West Roy. The FrontRunner, a state-of-the-art commuter train, provides rail service with stations in Salt Lake City, Woods Cross, Farmington, Layton, Clearfield, Roy and Ogden. FrontRunner stations have connections to the bus system and park and ride lots. UTA also provides information and a ride-matching database for residents who want to carpool.
For more information on UTA's fares, schedules and routes, visit the UTA's website.
Driving and Commuting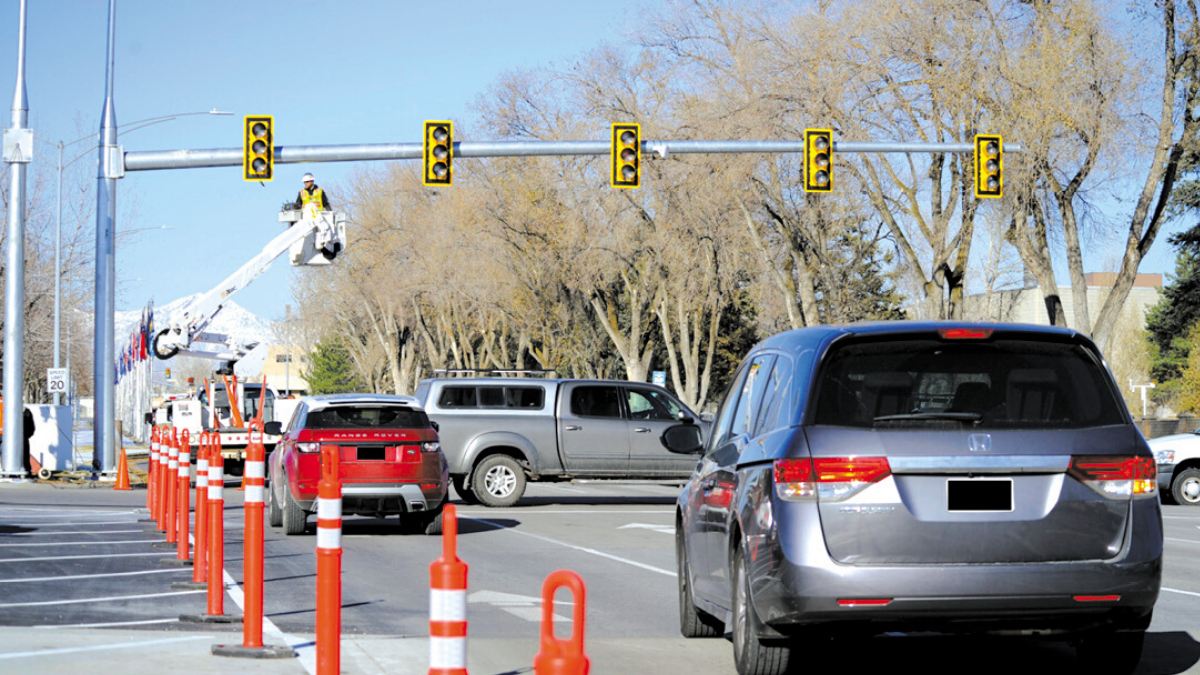 Davis and Weber counties are traversed by three interstates, one U.S. highway and various state routes.
Interstate 15 is a north-south highway that connects Davis and Weber counties. Interstate 84 splits from Interstate 15 in southern Weber County, traveling east along the top of Davis County to Morgan County. In southern Davis County, Interstate 215 peels off from Interstate 15 to provide access to Salt Lake City, where it forms a "U" around the city and many of its suburbs.
U.S. Route 89 runs north to south through Davis and Weber counties. Generally, the highway is east of Interstate 15, but portions of it overlap with the interstate.
The Utah Department of Transportation offers a wealth of information for commuters at www.udot.utah.gov, including live traffic cameras, road conditions, air quality and emergency alerts, winter driving tips and more.
Utah Department of Public Safety —Driver License Division
The Utah Department of Public Safety's Driver License Division is responsible for issuing driver's licenses. Find general information and many of the required forms at http://dld.utah.gov/licensingid-cards.
Driver's Licenses
Military personnel and their dependents stationed in Utah from elsewhere may continue to drive with a valid driver's license from their home state, but in general, all Utah residents who want to drive must apply for a driver's license once residency is established. The state spells out what is required for licensing and insurance under various scenarios in its Utah Driver Manual, which can be downloaded
at http://dld.utah.gov/handbooksprintableforms. The Commercial Driver License Handbook and the Motorcycle Handbook also can be printed out online.
Farmington Office (Davis County)
631 N. Lagoon Drive
P.O. Box 298
Farmington, UT 84025 801-965-4437
8 a.m. to 5 p.m. Monday through Friday
Ogden Office (Weber County)
615 E. 5300 S
South Ogden, UT 84405 801-965-4437
8 a.m. to 5 p.m. Monday through Friday
Distracted Driving
The state of Utah prohibits drivers from using cellphones and electronic devices while driving. This includes sending or reading texts, emails or instant messages; dialing phone numbers; accessing the web; and taking or viewing photos or video. Cellphones and other devices may be used with voice-operated and wireless technology and with systems that are physically or electronically integrated into the vehicle.
Vehicle Registration
The Utah Division of Motor Vehicles is primarily responsible for issuing titles and registrations of Utah vehicles. Applications associated with driving and vehicle registration are available online at www.dmv.utah.gov/faq/registering, including DMV forms, requests for driving records and more.
Farmington DMV Office (Davis County)
969 W. Clark Lane
Farmington, UT 84025 801-297-7780
8 a.m. to 5 p.m. Monday through Friday
Ogden DMV Office (Weber County)
2447 Lincoln Ave.
Ogden, UT 84401 801-297-7780
8 a.m. to 5 p.m. Monday through Friday