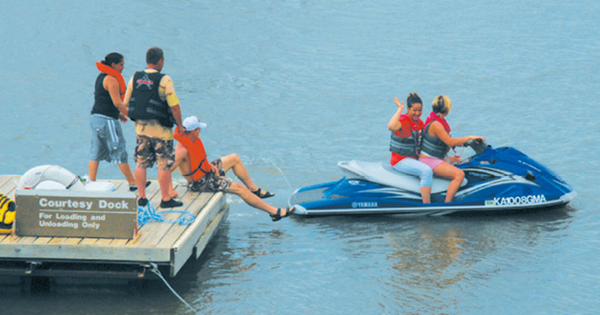 7118 K 82 Highway
Hours are subject to seasonal conditions
The Fort Riley Marina is on Milford Lake, the largest man-made lake in Kansas. Spend a day on the lake with one of our rental water craft, or have our friendly staff create an adventure just for you!
Services
• Watercraft rental.
• Fishing and tubing excursions.
• Access to Milford Lake.
• Primitive camping sites.
• Four pavilions with picnic tables and grills.
• ADA-accessible playground.
• Restrooms.
Authorized Users and Safety Requirement
Marina services are open to all authorized DOD ID card holders. All patrons renting or operating motorized watercraft must provide proof of completion of the Kansas Safe Boaters Course or another NASBLA-approved boater safety course.
Availability
Priority for rentals are given to customers with advance reservations. Reservations may be made during the week by visiting the Outdoor Adventure and Travel Center at 5202 Normandy Drive. All remaining rental watercraft will be issued on a first-come, first-served basis, pending availability. For more information, call 785-239-2363.
Marina
The marina is on Milford Lake and has a variety of water craft, pontoons, fishing decks and ski boats. They can be rented by the hour or in four- or eight-hour sessions. Water skis and other equipment also are available at the marina. There is a playground for children and boat slips for easy access to the rentable watercraft as well.
Come out and enjoy a day at the lake. The marina has pavilions for rent. Jet Ski rentals require an additional safety review; patrons must pass a mandatory test. All are available on a first-come, first-served basis. No reservations will be accepted. Multiple boats will not be issued to one customer. Each boat rented must be to a boater safety card holder. Any customer who rents a boat may be held financially liable for items that are lost, damaged or destroyed by causes other than fair wear and tear. Marina property is for personal use only by the person it is issued to. Customers will not allow unauthorized persons to use or operate government property. For more information, stop by the Outdoor Recreation Center or call the center at 785-239-2363 or 785-307-3798. Note: The Kansas State Boater's Safety Course is required to rent a motorized boat or you must have a NASBLA-approved card or certificate. For information about the course, visit www.boat-ed.com/kansas.
The Fort Riley marina is a seasonal operation. Current hours may be found at www.riley.armymwr.com/programs/marina.