Getting To & Around
Located in the Heart of the East Coast, Harford County is well-connected within the state and the rest of the United States. Major roadways include Interstate 95; U.S. routes 1 and 40; and various state highways.
For those arriving by air, Baltimore/Washington International Thurgood Marshall A­irport is one of Maryland's major airports, located about an hour from Aberdeen Proving Ground. From the airport, there are a number of options (shuttle, car rental or public transportation) to get you to and around Harford County.
Light rail, train and bus services are also available through Amtrak, Greyhound, the MarylandTransit Administration and Harford County Transit.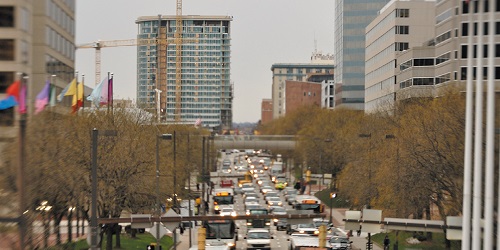 Airports
Baltimore/Washington International ­Thurgood Marshall Airport
7062 Elm Road
Baltimore, MD 21240.............. 410-859-7111
Toll Free............ 800-I-FLY-BWI (435-9294)
The BWI Airport is about 45 miles from ­Aberdeen Proving Ground and is one of the fastest-growing airports in the nation, with more than 700 daily charter, cargo and ­commercial flights to domestic and international destinations. The airport is served by a dozen airlines, including Delta, Southwest Airlines, United Airlines and US Airways.
Eight car rental agencies are available at the airport. Ground transportation includes taxis, and bus, rail and shuttle services.
Public Transportation
Aberdeen Greyhound Station
18 E. Bel Air Ave.
Aberdeen, MD 21001.............. 800-231-2222
Greyhound provides service between ­several points in Maryland and across the United States. Call for hours of operation and ticketing ­schedules, or book online.
Amtrak
18 E. Bel Air Ave.
Aberdeen, MD 21001.............. 800-872-7245
Amtrak's Aberdeen station is part of the Northeast Regional Route, which travels between Boston and Virginia Beach. From Aberdeen you can travel to Newark, N.J., or to Baltimore and Washington, D.C. For fare and route information, visit Amtrak's website.
Harford County Transit
1311 Abingdon Road
Abingdon, MD 21009............. 410-612-1620
www.harfordcountymd.gov/services/transportation
Eight fixed routes primarily serve Havre de Grace, Bel Air, Aberdeen, Riverside, Edgewood, Joppatowne and points in between. Specialized services for the elderly, those with disabilities and commuters are available. For fare and route information, visit the Harford County Transit's website.
Light Rail
6 St. Paul St.
Baltimore, MD 21202.............. 410-539-5000
www.mta.maryland.gov/light-rail
The Light Rail (part of the Maryland Transit Administration) travels to Cromwell Station in Anne Arundel County, with service to the Baltimore/Washington International Thurgood Marshall Airport and Amtrak's Baltimore Penn Station. For specific station information or addresses, visit MTA's website.
Maryland Area Regional Commuter
Train Service
6 St. Paul St.
Baltimore, MD 21202.............. 410-539-5000
www.mta.maryland.gov/marc-train
Part of the Maryland Transit ­Administration, MARC Train Service is a commuter rail system that serves Harford County, Washington, D.C., Baltimore, Brunswick and Frederick. For ­specific station information or addresses, visit MTA's website.
Maryland Transit Administration Bus Service
6 St. Paul St.
Baltimore, MD 21202.............. 410-539-5000
www.mta.maryland.gov/local-bus
With 57 bus routes, the Maryland Transit Administration provides service in Bel Air, Havre de Grace and Baltimore. For specific route and fare information, visit MTA's website.
Driving and Commuting
The Roads
Harford County is traversed by one interstate, two U.S. highways and various state routes.
Interstate 95 runs diagonally in the county from northeast to southwest. The interstate, which is one of the most heavily traveled highways in Maryland, provides access to eastern Pennsylvania, Baltimore and Washington, D.C. U.S. Route 1 and U.S. Route 40 run nearly ­parallel to Interstate 95. U.S. Route 1 is located north of the interstate, while U.S. Route 40 is located south of the interstate. U.S. Route 40 travels through Havre de Grace, Aberdeen and Edgewood.
Other highways include Maryland routes 7, 24 and 136. Maryland Route 7 connects with U.S. Route 40 in Aberdeen, running northeast to southwest between U.S. Route 40 and Interstate 95. Maryland Route 24 is a north-south route, beginning in the Edgewood area of Aberdeen Proving Ground in the south and traveling north to the Pennsylvania border near Fawn Grove. Maryland Route 136 begins in the northwestern portion of the county near Norrisville, running east to Pylesville and Whiteford, then south to Dublin, Churchville and Abingdon. The route ends at Maryland Route 7 in Abingdon.
Maryland Motor Vehicle Administration
410-768-7000
MVA Office in Harford County
Bel Air Office:
501 W. MacPhail Road
Bel Air, MD 21014.................. 410-768-7000
8:30 a.m. to 4:30 p.m. Monday through Friday for all services, 8:30 a.m. to noon Saturday for driver's license services only
Rules of the Road
Military personnel and their spouses from elsewhere who are stationed in Maryland may continue to drive with a valid driver's license from their home state, but in general, all new Maryland residents who want to drive must apply for a driver's license within 60 days. License applicants who are exchanging an ­out-of-state license must pass a vision screening test or submit a completed vision screening form to the MVA. The out-of-state license may be valid or expired, but if the license is expired for more than one year, applicants must pass a knowledge and skills test. If applicants have been licensed for less than 18 months, they will be issued a Maryland provisional license. For more information on learner's permits, ID cards and licensing in Maryland, visit the Motor Vehicle Administration's website.
The state spells out at length what is required for licensing and liability insurance under various scenarios in its "Maryland Driver's Manual," which can be downloaded in ­English and Spanish online.
Used vehicles titled and registered in Maryland
must be inspected by a state-licensed inspection
station. For information on the Vehicle ­Emissions Inspection Program, visit the website
Forms associated with driving and vehicle registration are available online. Forms include driver licensing forms, insurance compliance forms, driver record forms and more.
Visit the Maryland Department of Transportation website for information on road conditions and closures, commuter options, construction projects and to view live traffic cameras.