Employment
Part of the Baltimore metropolitan area, Harford County is strategically located on Interstate 95 in the heart of the Mid-Atlantic states. The county has 5,600 businesses, which employ 64,500 workers. A highly skilled workforce and a business-friendly environment ­support a variety of companies and industries. The county's major employer is Aberdeen Proving Ground. Other industries include ­government establishments; trade, ­transportation and ­utilities; education and health services; professional and business services; and leisure and hospitality.
The county has several innovative programs that foster business and growth in the technology sector, including the Groundfloor at Harford and the Harford Business Innovation Center. The Groundfloor at Harford is a community-driven workspace and collaboration center for technology entrepreneurs. The center ­encourages networking, bringing technology industry ­individuals together within the region. The Harford Business Innovation Center provides business support services in a flexible, furnished office space. The center was designed for young technology companies and growth-oriented defense contractors pursuing Aberdeen Proving Ground business opportunities. Both programs illustrate the county's progressive nature, ideal for technological and entrepreneurial endeavors in various industries throughout the county.
Harford County has a population of approximately 250,000, and more than 22,000 ­veterans call the county home, according to the U.S. Census. The unemployment rate of Harford County was 6.2 percent in October 2013, a slight decrease from the previous year's rate, according to the Bureau of Labor Statistics.
Part of the county's economic success is ­attributed to its well-educated population. Of those over the age of 25, nearly 92 percent have
a high school diploma or higher and 31.5 ­percent have a bachelor's degree or higher — both ­figures above the state average. Mean travel time to work was about 31 minutes. Per capita ­personal income was approximately $35,000 and the median household income was approximately $80,000, according to the U.S. Census.
For more information on business and the economy in Harford County, visit the ­Harford County Office of Economic Development at www.harfordbusiness.org or the Harford County Chamber of Commerce at www.harfordchamber.org.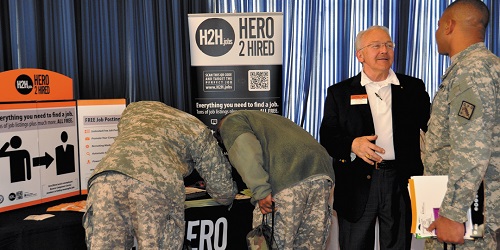 Employment Resources
At the national level, such websites as Monster, Career Builder, Jobs and Indeed have extensive search capabilities as well as resume tips, forum support and professional networking options.
Local Resources
Maryland One Stop Career Centers
Maryland One Stop Career Centers assist job seekers and businesses with a full range of employment resources. Centers provide career counseling, job listings, resume preparation assistance, placement services, training services and more. Job seekers can utilize the centers' computers, Internet, phones, printers and fax machines in their job search. All services are provided free of charge. Harford County has two career center locations, which are open 8 a.m. to 4:30 p.m. Monday through Friday. Visit Maryland One Stop Career Centers' website for more information on available services.
Aberdeen Workforce Center
Aberdeen Community Services Building
34 N. Philadelphia Blvd., Third Floor
Aberdeen, MD 21001.............. 410-272-5400
Bel Air Workforce Center
Mary Risteau Building
2 S. Bond St.
Bel Air, MD 21014.................. 410-836-4603
Maryland Workforce Exchange
Maryland Workforce Exchange serves job seekers, students, case managers, employers, training provides and workforce professionals. The exchange provides various employment tools including a job search, a resume builder and a virtual recruiter. The website also has information on education and training resources, unemployment services and veteran services.
Harford County Department
of Human Resources
112 Hays St.
Bel Air, MD 21014 … 410-638-3201/879-2000
www.harfordcountymd.gov/human_resources
Harford County provides a searchable list of available full- and part-time positions and many other resources to help job seekers find a match for their skills and experience. The site also allows you to submit an application online. Through the site, job seekers can check the status of an application at any time and set up alerts to notify them when new opportunities that match their skills are posted.
Harford County Public Schools
102 S. Hickory Ave.
Bel Air, MD 21014.................. 410-838-7300
Information on available Harford County Public Schools' teaching jobs and support staff openings can be found on the school district's website.
City of Aberdeen
www.aberdeen-md.org/human-resources
Visit Aberdeen's human resources' website to fill out an employment application.
City of Havre de Grace
www.havredegracemd.com/harford-county-city-employment
Visit Havre de Grace's employment website to view available job vacancies and to fill out an application for employment.
Town of Bel Air
www.belairmd.org/employment/humanresources.asp
Visit Bel Air's employment website to view current job openings and hiring information for the town.
Employment Agencies
An employment agency can offer posts ranging from high-level administration to warehouse work. Many employers use agencies as their human resources department. Agencies advertise, interview, test and manage payroll. A temp-to-perm arrangement allows the employer and prospective employee to evaluate each other before committing to permanent employment.
Municipal and regional chambers of ­commerce include local employment agencies in their member lists, along with contact information. See Page 15 for a list of chambers of commerce in Harford County.
Job Seeker Tips
Always maintain an up-to-date resume, and have different resumes tailored to specific industries that highlight your skills for those job descriptions.
Compile several lists of references so you have a good variety of people and former business associates.
Compose a comprehensive and catchy cover letter since it's what introduces you to a ­prospective employer. Highlight the skills, work ­experiences and education that apply to the ­particular position.
Prepare for an interview at any time. When you submit your application, for instance, a supervisor might request an immediate interview, or an unexpected phone call might have a hiring officer on the other end of the line.
Be diligent with your thank-you letters and follow-up calls. A letter keeps you in the ­interviewer's mind, and periodic calls to check in show your interest.
Aberdeen Proving Ground Civilian Opportunities
Visit www.usajobs.gov to search for Department of Defense jobs at Aberdeen Proving Ground. In the location search field, type in "Aberdeen Proving Ground, Maryland."
On the Army Civilian Service website, civilians can see easily what jobs are available for them at ­Aberdeen Proving Ground.
For post Exchange jobs, visit http://odin.aafes.com/employment and search for Aberdeen Proving Ground. You will need to register to apply for available positions.
Search for Aberdeen Proving Ground ­contractor positions from Computer Science Corp. at www.csc.com/careersus.
Self-Employment
The Maryland Small Business & ­Technology Development Center provides free and low-cost consulting and training for new and expanding business ventures. The center provides classes, workshops and training sessions on starting a business, understanding financial statements, marketing and other employee training ­programs. Services are available at multiple ­Harford County locations, including the Harford Business Innovation Center, ­Harford ­Community College and an online virtual ­classroom. For more information, visit www.harford.edu/sbdc.
Harford County's Entrepreneurs Edge is another resource for startups and ­entrepreneurs. Entrepreneurs Edge is a partnership among ­Harford County Public Library, Harford County Office of Economic Development, ­Harford County Chamber of Commerce, ­Harford ­Community College, Harford ­Business ­Innovation Center, Northeastern Maryland Technology Council and the Small Business & Technology Development Center. Members of Entrepreneurs Edge receive information on networking events, seminars, training opportunities and funding programs to aid their business development. Visit www.harfordbusiness.org/Index.cfm?ID=414 for more information on the program and enrollment.
Another resource for small-business owners and entrepreneurs in Harford County is the ­Harford County Office of Economic Develop­ment. The office provides information and ­support to entrepreneurs and small-business owners of new, existing and startup companies. To that extent, the financial manager works with these individuals to develop and review business plans and discuss financing options, including the Economic Development Opportunity Fund. For more information, visit www.harfordbusiness.