Cadiz, Kentucky

Cadiz-Trigg County Tourist and Convention Commission
5748 Hopkinsville Road
Cadiz, KY 42211
270-522-3892
www.gocadiz.com
Cadiz, located 30 miles west of Fort Campbell, Exit 65 off Interstate 24, is the east gateway to Lake Barkley and Kentucky Lake. Several marinas and resorts are located on the shoreline of Lake Barkley, offering unlimited recreational facilities. Downtown offers several specialty shops, places to eat, events and venues, and Trigg County is home to one incredible annual event.
Trigg County Country Ham Festival
270-350-5668
www.hamfestival.com
Celebrated during the second weekend in October, the Trigg County Country Ham Festival is a celebration of the county's world-famous country hams. The festival brings together residents of Cadiz and Trigg County, as well as thousands of visitors from all across the country, to celebrate the art and science of curing country ham. Activities include baking the world's largest ham and biscuit, a petting zoo, carnival rides, live music, food booths, pig races, a tractor show, a car show, a quilt show and much more.
Cadiz Antique Mall
34 Main St.
Cadiz, KY 42211
270-522-7880
The Cadiz Antique Mall features 30,000 square feet of shopping area with a wide variety of antiques and collectibles for both advanced and novice collectors. Featured items include furniture, glassware, lamps and lighting parts, dolls and other collectibles. Cadiz is home to seven antique stores in the downtown area, with the mall anchored at the center of the city.
Farmers Market
Downtown Cadiz Square
270-522-8756
www.gocadiz.com/directory/listing/trigg-county-farmers-market
The farmers market is a great way to check out local produce, flowers, and sometimes bread and sweets from local farmers and cooks. The market is open May through October on Saturday and Wednesday mornings.
Janice Mason Art Museum
71 Main St.
Cadiz, KY 42211
270-522-9056
www.jmam.org
The Janice Mason Art Museum offers a new exhibit approximately every 6 weeks, as well as classes, workshops, a growing theater program and a shop with hand-crafted artisan items.
Historical Sites
Cadiz is known for its historic sites, several of which are on the National Register of Historic Places. Some notable late-19th and early-20th century homes downtown on Main Street include Queen Anne and Victorian homes originally owned by wealthy businessmen and financiers, which were built to reflect their positions in the community. The downtown business district is also on the historic register. The turn-of-the-century buildings now accommodate offices and retail outlets, such as gift shops and antique malls. Featured sites include:
Most of the Queen Anne and Victorian homes were originally owned by wealthy businessmen and financiers — built to reflect their positions in the community. The downtown business district is also on the historic registry. The turn-of-the-
century buildings now accommodate offices and retail outlets, such as gift shops and antique malls. Featured sites include:
FAIRHOLME HISTORIC HOUSE
89 Main St.
Cadiz, KY 42211
270-522-7640
www.jlslibrary.org/fairholme
Fairholme is a Victorian home built in 1885. It is open for tours by appointment and is available for weddings and special events.
THE FUTRELL HOUSE BED & BREAKFAST
270-522-9214
www.futrellhouse.com
Recreation
Visitors to Cadiz enjoy countless recreational activities such as fishing, golfing, water skiing, hunting, camping, archery, horseback riding, biking and more. Featured venues include:
ARROWHEAD GOLF COURSE
183 Arrowhead Club Drive
Cadiz, KY 42211
270-522-8001
http://arrowheadgolf.com
Golfers will enjoy the challenge of fast greens and narrow fairways.
LAKE BARKLEY STATE RESORT PARK
3500 State Park Road
Cadiz, KY 42211
270-924-1131
http://parks.ky.gov/parks/resortparks/lake-barkley
The park's 3,600 acres feature a fitness center, public beach, swimming pool, 78-site campground with lake access, gift shop, convention center, hiking trails and riding stables. Also within the confines of the state park is the Boots Randolph Golf Course — a challenge for the most avid golfer. Lodging includes cabins, campgrounds and a spectacular open-beamed lodge with 120 rooms and four suites.
PRIZER POINT MARINA AND RESORT AND KENTUCKY LAKES K.O.A.
1777 Prizer Point Road
Cadiz, KY 42211
270-522-3762
www.prizerpoint.com
Prizer Point is surrounded by water on three sides and features more than 100 acres of hiking and biking trails in Kentucky woodlands. Other activities include boating, fishing, a floating restaurant, outdoor movies and more.
TRIGG COUNTY RECREATION COMPLEX
303 Complex Road
Cadiz, KY 42211
270-522-3744
This complex hosts baseball and softball leagues as well as horse shows, tractor pulls and other community events.
Clarksville, Tennessee
Clarksville has positioned itself as a community that is an ideal place to work, live and play. When you look at the livability of Clarksville, you'll find metropolitan amenities and conveniences blended with small-town hospitality and values. Nationally known retailers coupled with locally owned boutiques and restaurants create memorable shopping and dining experiences. Abundant outdoor recreation, festivals and entertainment, along with an emerging city center, provide residents with an enviable quality of life. Best of all you'll find friendly and welcoming people who love calling Clarksville home.
Clarksville Area Chamber of Commerce
25 Jefferson St., Suite 300
Clarksville, TN 37040
931-647-2331
www.clarksvillechamber.com
Clarksville-Montgomery County Convention and Visitor's Bureau
25 Jefferson St., Suite 300
Clarksville, TN 37040
800-530-2487
http://visitclarksvilletn.com
Military Affairs Committee
The Military Affairs Committee includes representatives from Fort Campbell, retired military members, government officials and local business leaders. The committee works to ensure military personnel and their families have the support they need from the community. The committee plans the annual Citizens for Fort Campbell advocacy trip to Washington, D.C. They also organize Warrior Week events, including a movie night, the Godfather Golf Tournament and a marksmanship competition. Additionally, the committee has an initiative to recognize the long history of military in the area through Veterans' Day events and support of other programs in the area.
Location and Climate
Founded on the banks of the Cumberland and Red rivers 45 miles northwest of Nashville, Clarksville's population is approximately 150,000, while Montgomery County tops 195,000. Clarksville enjoys a mild Southern climate with four distinct seasons.
Economy
Clarksville's growing industries include agriculture, construction, education, entertainment, health care and retail. Major employers include the City of Clarksville, Montgomery County Government, Tennova Healthcare, the Clarksville-Montgomery County School System, Austin Peay State University, and industrial employers like Agero, Akebono, Convergys, Jostens Printing & Publishing and Trane Co.
Education
The Clarksville-Montgomery County School System serves more than 33,000 students in 39 schools. Approximately 29 percent of the students served in the school system are military dependents. CMCSS continues to be recognized nationally for its academic and professional achievements, as well as its progressive methods for helping students become college and career ready. In 2016, the system was number one in the state for academic growth.
For parents seeking an alternative to the traditional school system, Clarksville offers several private and religious schools.
Clarksville business and technical schools offer students the opportunity to seek positions in the service industry or they can provide additional training to those already established in their careers.
For higher education in Clarksville, students can attend Austin Peay State University. What initially began as a teaching school with only 158 students is now the educational and cultural hub of Clarksville, with a current enrollment of more than 10,000 students.
Health Care
Tennova Healthcare — Clarksville serves residents of northern Tennessee and southern Kentucky. Employing approximately 1,200 professionals, Tennova is a 270-bed facility offering services in cardiology, emergency medicine, family practice, gastroenterology, general surgery, neurology, obstetrics and gynecology, oncology, pediatrics, plastic surgery, radiology, wound care and more. It has been designated as an Accredited Chest Pain Center, a Blue Distinction Center+ for Maternity Care and a Wound Care Center of Distinction and earned the Gold Seal of Approval from The Joint Commission.
Premier Medical Group is a multi-specialty physician practice in the area, serving Montgomery and surrounding counties in Tennessee and Kentucky, logging 250,000 patient visits in 2015.
Recreation
Both the city of Clarksville and Montgomery County operate a parks and recreation department, providing and maintaining more than 1,000 acres in more than 30 community parks. Recreational facilities include playgrounds, picnic areas, walking trails, dog parks, pools and splash pads, pavilions and more.
With the Cumberland and Red rivers lining the city, activities such as boating, water skiing, jet skiing, kayaking and fishing are enjoyed by both visitors and residents.
Clarksville is also a golfer's paradise. The city owns two courses — Swan Lake and Mason Rudolph — and other area golf courses offer beautiful greens as well.
ART GALLERIES AND PUBLIC ART
Clarksville is home to several fine art galleries and public art pieces. Some feature local artists through rotating exhibits while others have permanent collections. Austin Peay State University has four art galleries as well as mini-exhibits throughout the campus. Local artists also contribute to the Downtown Artists Co-op, located on Franklin Street. Of course, the Customs House Museum & Cultural Center provides a fun family experience with both rotating and permanent exhibits. The locations for Clarksville's public art, including murals and bronze statues, can be found in the vacation guides at http://visitclarksvilletn.com.
BEACHAVEN WINERY
1100 Dunlop Lane
Clarksville, TN 37040
931-645-8867
www.beachavenwinery.com
Enjoy free tours and tastings at one of Tennessee's premier commercial wineries. Each of the award-winning wines is available on-site along with unique gift shop items. In the summer months, the vineyard hosts an outdoor jazz concert series.
CLARKSVILLE BLUEWAY AT ROBERT CLARK PARK
1449 Tiny Town Road
Clarksville, TN 37042
931-645-7476
www.cityofclarksville.com
Canoe, paddleboard or kayak the Cumberland and Red rivers with convenient parking and a boat launch. Rental equipment is available at Blueway Adventures.
CLARKSVILLE GREENWAY
1101 Pollard Road
Clarksville, TN 37042
931-645-7476
www.cityofclarksville.com
Railroad lines have been converted into walking and biking trails. This scenic, nearly 9-mile paved trail is lined with trees, benches and overlook points. Parking lot space is also provided.
CLARKSVILLE MARINA AT LIBERTY PARK
1190 Cumberland Drive
Clarksville, TN 37040
931-645-7476
www.clarksvillemarina.com
The Clarksville Marina offers boat slips, a launch area and ample parking. Amenities include a 1.8-mile walking trail, a 10-acre fishing pond, pavilions, a playground, a bark park, sports fields, an event center and more.
CLARKSVILLE SPEEDWAY AND FAIRGROUNDS
1600 Needmore Road
Clarksville, TN 37040
931-645-2523
www.clarksvillespeedway.com
The UMP-sanctioned speedway boasts a 1/8-mile drag strip and 1/4-mile dirt track. The speedway and fairgrounds also host events like the county fair, the circus, the roller derby and drive-thru Christmas lights.
CUMBERLAND RIVERWALK AND RIVER CENTER AT MCGREGOR PARK
640 N. Riverside Drive
Clarksville, TN 37040
931-645-7476
www.cityofclarksville.com
This riverfront park has transformed the downtown area. It is the premier location for music events, art exhibits and community festivals. The walk includes a riverfront promenade, a wharf, amphitheaters, an overlook plaza, a playground and a picnic area.
CUSTOMS HOUSE MUSEUM AND CULTURAL CENTER
200 S. Second St.
Clarksville, TN 37040
931-648-5780
www.customshousemuseum.org
Built in 1898 as a U.S. post office and customs house for the flourishing tobacco trade, this architecturally fascinating structure is among the most photographed buildings in the region. The museum features rotating shows, an interactive children's area and one of the largest model railroad layouts in the region.
DUNBAR CAVE STATE PARK
401 Old Dunbar Cave Road
Clarksville, TN 37043
931-648-5526
http://tnstateparks.com/parks/about/dunbar-cave
One of Clarksville's most scenic areas, this 110-acre park is the perfect recreation destination. The cave and its surroundings were a mineral springs resort at the turn of the century. In the 1930s and '40s, the cave entrance served as a naturally air-conditioned venue for big band performances. Some of the oldest known prehistoric cave drawings have been found inside the cave. The park offers ranger-led cave tours, birding, fishing at the 15-acre Swan Lake and more than 3 miles of hiking trails.
FORT DEFIANCE CIVIL WAR PARK AND INTERPRETIVE CENTER
120 Duncan St.
Clarksville, TN 37042
931-472-3351
www.cityofclarksville.com
In April 2011, the Fort Defiance Civil War Park opened its doors to a new interpretive center. Kicking off the 150th anniversary of the war that defined a century and changed the country, Fort Defiance overlooks the Red and Cumberland rivers and has a breathtaking view of downtown. Visitors are encouraged to walk the trails and enjoy the history that the location represents. Displays, cannons and occasional re-enactors are just some of the things you can enjoy on your visit to Fort Defiance.
HISTORIC COLLINSVILLE
4711 Weakley Road
Southside, TN 37171
931-216-2911
www.historiccollinsville.com
Situated on 40 rolling acres, this living history museum features restored log homes and outbuildings. Authentic period artifacts fill each building. Picnic areas and walking trails are scattered throughout the grounds. All of the structures date back to 1830-1870. A wildlife center houses several examples of natural Tennessee flora and fauna.
HISTORIC DOWNTOWN
Public Square, University Boulevard
http://historicdowntownclarksville.org
A collection of 1870s period architecture, downtown is home to locally owned restaurants and breweries, shopping and entertainment venues. Among these is the Eternal Flame, symbolizing the sacrifices of Soldiers and their families for our freedom.
HISTORIC WALKING AND DRIVING TOURS
Tour can begin at the
Customs House Museum
200 S. Second St.
Clarksville, TN 37040
931-553-8467
http://visitclarksvilletn.com/plan-your-stay/view-and-request-vacation-guides
Experience Clarksville's rich history and heritage at your own pace. Walking and driving tours explore both architectural landmarks as well as unique local gems. These self-guided tours are centered on Clarksville's historic downtown and branch out to local neighborhoods and the riverfront. These activities are great for individuals or groups. Maps and brochures are available online and at the visitor center at 180 Holiday Drive.
INDOOR AQUATIC CENTER
168 Cunningham Lane
Clarksville, TN 37042
931-472-3380
www.cityofclarksville.com
Covered during the off season, New Providence pool transforms to an indoor aquatic center offering swim lessons, water fitness classes, lap and open swimming, a children's pool area, a climbing wall, a diving board and concessions. An ADA-accessible hydraulic lift chair allows those with special needs to enjoy the pool.
L&N TRAIN STATION
Commerce and 10th streets
Clarksville, TN 37040
931-553-2486
http://visitclarksvilletn.com
Built in 1890, the L&N Train Station was the setting for the Monkees' hit "Last Train to Clarksville." Once one of the busiest locations in Clarksville, with Soldiers and civilians arriving and departing daily, the facility is now open for public and private use. A farmers market is open Thursday mornings during the summer and fall in the train station parking lot.
MONTGOMERY COUNTY COURTS COMPLEX
1 Millennium Plaza
Clarksville, TN 37040
931-648-5700
www.mcgtn.org
Restored and remodeled after the 1999 tornado, this architectural beauty is the symbol of Clarksville's historic downtown. Adorning the corridors of both buildings are 150 photographs illustrating the history and heritage of Montgomery County.
MONTGOMERY COUNTY SHOOTING COMPLEX
4201 Southside Road
Southside, TN 37171
931-387-3456
www.shoottn.com
Countless shooting options are available for all ages on this 126-acre estate. Choose between sporting clays, trap, skeet, five-stand, tactical pistol, 3-D archery, dynamic steel rifle and pistol, long range rifle ranges and more. A pro shop and picnic areas are available on-site.
NORTH FORD STREET MOUNTAIN BIKE TRAIL
2470 N. Ford St.
Clarksville, TN 37042
931-645-7476
http://cityofclarksville.com
Exclusively for mountain bike enthusiasts, this park boasts trails rated as difficult. All visitors under the age of 15 must be accompanied by a parent or adult guardian.
OLD GLORY DISTILLING
451 Alfred Thun Road
Clarksville, TN 37040
931-919-2522
http://oldglorydistilling.com
This small batch artisan distillery opened in November 2016. Spirits include whiskey, vodka, rum, moonshine and more.
PORT ROYAL STATE HISTORIC PARK
3300 Old Clarksville Highway
Adams, TN 37010
931-645-0622
http://tnstateparks.com/parks/about/port-royal
One of the earliest colonial communities and trading posts in Middle Tennessee, this Red River site was first settled in the early 1780s and was a long hunter camp as early as 1775. The 26-acre park is designated as an official site on the Trail of Tears National Historic Trail and includes canoe and kayak access, hiking trails and fishing opportunities.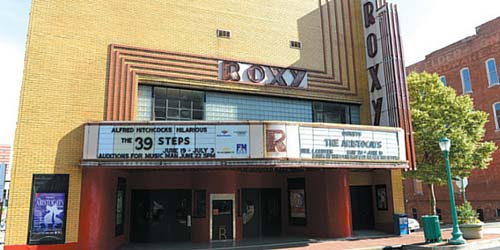 ROXY REGIONAL THEATRE
100 Franklin St.
Clarksville, TN 37040
931-645-7699
www.roxyregionaltheatre.org
Housed in a 1947 modern art theater, Clarksville's oldest professional theater features main stage productions; "theotherspace" productions in its 50-seat, black-box theater; local art exhibitions; and more.
SMITH-TRAHERN MANSION
101 McClure St.
Clarksville, TN 37040
931-648-9998
www.smithtrahernmansion.com
Built in 1858 by wealthy tobacconist Christopher Smith, this majestic antebellum home overlooks the Cumberland River. The architecture reflects Greek Revival and Italianate styles. During the winter months, local organizations fill the home with more than 20 Christmas trees decorated and sparkling. Tours are available by appointment.
Hopkinsville, Oak Grove and Christian County, Kentucky

Christian County Chamber of Commerce
2800 Fort Campbell Blvd.
Hopkinsville, KY 42240
270-885-9096
www.christiancountychamber.com
Hopkinsville-Christian County Convention and Visitor's Bureau
1730 E. Ninth St.
Hopkinsville, KY 42240
270-887-2300
www.visithopkinsville.com
Oak Grove Tourism Commission
105 Walter Garrett Lane
Oak Grove, KY 42262
270-439-5675
www.visitoakgroveky.com
The communities of Christian County offer visitors and residents the best of both worlds — the familiarity of a small town, where people care about their neighbors, and big-city features, such as progressive health care, technically advanced industries, and a variety of shopping and recreational opportunities. It's also a place where rush hour and bumper-to-bumper traffic are almost non-existent and, as the locals say, "You're 10 minutes from anywhere." The cost of living is below the national average and housing is affordable and attractive.

Location
Hopkinsville is located approximately 10 to 15 miles north of Fort Campbell with Oak Grove nestled outside the gates of the 101st Airborne Division.
The National Strategy Group listed Hopkinsville as one of the best places to live in the United States and Reader's Digest ranked the city in its top 50 best places to raise a family.
Christian County is within an hour of a variety of recreation, shopping, entertainment and family opportunities, such as Nashville, Tennessee; Paducah, Kentucky; Evansville, Indiana; Land Between the Lakes National Recreation Area; and Pennyrile Forest State Resort Park.
Education
Christian County Public Schools strive to meet the individual needs of each student. To accomplish this mission, the student-teacher ratio is kept at a minimum and multiple school districts are available. In addition to the eight elementary schools, two middle schools, two high schools, and the career and technical academy of the public school district, parochial and private schools are available as well.
When the school day is over, a variety of sports and clubs are available to keep kids involved and active. For more information, visit www.christian.k12.ky.us.
The city also offers higher educational opportunities. Hopkinsville Community College is a comprehensive two-year college offering a wide range of degrees. For more information, visit https://hopkinsville.kctcs.edu. Murray State University allows students to obtain a four-year degree without leaving Hopkinsville. For more information, visit www.murraystate.edu/academics/regionalAcademicOutreach/RegionalCampus/hopkinsville.
Health Care
Supported by state-of-the-art facilities at Jennie Stuart Medical Center and Baptist Health, the Christian County Health Department is charged with health care protection and improvement for all Christian County residents.
The medical community also includes Cumberland Hall Hospital, a psychiatric facility that provides services for residents with emotional and substance abuse problems.
Recreation
Hopkinsville's Division of Parks and Recreation operates and maintains a variety of public use facilities such as parks, playgrounds, tennis courts, soccer fields, picnic pavilions, softball fields, a disc golf course, a full-size gymnasium and more. The city is also home to the Tie Breaker Family Aquatic Center water park, a country club, a family YMCA and a Boys & Girls Club.

Oak Grove offers top-notch facilities such as the War Memorial Walking Trail Park, the Viceroy Performing Arts Center and Valor Hall Conference & Event Center.
In Hopkinsville you can enjoy a year-round program of performing arts from the Pennyroyal Arts Council. Among the yearly offerings is a series of concerts featuring internationally known artists. Other points of interest include the Museums of Historic Hopkinsville Christian County, Trail of Tears Commemorative Park, Fort Campbell Memorial Park, the James E. Bruce Convention Center, the Jefferson Davis Monument State Historic Site and Round Table Literary Park. Christian Way Farm has added a miniature golf course to enhance its farm tour.
Annual Events
Christian County communities host many events with a family emphasis throughout the year, such as Hopkinsville's Summer Salute Festival, held in August, and Oak Grove's Spring into Summer Festival, held in May. In June, there's the annual soapbox derby. In September, the Trail of Tears Pow Wow is held at the Trail of Tears park. The powwow features authentic Native American dances, traders, crafts, audience participation and ethnic foods. At the Butterfly Festival, held in September at War Memorial Walking Trail Park, you can interact with live butterflies in their habitat in the Butterfly House or let the master gardeners take you on a tour of the butterfly garden.
Military Affairs Committee
The Christian County Military Affairs Committee works year-round to build better relationships between the Soldiers and military families of Fort Campbell and the local Christian County communities. The committee sponsors events like the Christian County Salutes Fort Campbell Week, which includes the famous chili cook-off; military spouse programs; the Veterans Day parade; the Gander Memorial Ceremony; and more. Events are free for the military and are the community's way of saying thank you and supporting Fort Campbell Soldiers and family members. For more information, visit www.christiancountychamber.com/pages/MilitaryAffairs.
Organizations
For a complete listing of Christian County Chamber of Commerce members, programs and community resource partners, contact the Christian County Chamber of Commerce at 270-885-9096 or visit www.christiancountychamber.com.
Land Between The Lakes

Land Between the Lakes National Recreation Area
238 Visitor Center Drive
Golden Pond, KY 42211
800-525-7077
www.landbetweenthelakes.us
Land Between the Lakes is the largest inland peninsula in the United States. Land Between the Lakes National Recreation Area manages more than 170,000 acres as part of the U.S. Forest Service and the Department of Agriculture's public lands program. Located in western Kentucky and Tennessee, the area draws approximately 1.5 million visitors annually. With 300 miles of undeveloped shoreline on Kentucky and Barkley lakes, the area offers outdoor recreation and numerous facilities. Facilities include a nature station, a living history farm, a planetarium and observatory, a horseback riding campground and stables, an off-highway vehicle area, the Elk & Bison Prairie, the Iron Industry Ruins, gift shops and visitor information centers.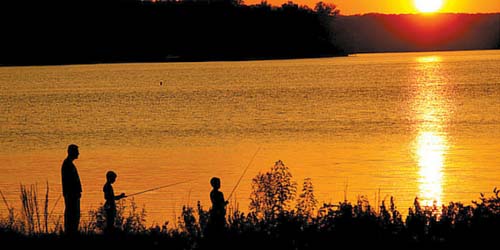 Outdoor Recreation
There are more than 500 miles of trails and roughly 200 miles of scenic roads for hiking, biking, horseback riding and taking in the area's scenic beauty. Campers can choose from 1,400 campsites, ranging from RV sites with shower and restroom facilities to primitive campsites. Many campsites offer lake access. Other outdoor recreation opportunities include birding, fishing, geocaching, hunting, swimming, target shooting and more.
History
Land Between the Lakes has three sites on the National Register of Historic Places: Fort Henry, site of a major Civil War battle; the Center Furnace; and the Great Western Iron Furnace. The region was primarily an iron production center during the mid-19th century. The ruins of two of the area's iron furnaces are accessible to visitors.
Wildlife and Plants
Land Between the Lakes has the largest publicly owned bison herd east of the Mississippi River and more than 1,300 plant species, approximately 260 bird species and 55 different mammal species. Land Between the Lakes was an active participant in the nation's efforts to re-establish the eagle population in western Kentucky and Tennessee. Other wildlife includes bats, bobcats, coyotes, deer, foxes, herons, hummingbirds, muskrats, osprey, squirrels, turkeys, turtles, vultures, woodpeckers and more. For more information about recent wildlife sightings and wildlife viewing opportunities, stop by the Woodlands Nature Station.
Attractions
Attractions at Land Between the Lakes include the Homeplace living history farm, Woodlands Nature Station, Elk & Bison Prairie, and Golden Pond Planetarium and Observatory.
The Homeplace, in the southern portion of Land Between the Lakes, allows visitors to experience life much as it was in mid-19th century rural America. Through a blending of artifacts, historic structures and the
re-creation of farm activities, the Homeplace gives visitors a glimpse of the traditions and lifestyles of this era in American history.
The nature station offers special events throughout the year in addition to the regular calendar of programs and demonstrations. Among the most popular events are guided bald eagle excursions. These van and boat tours take visitors into the field to see the migratory bald eagle population wintering in the area.
The Elk & Bison Prairie is another fascinating Land between the Lakes attraction. Opened in June 1996, this 700-acre area is a restoration of the native prairie habitat that thrived in western Kentucky and upper middle Tennessee over 200 years ago. Native wildlife such as elk and bison inhabit the prairie. Visitors can take a self-guided driving tour of the prairie along a 3.5-mile paved loop featuring interpretive stops.
The Golden Pond Planetarium is inside the Golden Pond Visitor Center. The planetarium features an 81-seat theater and offers state-of-the-art planetarium shows year-round. It's also home to the Western Kentucky Amateur Astronomers, which holds meetings and stargazing sessions.
Nashville, Tennessee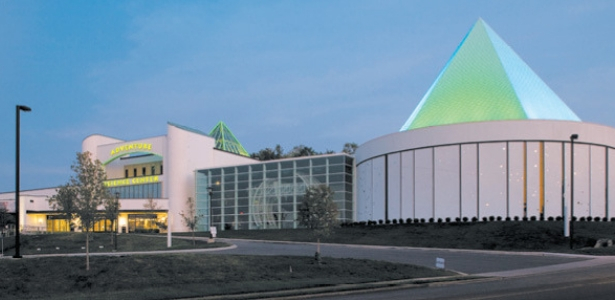 Known as the music city, Nashville is approximately 45 miles south of Fort Campbell on Interstate 24. With big-city attractions just a short drive away, many Soldiers and their families make Nashville the hub of their recreational and cultural adventures.
Nashville Convention and Visitors Corp.
150 Fourth Ave. N., Suite G-250
Nashville, TN 37219
615-259-4730
www.visitmusiccity.com
Nashville Visitor Center at Bridgestone Arena
501 Broadway
Nashville, TN 37203
866-830-4440
www.visitmusiccity.com/Visitors/tripplanning/visitorcenter
Shopping
Nashville has become a major retail center for shoppers. The city includes several shopping malls — The Mall at Green Hills, CoolSprings Galleria, Opry Mills, Lebanon Outlet Marketplace and more. Shoppers looking for more unique items might prefer the shops in the surrounding neighborhoods such as 12 South, East Nashville, Germantown and Hillsboro Village.
Recreation
The parks and recreation department oversees more than 15,000 acres of open space, including 184 parks and 85 miles of greenway. Numerous playgrounds, swimming pools, tennis courts, golf courses and an indoor ice-skating rink extend the city's leisure-time activities. Two man-made lakes — Old Hickory and Percy Priest — are located just minutes from downtown, providing easy access to water sports, fishing and waterfowl hunting. Spectator sports include an annual steeplechase, boxing and wrestling. Nashville also boasts professional sports teams — the NHL's Nashville Predators at Bridgestone Arena, the NFL's Tennessee Titans at Nissan Stadium and MiLB's Nashville Sounds at First Tennessee Park. The city also has collegiate sports teams and events, including the annual Music City Bowl, and an annual marathon and half marathon.
Cultural Activities and the Arts
Famous for music of all genres, Nashville offers everything from rock and bluegrass to jazz and Americana. The Grand Ole Opry hosts country music stars every Tuesday, Friday and Saturday night, and the historic Ryman Auditorium hosts musicians across the board. More sophisticated fare is available through the Nashville Symphony and monthly community concerts. Nashville's past is exemplified in its many and varied points of interest, such as the tomb of President James K. Polk and the colonial home of President Andrew Jackson. Other sites include the Cheekwood botanical gardens, Belle Meade Plantation, Belmont Mansion and many other homes and buildings included in the National Register of Historic Places.
COUNTRY MUSIC HALL OF FAME AND MUSEUM
222 Fifth Ave. S.
Nashville, TN 37203
615-416-2001
www.countrymusichalloffame.org
The Country Music Hall of Fame and Museum has been the home of America's music since 1967. In keeping with the cultural significance of the music and the heroic achievements of those who form its membership, the museum opened in a $37 million landmark building in May 2001. Located on the west bank of the Cumberland River, just a few steps from the historic Ryman Auditorium and the honky-tonks of lower Broadway, the monumental edifice, a visceral experience for approaching visitors, invigorates the skyline in downtown Nashville's entertainment district. Inside, the museum presents the crown jewels of its vast collection to illustrate country music's story as told through the turns of two centuries. A treasure trove of historic country video clips and recorded music, dynamic exhibits and state-of-the-art design, a regular menu of live performances and public programs, a museum store, live satellite radio broadcasts, on-site dining and fabulous public spaces all contribute to an unforgettable museum experience.
FRIST CENTER FOR THE VISUAL ARTS
919 Broadway
Nashville, TN 37203
615-244-3340
www.fristcenter.org
The Frist Center for the Visual Arts has become a magnet for Nashville's rapidly expanding visual arts scene. Located in downtown Nashville, this world-class and family-friendly art center is dedicated to presenting an ever-changing schedule of exhibitions from local, regional, national and international sources. The Frist features the award-winning Martin ArtQuest Gallery with 30 interactive art-making stations; educational programs; concert series; a gift shop full of hand-crafted merchandise; and a full-service cafe — all surrounded by gorgeous architecture.
THE GRAND OLE OPRY
2804 Opryland Drive
Nashville, TN 37214
800-SEE-OPRY (733-6779)
www.opry.com
There are more ways to enjoy the Grand Ole Opry than ever before. Many things about the Opry have changed over the years — its members, the sound of its music, even its home. But there's always that oak-solid center to remind every singer or musician who steps inside that they take part in something much larger than themselves — that wherever they go they have a connection to the legends and the giants who came before them. The 6-foot circle of dark, oak wood in the Opry House stage is shiny but clearly well-worn. Cut from the stage of the Opry's famous former home, the Ryman Auditorium, this circle gives newcomers and veterans alike the opportunity to sing on the same spot that once supported Uncle Dave Macon, Ernest Tubb, Patsy Cline and others. "That circle is the most magical thing when you're a performer," said country music star Brad Paisley. "It's an honor to stand there and get to sing on those same boards that probably still contain dust from Hank
Williams' boots."
SCHERMERHORN SYMPHONY CENTER
1 Symphony Place
Nashville, TN 37201
615-687-6400
www.nashvillesymphony.org
Located in Music City's SoBro district, Schermerhorn Symphony Center is home to the Grammy Award-winning Nashville Symphony and plays host to a wide range of concerts and special events each year. The building's main venue, the 1,844-seat Laura Turner Concert Hall, is recognized worldwide for its acoustical excellence and breadth of programming. Resident ensemble the Nashville Symphony performs a wide range of concerts, including classical, pops, jazz and family events. Public and private tours, led by knowledgeable and friendly guides, are available.
TENNESSEE PERFORMING ARTS CENTER
505 Deaderick St.
Nashville, TN 37243
615-782-4000
www.tpac.org
The Tennessee Performing Arts Center has welcomed more than 12 million audience members and served more than 1.8 million students, educators and adults with performances at TPAC, teacher resources, classroom residencies and enrichment programs. TPAC serves several hundred thousand audience members each year with a variety of special engagements and the productions of the three resident artistic companies: the Nashville Ballet, Nashville Opera and Nashville Repertory Theatre.
Adventure Science Center
800 Fort Negley Blvd.
Nashville, TN 37203
615-862-5160
www.adventuresci.org
For 70 years, Adventure Science Center has created opportunities for children to learn and have fun. The museum offers a world of interactive exhibits that inspire imagination and discovery for visitors of all ages. Visitors can spend a day in the life of an astronaut in the Space Chase exhibit, where they can experience the effects of zero gravity and discover the relationships between the planets. The award-winning BodyQuest exhibit features Body Battles, a laser target gallery that demonstrates how the immune system works. The seven-story Adventure Tower is a pillar of imagination, packed with exciting scientific exploration that ends with a spectacular view of downtown Nashville. Cap off a full day of activity at the Sudekum Planetarium, a one-of-a-kind full-dome digital experience.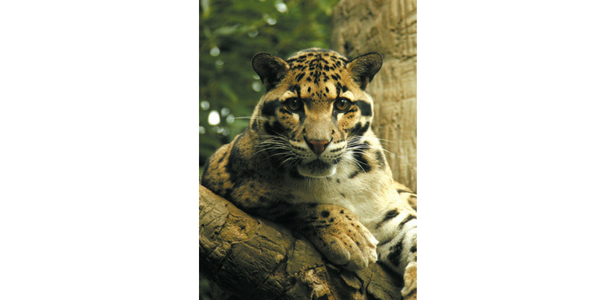 The Nashville Zoo at Grassmere
3777 Nolensville Pike
Nashville, TN 37211
615-833-1534
www.nashvillezoo.org
The Nashville Zoo provides a home to animals found all over the world thriving in beautifully natural outdoor habitats along shaded pathways. Experience up-close encounters with clouded leopards and red pandas, experience giraffes in wide open spaces, wander through Flamingo Lagoon or stand right next to a kangaroo. Other exciting attractions include the Wild Animal Carousel and an interactive Lorikeet Landing exhibit where you can enter an aviary and be surrounded by more than 50 Australian parrots. The Grassmere historic house and farm still stand, providing a glimpse into farm life during the 1880s. The zoo also has a 66,000-square-foot Jungle Gym, which is the largest community-built playground in the United States, and the Soaring Eagle zip line.