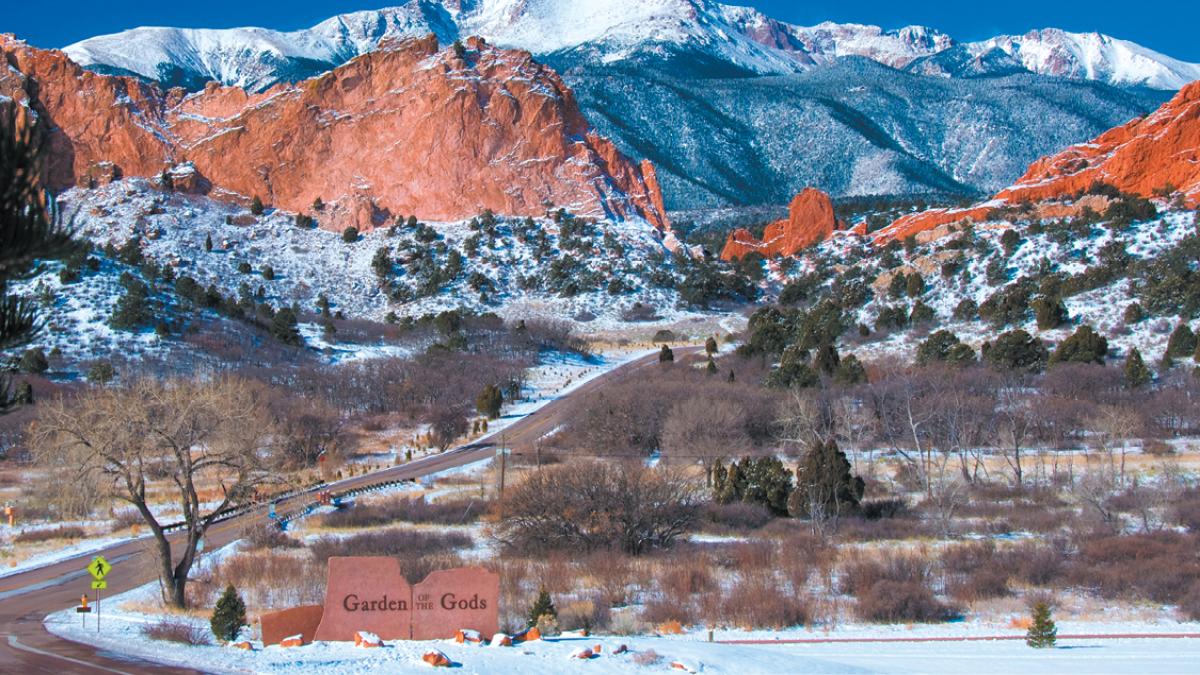 Fort Carson, "The Mountain Post," is located just south of Colorado Springs at the base of the Rocky Mountains. The unparalleled beauty and mild climate of Colorado Springs make it a gateway to a wide variety of outdoor activities. Many internationally known ski areas and some of the nation's most scenic parks and finest hunting and fishing areas are located within a short drive. Fort Carson Families have easy access to the many cultural attractions of "The Springs" and the bright lights of nearby Denver.
Whether you have already arrived to Fort Carson or have just received orders to report here, the information in this publication will help you get settled and take advantage of the on- and off-post services and attractions for your enjoyment.
CLIMATE AND ALTITUDE
The Colorado Springs area has a mild year-round climate. In January, the coldest month, temperatures average a high of 43 degrees Fahrenheit and a low of 23 with a mean of 33 degrees. The area averages 37 inches of snow annually.
August, the warmest month, has an average high of 84 degrees and a low of 61 degrees with a mean of 73 degrees.
Fort Carson's elevation is above 6,000 feet and some newcomers may experience slight fatigue at first. Because of the elevation, new personnel are allowed 30 days to adjust to the altitude and to reach Fort Carson fitness standards.
ENTERING FORT CARSON
Unescorted access onto Fort Carson is restricted to personnel in possession of an authorized DOD identification card or an installation pass/badge. Guests, visitors, vendors, and contractors who request unescorted installation access must undergo a National Crime Information Center Interstate Identification Index (NCIC-III) criminal history background check prior to being granted access. Personnel requesting reoccurring unescorted access must process through the Gate 1 Visitor Control Center and have a Fort Carson form 2036 which has been digitally signed by their sponsor. Vetting for one time installation access can be performed at Gate 3. DOD ID card holders may escort non-DOD ID card holders onto the installation. If you have additional questions, call the DES Security and Access Control Division at 719-526-5543.
GETTING HERE
Fort Carson is located 60 miles south of Denver on Interstate 25, Exit 135, South Academy Boulevard, or Exit 140A, Nevada Avenue (State Highway 115 or Exit 132B, Gate 20). The Colorado Springs Airport is currently served by eight airlines and is located about 10 miles from Fort Carson. The Greyhound bus terminal is located at 120 S. Weber St. in Colorado Springs. Their phone number is 719-635-1505.
COLORADO ROAD CONDITIONS
Colorado weather can be erratic. Mountain passes are frequently closed due to snow and ice or mudslides — even in summer months. During winter months, storms may suddenly occur. Preparation is key to staying safe.
If you are traveling in the winter, come prepared. It is advisable to have equipment such as tire chains, blankets, flashlights and bottled water for emergency situations. The Colorado State Highway Patrol road conditions are updated around the clock, call 303-639-1111.
INPROCESSING
All incoming personnel, colonel and below, who arrive to Fort Carson report directly to the Fort Carson Replacement Center at building 1456, room 203. Please arrive in the duty uniform (OCP) during duty hours, or, if after duty, in appropriate civilian attire. Replacement CQ will sign service members in off of leave and initiate inprocessing. Charge of quarters (CQ) will issue a barracks room and linen if required. If you have approved permissive temporary duty (PTDY), report to Replacement CQ to sign you in off leave in order to begin preapproved PTDY.
If you have Family members with you, or are a staff sergeant (promotable) or above, you must arrange for your own lodging. Rooms may be available at the IHG Army Hotels on Fort Carson (719-526-4832). If the IHG Army Hotels has no lodging available, make arrangements with off-post lodging. Maintain a zero-balance ($0) receipt of payment for in-processing through Finance.
If you are a sergeant or below and you do not have Family members, you are required to live in the Replacement Center's barracks. If you are in this category, do not make any other lodging arrangements without first contacting Replacement CQ at 719-526-6961. If you are an unaccompanied staff sergeant, you may stay in the barracks if space is available.
Please arrive with four (4) copies of your PCS orders, and four (4) copies of your DA 31 Leave Form, as well as dental records.
DEPARTMENT OF THE ARMY CIVILIANS
Department of the Army civilians should report to building 1118, 1626 Ellis St., room 161, at 7:45 a.m. on the first day of their employment at Fort Carson. For information on employment at Fort Carson, call 526-8341 or DSN 691-8341.
WHERE TO STAY
Staff sergeants and below, unaccompanied by their Families, will receive temporary billeting at the replacement detachment. Those accompanied by their Families or in the rank of sergeant first class and above should contact the IHG Army Hotels, building 7301, 719-526-4832, the post's temporary lodging facility.
Fort Carson Army Lodging on Fort Carson is now managed by InterContinental Hotels Group (IHG) and called IHG Army Hotels. With this change, enjoy a list of amenities and services (including daily complimentary breakfast, free weekly socials, free wireless internet, and free on-post shuttle service) while enjoying the convenience of staying on-post.
HOUSEHOLD GOODS
Contact the Joint Personal Property Shipping Office as soon as possible. The office will coordinate delivery of household goods, unaccompanied and hold baggage. For more information or for delivery coordination, call 554-9298. Claims on damaged shipments are handled by the Office of the Staff Judge Advocate.
WEAPONS REGISTRATION
All privately owned firearms brought onto Fort Carson and the Piñon Canyon Maneuver Site (PCMS) must be registered with the Fort Carson Police/Provost Marshal Division (P/PMD) utilizing Fort Carson (FC) Form 66-E (Registration of Personal Firearms). FC Form 66-E is available from the Fort Carson homepage, directly from the Military Police Desk or by providing a self-addressed, stamped envelope to: P/PMD, ATTN: Weapons Registration, 7227 Christie St., building 2700, Fort Carson, CO 80913. Do not bring the weapon to the MP Station or onto Fort Carson until it's registered. Please allow one to two weeks for the form to be processed and approved.
Registered firearms may be transported on Fort Carson to and from an authorized place of storage, sale, hunting area, hunter safety class, firing range or repair shop. The carrying of a loaded firearm in a vehicle or on your person is prohibited. The FC Form 66-E, stamped and signed by the P/PMD, must accompany the weapon while being transported anywhere on Fort Carson or the PCMS.
Properly registered privately owned firearms may only be stored in family housing, unit arms rooms and temporarily at the P/PMD. Firearms will never be stored in a vehicle.
Post regulations make it illegal to possess, store, maintain or display a blackjack, short barreled firearms, brass knuckles, nunchucks, throwing stars or spikes, gravity or inertia knives, switchblades, Tasers, or any similar device designed or intended to be used as a weapon.
Call the Military Police Desk at 719-526-6199 for additional information.