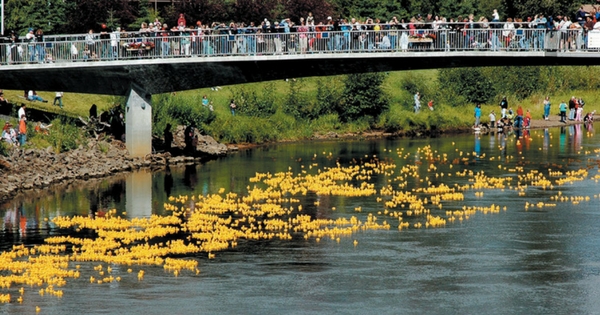 Known the world over as the Golden Heart City, Fairbanks is just 198 miles from the Arctic Circle, 400 miles from the North Slope oil fields and 260 miles from the pipeline terminal in the port of Valdez. The city has a rich and colorful history extending from the gold rush era of the early 20th century to the sizzling pipeline construction days of the 1970s. Settled by chance due to low rivers in 1901, Fairbanks incorporated in 1903. Though it began as an isolated, middle-of-nowhere mining boom town, the present city has theaters, stores, restaurants, churches, bars, libraries and public services such as you would find anywhere in a U.S. city of 30,000-plus people. The difference comes in the wildness that starts just outside town — wild country, free-roaming wildlife, mountains, rivers and wilderness trails unmatched anywhere in the Lower 48.
Many residents choose to live in Fairbanks for the friendly people, fishing, hunting and stellar summers. Since winters are cold and dark, it's important to be active, whether in outdoor sports like skiing, snowboarding and dog mushing, or in indoor activities like dancing, basketball, hockey or taking classes, to maintain good humor and health in the dark months. Many residents give themselves a winter break and head for some time in warmer spots. Summer's long days tempt you outside to run, walk, garden, fish, travel and revel in wild country.
Since Far North living can be challenging, people depend on each other more than those who live in high-density urban environments elsewhere. Many Alaskans like to think of themselves as frontier individualists who "don't give a damn how they do it Outside," but when the chips are down, people help each other to keep cars running, stay warm, share food and cheer one another up with stories and encouragement. The whole state, and especially Fairbanks, has a small-town feel, where you get to know a lot of people quickly.
DEMOGRAPHICS
The city of Fairbanks, with approximately 32,000 people, is hardly a large city by Lower 48 standards. It has a small percentage of Alaska's population, yet is Alaska's third-largest city. In terms of age, the Fairbanks area population is balanced, with a median age of 36. Fairbanks is an ethnically diverse Alaska community.
A small city in the middle of a geographically giant state with few people means there is a lot of room for recreation, solitude, military maneuvers and growth.
WEATHER
Fairbanks' weather is a range of extremes, reaching above 90 degrees in the summer and well below zero for much of the winter. It's really a lot like the rest of the country, hot in the summer and cold in the winter, only more so on the winter end of it. Despite the longer winter and shorter summer, there are pluses. The fabulous northern lights in winter and long, long days of sunshine in summer make this northern city an exciting place to be.
GETTING AROUND
Rush hour traffic in Fairbanks is pretty much nonexistent. There is little to no congestion unless you are in a construction zone, and you can get just about anywhere within 10 minutes on dry roads. Allow more time during the winter because of dark, icy streets and the high incidence of ice fog, which cuts visibility way down.
Several highways provide easy access. The Parks Highway goes southwest to Nenana, Healy, Denali National Park and Anchorage. The Richardson Highway runs southeast to North Pole, Eielson Air Force Base and Delta Junction, where it connects with the Alaska Highway, the route southeast into Canada and the rest of the United States. The Richardson continues south from Delta Junction to Valdez, with a connection along the way to the Glenn Highway at Glennallen, leading south and west to Anchorage.
The Steese Highway goes northeast out of Fairbanks to Circle Hot Springs, with a spur to open-all-year Chena Hot Springs. The Elliott Highway heads north to Livengood, then southwest to Manley Hot Springs, where it terminates. The Dalton Highway, also known as the "Haul Road," begins at Livengood and continues north to Deadhorse, Prudhoe Bay and the Beaufort Sea.
If your style is flying, Fairbanks International Airport offers planes of many sizes and descriptions. Nonstop flights to many cities in and out of Alaska are available, including international destinations. A short flight to Anchorage connects to hundreds more destinations in and out of the country.
Traveling by rail is another way to get around. The Alaska Railroad makes regular runs to and from Fairbanks, with year-round freight and seasonal passenger service from Anchorage, Whittier and Seward, with stops at points along the way. The scenery is spectacular and the adventure of a great train ride is unmatched. For more information, go to www.alaskarailroad.com.
ACCOMMODATIONS
Hotel accommodations are varied in Fairbanks. The best place to get a listing of available hotels and the city's growing number of bed-and-breakfast establishments is the Fairbanks Convention and Visitors Bureau website at www.explorefairbanks.com.
Finally, if you need hotel space in the summer months at the height of the tourist season, it's best to make reservations as early as possible. Vacancies are hard to come by, particularly between the Memorial Day and Labor Day holidays.
WILDLIFE
Fairbanks is surrounded by state and federal public lands that are rich in wildlife. These include the White Mountain National Recreational Area, Minto Flats State Game Refuge, Yukon Flats National Wildlife Refuge, Steese National Conservation Area, Chena River State Recreation Area and Tanana Valley State Forest.
Fairbanks is home to an abundance of wildlife, including big game, small game, fur bearers, fish, amphibians and birds. The Alaska Department of Fish and Game (www.wildlife.alaska.gov), National Park Service (www.nps.gov) and Bureau of Land Management (www.blm.gov) websites offer complete information about the surrounding areas as far as access to wildlife and their habitat surrounding Fairbanks.
Because Fairbanks is in the midst of wilderness, it is not unusual for wildlife to wander through town or your backyard. It is important to keep birdseed, pet food and garbage out of the reach of bears and other wildlife, generally from April to October, after which time bears are in hibernation. Drive defensively, with lights on, and always be alert. Hitting a moose will be no good to you, your car or the moose.
DO NOT FEED THE ANIMALS FEEDING OF GAME ALASKA STATUTE 5 AAC 92.230
Except under terms of a permit issued by the Alaska Department of Fish and Game, a person may not intentionally feed a moose, deer, bear, wolf, coyote, fox or wolverine, or negligently leave human food, animal food or garbage in a manner that attracts these animals. Violators will be fined.
Tickets carry a fine for people who violate this statute. To avoid a ticket and bear encounters, put trash out the morning it's picked up, not the night before. Use bear-proof trash cans if you live near the mountains or bear trails, and keep pet food and birdseed out of the wide reach of bears during the spring and summer. The bruins naturally feed on salmon, moose and berries, but human or pet food that's handy may snag their interest.
Under Statute 5 AAC 84 — 5 AAC 92, food may be used for bait in trapping fur bearers or hunting black bears.