BG Crawford F. Sams U.S. Army Health Clinic

OVERVIEW
The Medical Department Activity-Japan (MEDDAC-J), located at Camp Zama, Japan, operates as a freestanding ambulatory care facility and is part of the Regional Health Command-Pacific in Honolulu, Hawaii, proudly serving and supporting the U.S. Army Japan (USARJ) community. Our mission is to optimize readiness through safe, patient-centered quality care to all of our beneficiaries.
As the Senior Army Mission Command, USARJ is accountable for approximately 10,160 'Army-affiliated assets' in Japan. The USARJ and I Corps (FWD) staff of 305 personnel (consisting of Soldiers, Department of the Army Civilians, and local national employees), provides mission command for these assets. MEDDAC-J is medically responsible for approximately 4,400 USARJand I Corps (FWD) Soldiers, civilian employees, and family members located in Japan.
On an average day, BG Crawford F. Sams U.S. Army Health Clinic (CFSHC) provides services for approximately 343 clinic visits: 84 primary care outpatient appointments, 12 behavioral health/FAP, 11 optometry, 12 physical therapy, 14 preventive medicine/occupational health, 93 pharmacy prescriptions, 99 laboratory services, four radiology services, three host nation specialty referrals and 11 translation services.
RECENT HIGHLIGHT
On March 11, 2011, the Tohoku earthquake struck Japan with a 9.0 magnitude intensity, one of highest magnitude earthquakes ever to strike the country. The earthquake triggered a massive tsunami which destroyed many of the coastal towns in northern Japan with waves that reached as high as 124 feet and traveled nearly 6 miles inland. In response to this natural disaster, MEDDAC-J personnel engaged in Operation Tomodachi as part of the relief and humanitarian aid efforts in the Sendai area. During this time, the MEDDAC-J team played a critical role in the successful accomplishment of three major disaster relief operations conducted in response to the earthquake. These included voluntary evacuation of non-mission essential personnel to locations outside Japan; advanced issuing of potassium iodide tablets for protective measures for all USARJ/USAG-J personnel and Japanese nationals should the damage to the nuclear reactor in Fukushima worsen; and the deployment of medical assets with the USARJ Disaster Assessment Team to Japan Ground Self-Defense Force's Camp Sendai for disaster assessment and humanitarian assistance. MEDDAC-J was recognized for its contribution by receiving the Army Superior Unit Award (ASUA) from the Department of the Army on November 28, 2011, for its selfless contributions during Operation Tomodachi.
CAPABILITIES
Family Medicine/Medical Readiness/Immunizations
Optometry
Physical Therapy
Behavioral Health Services
Family Advocacy
Preventive Medicine
Occupational Health
Case Management
Pharmacy Services
Radiology
Laboratory Services
Host Nation Specialty Referrals
Translation Services
PARTNERSHIPS
MEDDAC-J is continuously engaged in building strong bonds between both host nation medical partners as well as U.S. military treatment facilities in Japan and throughout the Pacific. These partnerships help enable our vision to provide the best quality care to our Soldiers, their families and the local community. Host nation partners within our referral network include: Takahahi Clinic, Oka Orthopedic Hospital, Ebina General Hospital, Ebina Medical Ambulatory Plaza, Kitasato University Hospital, Shonan Atsugi Hospital, Zama General Hospital and Sagamihara Kyodo Hospital.
Military treatment facilities within our referral network include: U.S. Air Force Hospital, 374th Medical Group, Yokota; U.S. Navy Hospital, Yokosuka; U.S. Navy Hospital, Okinawa; Tripler Army Medical Center, Oahu.
RENOVATIONS
There are currently two multiple year, major medical renovation projects on the verge of completion at Camp Zama. Both CFSHC and the Camp Zama Veterinary Clinic are projects with budgets exceeding $30 million and include upgrades which dramatically increase the capabilities to provide health care to the Camp Zama eligible patient population, military working dogs and pet population. Current ongoing projects include:
LAN room renovation
RFID badging system upgrade
Torii Station (Okinawa) Dental Lab renovation
MEDDAC-J Hosts Annual Behavioral Health Conference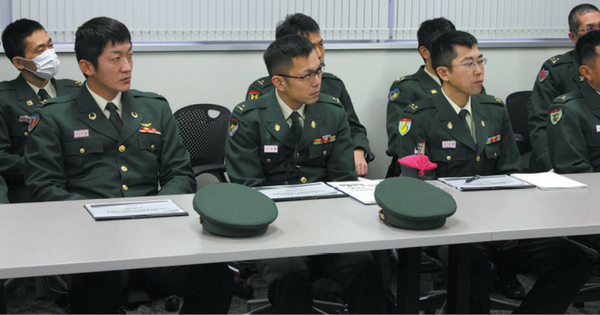 Suicide in the ranks is a behavioral health adversary that disrupts organizational mission and military readiness. This is why suicide prevention continues to be a top priority of law makers and senior military leaders in Japan as well as in the United States. The U.S. Army suicide rates have historically outpaced civilian suicide rates in the U.S. prompting intervention at all levels of leadership. Acknowledging this threat has spawned the Annual Behavioral Health Services Conference hosted by the Behavioral Health Services (BHS) clinic of MEDDAC-Japan.
The objective of the conference is to share ideas with Japan Ground Self-Defense Force (JGSDF) officers in the ranks of 2nd Lt to Maj attending the Psychological Officer Course (POC) at the JGSDF Medical School, the equivalent of the US Army Medical Department Center and School (AMEDD C&S). JGSDF students attending the conference are from different regional armies throughout Japan with military specialties ranging from Infantry, Armor, and Field Artillery to Air Defense Artillery, Aviation, and Medical.
The conference demonstrates how BHS and other organizations on Camp Zama work together to reduce suicides and improve the overall quality of behavioral health services provided within the Camp Zama community.
The conference included briefings about the U.S. military behavioral health systems within Japan, the Army Wellness Center, the Master Resiliency Program, the role of Military Chaplains, Army Community Services, Suicide Awareness, Mindfulness, and Combat Operational Stress Control.
One of the highlights of this year's conference was demonstrating the effective use of Tele-Behavioral Health (TBH) to assess the psychiatric needs of our beneficiaries remotely through a provider at Tripler Army Medical Center (TAMC).
In addition, seven JGSDF students presented briefings on the POC and the delivery of Behavioral Health services within the Japanese military system.
The Annual Behavioral Health Services Conference has proven to be an engaging interaction between Camp Zama behavioral health professionals and JGSDF Medical School students. The exchange of cultural ideas on behavioral health, specifically suicide prevention, is a key element of health care delivery for both the U.S. Army and the JGSDF.
CONTRIBUTORS
Capt. James Primm, Public Affairs Officer, MEDDAC-J
Lt. Col. Susanna Steggles, Chief of Behavioral Health Services, MEDDAC-J
Mayumi Hata, Community Relations Specialist, MEDDAC-J
MEDDAC-J Model of Readiness and Quality Care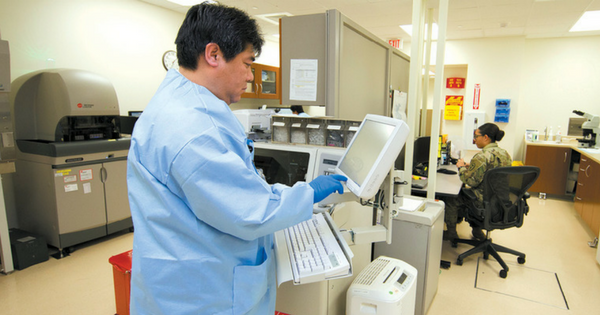 By MEDDAC-Japan Public Affairs Office
As the focus on readiness by senior Army leaders and Congress continues to shape organizational mission focus across the Army, Medical Department Activity-Japan (MEDDAC-Japan) is tackling the medical aspect of readiness head on at Camp Zama.
In March, the BG Crawford F. Sams Health Clinic (CFSHC) underwent a survey visit from the Joint Commission. The Joint Commission is an independent, not-for-profit organization that accredits and certifies nearly 21,000 health care organizations and programs in the United States. The Joint Commission ambulatory care survey, for which MEDDAC-J was evaluated, is comprised of over 200 standards and 1,100 elements of performance.
The surveyors were able to successfully evaluate the competencies of MEDDAC-J staff in several areas to include, but not limited to, the environment of care, provision of care, records management, credentialing and privileging and emergency management.
The survey revealed that MEDDAC-J staff members consistently demonstrate the organization's commitment to the quality and safety of the care provided to the Camp Zama community.
The surveyors made recommendations and offered examples of "Best Practices" in key areas. Staff members were overwhelmingly lauded for their commitment and dedication to the programs and patient care that assists MEDDAC-J in its journey towards becoming a high reliability organization.
The CFSHC's Family Medicine Clinic also received high praise during a Regional Health Command-Pacific Organizational Inspection Program (OIP) visit.
The OIP team stated that "MEDDAC-Japan's Family Medicine Clinic's performance improvement projects were among the best Army Medical Home examples they had seen."
One of which includes Family Medicine's Healthcare Effectiveness Data and Information Set (HEDIS) performance improvement project which has consistently enabled the clinic to improve HEDIS measures for the Camp Zama community. According to the National Committee for Quality Assurance (NCQA), HEDIS is a tool used by more than 90 percent of America's health plans to measure performance on important dimensions of care and service. Among them are the following: asthma medication use; persistence of beta-blocker treatment after a heart attack; controlling high blood pressure; comprehensive diabetes care; breast cancer screening; antidepressant medication management; childhood and adolescent immunization status; childhood and adult weight/BMI assessment.
The positive OIP results are a direct product of the leadership and knowledge within MEDDAC-Japan's patient centered medical home management team and the hard working and dedicated commitment of all the Family Medicine providers, nurses and medics.
Medical readiness is also a key factor in determining the quality of service provided by MEDDAC-Japan, ensuring Soldiers are ready to fight today and prepared to fight tomorrow. MEDDAC-Japan continually engages and assists the U.S. Army-Japan (USARJ) leadership by providing medical assets for monthly Soldier Readiness Processing (SRP) stations at Camp Zama. These efforts have significantly advanced USARJ's medical readiness in less than three months. The success of the SRP process at Camp Zama is a true testament to the leadership at all tenant units post wide.