Training Opportunities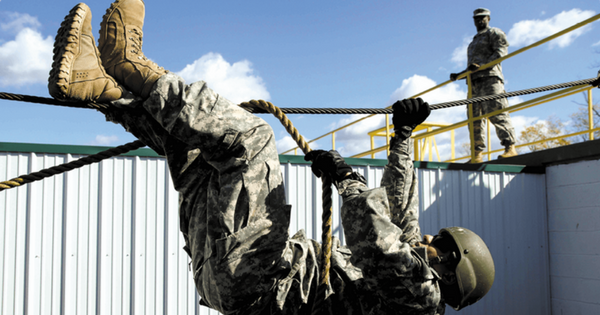 Fort Indiantown Gap is the nation's premier National Guard Training facility. With our numerous training ranges and facilities, we offer unparalleled full-spectrum combat training opportunities for Combat Arms, Combat Support and Combat Service Support units. We remain the only National Guard installation in the country to successfully integrate live, virtual and constructive gaming into a training package for assured success.
We pride ourselves on our outstanding, commander-centric customer service. As the "Warrior Training Grounds," we are not successful until your training event is. Additional training opportunities are available through our tenant organizations. Please see the section on Tenant Training Organizations for more information.
Call FTIG Range Scheduling at 717-861-2204 for a training consultation. Our training design team is one of the best in the National Guard and the nation; our mission is to support you in meeting your commander's intent and maximizing your training time in the high-OPTEMPO contemporary operating environment.
Training and Maneuver Corridor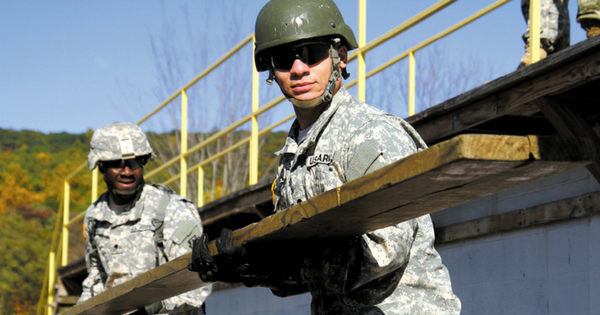 FTIG's 12,000-acre training corridor is located between two Appalachian Mountains, Blue Mountain and Second Mountain, reaching 600 to 700 feet above mean sea level. The location provides a self-contained training area with minimum training distractions. Its protected location makes it ideal for live-fire training. Some 120 miles of roads and trails, well-suited for wheeled and tracked vehicles, run throughout the corridor and its training areas.
Fifty training areas are located throughout the corridor and are suitable for bivouac, maneuver, vehicle training, unit tactics, convoy training and other customized training focusing on training realism. FTIG Range Operations is committed to working with the unit commanders to develop realistic and targeted training plans for each unit. Multiple training areas may be linked to create large corridors for lanes training. Training areas are approved for pyrotechnics and for small-arms weapons (blank fire).
Fort Indiantown Gap has made significant investments to develop realistic and contemporary training sites for a variety of unit training requirements. The installation is constantly improving and investing in the training facilities. For more information, call FTIG Range Scheduling at 717-861-2204. Our experienced staff can assist in executing your training.
Rappel Tower
A 50-foot, state-of-the-art tower with capabilities for rappelling, fast rope and rock climbing.
Drop Zones
Fort Indiantown Gap is capable of supporting airborne operations with three designated drop zones. Two drop zones are suitable for equipment, and the other is authorized for personnel.
Helicopter Landing Zones and Pickup Zones
Fort Indiantown Gap supports air insertion and air assault operations. Along with designated locations throughout the post, helicopter landings are allowed in nearly any open areas deemed safe by the flight crew and FTIG Range Operations. This flexibility allows units to create realistic and targeted training scenarios.
Land Navigation
FTIG offers two 16-point, challenging, dismounted courses. Each course has a variety of different scenarios created. Mounted land navigation may be done in the training corridor with prior coordination with FTIG Range Operations.
Leadership Reaction Course
Develop and evaluate leadership with the 16-station facility.
Handheld Detector Lane and Explosive Hazard Detection Lane
Fort Indiantown Gap possesses a training area and resources for units to train sweep and search techniques on their Program of Record (PoR) AN/PSS 14 Mine Detectors and also the non-PoR detectors currently being used in support of overseas combat operations, such as the DSP27, CMD 2.06 and VMR2. Use of the range can be scheduled through Range Operations, and the non-PoR detectors can be drawn from the Training Support Center (TSC) in Building 11-7.
Muir Army Airfield
Capable of supporting rotary aircraft training, Fort Indiantown Gap's Muir Army Airfield is the second-busiest Army heliport in the nation and the sixth-busiest airport in Pennsylvania. The unique location of Muir Army Airfield — with its proximity to prime tactical training areas, local area instrument training environment and restricted airspace — makes it the base of operations for a wide variety of rotary wing and unmanned aerial systems. Aviation units safely execute more than 100,000 movements each year from Muir.
Nuclear, Biological and Chemical (NBC) Chambers
Fort Indiantown Gap has four chambers suitable for training units on their protective equipment.
Obstacle Course
In its mission to build esprit de corps, unit cohesion and physical stamina, Fort Indiantown Gap offers an 11-station obstacle course.
Rope Bridge
Build teamwork by constructing a rope bridge over Shuey Lake. Boats are available from MWR for this training.
Unmanned Aircraft System (UAS) Facility
Our Shadow UAS facility, just east of Muir Army Airfield, consists of a building and a runway able to support launch and recovery operations. Aircraft are able to transition from national airspace to restricted special-use airspace to conduct flight operations. The installation has ample restricted airspace to support flight operations as well as manned-unmanned teaming. There is an additional runway located in the training corridor under construction.
Virtual training on the Shadow is available on the Shadow Crew Trainer; please see the section on Virtual Training for more information.
Water Purification
Units may set up ROWPU equipment next to Shuey Lake and conduct water purification training on-site.
Ranges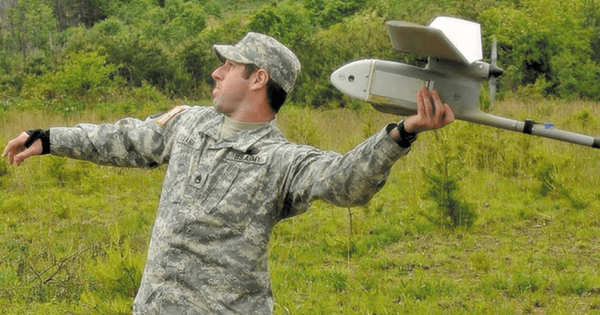 Fort Indiantown Gap has continued to invest in the ranges throughout the years. The ranges are able to accommodate small arms through aerial bombing training runs. We employ a top-notch range maintenance section, and, as a result, the reliability of our targetry out on the ranges is second to none. The range system has both specialized ranges, allowing operators to sharpen their skills, and multipurpose ranges that maximize training time by decreasing logistical constraints. Nearly all of our ranges come equipped with towers, PA systems, latrines and break areas. Units may schedule ranges by calling one of the training professionals at FTIG Range Scheduling at 717-861-2204 or through RFMSS at https://rfmss.belvoir.army.mil.
Automated Target System (ATS)
FTIG provides multiple ranges on different weapons platforms with electronic targetry and computer scoring, including standard M-16, pistol qualification, our new sniper range and machine gun ranges.
Individual Weapons System
We offer numerous ranges suitable for zero, qualification and familiarization on pistols, rifles and shotguns, including ranges 03, 05A, 07, 08Q, 08Z, 09Q, 09Z, 10Z, 11Q, 13, 13A, 14, 14A, 15 and 16. Automated scoring and NBC fire and night fire are also available on most of the qualification ranges.
Additionally, specialized ranges are available to support the following types of training: short-range marksmanship — Range 05; combat pistol manual control lifter TGTS — Range 4; and military police qualification — Range 17, suitable for live-fire shoots. Known distance ranges are located at Range 08A and Range 12A. Range 6 is a scaled gunnery range with known and unknown distance.
Virtual training is also available for individual weapons systems on the Engagement Skills Trainer (EST); please see the section on Virtual Training for more information.
Sniper/Unit Marksmen
Range 37 offers a 1,000-meter known distance range with a remote enhanced targeting system that allows for 5.56, 7.62 and 25 mm ammunition.
Crew Served
Fort Indiantown Gap's Range 35, multipurpose machine gun range, is an automated range out to 800 meters for the M-240, M-249 or M-60 zero and qualification. Range 36 provides automated scoring for M-2/MK19 zero and qualification. Familiarization on crew-served weapons is allowed on some of the multipurpose ranges.
Virtual training is also available for crew-served weapons systems on the EST and Fire Arms Training System (FATS). For more information, please see the section on Virtual Training.
Hand Grenades and Grenade Launcher
Range 23D and Range 2 are familiarization and qualification ranges for the M203 and the newer M320 grenade launchers. Ranges 31 and 20 are urban operations ranges where the firer engages targets with the M203 or M320 with 40MM TP-T and 5.56 mm rounds. Range 23A is the live hand grenade range.
Explosives and Demolition Sites
Engineers and other units can train on designated sites Demo B or D or can hone their skills at the Live Fire Breach Exercise facility at Range 33. Please see the section on Collective and Urban Operations Training Sites for more information.
Anti-tank Weapons Systems
Fort Indiantown Gap supports the following weapons systems on the following ranges: AT4, LAW and SMAW on Range 23C; Inert TOW on Range 24B; and the Javelin on Range 38. Tables available vary based on the weapon system.
Indirect Fire
The installation supports live artillery and mortar fire in the range corridor, including the Paladin weapons system. Multiple firing points are available. Virtual training on artillery and mortar systems is available on the Call for Fire Trainer (CFFT) and Virtual Battlespace 3 (VBS3). Please see the section on Virtual Training for more information.
Aerial Gunnery
Range 23 Door is dedicated to air-to-ground live fire training on M-60D and AH-1 helicopters using 7.62 mm MG, 20 mm TP, 30 mm TP and 2.75-inch inert rocket. Virtual training on aviation attack missions is available for pilots on the Aviation Combined Arms Tactical Trainer (AVCATT); please see the section on Virtual Training for more information.
Close Air Support
Joint operations may be coordinated with the Pennsylvania Air National Guard for air-to-ground bombing within the impact area. Coordinate with FTIG Range Operations.
Virtual training on close air support is available on the CFFT. Please see the section on Virtual Training for more information.
Urban and Collective Training Sites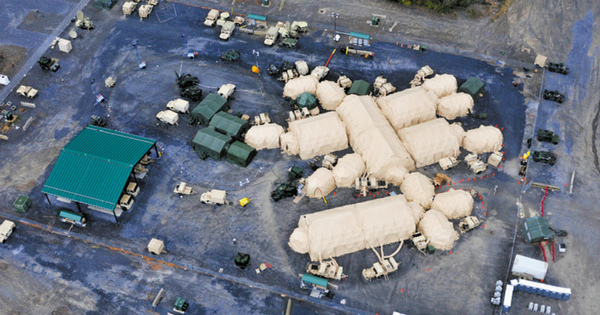 All sites at Fort Indiantown Gap are designed to closely replicate conditions and effects on the battlefield to create realistic, intense, stressful and challenging training scenarios. All of the facilities lend themselves for military use or for training law enforcement and emergency responders. Units may schedule ranges by calling one of the training professionals at FTIG Range Scheduling at 717-861-2209 or through RFMSS at https://rfmss.belvoir.army.mil.
Combined Arms Collective Training Facility (CACTF), Range 30
The CACTF offers a unique training opportunity for units looking to sharpen their skills on entering, clearing and controlling multiple buildings at once. The facility is designed to provide a realistic, responsive and flexible training environment and is ideal for combined asset training opportunities such as infantry or engineer with aviation support. Fast roping from helicopters is permitted and an LZ is on-site.
The CACTF is composed of a 1-square-kilometer, complete urban environment, including a road network, 12 buildings, tunnels and sewer systems. Capabilities include low-light cameras, Human Urban Targets (HUT), sound effects, external lighting, external cameras, break-away doors and line hookups on buildings for rappelling. Simulated munitions such as pyrotechnics, CCMCK, blanks and demo munitions are approved for use. A full-time designated staff is available to support your training event.
The CACTF was created to allow for rapid AARs to improve war-fighting techniques. A complete AAR facility is on-site.
Virtual training for combat teams in combined arms operations can be done using a simulated urban environment in VBS3 which contains a digital version of the CACTF within the system; please see the section on Virtual Training for more details.
Tactical Training Base (TTB)
In addition to preparing Soldiers for living conditions, the TTB may be used to train on a variety of base security operations such as entry point control and traffic flow.
C-IED Home Station Training Lane (C-IED HSTL), Range 39, Combat Outpost (COP), IED/DIVIL
Constructed to conduct decisive action improvised explosive device operations up to company level, the IED-D HSTL provides a training area where units can learn their individual, leader and collective tasks. The lane is staffed by members of the Counter IED Integration Cell (CI2C), whose purpose is to synchronize, coordinate and integrate material and nonmaterial C-IED initiatives and enablers to prepare units for unified land operation through decisive actions. The lane incorporates all three categories of IEDs, victim operated, command and timed, ranging from the basic Pressure Plate IED (PPIED) to the Vehicle Borne IED (VBIED).
The lane consists of 2.5 miles of improved road construction, numerous disabled vehicles, two traffic circles and one overpass. In addition, several markets, a mosque, three village complexes, a helicopter landing zone and homemade explosive (HME) lab are available to enhance and provide realism to the units' training scenarios. A variety of simulated ammunition is available for use on the range, including short-range training ammunition and IED effects simulators. Units can coordinate for the setup and use of the Dismounted IED Visual Indicator Lane (DIVIL) and the homemade explosive display, which displays examples of IED components and indicators that may be encountered.
Range 39 is also replicated in VBS3 to provide units the opportunity to run virtual rehearsals prior to conducting live missions. Training on driver training and convoy operations is available with the Common Driver Trainer and the Operator Driver Simulator. Please see the section on Virtual Training for more details.
Live Fire Breach Exercise Facility (LFBEF), Range 33
The Live Fire Breach Exercise Facility was completed in 2010. The facility is designed to train military personnel and civilians on the technical aspects of breaching techniques and provide immediate feedback. The facility is configured into three different sections that facilitate window breaching, door breaching and demolition of concrete or brick structures. Units can train on mechanical breaching, ballistic breaching, explosive breaching and thermal breaching.
Live Fire Infantry Squad Battle Course (ISBC), Range 34
The challenging 1,000-meter course is designed to allow units to customize their start point and scheme of maneuver depending on their training needs. Features include landing zones, moving armor target, moving infantry targets, trench obstacles, stationary armor targets, stationary infantry targets and machine gun/observation bunkers (with sound effects simulator). All targets are fully automated.
Virtual training on techniques and procedures during squad offensive operations can be done using VBS3. Additional virtual weapon training is available using the EST. Please see the section on Virtual Training for more information.
Live Fire Shoot House, Range 32
Designed to train on live-fire, room- and building-clearing techniques, this two-story enclosed shoot house has 10 rooms and is capable of supporting dry, blank and live-fire training. The facility is completely interactive, reconfigurable and customizable with cameras, microphones, movable walls, programmable HUTs and speakers to broadcast battlefield effects. The facility has a complete AAR theater with live video feed and recording capabilities allowing for on-the-spot corrections and technique improvement. Contractors can produce an edited take-home DVD of the training.
Structure Collapse Site
Constructed in 2014, this unique site supports training for search and rescue in disaster situations. It is specially constructed to simulate the challenges that recovery crews will face in the real world. Crews can breach concrete with saws to extract victims and even rappel down a destroyed elevator shaft to seek out casualties trapped in the rubble. This is an excellent training site for Homeland Response Force teams and other emergency rescue personnel. The site incorporates all the features that are required for collapsed structure training and has several enhancements such as school buses and silos and shafts for conducting confined space operations. Our facility is one of the largest of its kind in the nation and will provide units with unique and challenging training opportunities.
Improvised Explosive Device (IED) and Homemade Explosive (HME) Display
Located inside the Combat Out-Post (COP) in TA-C04, FTIG's HME display increases Soldier awareness in the identification and recognition of the IED and HME threat. Soldiers are exposed to a variety of IEDs and the indicators that might give the warning that an IED is in the area. In addition to the IED, there is a hands-on portion to allow Soldiers to see what material solutions the Army is resourcing to combat the threat of IEDs and detect the precursors of HME.
Urban Assault Course Range 31
This course is designed to train Soldiers in squad- and platoon-sized elements in urban fighting techniques. The 28-acre facility consists of five stations:
Individual and team trainer.
Squad and platoon trainer.
Grenadier gunnery range.
Urban offense and defense building.
An underground trainer.
Rappelling is allowed on Station 4. Force-on-force use is permitted. HUTs are available for use.
Virtual training for small teams and platoon elements in urban tactics can be done using VBS3; additional training on shoot/don't shoot scenarios can be done on the Engagement Skills Trainer (EST). Please see the section on Virtual Training for more details.
Virtual Training
Home to one of the most comprehensive and largest virtual training sites in the Army, Fort Indiantown Gap's Digital Training Campus, located in Area 5, serves as the central location for all simulators and simulation-based training devices. Advantages to using devices as a stand-alone trainer or in conjunction with our training areas include the ability to cut down or eliminate logistical constraints and a nearly infinite number of times a scenario can be repeated. For more information on our virtual training opportunities, call one of the virtual training professionals at 717-861-9775.
Aviation Combined Arms Tactical Trainer (AVCATT)
AVCATT is a mobile, transportable, multistation virtual simulation device designed to support unit collective and combined arms training. AVCATT provides six two-man cockpits that are reconfigurable to any combination of attack, reconnaissance, lift and cargo helicopters. AVCATT is a mobile system that provides training for aircrews deploying in support of overseas contingency operations. AVCATT is interoperable with a variety of simulators, including the Close Combat Tactical Trainer and the Battle Command Training Center.
Call for Fire Trainer (CFFT)
The CFFT provides simulated battlefield scenarios for the training of field artillery forward observer tasks and close air support with attack helicopters and naval gunfire. The CFFT consists of stadium seating with synched computers and can hold up to 30 students. The trainer is able to simulate artillery, naval gunfire, close air support and mortar fires on a variety of stationary and moving targets.
Many units use this trainer for munitions effects, terrain scenes, moving targets and target scenarios that are not practical in garrison or training areas and prior to conducting live fire on the ranges or training corridor. For more information on artillery and close air support ranges, please see the section on Ranges.
Close Combat Tactical Trainer (CCTT)
The CCTT supports maneuver training of armor, mechanized infantry, cavalry, transportation and reconnaissance units from platoon through company level and is able, with prior coordination, to train at the battalion level. The system provides simulated gunnery ranges for both M1/M2 crews. The primary training audience operates from both full-crew simulators and mock-up or real command posts. Simulators have sufficient fidelity for individuals and crews to accomplish their collective missions. Simulators replicate the Abrams and Bradley fighting vehicles.
The system is equipped with the latest Force XXI Battle Command Brigade and Below (FBCB2) in support of training the digital force. This ensures effective simulation within a combined arms training environment that encompasses daylight, night, multiple weather conditions and multiple terrain options (desert, urban, wooded and mountainous).
CCTT is interoperable with the AVCATT and the Mission Training Complex (MTC). This is a portable device and can be used at locations other than FTIG.
Engagement Skills Trainer (EST)
The EST is designed to simulate small-arms firing. Soldiers manipulate and fire demilled and reconfigured weapons at a wall-sized screen that is able to project a variety of scenes and scenarios. The EST 2000 is the only small-arms training system validated by the U.S. Army Infantry School. It provides initial and sustainment marksmanship training, static unit collective gunnery and tactical training, and shoot/don't shoot training. The EST 2000 can train up to 10 Soldiers simultaneously, depending on the type of training.
Many units use the EST for initial marksmanship training prior to using one of the live ranges in order to save resources. For more information on Fort Indiantown Gap's ranges, please see the section on Ranges.
Dismounted SoldierTraining System (DSTS)
The DSTS is a fully immersive virtual trainer focused on individual Soldier and squad-level training that combines gaming technology in a virtual, 360-degree training environment using untethered weapons. The DSTS is a stand-alone, virtual-reality simulator and consists of nine untethered manned modules, one exercise control/After Action Review workstation and one SAF workstation. Each manned module contains a head-mounted display, replica weapon, sensor system and a wearable computer pack. These networked systems provide an immersive training environment for individual Soldiers and squad members. DSTS can teach a multitude of individual Soldier tasks as well as collective tasks at the squad level. Soldiers can go from training in a virtual garrison environment on an Individual Weapons Qualification (IWQ) range to conducting Battle Drill 6 on a virtual Taliban compound in the mountains of Afghanistan. Additionally, squads are able to exercise their squad Standard Operating Procedures; Tactics, Techniques and Procedures (TTPs); and Troop Leading Procedures, as well as exercise and refine their communication skills. The level of complexity of each training session is completely up to the unit commander's imagination.
Deployed Digital Training Campus (DDTC)
The DDTC is used to conduct training for deployed Soldiers on location. The DDTC gives units and Soldiers access to Web-based, collaborative, simulations-based training and video tele-training. An example of DDTC system procurement contains four units consisting of 20 laptop computers with VTT capability per system. The system links with computer networks by using the network control center's 30-foot satellite antenna with satellite linkage to a mobile dish Video Satellite (VSAT). The DDTC allows the Army to broadcast Distance Learning Site (DLS) training to multiple units in multiple locations at the same time from one instructional platform.
HMMWV Egress Assistance Trainer (HEAT)
The HEAT is intended to provide training to Soldiers on the effects of rollover and to conduct drills that will provide the skills to react properly during a rollover and egress situation in an up-armored High-Mobility Multi-Wheeled Vehicle (HMMWV). The HEAT also trains Soldiers on the critical rollover angles of up-armored HMMWVs and non-up-armored HMMWVs. It is also capable of training for dry land and water rollovers.
The simulator is a modified HMMWV mounted on a platform, allowing the HMMWV to be rotated a full 360 degrees. The device reinforces the importance of seat positioning and wearing seatbelts, demonstrating the feeling of being disoriented and the actual effort required to execute rollover procedures. The trainer allows individuals and crews to rehearse and physically execute the necessary steps required to survive a vehicle rollover, without requiring the use of an actual vehicle.
Operator Driver Simulator (ODS)
The ODS trains Soldiers to safely drive vehicles in the Army inventory, including the M-939 5-ton truck, Family of Medium Tactical Vehicles (FMTV), M-1074 PLS Truck, M-915 Truck, Heavy Expanded Mobility Tactical Truck (HEMTT) and M-911 Heavy Equipment Transporter (HET) with trailers.
The simulator consists of a cab configured with steering wheel, pedals and dashboard controls of the vehicle being simulated. The operator drives the vehicle while looking at a 180-degree screen. The simulator provides realistic feedback to the driver through sensory means, such as the vibrations of the cab or steering wheel in addition to the image on the screen. The ODS is able to model a variety of weather effects and driving conditions in most foreign areas of operations, including Afghanistan and Iraq. This is a portable device and can be used at locations other than FTIG.
Many units conduct training on this device alone or in conjunction with a driver certification course or master driver course. Following the training on the ODS, units conduct their driver training throughout the corridor. Please see the Training and Maneuver Corridor section for more details.
Shadow Crew Trainer (SCT)
The SCT is a mission simulator that provides platoon-level sustainment training for the lightweight, rapidly deployable, short-range airborne reconnaissance system that gives the battlefield commander a day/night multisensory intelligence collection system. The SCT provides training positions for the air vehicle operator, payload operator, launch and recovery crew, staff/leader station, instructor/operator station and interactive multimedia instruction.
Units use this trainer as a stand-alone device or in conjunction with our Unmanned Aircraft System (UAS) Facility. For more information, please see the section on Fixed Training Sites.
Stryker Mobile Gun System Advanced Gunnery Training System (MGS-AGTS)
The MGS-AGTS is a gunnery training simulator for vehicle commander/gunner teams for the Stryker MGS vehicle. It features a high-fidelity crew compartment replicating the vehicle's turret and fire control system in both physical and functional aspects. The MGS-AGTS presents the vehicle commander and gunner with a full range of simulated engagement situations. This system is capable of networking to provide section, platoon and company collective gunnery training. AAR capability is provided for exercise management.
Virtual Battlespace 3 (VBS3)
VBS3 is a fully interactive gaming system providing high-definition training and a premium synthetic environment suitable for a wide range of military training and experimentation for up to 45 personnel. The personnel training utilizes laptops and off-the-shelf technology networked to create the element size required.
VBS3 incorporates a high-fidelity virtual environment, scenario and mission editors, after-action review and a powerful development suite. Soldiers move in a shared, immersive, first-person environment that supports mounted and dismounted operations.
The system provides both ground and air vehicles, small-arms and vehicle-mounted weapons, communications and interactive opposing forces of the contemporary operational environment, including improvised explosive devices.
War fighters learn to anticipate and respond to tactical situations by practicing existing and developing tactics, techniques and procedures. Trainers and leaders use VBS3 to rehearse tactical missions and conduct after-action reviews of training sessions with easy-to-use authoring tools integrated in the simulation.
Virtual Combat Operations Trainer (VCOT)
The VCOT provides realistic training for combat convoys through the streets of Baghdad, the National Training Center or the Fort Knox MOUNT site. The VCOT consists of four paired driver and gunner crew stations and a vehicle commander's station that are synched to provide a realistic convoy training environment. Each driver's station comes with controls for steering, transmission gear selection, brake and accelerator pedals, and parking brake. The driver's station provides a view of the virtual battlefield using flat-panel displays. Each gunner station consists of a ring-mounted, .50-caliber, heavy barrel machine gun. The gunner views the battlefield through a 360-degree, helmet-mounted display. The VCOT ensures that Soldiers are trained to anticipate ambushes and other insurgent actions from all possible directions by allowing the crew to observe, maneuver and fire their weapons through a full 360-degree range. A complete AAR facility is available on-site. This is a portable device and can be used at locations other than FTIG.
Units conduct training on this device alone or as a train-up to our IED-D Home Station Training Lane. Please see the section on Urban and Collective Sites for more details.
Common Driver Trainer (CDT)
The CDT trains Soldiers to operate vehicles in the Stryker family and on a variety of MRAP configurations. The CDT is composed of a simulated vehicle cab mounted on a motion platform and an instructor/operator station. The instructor is capable of selecting a visual scene, viewing the scene, introducing malfunctions and emergency control situations, monitoring each Soldier's performance and providing recorded AAR feedback.
Many units conduct training on this device alone or in conjunction with a driver certification course or master driver course. Following the training on the ODS, units conduct their driver training throughout the corridor. Please see the Training and Maneuver Corridor section for more details.
Mine Resistance Ambush Protected Egress Trainer (MRAP MET)
The MRAP MET is a training system designed to support egress training and provide vehicle crew members the confidence needed to safely egress from vehicles in the event of a rollover. The MRAP MET also trains Soldiers on the critical rollover angles of various versions of the MRAP. It is also capable of training for dry land and water rollovers. The simulator is a modified vehicle mounted on a platform, allowing for a full 360-degree rotation. All MRAP MET system vehicle variants consist of a simulated vehicle cab, Instructor/Operator Station (IOS), visual monitoring system and two-way speaker system. The instructor is capable of conducting crew training, introducing malfunctions and emergency egress situations, monitoring each trainee's performance and providing AAR feedback.
Constructive Training — Mission Training Complex
The MTC, Fort Indiantown Gap supports the Army National Guard's Mission Command Training Support Program (MCTSP). We focus primarily on training the battalion and brigade staff in the art and science of mission command by teaching the Military Decision Making Process (MDMP) and the appropriate Mission Command Systems (MCS). Our tactical and technical experts support the overall objective of improving combat readiness for the Army National Guard.
The program is comprised of individual, staff and collective training in order to meet the rigorous demands of today's digital warriors. The MTC provides a wide range of support utilizing a team concept such as Doctrinal Support Services Support Teams (DSS-ST), Doctrinal Training Team Support Teams (DTT-ST), the Mission Command Systems Support Team (MCS-ST), the Entity Resolution Federation Support Team (ERF-ST) and the Training Aids Devices Support Service Team (TADSS-ST).
DSS Support Teams assist units in planning and executing battle staff exercises, situational training exercises and field training exercises, and digital (MCS-supported) CPXs. The senior training adviser on each team will provide tactical expertise, exercise design, exercise control and technical support to ARNG units, which will enable unit commanders to successfully conduct battle staff training, field training exercises, and company-level proficiency events at home-station and other regional training sites within live, virtual and constructive gaming (LVC-G) environments.
DTT trainers instruct, coach and mentor battalion and brigade commanders and their staffs in current and emerging doctrine and MDMP. In coordination with the battalion and brigade commander, our experienced trainers assist the commander in all stages of the training rotation: CDC, STAFFEX/CPX constructive/simulation-supported or MSEL-driven exercises, and Final Exercise Report. They share observations, insights and TTPs by building relationships with unit personnel that promote an ongoing professional dialogue.
The MCS-ST will provide instruction of MCS to specific units and activities as required via a Mobile Training Team (MTT) or on-site at MTC-FTIG. The team of experts provides commanders with leader and operator training to assist integration of digital command and control systems as well as over-the-shoulder support for integrated staff exercises.
The ERF team provides technical personnel to acquire, install, operate, integrate, and troubleshoot communication and training exercises using the ERF suite. The MTC has the Joint Land Component Constructive Training Capability-Entity Resolution Federation (JLCCTC-ERF), which is a federation of constructive High Level Architecture and other state-of-the-art technology that collectively stimulates and simulates military operations. It uses information produced by the simulations to stimulate Mission Command Systems: CPOF, FBCB2/JCR, AFATDS, DCGS-A, BCS3 and TAIS. The ERF team also has the ability to integrate other virtual simulators and devices.
The TADSS team provides technical personnel to acquire, install, operate, integrate, and troubleshoot communication and training exercises using Low Overhead Drivers (LOD). The TADSS team also works with ARNG units going through Mission Command Unit Set Fielding and Staff Integration events II and III. LODs are systems that can be used to stimulate constructive training and reduce the amount of role players involved operating the battlefield simulators. Each system has specific advantages and disadvantages based on the training objectives and training tasks. The expertise for use of these systems is available through the TADSS.
MCST — Mission Command Staff Trainer is a stand-alone software training tool used to train staff officers and operators to operate Mission Command Systems (MCS) during pre-deployment training. It utilizes real ground force data and allows users to send various tactical messages on MCS as well as Situational Awareness (SA) data to the Common Operational Picture (COP) using a built-in, lightweight mapping tool. It normally requires two support persons with specialized simulation-software technical skills and select controller/role players to manipulate battle space at the company level and higher.
ALOTT — ALOTT focuses on the crawl-walk level of MDMP processes model decisive action operation to provide simulation-supported TEMO crawl-walk functionality centered on training events. It normally requires two support persons with specialized simulation-software technical skills to run ALOTT. No more than three controller/role players are needed to manipulate battle space. ALOTT does not currently have a certificate of net worthiness (CON) from the Army, so all MCS systems and servers must be provided by the supporting MTC.