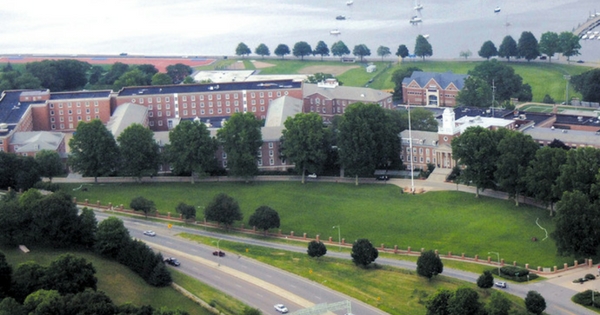 Welcome to the United States Coast Guard Academy. One of the smallest of America's five federal service academies, the Coast Guard Academy is situated on 103 acres of rolling hills on the west bank of the Thames River in historic New London, Connecticut.
The Coast Guard Academy offers a prestigious higher education experience, which emphasizes leadership, physical fitness and professional development in order to graduate the very best Coast Guard officers. Graduates go directly to positions of leadership in the U.S. Coast Guard. The Academy also features an impressive teacher-student ratio, 1-8, and picturesque waterfront campus that instills a traditional small-college feel.
The Academy is the resident campus for the Corps of Cadets. It is also home to the Coast Guard Leadership Development Center (LDC), Coast Guard Museum and Coast Guard Band.
OUR MISSION
U.S. Coast Guard Academy
"The United States Coast Guard Academy (USCGA) is committed to strengthening the nation's future by educating, training, developing and inspiring leaders of character who are ethically, intellectually, professionally and physically prepared to serve their country and humanity, and who are strong in their resolve to build on the long military and maritime heritage and proud accomplishments of the United States Coast Guard."
Cadets
"To graduate young men and women with sound bodies, stout hearts and alert minds, with a liking for the sea and its lore, with that high sense of honor, loyalty and obedience which goes with trained initiative and leadership; well-grounded in seamanship, the sciences and amenities, and strong in the resolve to be worthy of the traditions of commissioned officers in the United States Coast Guard in the service of their country and humanity."
HISTORY
The first Coast Guard Academy, then called the Revenue Cutter School of Instruction, was held aboard the two-masted topsail schooner Dobbin. The first class of nine cadets boarded the Dobbin in Baltimore, Maryland in 1876 for a two-year training mission.
The Academy was a shipboard operation until 1890 when the first land-based campus was established in Curtis Bay, Maryland. In 1910, the Academy was moved to the Revolutionary War fort and Army post at Fort Trumbull in New London, Connecticut. In 1932, initial construction was completed at the Thames River campus, and the Corps of Cadets officially began training here Sept. 20 of that year.
A 295-foot, square-rigged cutter, Eagle, is the present-day seagoing classroom for future leaders of the Coast Guard. This ship was one of four training vessels operated by the German navy during World War II. It was taken as a war prize and sailed back to New London by a Coast Guard and German naval crew. Known as America's Tall Ship, Eagle continues the Academy's sail training tradition of more than 125 years.