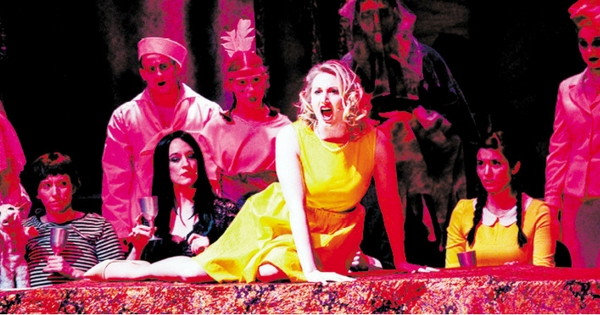 Given the intensity of Academy life, most cadets are eager for the opportunity to participate in extracurricular activities. Fortunately, social events and organized activities are an integral part of the cadet experience. Ranging from informal organizations to long-standing traditions, these activities and clubs are part of the social experience that bond cadets to one another and to their service. Activities are supported by the Academy and new groups form whenever cadets take the initiative to organize them.
Academics and Leadership
Academics and leadership are at the core of the Academy experience right beside physical fitness, character development and professional training. The Academy takes great pride in its co-curricular academic and leadership activities. Clubs include: Academy Women, Alpha Lambda Delta, American Society of Civil Engineers, Cadet Law/Mock Trial Club, Model United Nations Club, and the Society of Naval Architects and Marine Engineers.
Diversity and Fellowship
Members of the Coast Guard have long gathered in groups to celebrate shared traditions of culture, fellowship and faith. Given the challenges and far-reaching missions of the Coast Guard, wise cadets seek to strengthen their understanding and community through cultural learning, and search for inner peace through discovery or reinforcement of personal beliefs. Importantly, they also come together to learn about the varied cultural elements that give different traditions meaning. This helps members of the Coast Guard to better understand themselves, those with whom they serve, as well as the public they will encounter.
Diversity organizations include the Asian Pacific American Club, the Companeros, the Genesis Club and the International Club.
Fellowship organizations include the Compass Catholic Youth Group, the Fellowship of Christian Athletes, the Hillel-Jewish Club, Latter-day Saints, Officer's Christian Fellowship and the St. Francis DeSales group.
Music
The Cadet Music Department offers opportunities for participation in vocal and instrumental groups composed solely of cadets. Many groups travel to major events including the Tournament of Roses Parade in Pasadena, California, the Macy's Thanksgiving Day Parade in New York City, college football bowl games, NFL halftime shows, U.S. presidential inaugurations, and special military and music events.
Vocal groups include the Glee Club, Fairwinds, Idlers, Gospel Choir, and Catholic and Protestant choirs.
Instrumental groups include the Regimental Marching Band, NiteCaps Jazz Band, Pep Band, Concert Band, Pipe and Drum Band, Polished Brass Quintet and Saxations Sax Quartet.
CADET MUSICAL
The annual winter musical is a much-
anticipated event embraced by the Corps of Cadets, the Academy community and the public. Each year, nearly 100 cadets combine efforts with faculty and theater enthusiasts to produce a Broadway-style musical staged at the Academy. Each production is complete with choreography, vocal arrangements and acting opportunities. The stage crew is also an integral part of the musical, with individuals working to build sets and provide lighting and assistance during performances. Diligent practice culminates in three performances over a single weekend.
Academy Pride
There is a special sense of pride at the Coast Guard Academy — pride in America, our service, our school, each class, each company and in one's accomplishments. Cadets who share this special devotion come together in a variety of campus activities specifically designated to build community and Coast Guard Academy enthusiasm. Groups include Cheerleading, Drill Team, Dance Team, Social Committee, Tide Rips Yearbook Committee, and Windjammers Drum and Bugle Corps.
Special Interests
Some cadet activities defy easy categorizations such as music or sports. And though some will argue that the following selected interests do fall within other categories, no one can debate the enthusiastic cadet support of these unique clubs: Amateur Radio, Aviation, Chess, Combat Arms, Emergency Medical Services, Film and Anime, and Sandhurst Competition.
Sports and Leisure
One of the more time-intensive activities for Academy cadets is the passionate pursuit of sports and leisure interests. The Academy has an active campus culture with an emphasis on academics, professional training, character development, and physical health and wellness. Both of the latter are served well by cadets' dedication to their sports and leisure clubs and activities.
In addition to the sampling of intercompany sports (intramurals) and leisure clubs such as golf, bowling, Ultimate Frisbee and dancing, to name just a few, there are also the following club sports: boxing, hockey, men's and women's rugby, men's volleyball and water polo. These are the sports that are not included in the Academy Varsity Athletics program (NCAA/ECAC/NEWMAC), but are distinguished from intercompany sports by the fact that they still enjoy high-level intercollegiate competition and a faithful following of fans. Club sports are primarily cadet-led with the assistance of a faculty or staff adviser and are a vibrant and spirited athletic addition to the cadet culture.