Fort Benning

Military Trusted Businesses
More on Jack Hughston Memorial Hospital
Hughston Clinic
Research – Education – Treatment
About Jack Hughston Memorial Hospital
Located in Phenix City, Alabama, just across the Chattahoochee River from the famed Hughston Clinic campus, Jack Hughston Memorial Hospital is an advanced acute-care hospital, offering a range of services, including orthopaedic and general surgery, physical therapy, diagnostic imaging, a pharmacy, a full laboratory, and a 24-hour emergency room.
Comprising 110,000 square feet with 70 private patient rooms and six operating suites and offering the best in medical technology, Jack Hughston Memorial Hospital is ideally equipped to provide patients with excellent medical care. Moreover, its friendly and specialized staff is ready and eager to give patients personal attention. Furthermore, various amenities—such as wireless internet throughout the facility and a dining hall with an outdoor terrace and floor to ceiling windows—are available for the convenience of patients and their families.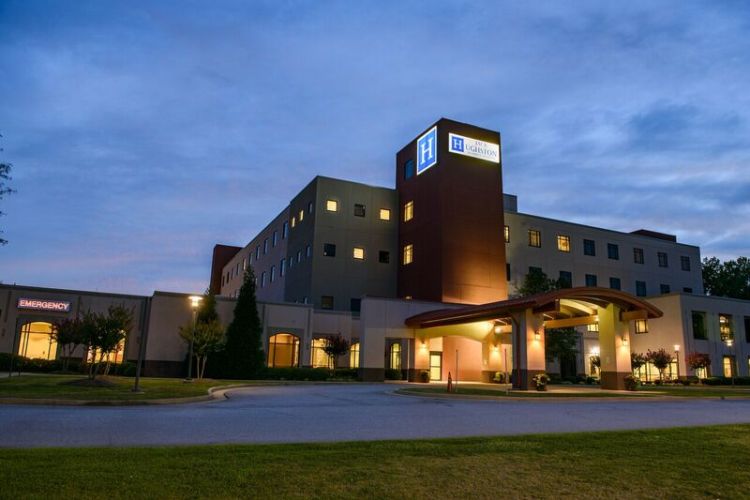 Jack Hughston Memorial Hospital strives to deliver the highest quality patient care. The hospital has been ranked in the top 10% nationwide for both orthopaedic and joint replacement care; in fact, it is the only hospital in Alabama to be recognized for excellence in both these areas during a given year. Furthermore, for four years in a row (2012-2015, it has not only been listed among America's 100 Best Hospitals for Orthopaedic Surgery and Joint Replacement, but has also been included by Healthgrades in the top 5% of hospitals in the nation for overall orthopaedic services and joint replacement.
The Joint Commission, the leading accreditor of health care organizations in the United States, identified Jack Hughston Memorial Hospital as a 2013 Top Performer on Key Quality Measures. "The Jack" has also earned the Joint Commission's Gold Seal of Approval as a fully accredited hospital adhering to the highest standards of quality and safety in health care delivery.
Jack Hughston Memorial Hospital is licensed by the Alabama State Board of Health.
Additional Achievements
Named One of Becker's 82 Physician- Owned Hospitals to Know/ 2014
Five Star Recipient for Total Knee Replacement- 4 years in a row (2012-2015) Healthgrades
Five Star Recipient for Hip Fracture Treatment- 4 years in a row (2012-2015) Healthgrades
Five Star Recipient for Total Hip Replacement- 5 years in a row (2011-2015) Healthgrades
Five Star Recipients for Spinal Fusion Surgery- 5 years in a row (2011-2015) Healthgrades