Fort Gordon

Military Trusted Businesses
Barbara J. Utermark, DMD
Barbara J. Utermark, D.M.D.
4469-B Columbia Rd.
Martinez, GA 30907
Phone: (706) 860-5884

OFFICE HOURS:
Monday: 8:30 am-6:00 pm
Tuesday: 8:30 am-5:00 pm
Wednesday: 8:30 am-6:00 pm
Thursday: 8:30 am-5:00 pm
Friday: 8:30 am-12:00 pm



https://www.utermarkorthopedo.com/


Welcome to the Office of
Barbara Utermark, D.M.D., P.C.
Welcome to the website for Barbara J. Utermark, D.M.D., a leading Orthodontic practice for Adults, Teens and Children as well as a Pediatric Dental practice located in Martinez, Georgia. Dr. Barbara Utermark provides a full range of Orthodontic services including Invisalign and ceramic braces in addition to the traditional braces as well as Pediatric Dental services all in one convenient location. From braces and Invisalign aligners to cleanings and check-ups, we do it all. Dr. Utermark is an Orthodontist for Adults, Teens and Children as well as a Pediatric Dentist and we look forward to evaluating your family's Orthodontic as well as Pediatric Dental needs. Dr. Utermark's dual-specialties allow the children's routine dental care and cleanings to be done at the same visits as their orthodontic adjustments saving much of the family's valuable time.

We have many families in which the Adults in the family have orthodontic treatment along with their children's braces saving many trips to the office.
Using the latest technology, our experienced staff works together as a team to give you exceptional quality treatment from the time you walk in for your initial visit.
We thank you for your interest in our services, and the trust you have placed in us. Please contact us if you have any questions.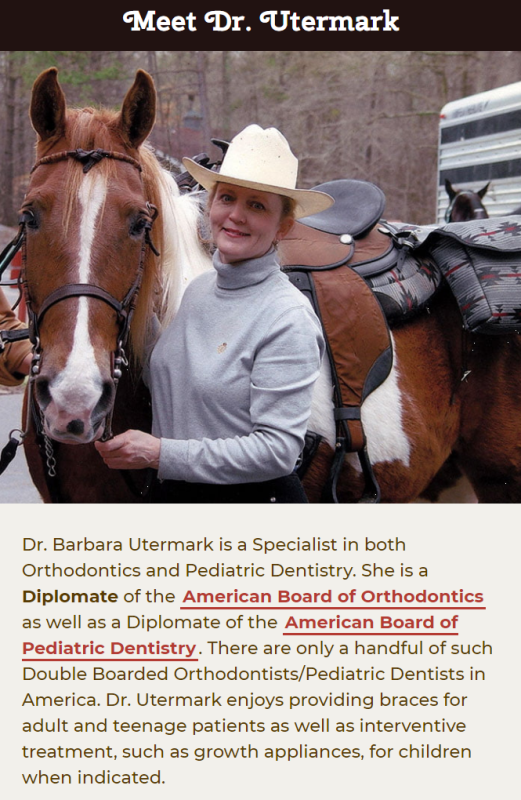 Barbara J. Utermark, D.M.D.
4469 B Columbia Rd.,
Martinez, GA 30907
Phone:(706) 860-5884
http://www.utermarkorthopedo.com
4469-B Columbia Rd
Martinez, GA 30907
7068605884
Visit Website
Email Us
Hours
| | |
| --- | --- |
| Monday | 8:30 am - 6:00 pm |
| Tuesday | 8:30 am - 5:00 pm |
| Wednesday | 8:30 am - 6:00 pm |
| Thursday | 8:30 am - 5:00 pm |
| Friday | 8:30 am - 12:00 pm |
| Saturday | 12:00 am - 12:00 am |
| Sunday | 12:00 am - 12:00 am |