Fort Gordon

Military Trusted Businesses
Express Oil Change & Tire Engineers
HOME OF THE CSRA'S ONLY
"STAY IN YOUR CAR" OIL CHANGE!
EVANS LOCATION
4342 WASHINGTON ROAD
(706) 863-7111
OR
AUGUSTA/RIVERWATCH LOCATION
822 CABELLA DRIVE
(706) 945-0168
We are proud to offer a 10% Military Discount on Mechanical Services and $5 Off any Oil Change Service..
THANK YOU FOR YOUR SERVICE!
SUPERIOR Auto Services
OUTSTANDING Customer Service
COMMITMENT To Our Military Community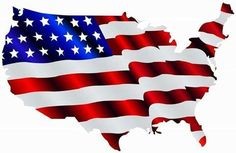 Pride of Workmanship
At Express Oil Change & Tire Engineers, every action we take and every decision we make is guided by our mission, our core values, and our vision.
Express Oil Change & Tire Engineers – Our Mission
"To give each customer the assurance that their car is well-maintained by providing the highest quality automotive products and services delivered quickly and conveniently in a superior environment by a friendly, professional staff emphasizing integrity in every action."
Express Oil Change & Tire Engineers – Our Core Values
Integrity
Pride of Workmanship
Quality
Teamwork
Enthusiasm
Friendliness
Continuous Improvement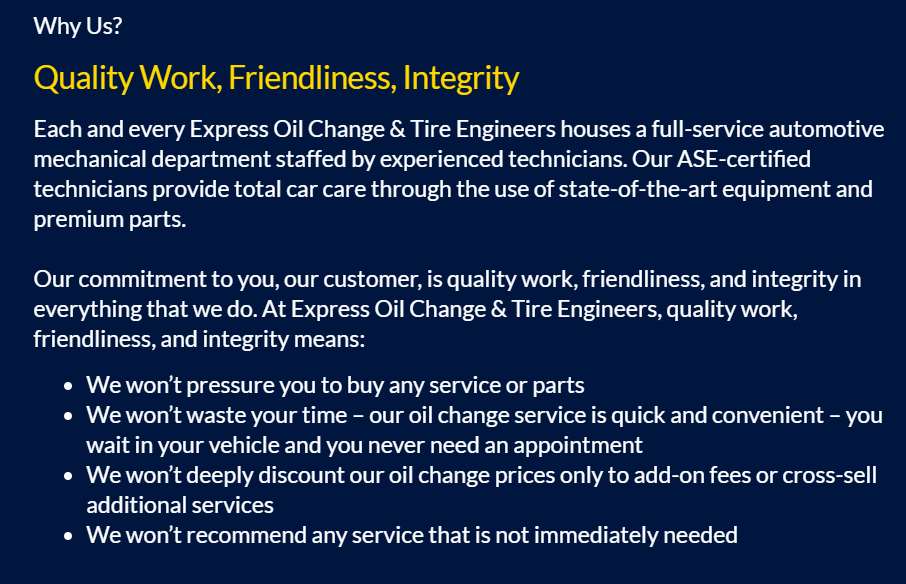 At Express Oil Change & Tire Engineers, customer service and quality care are our top priorities. We employ experienced, certified technicians trained to provide premium total-car care, and we use state-of-the-art equipment and premium parts to ensure the quality of our work. Every member of our in-house mechanical department works fast and works hard to make Express Oil Change & Tire Engineers your one-stop automotive service provider.
With 247 locations nationwide, Express Oil Change & Tire Engineers provides specialty service with an emphasis on customer experience. In addition to the oil change, our technicians will check your transmission, fuel systems, air filters, fuel filters, and wipers. We can also provide factory scheduled maintenance exactly to factory specifications. All of these services are performed quickly and with professional care, which makes us the most convenient oil change around.
Express Oil Change & Tire Engineers also houses a service center equipped to perform a variety of mechanical services. Whether you need your tires rotated and balanced, a brake inspection, brake service, air conditioning repair, or scheduled maintenance, we've got you covered. Our technicians are also qualified to provide expert service on timing belts, belts/hoses, alignment, tires, CV axles, differentials, batteries, water pumps, fuel pumps, shocks/struts, electronic ignition, fuel injectors, computer diagnostics, and other general repairs. In addition, we offer complete fleet customer care. The qualities of all of our services are guaranteed under our warranty, which is our promise of our commitment to the care of your automobile.
OIL SERVICE

Your automobile is more than likely your second largest investment – second only to your home. Having Express Oil Change & Tire Engineers change your vehicle's oil every 3,000 miles is one of the best ways you can protect this valuable investment. Once you experience an Express Oil Change & Tire Engineers oil change, you'll see firsthand why millions of motorists turn each year to Express Oil Change & Tire Engineers for "asset protection."
TIRE SERVICES
Tire Repair
At Express Oil Change & Tire Engineers, we care about you and your family's safety, which is why we recommend that flat or damaged tires be repaired by qualified personnel. An improperly repaired tire may fail when driven at high speeds, causing loss of vehicle control.
Any puncture or injury to a tire will affect its performance, and proper tire repair is critical to your vehicle's operation. If you have any questions regarding your tires' condition, we'll be happy to inspect them for you. Almost any sharp object in the road can cause a flat tire. We can repair tire tread punctures up to ¼" in diameter. Our services include:
Tire Sales
Our auto tire sales are another reason to let Express Oil Change & Tire Engineers help with your tire needs. All of our stores have impressive deals on quality tires. Our large selection includes Michelin, BF Goodrich, Uniroyal, Bridgestone, Firestone, Fuzion, Mastercraft, Yokohama, Goodyear, Cooper, Hankook, Falken, Pirelli, Kumho and many more
Remember, you need new tires if:
You can see three or more tread wear indicators around the tire
The cord or fabric is showing through the rubber
The tread or sidewall is cracked, cut, or snagged deep enough to show the cord or fabric
The tire has a bulge or split
The tire has a puncture, cut, or other damage that can't be repaired
MECHANICAL SERVICES
We believe that maintaining your car should not be a burden or inconvenience. That's why we have built our company on delivering expert work with close attention to convenience and speed of service.
TWO CONVENIENT LOCATIONS READY TO SERVE YOU..

4342 WASHINGTON ROAD-EVANS
822 CABELLA DRIVE-RIVERWATCH/AUGUSTA
CHECK OUT OUR RATINGS ON GOOGLE!
Hours:
M-F: 8:00am – 6:00pm 
Sat: 8:00am – 5:00pm 
Sun: Closed
4342 Washington Road
Evans, GA 30809
7068637111
Visit Website
Hours
| | |
| --- | --- |
| Monday | 8:00 am - 6:00 pm |
| Tuesday | 8:00 am - 6:00 pm |
| Wednesday | 8:00 am - 6:00 pm |
| Thursday | 8:00 am - 6:00 pm |
| Friday | 8:00 am - 6:00 pm |
| Saturday | 8:00 am - 5:00 pm |
| Sunday | 12:00 am - 12:00 am |
Deals