Fort Gordon

Military Trusted Businesses
More on The Partridge Inn
The Partridge Inn-
More Than 100 Years of
Southern Hospitality and Charm

2110 Walton Way
Augusta, GA 30904
(706) 737-8888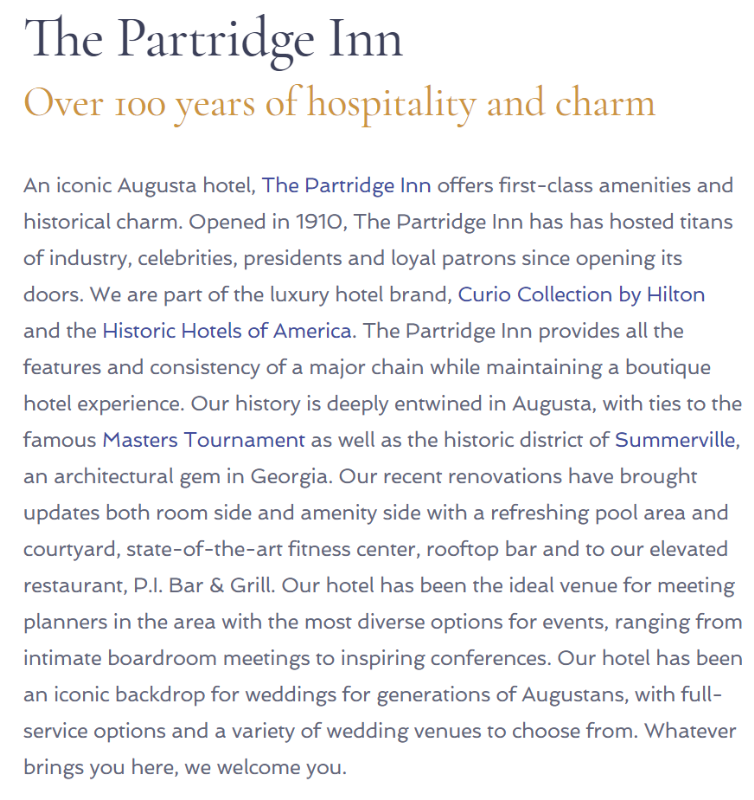 The History of The Partridge Inn~
A Southern Historic Hotel
The Partridge Inn was built in the 1820s as a two-story private residence. In the early 1900s, the property was converted into a small hotel when it was purchased by Mr. Morris Partridge. The hotel enjoyed great success as Augusta flourished as a resort town for wealthy northerners. The popularity of the historic hotel lead to numerous expansions and by the 1920s the property had grown.
Through the years, The Partridge Inn was recognized as the gathering place for the city's premier social and business events. The historic hotel has hosted golf legends, presidents and legendary tea-dances in its grand halls and ballrooms and continues a long tradition of hospitality. It has served as the gathering place for generations of Augustans as well as golf greats and celebrities. Famous guests include Curtis Strange, Paul Azinger, Gary Player, Reba McIntyre, James Brown and Bob Dylan.
Due to neglect, The Partridge Inn faced demolition in 1978. However, Sam Waller, a local attorney and preservationist, successfully defended the building against being torn down. The Partridge Inn reopened in 1987, and continued to prosper.
The Partridge Inn is still the closest hotel to Augusta National Golf Course and has had a long history with the Masters Golf Tournament. The Partridge Inn still continues to host iconic events and famous guests during the Masters.
In 2015, The Partridge Inn underwent renovations that recaptured the former ambiance and history of this stately, timeless Southern hotel. The Partridge was awarded the Historic Augusta Preservation Award for its updates to the historic hotel and is a member of the Historic Hotels of America.
The Partridge Inn
2110 Walton Way
Augusta, GA 30904
(706) 737-8888
Photos from The Partridge Inn
Follow Us on Social Media