MCAS Yuma

Military Trusted Businesses
More on Allen Barnes & Jones, PLC
Financial Relief for Individuals, Businesses
From our offices in Yuma, Phoenix, and Prescott, Tom Allen and his bankruptcy colleagues at Allen Barnes & Jones can help you gain relief from financial distress through bankruptcy protection, debt restructuring, and loan workouts.
Certified Bankruptcy Expertise
Tom Allen is a Certified Consumer Bankruptcy Specialist (American Board of Certification) and a Certified Specialist in Bankruptcy Law (Arizona Board of Legal Specialization).
Free Consultation
You will benefit from  your free initial meeting with Tom Allen, to discuss your situation, learn about your options, and develop a sound strategy for gaining financial relief and a fresh start.
A Chapter 11 Plan Confirmation Success Rate Over Twice the National Average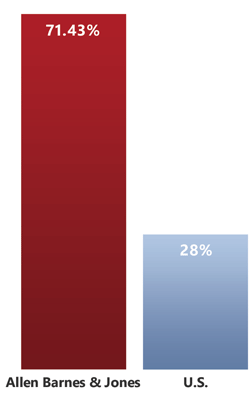 As last calculated, the national average for confirmed Chapter 11 plans was 28%. In contrast, since 1999, Allen Barnes & Jones has more than doubled that success rate, achieving confirmation of over 70% of its clients' Chapter 11 plans.
This plan confirmation rate is based on Allen Barnes & Jones's current attorneys' success in 
bankruptcy cases filed by the firm
 from January 1999 through October 2019 (only including closed cases and only the lead case in jointly administered cases). The 28% national average referenced above is for Chapter 11 cases from 2008-15 and is the most recent period in which a study of national Chapter 11 plan confirmations rates is available. 
See
 Ed Flynn, "
Chapter 11 Is for Individuals and Small Business?
" American Bankruptcy Institute (December 2018). 
Past results are not a guarantee of future success.