MCB Camp Pendleton

Military Trusted Businesses
More on Jerome's Furniture Anaheim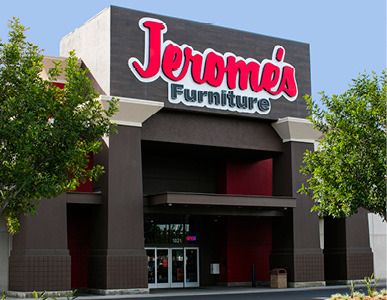 ANAHEIM SHOWROOM
Situated in the heart of sunny Southern California is the exciting city of Anaheim. Filled with family-friendly theme parks such as Disneyland and Knott's Berry Farm, Anaheim is also a hub for sports enthusiasts to catch a baseball game at the Angel Stadium or see the Anaheim Ducks at the Honda Center. Centrally located, Anaheim offers fast, convenient access to everywhere you want to go. Offering a warm climate year-round and a diverse range of activities it is a great location to visit most anytime.
The Jerome's Furniture store in Anaheim is one of the best Orange County furniture stores. If you're looking for a large dining table to host family and friends, home theater seating to relax and enjoy the game or you are just looking to update your home Jerome's Furniture is open until 9pm most weekdays and if you order your furniture by 2pm we'll deliver it to you the same day even on Saturday and Sunday.
The name Anaheim, comprised of "Ana" from the nearby Santa Ana river, and "heim" German for home. Jerome's is proud to have a new home by the river and we are excited to help you turn your house into the home of your dreams.
The Jerome's Furniture store in Anaheim serves the following cities and surrounding areas:
Furniture stores in Santa Ana, Fullerton, Placentia, Garden Grove, Orange, Stanton, Buena Park, Brea, Yorba Linda, La Habra, Cypress, Westminster, East La Mirada, La Mirada and La Palma.