MCB Camp Pendleton

Military Trusted Businesses
More on Jerome's Furniture Murrieta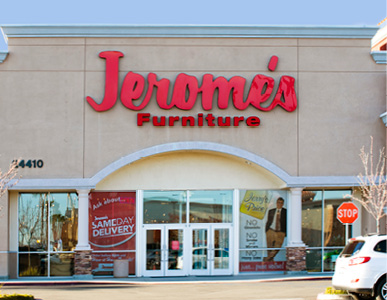 MURRIETA SHOWROOM
Looking for a great furniture store in Murrieta? Look no further than Jerome's Furniture!
The Jerome's Furniture Murrieta location in the Village Walk Plaza provides one-stop shopping for all your home furnishings.
San Diego's first discount furniture retailer also has a showroom located just off of the 15 in Murrieta. In an area easily accessed by residents of Murrieta and Temecula, our showroom is sure to supply everything you need. As a family-owned business, we are committed to community and tradition, which is why we have been offering personal reliability, affordability, and quality for over 50 years! So, whether you're looking for office furniture in Temecula, CA, or kids' bedroom furniture in Fallbrook, come see what the Jerome's Furniture store in Murrieta, CA has to offer you!
Over the past decade, Murrieta has been one of the fastest growing cities in the state, with a 130% population increase from 2000 to 2008. This area of Southern California was largely uninhabited for many centuries. The charming neighborhood we now know was once known for its rolling hills and native flora. In the late 1800's many people began discovering the beautiful valley, and when Murrieta became connected to the Southern California Railroad's transcontinental route, the city began to thrive. This beautiful community now has over 100,000 residents and is known for its beautiful hot springs, around which the Murrieta Hot Springs Resort was developed.
In recent years, Murrieta has been known for its modern homes, beautiful rural landscape, and affordability. For those of you that have either capitalized on the great real estate market in Murrieta or are just looking to update your home, Jerome's Furniture has all the additions that you need to make a house feel like a home.
The Jerome's Furniture store in Murrieta, CA serves the following cities and surrounding areas:
Murrieta, Temecula, Menifee, Sun City, Wildomar, Winchester, Lake Elsinore, Perris, Fallbrook