Robins AFB

Military Trusted Businesses
More on Alternative Pain Solutions, LLC
Private Individualized Yoga
If you are of advanced age or have some physical limitations, you may be thinking that yoga is not right for you. APS would like you to reconsider. Yoga has been shown to improve flexibility, strength, and balance and can be done by anyone in the right setting. An individualized secession with APS takes into account your goals, your struggles, and your current physical condition and we develop a practice that will evolve with you. You will learn in a private setting with a certified teacher at your own pace.
Private Restorative Yoga
Fast past life style? Suffering from lack of sleep, stress, and anxiety? Supportive Restorative Yoga can help you unwind and finally relax. We can help teach you how to let go of the stress. Restorative yoga has been shown to help reduce cortisol levels, reduce anxiety and depression, and ease chronic pain.
Cold Laser Therapy
The Cold Lasers can be used on patients who suffer from a variety of acute and chronic conditions in order to eliminate pain, swelling, reduce spasms and increase functionality. Cold Lasers (low-level lasers) stimulates the body's natural healing power. They have the most profound effect on the mitochondria of the cell. Mitochondria are the energy producing centers of our cells. When the gentle but penetrating beam of the low level laser illuminates the mitochondria, mitochondrial energy production is increased.  This process can be compared to photosynthesis in plants. Sunlight is absorbed by plants, which is then converted to usable energy so that the plant can grow. When cells absorb this light energy, it initiates a series of events in the cell that stimulate the healing process and eventually result in normalizing damaged or injured tissue, a reduction in pain, inflammation, edema, and an overall reduction in healing time by increasing intracellular metabolism.  Cold Laser Therapy is quick, painless, has no side effects or medication interactions, and has very few contraindications.
Neuromuscular Massage
Neuromuscular Massage Therapy (NMT) is highly effective for clients who present with chronic pain and is often successful in reducing or eliminating even long lasting painful conditions. NMT offered at APS is provided by Mr. James Carlan. James began his journey with Massage Therapy almost 20 years ago. Through years of experience and a passion for natural healing, James has perfected his own signature style of massage. Neuromuscular therapy, combined with deep tissue massage, and relaxation makes the session not only enjoyable but also realigns the body to help relieve chronic pain. With this technique he has helped clients alleviate migraines and back pain that had not subsided for 2 years.  He was able to help his clients get off dozens of medications and get back to enjoying life.
APS offers the following massages modalities:
Neuromuscular – This method uses trigger point therapy, combined with deep tissue to adjust, realign, and alleviate pain, radiation, numbness, and tingling from the body.
Swedish – This modality is for those that have no pain or issues and just want relaxation.
MLD (Manual Lymphatic Drainage) – This method stimulates the lymphatic system in order to improve lymph flow and helps keep the immune system clean and functioning properly. Some uses for MLD, but not limited to, are edema, skin disorders, metabolic problems including sleeping disorders, gastrointestinal disorders, Autoimmune, and more.
Y12SR
Yoga and 12 Step Recovery. Y12SR combines the practical tools of the 12 steps with the ancient wisdom of yoga. The body bears the burden of addiction and many times those struggles can become lodged not only on our mental and emotional body but also our physical body. Y12 SR combines the 12 step thinking, discussing, sharing group with the physical yoga practice. We also incorporate breathing and mediation techniques to assist when our lives become unmanageable and urge to use can be strong. Y12 SR meeting are open to anyone one suffering with an addiction of any kind or to anyone coping with the addictive behavior of others.
Meeting are every Tuesday from 7pm to 9pm and are donation based.
Y12SR can also be brought into local treatment centers as a part of relapse prevention planning. Call APS today to find out how to bring Y12SR to your treatment center.
Intuitions of APS
Intuitions of APS is a full scale yoga studio offering a large variety of group yoga classes.
Classes include but are not limited to Beginners (with and without assistance) and Intermediate Vinyasa Flow, Restorative yoga, Kids Yoga, Mommy and Me Yoga, and trauma sensitive Yoga classes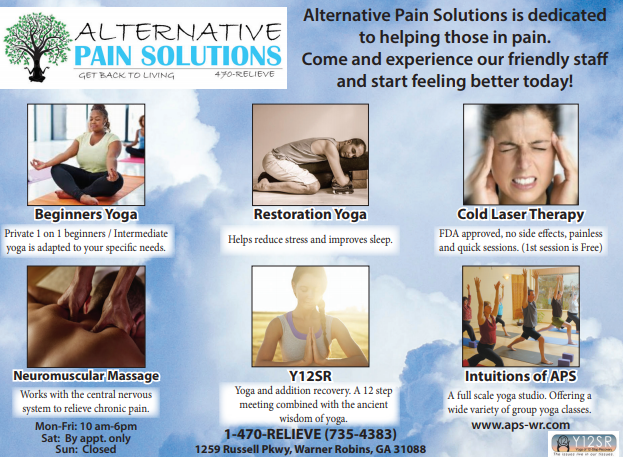 Follow Us on Social Media