History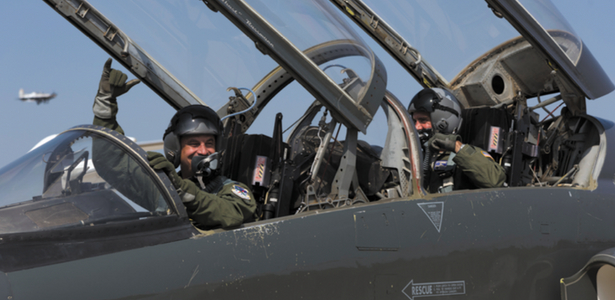 at Laughlin Air Force Base
Laughlin Air Force Base lies 8 miles east of Del Rio, Texas, the county seat of Val Verde County. The base is just a heartbeat from the international Amistad Reservoir, shared with Mexico, and the Amistad National Recreation Area. Del Rio ("of the river") connects with its neighbor, Ciudad Acuna in Coahuila, Mexico, by two border crossings: the Del Rio-Ciudad Acuna International Bridge and the Lake Amistad Dam International Crossing.
Laughlin AFB is the Air Force's largest pilot training base and has one of the Air Force's busiest airfields. It is home to the 47th Flying Training Wing, which graduates military pilots, deploys mission-ready warriors, and develops professional and confident leaders.
Population
Laughlin AFB has approximately 1,380 active-duty and reserve military personnel, 1,165 active-duty military dependents and more than 1,000 civilian personnel who live and work on and around the base.
HISTORY
Originally known as Laughlin Army Air Field in March 1943, Laughlin Air Force Base honors Jack T. Laughlin, the first World War II casualty from Del Rio. Laughlin was a B-17E pilot whose Flying Fortress was shot down and lost at sea off Borneo in January 1942 during a bombing run against Japanese warships and transports. It had been his first mission.
The facility, renamed Laughlin Field in November 1943, later became an Army Air Force auxiliary field. During World War II, its primary mission was to train B-26 bomber pilots and aircrews, but the war's end in September 1945 ended its purpose and it shut down the next month.
Its subsequent use by local ranchers to graze sheep lasted seven years. As tensions built between the Soviet Union and the West, and North Korea invaded South Korea, the military reopened Laughlin AFB on May 1, 1952. In October, the Air Training Command transferred the base to the Crew Training Air Force and activated the 3645th Flying Training Wing (Fighter) to teach bombing and gunnery skills to replacement air combat pilots and crews headed for the Korean War. Initially, planes used were the F-80 Shooting Star, the Air Force's first operational jet fighter; the F-84 Thunderjet fighter bomber, the war's primary strike aircraft; and the T-33 jet fighter. Within a short time crews used only the T-33 because its two-cockpit configuration made it more suitable for training.
In September 1955, Laughlin swapped missions with Williams AFB, Arizona, to undertake single-engine pilot training, still using the T-33 under control of the Flying Training Air Force.
The Air Force transferred jurisdiction of the base to Strategic Air Command in April 1957, and the 4080th Strategic Reconnaissance Wing (Light) moved there from Turner AFB, Georgia. After graduating its last class in March 1957, the Air Training Command inactivated the 3645th Flying Training Wing.
The 4080th Wing provided high-altitude reconnaissance and air sampling for radiation with the highly classified Lockheed U-2A, the "Dragon Lady," and the RB-57D Canberra, though existence of the U-2 and the CIA's monitoring program burst into public awareness when the Soviet Union shot down a U-2 on May 1, 1960, and captured and imprisoned its pilot, Francis Gary Powers.
On June 15, 1960, the 4080th Strategic Reconnaissance Wing was redesignated the 4080th Strategic Wing. Its RB-57 mission was phased out, though the U-2s remained. In fact, U-2s from Laughlin were among the first to photograph Soviet missile installations in Cuba in 1962, triggering the Cuban missile crisis and a U.S. Navy blockade of the island. Photos from 4080th's Maj. Richard S. Heyser's U-2 and that of Maj. Rudolf Anderson Jr. showed the world the Soviet military buildup just 90 miles from the Florida coast. President John F. Kennedy addressed the nation on the danger, the United Nations got involved and the Soviets removed their missiles, though not before one was launched at Anderson's U-2 and killed him. He was the sole known fatality from enemy action during the crisis.
In 1961, the Air Force expanded Laughlin's mission to include an Air Training Command undergraduate pilot training program. Plans called to transfer in about half the students from Laredo AFB, Texas. Air Training Command reactivated the 3645th Pilot Training Wing (later redesignated the 3646th Pilot Training Wing) at Laughlin in October 1961 to prepare for the students and their T-37 Tweet and T-33 Shooting Star trainers. The 4080th Strategic Wing continued at Laughlin as a tenant organization until 1963.
Laughlin's mission has remained the same since 1962: training top-quality military pilots, contributing significantly to the nation's aeronautical progress and national security.
Today, aircraft flown at Laughlin include the T-6A Texan II, a single-engine turboprop; the T-38C Talon, the first supersonic trainer; and the T-1A Jayhawk, a twin-engine jet for advanced pilot training. Fifteen classes of 20 to 25 pilots graduate annually.
Organizations

47TH FLYING TRAINING WING
The 47th Flying Training Wing conducts specialized undergraduate pilot training for the U.S. Air Force, Air Force Reserve, Air National Guard and allied nation's air forces. The wing flies T-6, T-38 and T-1A aircraft. The wing is comprised of a missions support group, a medical group, an operations group and a maintenance directorate.
The 47th Mission Support Group is the focal point for all base support activities, including military and civilian personnel management, administrative services, security and resource protection, disaster preparedness, recreational activities, family and transient housing, and airmen dormitory and dining facilities. Other responsibilities include the upkeep of all base buildings, facilities and infrastructures, environment protection, energy conservation and base communications.
The 47th Medical Group provides health care services to Laughlin AFB's military personnel and DOD beneficiaries.
The 47th Operations Group is responsible for training U.S. Air Force and allied nations pilots under the specialized undergraduate pilot training program. The group provides management, control, and standardization and evaluations of all aspects of flying training operations, aircraft maintenance and airfield management at Laughlin AFB.
The maintenance directorate is responsible for furnishing quality aircraft, support and services to its customers. The directorate's seven divisions provide organizational functions as well as intermediate-level aircraft maintenance.
Arrival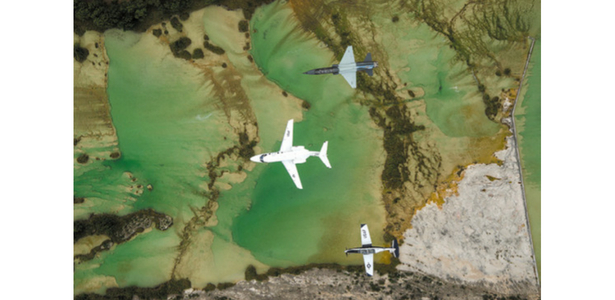 See the Getting To & Around San Antonio and South Texas chapter on Page 52 for information about local airports, train service and public transportation. The closest commercial flights land at San Antonio International Airport, about 156 miles from the base. Transportation is not provided to the base.
SPONSORSHIP
Contact your sponsor with your estimated arrival time and flight information if applicable before your arrival at Laughlin AFB.
Sponsorship is vital to the relocation process. Don't PCS without talking to your sponsor before departing for Laughlin AFB. Your sponsor will answer any questions you have about the base and the local area, make lodging or dorm arrangements and meet you upon arrival. Your sponsor will be there to help you and your family until you are settled into your new community.
If you have not been in touch with a sponsor and your departure is nearing, contact your gaining unit or call the Airman & Family Readiness Center at 830-298-5620.
DRIVING DIRECTIONS
Cellphone use by the driver of a moving motor vehicle is prohibited on all Department of Defense installations, unless the cellphone is used with a hands-free device.
Bus Service from San Antonio
Bus service is available from San Antonio (downtown bus station) to the Del Rio bus terminal. Travel time is about three and a half hours. Call Greyhound at 210-270-5868 or Kerrville Bus Co. at 800-256-2757 for schedules and costs, or coordinate travel arrangements with your sponsor.
Driving from Central Texas
For the route through central Texas, take U.S. Highway 277 southwest from San Angelo to Del Rio, then U.S. Highway 90 east to the base. Laughlin is 8 miles east of Del Rio. The front gate on U.S. 90 is open 24/7.
Driving from the West
The best route from the west is Interstate 10 east through El Paso to Van Horn, then drop southeast on U.S. Highway 90 from Van Horn to Laughlin AFB. The front gate on U.S. 90 is open 24/7.
From San Antonio International Airport
Laughlin AFB is 156 miles west of San Antonio via U.S. Highway 90. The front gate on U.S. 90 is open 24/7.
CHECK-IN PROCEDURES
Military Personnel Section
Building 246, 427 Liberty Drive........................................830-298-5276
www.laughlinservices.com/support/military-personnel
When you arrive at the base, you must inprocess with Military Personnel Section customer service office. Bring all personnel, medical and financial records with you. When you inprocess with the Military Personnel Section, you will be given an appointment to attend the Newcomers Orientation. If you arrive during nonduty hours, on a weekend or holiday and need assistance, go to the 24-hour arrival point at Laughlin Manor in Building 454.
Specialized Undergraduate Pilot Training or Awaiting Pilot Training students, as well as reserve, Guard and foreign exchange student pilots must take their inprocessing documents to the transition office before inprocessing at the Military Personnel Section. This is to ensure student inprocessing has been completed before Laughlin inprocessing. The transition office is in Building 320, Room A133. Call 830-298-5211 for more information.
Newcomers Orientation
The Newcomers Orientation ensures new personnel and their spouses obtain personal assistance through welcome and relocation services. The orientation provides inprocessing briefings and information about the base and community. The event is mandatory for military members; spouses and new civilian employees are also encouraged to attend.
TEMPORARY LODGING
Laughlin Manor
Building 454, Fourth Street and Arnold Boulevard...............830-298-5741
http://af.dodlodging.net/propertys/Laughlin-AFB
Laughlin Manor provides safe, comfortable and clean accommodations for incoming personnel and their families who are being assigned to Laughlin AFB. Amenities include cable TV, coffee makers, microwaves and refrigerators. Pet-friendly units are available. For current rates and booking information, visit the DOD lodging website.
Getting Settled

HEALTH CARE
47th Medical Group
Building 375, 590 Mitchell Blvd.
Appointments...........................................830-298-6333
Pharmacy................................830-298-6451/6453/6234
www.airforcemedicine.af.mil/MTF/Laughlin
The 47th Medical Group provides medical, dental and aeromedical services in support of Laughlin's specialized undergraduate pilot training mission and ensures medical readiness for wartime and other worldwide contingencies. The group is also responsible for the health care of more than 3,300 DOD beneficiaries. To that end, the group provides a wealth of medical services that include aerospace physiology, family health, flight medicine, immunizations, lab testing, mental health care, optometry, pediatrics and radiology.
Dental care services are dedicated to the oral care of military service members. Family members of active-duty personnel are encouraged to use the TRICARE Dental Program. Program information is available by visiting www.tricare.mil/CoveredServices/Dental/TDP.
TRICARE
TRICARE is the health care program for active-duty and retired service members, their families and survivors. TRICARE provides health plans, prescriptions, dental plans and other special health programs to its beneficiaries. TRICARE's mission is to enhance the Department of Defense and the nation's security by providing health support for the full range of military operations and sustaining the health of all those entrusted to their care.
TRICARE offers a range of health care plans. TRICARE Prime is the mandatory health care option for active-duty service members. Family members of active-duty service members, retired service members and their families may also use this option. If you use TRICARE Prime, you are assigned a primary care manager at a military or network provider who delivers most of your care. If you need care your PCM cannot provide, you are referred to a specialist. Active-duty service members and their families pay nothing out of pocket for this option; however, there is less freedom to choose your provider. On Jan. 1, 2018, TRICARE Standard and Extra were combined into a new plan, TRICARE Select. Select is a standardized fee-for-service plan available to family members of active-duty service members, retired service members and their families. After you enroll in TRICARE Select, you may schedule an appointment with any TRICARE-authorized provider. Referrals are not required, but you may need prior authorization from your regional contractor for some services. You will pay a copay or cost share based on the type of care and provider you see. Costs for Select vary, but you will pay an annual deductible as well as a percentage of covered services. Non-network providers may charge up to 15 percent more than the TRICARE allowable charge; you are responsible for these extra charges. TRICARE also offers plans for remote and overseas locations, reserve military members, young adults who are no longer covered under regular TRICARE coverage and other scenarios.
TRICARE coverage is completely portable, so it moves with you when you relocate. Follow these simple steps to ensure you have no break in coverage when you move:
Do not cancel your TRICARE Prime enrollment option before you move.
Update your personal information in DEERS immediately when you arrive at your new location.
Select a new primary care manager.
If you are already using TRICARE Select, moving is easy. When you arrive at your new location, update your personal information in DEERS. Then find TRICARE-authorized providers in your new area. Remember, you may have a new regional contractor and claims filing address.
TRICARE's online tools can help you find and compare plans that you are qualified to use. Beginning in 2019, however, TRICARE will allow you to switch between plans only if you have a "qualifying life event" such as the birth of a baby or a move. For a complete description of the types of coverage programs and regions, visit www.tricare.mil. For more information about recent changes to TRICARE, visit https://tricare.mil/changes.
HOUSING
Housing Management Office
8550 Edwards St.............................830-298-5732/5733
www.housing.af.mil/Units/Laughlin
The Laughlin AFB Housing Management Office is ready to help you transition to your new home and community. Use its resources to become familiar with available housing options and support services. When you arrive at Laughlin AFB, visit the office for valuable information, counseling and guidance before signing any lease or sales contract for housing.
Unaccompanied Housing
419 Fourth St.........................................830-298-5213
www.housing.af.mil/Units/Laughlin
Unaccompanied housing is provided for unaccompanied airmen in the ranks of E-1 to E-3 and E-4 with less than three years of service. Each airman is provided with a private sleeping room, furnishings, bed linens and supplies required for comfortable living. Room arrangements may vary depending on location. Unaccompanied airmen in the rank of E-4 with more than three years of service will move into housing in the local community.
Permanent-party unaccompanied housing consists of 1+1 room configurations. Rooms are furnished with a queen-sized bed, desk with chair, five-drawer chest, end table, refrigerator and microwave. Dorm amenities include dayrooms, game or theater rooms, laundry rooms and more.
Laughlin Family Housing
8550 Edwards St....................................830-298-1701
Hunt Companies owns the family housing and maintains, repairs and manages the Laughlin AFB family housing community. Military personnel can opt to live in privatized housing by signing a tenant lease with Hunt, though they may also rent or purchase housing in the local community. There are no application or deposit fees and an on-site maintenance team is available around the clock to resolve problems.
The Hunt Military Community is comparable to housing off base but offers many amenities and support services, such as community events that provide residents of all ages with free, fun and educational events and activities. Community features include clubhouses, playgrounds, a soccer field, tennis courts, picnic areas, a self-help facility, and miles of walking and jogging paths
Those who choose to live in the community will sign a tenant lease agreement, typically for a one-year term, that includes a military clause and a lease termination clause. You pay your monthly rent by authorizing an allotment of your BAH to pay the housing office. If you move before the allotment start date, you will pay a prorated amount directly to the office. The tenant lease agreement will spell out the rent payment terms and conditions.
MAIL
Official Mail Center
Building 257, 477 Fourth St...................830-298-4310
The official mail center on base provides mail services to base agencies, processes administrative communication for on-base distribution and off-base transmission, and delivers personal mail to enlisted dorm residents.
If you plan to live in the dormitory permanently, ask your sponsor about requesting a mailbox in advance or use the general delivery address:
Your name and rank
General Delivery
Mail Room
Laughlin AFB, TX 78843
Postal drop boxes are situated throughout Laughlin AFB for mail with prepaid shipping. If you need shipping labels or certified or insured mail services, visit the local post office. To find the post office nearest you, visit www.usps.com.
RELIGIOUS GUIDANCE
Base Chapel
583 Fifth St......................................830-298-5111
The U.S. Air Force Chaplain Corps is dedicated to preserving your right to worship. Chapel staff and faith community leaders work hard to provide a comprehensive spiritual and religious program for the base community. If you are seeking spiritual support for any denomination or faith group, they will do their best to assist you.
Chaplains offer various types of counseling and seminars covering premarital, marital, religious, stress, grief and loss issues. All counseling sessions are covered by privileged communication.
VEHICLE REGISTRATION
Vehicles must be registered at the Security Forces pass and ID section in Building 139, 355 Colorado Drive. You will need your state vehicle registration, driver's license, proof of insurance and a government ID card.
Texas state traffic laws apply on base; see the Getting To & Around San Antonio and South Texas chapter on Page 52 for more information. All vehicles entering or leaving base are subject to search.
Serving You

DINING
Cactus Lanes Bowling Center
Building 357, Fifth Street...............................830-298-5526
Club XL
Building 472, Seventh Street.........................830-298-5139
The Fit Bar (Fitness Center)
Building 362, Mitchell Boulevard
..................................................................830-298-4640
Silver Wings
Building 308, Barnes Street...........................830-298-5661
Stripes
Building 253, Fourth Street...........................830-298-5295
For hours of operation, menus and special event information, visit www.laughlinservices.com/food.
EDUCATION
Education and Training
Building 246, 427 Liberty Drive......................830-298-5520
www.laughlinservices.com/force-development/education-and-training
Education and Training provides educational opportunities and counseling services to members of the Laughlin AFB community. The office has information and resources for military tuition assistance, CLEP and DSST exams, the Community College of the Air Force, professional military education, enlisted commissioning programs and more. On-base college programs include Embry-Riddle University ( http://erau.edu ) and Park University ( www.park.edu ).
FAMILY SUPPORT
Airman & Family Readiness Center
Building 362, Mitchell Boulevard
................................................................830-298-5620
www.laughlinservices.com/family/airmen-and-family-readiness-center
The Airman & Family Readiness Center is a one-stop information and referral center and the cornerstone of the Laughlin family support system that helps airmen and their families improve their readiness and quality of life.
Programs and services include information and referral resources, personal and work life resources, mobilization and deployment readiness, employment and career support, economic readiness and support, disaster response, Air Force Wounded Warrior resources and the school liaison office.
The center serves active-duty military, Guard and reserve members, retired military, civilian employees and their family members. All services are free.
Child Development Center
Building 476, Lee Street............................830-298-5419
www.laughlinservices.com/family/airmen-and-family-readiness-center/child-development-center
The Child Development Center offers quality care for children 6 weeks to 5 years old. Programs include full-time weekly care, hourly care and a part-day enrichment program for children 3 to 5 years of age. The center provides a safe, nurturing environment that promotes the social, cognitive, language and physical development of youngsters. The center is accredited by the National Association for the Education of Young Children.
Exceptional Family Member Program
Building 375, 590 Mitchell Blvd.
..............................................................830-298-6571
The EFMP program helps eligible military families who have exceptional medical or educational needs to obtain the services they require and makes sure those services can continue if the families are reassigned. The goals are to increase family self-sufficiency and improve each family's ability to advocate for itself. The program provides information and referral services and is mandatory for those eligible for enrollment.
Family Child Care
.....................................................830-298-5031/5419
www.laughlinservices.com/family/family-child-care
Family Child Care in individual homes provides an alternative to Child Development Center care for families that need evening or weekend care; care during swing and midnight shifts; or care for children with special needs, infants or school-age children.
The program is an opportunity for spouses to contribute to the family income while caring for their own children as well.
Family Child Care providers are well-trained, certified and undergo a thorough background check. Their homes are inspected for fire safety, health, safety and other requirements.
School Liaison Office
Building 362, Mitchell Boulevard
............................................................830-298-5620
www.laughlinservices.com/family/airmen-and-family-readiness-center
The school liaison office links Laughlin AFB families with public and private schools. Parental deployments, frequent moves, returns, departures and uncertainties place unusual stresses on the military child, and the school liaison office provides support during all stages of transition to ensure that children receive every opportunity for quality education.
Youth Center
Building 390, 652 Mitchell Blvd.
...........................................................830-298-5343
www.laughlinservices.com/family/youth-center
Youth Programs provide activities for school-age youth. The youth center offers a wide range of educationally enhanced programs, classes and events, providing a safe and fun environment supervised by caring and well-trained staff. Programs include school-age care, a youth sponsorship program for incoming youth, summer camps, sports tournaments, and social events like dances and movie nights.
FINANCIAL SERVICES
Border Federal Credit Union
Building 341, 583 Liberty Drive..............830-774-2328
LEGAL SERVICES
Legal Office
Building 338, 561 Liberty Drive
......................................................830-298-5172
Legal assistance is available for a range of civil legal issues such as family law, consumer or financial matters, wills and estates, powers of attorney and immigration. Visit the Air Force Legal Assistance website at https://aflegalassistance.law.af.mil to review basic information on legal assistance topics that commonly affect military members and to fill out online legal worksheets prior to a visit to the legal office for expedited service.
LIBRARY
Building 223, 201 Mitchell Blvd.
.....................................................830-298-5119
www.laughlinservices.com/force-development/library
The library is a peaceful place on base where you can escape to read, research or meditate. Its collection consists of internet-connected computers; Wi-Fi access; adult, young adult and children's books; DVDs; CDs; audiobooks; downloadable e-books, e-audiobooks and digital magazines; periodicals and newspapers; and research databases. Interlibrary loan is also available. Library programs include story time for babies and children, game nights, reading programs and more. Visit the website for information on upcoming events.
RECREATION
For detailed information about the recreational programs at Laughlin AFB, visit the 47th Force Support Squadron online at www.laughlinservices.com.
Auto Craft Center
Building 525, Arnold Boulevard
...................................................830-298-5844
www.laughlinservices.com/fun/auto-craft-center
The Auto Craft Center has all the tools you need for do-it-yourself auto maintenance. If you'd rather leave it to the pros, the center's mechanics can help with tire balancing and mounting, transmission flushes, oil changes and brake inspections. If you want to sell your car on base, the center has information on the used car resale lot. A car wash can be found behind the center, as well.
Bowling Center
Building 357, Fifth Street.................830-298-5526
www.laughlinservices.com/fun/cactus-lanes-bowling-center
Strike up family fun at the Cactus Lanes Bowling Center. The center offers breakfast, lunch and dinner menus as well as bowling leagues and specials all year.
Community Commons
Building 362, Mitchell Boulevard
....................................................830-298-5562
www.laughlinservices.com/fun/community-programs
The Community Commons is home to the ITT office, Junior Flyer's Club and community center. Children age 5 and younger can enjoy play fixtures and interactive games at the Junior Flyer's Club. The community center hosts fun events and has board games, game consoles and video games, and other electronics that you can check out for free.
Fitness Center
Building 362, Mitchell Boulevard
...................................................830-298-5251
www.laughlinservices.com/fun/fitness-center
The Losano Fitness Center features cardio and weight lifting equipment, aerobics classes, saunas, a family fitness room and an indoor pool. There are also basketball and racquetball courts, sports fields, indoor and outdoor running tracks, and sports equipment rentals. Base personnel can sign up for 24-hour access at the center.
Frame Shop
Building 540, Liberty Avenue...........830-298-5153
www.laughlinservices.com/fun/frame-shop
The frame shop can provide expertise, frames, mats, prints and posters, and arts and crafts resources as well as classes, engraving, self-help framing, gifts and awards.
Golf Course
Building 494, Arnold Boulevard..........830-298-5451
www.laughlinservices.com/fun/golf-course
The nine-hole Leaning Pine Golf Course has two sets of tees, a driving range, a putting green, a locker room, golf carts, pull carts, beverages, snacks and a pro shop for all your golfing needs.
Tee times for weekends and holidays can be reserved on Wednesday for active-duty military and on Thursday for others. All other play is first come, first served during the week. Visit the course's website for information on tournaments and golf specials.
Horse Stables and Saddle Club
Off Kelly Drive, across from Stillman Park
..................................................830-298-5830
www.laughlinservices.com/fun/base-stables
The Laughlin Saddle Club and horse stables offer boarding for privately owned horses of active-duty military members, retirees and DOD civilians. The facilities are for English, Western, jumping and Gymkhana and have stalls, tack and feed rooms, an outdoor arena, a round pen, a quarantine area and parking for horse trailers. Visit the stables website for more information on fees and requirements.
Information, Tickets & Travel
Building 362, Mitchell Boulevard
.................................................830-298-5562
www.laughlinservices.com/fun/community-programs
ITT offers discounted tickets for admission to local sporting events, shows and attractions like SeaWorld and Six Flags Fiesta Texas. The office also has discounted tickets for popular national attractions like Disney and Universal Studios.
Outdoor Recreation
Building 540, Liberty Drive............830-298-5830
www.laughlinservices.com/fun/outdoor-recreation
Outdoor Recreation's multitude of services and adventures includes local area trips, bike tire treatment, a bouldering wall, a disc golf course, a trap and skeet range, horse stables, a boat and trailer storage lot, FamCamp, water recreation courses and UPS shipping. The center also rents equipment for camping, sports and parties, as well as inflatables, holiday costumes and trailers. Visit the website for downloadable brochures on what's available and about hunting on base.
Southwinds Marina
1522 Marina Access Road
Del Rio, TX 78840.......................830-775-7800
www.laughlinservices.com/fun/marina
Southwinds Marina on Lake Amistad, about
30 miles northwest of the base, offers water activities and trips and rents marine equipment from tubes to ski boats. Lodging is available and includes tent sites, RV trailers and campsites, and cabins.
SHOPPING
Commissary
Building 352, 574 Fifth St...............830-298-5822
Save your hard-earned dollars when shopping for groceries at the commissary.
Exchange
The Laughlin AFB exchange wants to be your first choice for shopping. Its price-match program guarantees you the lowest prices in town. Hours of operation for services outside the main exchange vary, so call or visit the website for detailed information.
Main Exchange
Building 540, Arnold Boulevard
....................................................830-298-2111
Food Court
Subway..........................................830-298-2111
Services
Barbershop.....................................830-298-0870
Beauty Salon..................................830-298-0390
Military Clothing..............................830-298-2111
Other Facilities
Express with Service Station, Building 115
.....................................................830-298-3867