Holly Ridge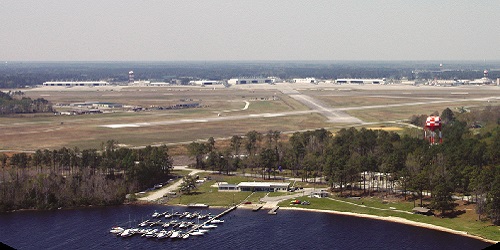 Holly Ridge, on U.S. Highway 17, is the last town you pass through before leaving Onslow County. When the town was incorporated in 1941, the population was a scant 28. Today, the population is about 1,180.
During the 1940s, thousands of Army and Navy troops lived at Camp Davis, a military base on U.S. Highway 17. Nearby on Topsail Island, missile testing was conducted, and Holly Ridge was considered as a possible site for the U.S. space program. In the end, however, the missile project that evolved into the space program moved south
to Florida.
Holly Ridge holds numerous events throughout the year, such as "Art in the Park," which features music, vendors and food, with a movie showing at sunset. For information on other community events, including an annual Easter egg hunt and Fourth of July fireworks in the park, visit Holly Ridge's website at www.townofhollyridge.net.
Jacksonville and Onslow County
Situated along the New River next to Camp Lejeune is the city of
Jacksonville in Onslow County. Settled during the early 1700s, Onslow County has a rich and diverse history stemming from the agricultural, timber and fishing pursuits begun by the English and Scottish natives who settled here.
Since 1941, Onslow County has been home to Camp Lejeune Marines and Sailors, many of whom relocate here following retirement or discharge.
Onslow County offers a wide range of services for service members and their families, including a public school system with 21 elementary schools, eight middle schools and eight high schools; Coastal Carolina Community College, which offers programs in general studies, fine arts, natural sciences and technical skills; a public library system with branches throughout the county; a commercial airport served by two major carriers; and a 150-bed hospital in Jacksonville.
Jacksonville is the business, retail, medical, banking and cultural center for Onslow County. Marines, Sailors and their families use a wide variety of services provided by the city and join in many community events held there throughout the year.
A visible link between Jacksonville and Camp Lejeune is the United Services Organization located near the downtown area along the Jacksonville Waterfront Park. The Jacksonville USO, founded in 1941, is the oldest continuously operating USO.
Another symbol of this bond is the Beirut Memorial, located off Lejeune Boulevard near Camp Johnson. The Beirut Memorial project was started by a Jacksonville citizens committee to honor the 271 Marines, Sailors and Soldiers killed during the Oct. 23, 1983, bombing of the Marines Barracks in Beirut, Lebanon.
Dedicated on the third anniversary of the bombing, this memorial serves as the community's tribute to those whose lives were taken in Beirut and showcases the close bond shared by Marines and the community here.
For families resettling here, Onslow County offers diversity in landscape, people and culture. Part Southern and part cosmopolitan, Onslow County has grown and developed with Camp Lejeune. The area welcomes newly arriving Marines, Sailors and their families.
Swansboro
Located on the White Oak River to the northeast of Jacksonville is the quaint town of Swansboro. The restored waterfront area is complete with antique shops, arts and crafts stores, and fine seafood restaurants. Swansboro was settled more than 200 years ago as a shipping port, and many of the original buildings still stand today. The waterfront area comes alive every second Saturday in October with the sights and sounds of the annual Mullet Festival. In addition to the harbor-front cookout, there are games, local artist exhibits and the stunning Swansboro Mullet Festival Parade.
Richlands
To the northwest of Jacksonville is the farming community of Richlands. Known as the "Town of Perfect Water," Richlands boasts fertile soil that grows tobacco, corn and cotton. Every September, on the Saturday following Labor Day, the townspeople celebrate Richland Farmer's Day, beginning with a 9 a.m. parade and ending with a spectacular fireworks display. Another annual famous tradition is the Richlands Street Fair & Car Show in October. Live music, a car and tractor show, craft vendors, children's activities and more draws people from all across North Carolina.
Sneads Ferry
At Camp Lejeune's back door, on the New River, is the two-centuries-old fishing community of Sneads Ferry. Each August, the community celebrates its fishing heritage with the Shrimp Festival.
Sneads Ferry is famous for its wonderful seafood restaurants. The hardiness of the commercial fishermen can be seen at Fulcher's Landing, where commercial fishermen bring in their catch. Sneads Ferry also boasts one of the finest golf courses in the area.
Topsail Island
To the south of the base is the oceanfront community of Topsail Beach. Deriving its name from Colonial days when merchant vessels watched for the tops of the sails of pirate ships lurking behind sand dunes, North Topsail Beach offers beachfront living for those desiring sand, sun and surf.
Numerous condominiums and duplexes have sprung up through recent years along the miles of oceanfront, offering serene living conditions for Marines and families living there. In addition to the white sand beaches, the Topsail area offers other recreational pursuits including some of the best ocean fishing available anywhere. Sport fishermen can choose surf, pier or chartered boats to wet their lines.
Local Resources and Services
Banks
There are several full-service banks in
Jacksonville, including:
Bank of America
Onslow Drive..................... 910-355-4238
First Citizens Bank
Western Boulevard............. 910-346-7300
Marine Federal Credit Union
Western Boulevard............. 910-577-7333
Navy Federal Credit Union
Western Boulevard............. 910-346-5399
Wachovia Bank
Henderson Drive................ 910-346-5010
The Onslow County Library
The Onslow County Library is on Doris Avenue East and is open 9 a.m. to 9 p.m. Monday through Thursday; 9 a.m. to 6 p.m.
Friday and Saturday; and 1 to 5 p.m. Sunday. For information, call 910-455-7350.
Daily Newspapers
The Daily News, located on Bell Fork Road, is published mornings, seven days a week. Home delivery is available. Call 910-577-7323.
The Wilmington Star-News is published each morning, including Sunday. For home delivery, call 800-222-2385 and ask for the circulation department.
The News and Observer can be reached at 800-522-4205.
Driver's Licenses
North Carolina driver's licenses may be obtained at the Department of Motor Vehicles office on U.S. Route 17 South. The office is open 8 a.m. to 4:30 p.m. weekdays. For information, call 910-347-3613.
Garbage and Trash Pickup
Within Jacksonville city limits, garbage, recycling and yard waste is collect weekly. Call the sanitation division for pickup schedules at 910-938-5338.
Hammock's Beach State Park
Approximately 12 miles northeast of Camp Lejeune, between Jacksonville and Swansboro, sits Hammock's Beach State Park, nestled along the Atlantic Ocean on Bear Island.
Recently identified as one of the top beaches nationwide by a research group, Hammock's Beach looks the same as it has for hundreds of years. Lack of commercial development has helped the state park maintain its pristine setting. Access is available only by ferry, which keeps regular hours during the spring and summer months.
Hospital Facilities
The Onslow Memorial Hospital is on Western Boulevard across from Jacksonville Mall. Visiting hours are 11 a.m. to
8 p.m. seven days a week. For information, call 910-577-2345.
Jacksonville City Hall
The city hall is located at 815 New Bridge St. Call 910-938-5200.
Jacksonville/Onslow County
Fire Departments
The Jacksonville Fire Department has five fire stations. Onslow County has 20 volunteer fire departments and several community emergency response teams. To report a fire anywhere in Onslow County, call 911. For information, call 910-455-8080.
Jacksonville-Onslow
Chamber of Commerce
Founded during 1944 on the philosophy of providing service to both people and businesses in the community, the Jacksonville-Onslow Chamber of Commerce has grown and adapted with the city.
The chamber's vision is to be recognized as a model in building collaborative partnerships that encourage business growth and sustainable community development. The chamber's mission is to be the voice of business in collaborative partnerships that work to build and enhance a healthy business climate and vibrant quality of life. For more information, visit www.jacksonvilleonline.org or call 910-347-3141.
License Plates
North Carolina vehicle license plates and titles are available from the DMV's office, at 901 Hargett St. It is open 9 a.m. to 5 p.m. Monday through Friday. Call 910-347-1000 for more information. It is important to note that the office services a large number of patrons from all across Onslow County. Military pay days and the last week of each month are the busiest, and people can avoid long lines by avoiding these times.
Onslow County Museum
Located at 301 S. Wilmington St. in nearby Richlands, the Onslow County Museum offers varying exhibits. The museum's outdoor classroom, the Richard Tellekamp Fossil Find, lets visitors fossil hunt and learn about the creatures that once inhabited the Coastal Plain. Exhibits can be viewed 10 a.m. to 4:30 p.m. Tuesday through Friday and 10 a.m. to 4 p.m. Saturday. Admission is $2 for adults and $1 for children, students and seniors.
Onslow County Sheriff's Department
The sheriff's office is at 717 Court St. Its emergency number is 911. Call the administration office at 910-455-3113 for more information.
Progress Energy Carolinas
Arrangements for electric service can be made by calling 800-452-2777. A minor deposit may be needed.
Social Services
The Onslow County Social Services Office, at 1915 Onslow Drive, is open 8 a.m. to 5 p.m. Monday through Friday. For information, call 910-455-4145. For details concerning Medicaid, aid for child care and other aid programs, call or visit www.onslowcountync.gov/DSS.
State Highway Patrol and Jacksonville Police Department
The North Carolina State Highway Patrol main office number is 919-733-7952. The Jacksonville Police Department's headquarters are at 206 Marine Blvd. For emergencies, dial 911. For nonemergency matters, dial 910-455-4000.
USO of North Carolina
The USO of North Carolina, Jacksonville Center, is at 9 Tallman St. Serving the Marines and Sailors of Camp Lejeune and MCAS New River since April 1942, it is the oldest continuously operating USO in the world. It has been devoted to enhancing the quality of life for U.S. armed forces personnel and their families, and creating a cooperative relationship between the military community and the supporting civilian community.
The Jacksonville USO is a recreational facility equipped with regulation-size pool tables, pingpong tables, a TV lounge and a children's area. A full-service snack bar makes the best milkshakes in town to complement great chili cheese fries. There is also large auditorium — perfect to hold unit functions and activities. During the winter holiday months, particularly Thanksgiving and Christmas, the USO serves a free holiday feast. Their outreach programs range from a free food pantry to deployment care packages and rack packs for returning warriors.
The center hours are 10:30 a.m. to 8 p.m. Monday through Friday, 10 a.m. to 9 p.m.
Saturday and 11 a.m. to 5 p.m. Sunday.
In 2004, the USO of North Carolina opened its first satellite center at the Raleigh-Durham International Airport. Located on the third floor of Terminal 2, the center offers Southern hospitality with overstuffed recliners to relax in while watching the large-screen TV, a children's area, a cybercafe with free Wi-Fi and a kitchenette with free snacks and beverages. The center is open 24/7.