Getting To & Around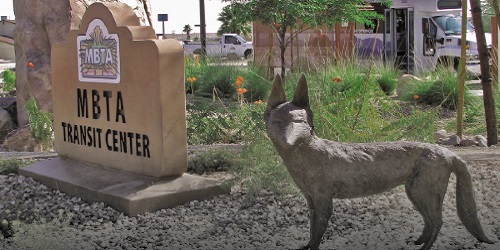 San Bernardino County is easily connected to other parts of California and the rest of the United States via the several interstate highways that traverse the area. Most people travelling around San Bernardino County choose to drive, enjoying scenic desert views of prehistoric-looking flora and fauna, framed by the distant mountains. For those flying in, there are two major airports in proximity of San Bernardino County, serving the area with both major air carriers and smaller commuter airlines. San Bernardino also has a public transportation system with service to Yucca Valley and Palm Springs.


Airports
LA /Ontario International Airport
2500 Terminal Way
Ontario, CA 91761
(909) 937-2700
www.lawa.org/welcomeont.aspx
LA/Ontario International Airport is located in the Inland Empire, 102 miles from Twentynine Palms and approximately 35 miles east of downtown Los Angeles. It is a medium-hub, full-service airport with commercial jet service to major U.S. cities and through service to many international destinations. Major carries include American Airlines, Delta, Southwest and U.S. Airways.

Palm Springs International Airport
3200 E. Tahquitz Canyon Way
Palm Springs, CA 92262
(760) 323-8299
www.palmspringsca.gov/index.aspx?page=270 Palm Springs International Airport is 52 miles south of Twentynine Palms. Served by a dozen different air carriers, it has connections to Los Angeles and numerous other airports. Major carriers include American Airlines, Delta, United and U.S. Airways. Non-stop service is available to many cities with connecting international service.


Buses
Morongo Basin Transit Authority
62405 Verbana Road
Joshua Tree, CA 92252
(760) 366-2395
www.mbtabus.com
The Morongo Basin Transit Authority (MBTA) operates in 10 communities, serving more than 20,000 riders per month. Service includes routes to Yucca Valley, Twentynine Palms and Palm Springs. Morongo Basin Authority has a stop on the Marine base for added convenience. Hourly service is provided between the base and the community of Twentynine Palms.

Greyhound - San Berardino Station
596 North G St.
San Bernardino, CA 92410
(909) 884-4796
www.greyhound.com
Greyhound provides bus service between several points in California and across the United States. Call for hours of operation and ticketing schedules, or book online.


Driving And Commuting
Residents of San Bernardino generally have an easy commute, and travel via car is the fastest way to get around the area. California has many major interstates, including I-5, I-8, I-15 and I-40; I-15 runs through San Bernardino County, and is a thoroughfare for traffic between southern California and Las Vegas.

Speed limits on most state highways in California are 65 miles per hour, slowing as they enter developed areas. However, some highways allow speeds of 70 or 75 miles per hour. Twolane undivided highways usually have a speed limit of 55 miles per hour.

Cell Phone Laws California law prohibits
all drivers from using handheld wireless telephones while operating a motor vehicle. It is also illegal to write, send or read text-based communication while driving a motor vehicle.

Child Car Seat Inspection Stations
"The right seat. The right size. The right use."

California Highway Patrol
Indio
(760) 772-8911
Needles
(760) 326-2000

California Dept. of Transportation
www.dot.ca.gov

County of San Bernardino Department of Public Works, Transportation Department
825 E. Third St.
San Bernardino, CA 92415
(909) 387-7916
The county's transportation department operates, maintains and improves the county's road system, which includes more than 2,700 miles of roadways. The department strives to improve roadways, while providing for the safe, efficient and convenient movement of residents of San Bernardino. For assistance in your community, as well as information about road closures, visit www.sbcounty.gov/dpw.

San Bernardino County Freeway Service Patrol
www.sanbag.ca.gov/commuter/fsp.html
Freeway Service Patrol (FSP) is a roving team of tow trucks that travel on selected San Bernardino County freeways during peak commute hours to assist motorists with car trouble. FSP helps at no cost in a variety of services, from flat tire change to minor mechanical assistance. FSP tow trucks are also alerted by CHP, call box callers and 911 calls.


California Department of Motor Vehicles
www.dmv.ca.gov
Vehicle Registration
Any vehicle owned by a California resident must be registered within 20 days of entry into California unless a special permit is obtained. Nonresidents whose vehicles are properly registered to them in their home state or jurisdiction may operate their vehicles in California until they are employed in California, claim a homeowner's exemption in the state, rent or lease a residence in California, intend to live or be located in the state on a permanent basis or enroll in an institution of higher learning as a California resident or enroll dependents in school (K-12).

To register a nonresident vehicle you will need:
• An application signed by all registered owners as they appear on the out-of-state registration and/or title
• Out-of-state title
• Registration certificate or renewal notice for the current year
• Vehicle inspection by an authorized DMV employee
• Smog certificate, if applicable
• Weight certificate, if applicable

Registration fees vary, the exact amount will be determined when your application is processed. For an estimate use the online Vehicle Registration Fee Calculator at www.mv.dmv.ca.gov/FeeCalculatorWeb.

Clean Air Decals
DMV-issued Clean Air Vehicle decals, yellow or white, allow the vehicle to be operated by a single occupant in the high occupancy vehicle (HOV) or carpool lanes of California's freeways. For more information on obtaining a Clean Air Vehicle decal, visit www.dmv.ca.gov/vr/decal.htm.

Applying for a Driver License
If you have a license from another country, you will also be required to take a driving test. If you have a license from another state, the driving test can be waived.

To apply for a California driver license you will need to:
• Complete application form DL 44. (An original DL 44 form is required, copies will not be accepted.)
• Give a thumb print and have your picture taken
• Provide your Social Security number
• Provide your birth certificate or residency documents
• Pass a vision exam
• Pass a traffic laws and sign test. (You have three chances to pass the 36-question test.)
• Pay the application fee

Financial Responsibility Requirements
Insurance is required on any vehicle operated or parked on California roadways. You must carry proof of insurance in your vehicle.

Minimum liability insurance requirements for private passenger vehicles is $15,000 for injury/ death to one person, $30,000 for injury/death to more than one person and $5,000 for damage to property (California Insurance Code §11580.1b).

DMV Offices
San Bernardino County
1310 N.Waterman Ave.
San Bernardino, CA 92404
(800) 777-0133
3668 Adobe Road G-J
Twentynine Palms, CA 92277
(800) 777-0133