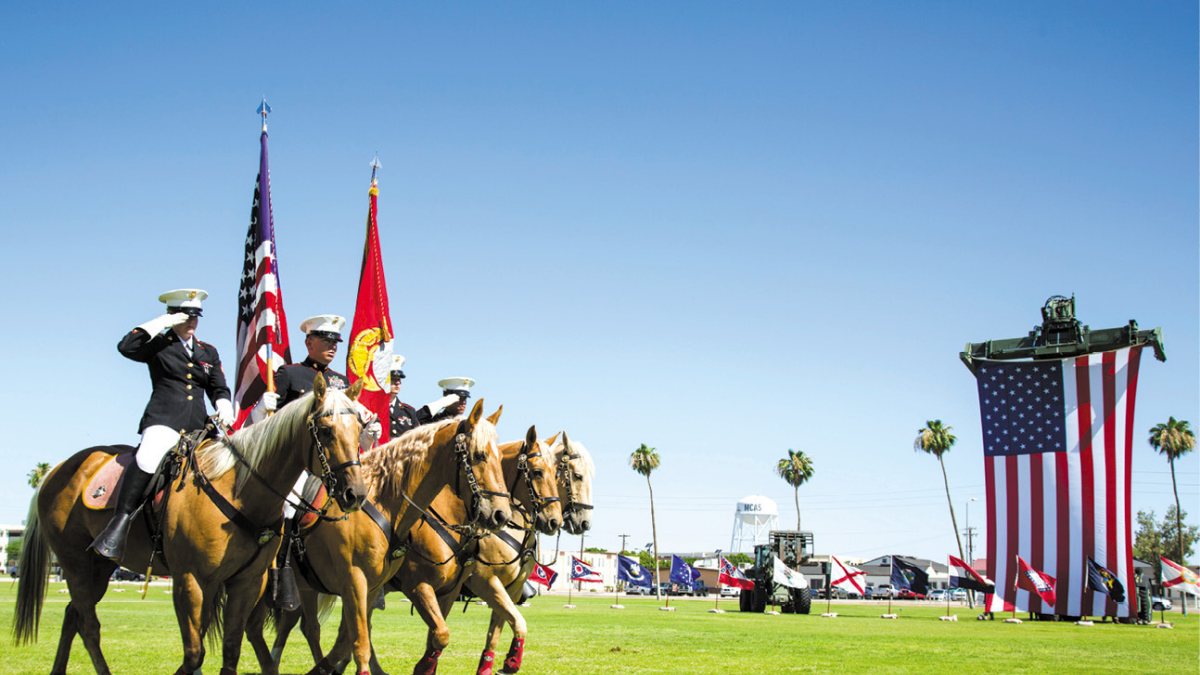 Welcome to Marine Corps Air Station Yuma. You will soon become an integral part of the Marine Corps' premier aviation training base, serving along with approximately 4,000 fellow active-duty Marines and sailors. With access to more than one million acres of bombing and aviation-training ranges and superb flying weather, MCAS Yuma supports 80 percent of the Corps' air-to-ground aviation training. The air station hosts approximately 70 aviation units, bringing an average of 600 aircraft and 14,000 personnel for ongoing training that takes place throughout the year.
The ideal weather and location along the Colorado River make Yuma and the surrounding area an oasis in the southwestern Sonoran Desert. The area offers a variety of recreational opportunities and water sports, as well as seasonal hunting and fishing. Whether you're assigned to the air station or one of the tenant commands, your stay here is sure to be an enjoyable one.
Covering 5 square miles of southeastern Yuma, the air station is home to a number of tenant units, including Marine Aviation Weapons and Tactics Squadron 1 (MAWTS-1), Marine Operational Test and Evaluation Squadron 1 (VMX-1), Marine Aircraft Group 13 (MAG-13), Marine Air Control Squadron 1 (MACS-1), Marine Fighter Training Squadron 401 (VMFT-401), and Combat Logistics Company 16 (CLC-16).
DIRECTIONS
The main gate is on Avenue 3E, which has access to Interstate 8. Maps of the air station and the local area are available at the main gate and in the middle of this guidebook.
REPORTING IN
Upon arrival at MCAS Yuma between 8 a.m. and 3:30 p.m. Monday through Friday, personnel (to include those being assigned to the Light Armored Vehicle Test Directorate based at Yuma Proving Ground) will check in at Station Headquarters in Building 980 or phone 928-269-2864.
Personnel ordered to 3rd Marine Aircraft Wing units based at Yuma who report between 8 a.m. and 3:30 p.m. Monday through Friday will check in at the Marine Aircraft Group 13 Headquarters, Building 505, or phone 928-269-3262.
Marine Aviation Weapons and Tactics Squadron 1 Marines who report between 8 a.m. and 3:30 p.m. Monday through Friday check in at Building 406 or phone 928-269-2058.
Marine Operational Test and Evaluation Squadron 1 Marines who report between 8 a.m. and 3:30 p.m. Monday through Friday check in at Building 157 or phone 928-269-6795.
Those personnel reporting into Marine Fighter Training Squadron 401 who report between 8 a.m. and 3:30 p.m. Monday through Friday check in at Building 146 or phone 928-269-3628.
Navy personnel first check in at Building 980, then go to Navy PSD in Building 1175 (Branch Medical Clinic).
Upon checking in with the appropriate
headquarters, all personnel assigned to MAWTS-1, VMX-1 Headquarters Squadron or 3rd Marine Aircraft Wing units will proceed to the Installation Personnel Administration Center (IPAC), Building 507, during normal working hours.
The Installation Personnel Administration Center is in Building 507 directly off Alward Avenue between O'Neill Street and Aldrich Street.
Reporting After Hours
All personnel checking in after 3:30 p.m. on weekdays and Saturday, Sunday and holidays should report to the MCAS officer of the day at Building 980 or phone 928-269-2252.
TEMPORARY LODGING
Dos Rios Inn
Building 1088, 928-269-2262
Located at Shaw Avenue and Hart Street (by the chapel), the Dos Rios Inn temporary lodging facility has 48 rooms, including 28 kitchenette suites with two queen-size beds and
20 rooms with one king-size bed. A continental breakfast is included.
Check-in/out and reservations are available 24 hours a day. No pets allowed.
Billeting
Single Marines checking in after-hours may seek available transient billeting through the Bachelor Officer Quarters/Billeting Office in Building 1058, regardless of rank, for a nominal fee. Call 928-269-3578.
HOUSING
Family Housing at MCAS Yuma has been privatized and is managed, operated and maintained by Lincoln Military Housing. The Government Housing Office provides housing referral services, accepts housing applications and maintains housing waiting lists. Lincoln Military Housing, 928-344-1240, and the Government Housing Office, 928-269-2826, are co-located in Building 1080, Martini Avenue. There are 693 two-, three- and four-bedroom houses available on the air station designated by various ranks. There are 128 off-station, two-bedroom apartments called 16th Street Housing for ranks E-1 through E-5. To apply, contact the Housing Office at the previously listed number or via email at yuma.housing
@usmc.mil, or visit its page on the MCAS Yuma website.
VEHICLE REGISTRATION
Personnel reporting for duty must register their vehicles with the Pass and Registration Office in Building 952, just inside the main gate, within 30 days after their reporting date.
The driver must present a current and valid state registration, driver's license and proof of liability insurance required under Arizona law. Active-duty Marines ages 25 and under must also show proof of completion of the driver's improvement course. Privately owned vehicles traveling on the air station are subject to spot checks by military police for current state and base registration and safety inspections.
In addition to all vehicle registration requirements, motorcycle operators must pass a motorcycle safety course offered by the air station's safety department prior to the issuance of a decal.
DISTRIBUTION MANAGEMENT OFFICE
The Distribution Management Office, in Building 328W, is responsible for personal property and household goods shipments. Contact the Personal Property Branch at 928-269-2311.
FIREARMS REGISTRATIONS
All firearms and dangerous weapons — including BB guns, pellet guns, blow guns, air-operated weapons, Ka-Bars and hunting knives with blade lengths more than 4 inches, bows and arrows, dart guns and sling shots — must be presented to and registered at the Pass and Registration Office, Building 952, telephone number 928-269-2888, within 24 hours of the first workday after the weapon is brought aboard the station. While pending registration, firearms and dangerous weapons will not be maintained in the bachelor enlisted quarters, Dos Rios Inn or inside a privately owned vehicle. These firearms and weapons will be stored in the unit armory. Firearms and dangerous weapons not properly registered or stored are subject to confiscation by military police.
PET REGISTRATION
All dogs and cats living in base housing must be registered with the Provost Marshal's Office Animal Services Division upon arrival. Your dog or cat will be issued an MCAS identification tag that is to be worn by the pet at all times. Contact PMO Animal Services at 928-269-6303 for more information.
Three breeds of dogs are banned on base: pit bulls, Rottweilers and wolf hybrids. Mixed-breed dogs in which the predominant breed is one of these three are also prohibited on base. If there is a question about which breed is dominant in the dog, owners must, at their own expense, provide official veterinarian confirmation that their dog meets on-base criteria.
In addition, Arizona state law, as well as base regulations, requires the following pet vaccinations and licensure:
Dogs: Dogs must be currently vaccinated for rabies at 4 months. Dogs will then receive a rabies booster in one year. After the one-year booster, dogs must be revaccinated for rabies every three years. All dogs must be licensed with Yuma County Humane Society. Proof of current rabies vaccination must be presented to YCHS to purchase a license tag that the dog will wear at all times.
YCHS is at 285 N. Figueroa Ave. in Yuma. Business hours are 9 a.m. to 5 p.m. Tuesday through Saturday, and the phone number is 928-782-1621.
Additionally, all puppies will receive the DA2PP-CVK vaccine at 8 and 12 weeks of age. At 16 weeks, puppies receive the DA2PP-CVK-LCI vaccine. Thereafter, they get an annual booster. Your veterinarian may advise additional vaccinations to protect your
pet's health.
Cats: All cats are required by base ordinance to be currently vaccinated for rabies at 4 months. Cats will then receive a yearly
rabies booster.
Additionally, cats will receive the FVRCP vaccinations at 8, 12 and 16 weeks old and get an annual booster thereafter. Again, your veterinarian may advise additional vaccinations to protect your pet's health. Cats do not require licensing with Yuma County Humane Society.
Veterinary services are provided on base at Building 591. The station veterinarian comes from Yuma Proving Ground and holds clinic hours by appointment only. You may schedule an appointment by calling the YPG clinic at 928-328-2064.