In Onslow County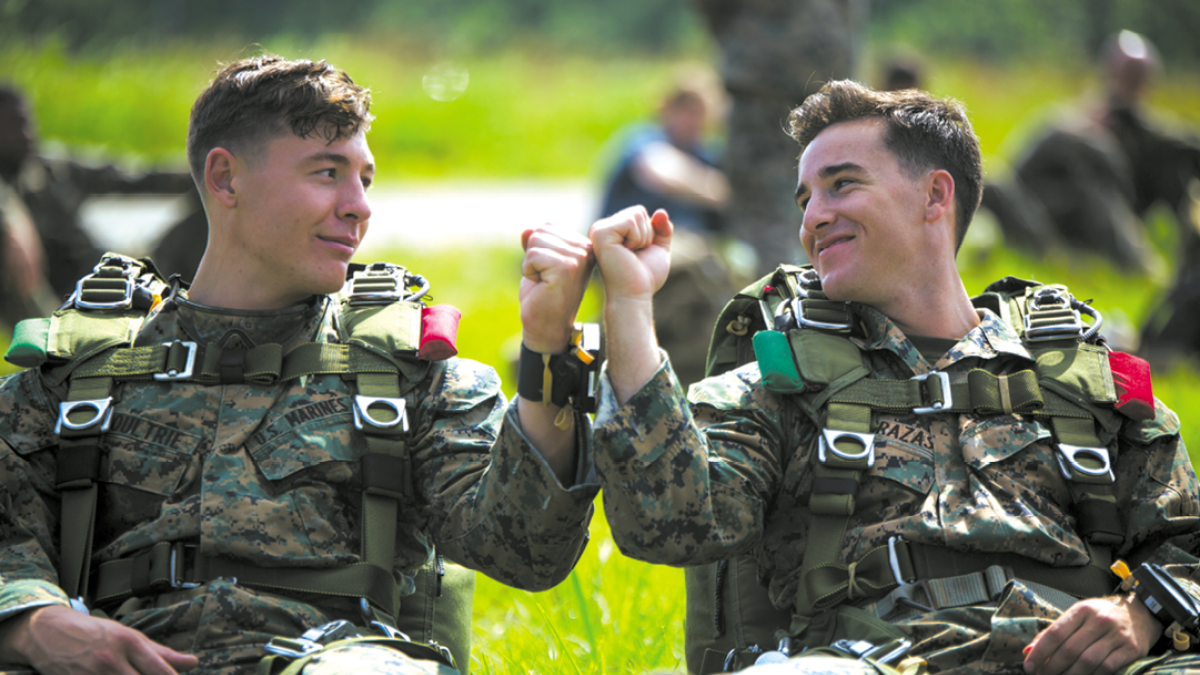 Jacksonville, North Carolina, is the county seat of Onslow County and home to Marine Corps Base Camp Lejeune and Marine Corps Air Station New River. The geographically adjacent installations are centrally bordered by the New River and the Atlantic Ocean. Onslow County is about 500 miles north of Jacksonville, Florida, 600 miles south of New York and almost 2,700 miles from Los Angeles.
The Camp Lejeune complex encompasses 156,000 acres, 11 miles of beach suited to amphibious operations, 27 gun positions, seven mortar positions, 47 tactical landing zones, 21 administrative landing zones, 15 parachute drop zones, 40 splash points, six state-of-the-art training facilities for military operations in urban terrain, two airfield seizure facilities, 10 engineer training areas and 98 live fire ranges, including the Greater Sandy Run Training Area.
The base currently has the largest concentration of Marines and Sailors in the world, and it continues to grow. It has won the Commander-in-Chief's Award for Installation Excellence eight times, most recently in 2017 for its fiscal year 2016 performance. These Department of Defense awards honor the base and its Marines, Sailors and civilians for their extraordinary performance or innovation across all support functions to benefit tenant commands and resident Marines, Sailors, Coast Guardsmen members and their families. The base continues to relentlessly strive for excellence in all areas.
Since September 1941, Camp Lejeune has been the home of "Expeditionary Forces in Readiness," and over the years it has become the home base for the II Marine Expeditionary Force (II MEF), 2nd Marine Division, 2nd Marine Logistics Group and other combat units and support commands.
Several major Marine Corps commands and one Navy command are aboard Camp Lejeune. Tenant commands include Marine Corps Base Camp Lejeune, U.S. Marine Corps Forces Special Operations Command, II Marine Expeditionary Force, 2nd Marine Division, 2nd Marine Logistics Group and the Naval Medical Center, to mention a few. Marine Corps Base owns all the real estate, hosts entry-level and career-level formal schools and provides support and training for tenant commands; II Marine Expeditionary Force conducts operational planning for Fleet Marine Force commands; 2nd Marine Division is the ground combat element of II MEF; 2nd Marine Logistics Group is the combat service support element of II MEF; and 2nd Marine Air Wing, headquartered at Cherry Point, North Carolina, is the air combat element of II MEF. Additionally, the Naval Medical Center provides primary medical care to service members and their families stationed at Camp Lejeune and Marine Corps Air Station New River.
Today as in the past, Camp Lejeune's mission is to maintain combat-ready units for expeditionary deployment.
Economic Impact
The MCIEAST region — including MCB Camp Lejeune and MCAS New River — contributes billions of dollars to state and local economies through the operation and development of its installations. The Marine Corps remains a significant business enterprise and employer throughout the region by employing thousands of personnel across a wide range of sections and funding dozens of military construction projects and defense contracts.
MCB Camp Lejeune's total impact on the local economy in fiscal year 2017 totaled approximately $3.1 billion. At the same time MCAS New River's total economic impact was more than $400 million.
Population
The bases and their surrounding communities have more than 130,000 active-duty personnel, dependents, retirees and civilian employees.
History

MCB CAMP LEJEUNE
Camp Lejeune and Onslow County have come a long way since September 1941, when the 1st Marine Division set up camp in the middle of a sandy pine forest along the Atlantic Seaboard. A tobacco barn, farm house and temporary tent cities have been transformed into what is now a 156,000-acre premier military training facility, and the strengthening bonds among its Marines, Sailors, Coast Guardsmen, family members, military retirees and civilians are helping Onslow County grow at unprecedented rates.
The Camp Lejeune story actually began in 1940. World War II had been raging in Europe for more than a year, and military planners were posturing forces for America's imminent entry. The need for an East Coast amphibious training facility was answered by the Department of the Navy's purchase of an initial 110,000-acre tract of land. Close to ports at Wilmington and Morehead City, the area that is now Camp Lejeune was a logistical gem. When planners added remote pine forests and miles of beach, the value of Camp Lejeune as a home training base for Marines was unbeatable.
On May 1, 1941, Lt. Col. William P.T. Hill was ordered by the 17th commandant, Lt. Gen. (then Maj. Gen.) Thomas Holcomb, to establish and assume command of the base, then known as Marine Barracks New River, North Carolina. His headquarters were set up in an old farm house at the Tent Camp (now Camp Geiger) but in August 1942 were moved to Building 1 at Hadnot Point, where they remain today.
Near the end of 1942, the base was named Marine Barracks Camp Lejeune in honor of the 13th commandant and commanding general of the 2nd Army Division in World War I, Maj. Gen. John A. Lejeune. In 1944, it was renamed Marine Corps Base Camp Lejeune.
This land's value to the Marine Corps has grown throughout the years as men and women have trained here to fight wars in the Pacific Islands, Korea, Vietnam, Kuwait, Afghanistan and Iraq. Camp Lejeune has also proven invaluable for the training and deployment of Marines for such actions as peacekeeping in Lebanon, tactical recovery of aircraft and personnel missions, drug interdiction and a host of noncombatant evacuations. The idea of Special Operations Capable Marine Expeditionary Units was born at Camp Lejeune, and in that spirit of innovation Marines here continue to strive to anticipate and meet future demands of warfare by developing skill sets such as urban and vehicle convoy operations, and improvised explosive devices detection and handling, without neglecting longstanding competencies such as amphibious operations, close air support and naval gunfire. Camp Lejeune's expansive acreage includes vitally important areas, historically and operationally, at Camp Johnson, Camp Geiger, Courthouse Bay, Stone Bay and the Greater Sandy Run Training Area.
A tradition of excellence and innovation begun at the base's inception continues today in training facilities and ranges, other facilities and services, making Camp Lejeune stand out as a superior military base. Its reputation for excellence continues with superb safety programs, environmental conservation and installation restoration efforts, landfill and recycling initiatives, water and wastewater treatment, communications, logistics, law enforcement, emergency services, religious ministries, housing, personal support programs, education and more.
MCAS NEW RIVER
Tucked in amid the tall pines of eastern North Carolina, just minutes away from the white sandy beaches of the Atlantic Coast, Marine Corps Air Station New River has had a tremendous impact on the surrounding community and has played a major role in Marine Corps aviation since its beginning in 1944.
Although 1944 is celebrated as New River's birthday, the Air Station's roots go farther back. During 1941, the federal government purchased land where MCAS New River and the adjacent base are today for approximately $65,000. The next year, Capt. Barnett Robinson, of Marine Glider Squadron 71, surveyed the area around the New River. His investigation concluded the site would be suitable for land and seaplane operations.
The first squadron, Marine Bombing Squadron 612, arrived during 1943. The light bombers, known as the PBJ, resembled the Army's B-25 Mitchell bomber. VMB-612 remained here until being deployed to the Pacific during World War II. Shortly after their departure, the Air Station was commissioned as Peterfield Point, named after a farmer whose tobacco field made up most of the land. The separation from Camp Lejeune in 1944 marked the Air Station's birth.
After the war, Peterfield Point was reverted to caretaker status until being reopened during 1951 as Marine Corps Air Facility Peterfield Point and Camp Lejeune. One year later, it was renamed Marine Corps Air Facility New River, after the river that flows along its eastern border.
The first helicopters arrived in 1954 when Marine Aircraft Group 26 transitioned from Marine Corps Air Station Cherry Point, North Carolina. The move began New River's permanent role in the Marine Air-Ground concept.
During 1968, the Air Station changed its name once again to Marine Corps Air Station (Helicopter) New River. The change marked the Air Station's development from a small training base into a major tactical Marine airfield. The "Helicopter" designation was dropped during 1985.
Today, more than 6,000 Marines and Sailors along with more than 200 civilians operate out of the two Marine Aircraft Groups and support squadrons aboard the 3,616-acre Air Station.
Organizations


MCB CAMP LEJEUNE
II Marine Expeditionary Force
The II Marine Expeditionary Force (II MEF), one of three MEFs in the Marine Corps, is a combined arms force of four elements: command, ground, aviation and logistics. It can carry out offensive combat ashore while sustaining itself without outside help for 60 days.
With more than 50,000 Marines and Sailors, II MEF is representative of the largest and most powerful Marine Air-Ground Task Force. II MEF has four basic components: II MEF Information Group, which has the personnel and equipment needed to plan and execute operations effectively; a ground combat element, the 2nd Marine Division; an aviation combat element, the 2nd Marine Aircraft Wing; and a logistics combat element, the 2nd Marine Logistics Group.
While II MEF is part of the operational force structure of U.S. Marine Corps Forces Command and engages in operations and exercises throughout the command's area, it routinely provides operating forces to support other U.S. unified and NATO commands. II MEF is, in fact, available for and prepared to respond to contingency requirements worldwide.
The MEF can be employed in its entirety or in a Marine Air-Ground Task Force of lesser size, such as a Marine Expeditionary Brigade, a task force built around a regimental landing team and about a third the size of an expeditionary force; or, a Marine Expeditionary Unit, an air-ground task force built around a battalion landing team and about a third the size of a Marine Expeditionary Brigade. The size and composition of any Marine Air-Ground Task Force depends on its mission; for example, a Marine Expeditionary Brigade could be ordered to plan, deploy and utilize equipment stored aboard maritime prepositioning ships.
The routinely deployed, forward-presence Marine Air-Ground Task Forces, the 22nd, 24th and 26th Marine Expeditionary Units, deploy on a rotating basis as a geographic combatant commanders' forces in readiness. A Marine Expeditionary Unit consists of approximately 2,400 Marines and Sailors, can respond rapidly to many different contingencies, and if the situation requires, can act as the forward element of a larger Marine Air-Ground Task Force.
2nd Marine Division
The 2nd Marine Division is a multirole expeditionary ground combat force and the ground combat element of II MEF. The 2nd Marine Division acts a first wave, being the lead amphibious force to land and clearing the way for a following naval expeditionary force before transitioning to sustained land combat operations. The backbone of the division is the individual Marine infantryman, whose basic mission is to locate, close with and destroy the enemy.
The division is made up of more than 15,000 enlisted Marines and Sailors and 1,000 officers who form the 2nd, 6th and 8th Marine regiments (infantry). The division also contains 10th Marine Regiment (artillery), 2nd Tank Battalion, 2nd Reconnaissance Battalion, 2nd Combat Engineer Battalion, Headquarters Battalion, 2nd Assault Amphibian Battalion and 2nd Light Armored Reconnaissance Battalion. This division was born when the 2nd Marine Brigade was activated on July 1, 1936, as part of the Fleet Marine Force. A year later the brigade deployed to Shanghai, China, returning in 1938 to San Diego. On Feb. 1, 1941, the unit was redesignated as the 2nd Marine Division. Its component regiments, the 2nd, 6th, 8th and 10th Marines, brought with them impressive records of service in Veracruz, Mexico, World War I in France and the Caribbean.
In World War II, elements of the division served in Iceland, in Hawaii during the attack on Pearl Harbor and in Samoa. The full division deployed to the Pacific for the Guadalcanal campaign, followed by the bloody assault on Tarawa for which it was awarded a Presidential Unit Citation. The division fought valiantly at Saipan, Tinian and Okinawa, and division units began regular deployments to the Mediterranean as landing forces for the U.S. 6th Fleet. The units also deployed to Korea during the Korean War and the Middle East to evacuate Americans and prevent civil war during times of crisis.
In 1958, elements of the 2nd Marine Division were part of U.S. intervention in the Lebanon crisis. Units of the division helped reinforce Guantanamo Bay during the Cuban missile crisis in 1962, and landed in the Dominican Republic in 1965 as part of Operation Power Pack. The division made up part of the multinational peacekeeping force in Lebanon from August 1982 until February 1984, tragically losing 241 Marines and Sailors during the 1983 Beirut barracks bombing. Toward the end of the 1980s, division Marines participated in Operation Just Cause, the invasion of Panama.
The 1990s began with division elements helping evacuate American and allied civilians from war-torn Liberia in Operation Sharp Edge. This was followed by deployments to Saudi Arabia to support Operation Desert Shield and the liberation of Kuwait in Operation Desert Storm. Following the war, elements of the division participated in Operation Provide Comfort.
Elements of the 2nd Marine Division deployed to Kuwait in early 2003 to reinforce the 1st Marine Expeditionary Force. These units formed a Marine Expeditionary Brigade, Task Force Tarawa, which crossed into Iraq on the first day of the ground war with the initial mission of seizing Jalibah Airfield in southern Iraq. The 2nd Marine Division deployed to Camp Fallujah, Iraq, as the II MEF headquarters in January 2005 as part of Operation Iraqi Freedom III to relieve the 1st Marine Division in Al Anbar province. The division deployed for another yearlong tour at Camp Fallujah from 2007 to 2008.
In 2009, elements of the 2nd Marine Division deployed to Iraq or Afghanistan or were embarked onboard amphibious ships. Most of the division deployed to Operation Iraqi Freedom and served with the II MEF (FWD) in Anbar Province, Iraq. The division deployed infantry battalions, artillery battalions as provisional military police battalions, artillery batteries, engineer companies, tank companies and assault amphibian companies.
In 2010, elements of the division deployed to Afghanistan aboard amphibious ships to support three Marine Expeditionary Units, or Theater Security Cooperation events, in Africa and South America. A majority of the combat deployments have been on behalf of Marine Expeditionary Brigade-Afghanistan or 1st Marine Division (FWD) across Helmand province. Additionally, separate battalions were deployed either as a whole unit or as part of task-organized elements to Regional Command Southwest.
Most recently the division continues to deploy Afghanistan, partnering with Afghan National Security Forces (ANSF) and the Afghan government; their goal was to conduct counterinsurgency operations to secure the local population, defeat insurgents and enable the ANSF to take over their own nation's security with an eye to increasing stability, development and self-governance, and to turn the fight over to Afghan control.
The 2nd Marine Division — the "Follow Me" Division — is an integral, vital part of America's force in readiness.
2nd Marine Logistics Group
The 2nd Marine Logistics Group provides tactical logistics support above the organic capabilities of supported elements of the Marine Expeditionary Force (MEF) and provide task organized Logistics Combat Elements in support of MAGTF operations.
2nd MLG conducts general and direct supply support operations and receives, stores, distributes and manages supply material. It also provides the Marine Air-Ground Task Force with health and dental service support.
In addition, the group supports deployed units by transporting their gear by land and by air. It provides engineering support to Marine Expeditionary Forces and intermediate maintenance support for Marine Corps forces, including stocking, storing and accounting for their tactical ordnance, engineering, motors and repairs. The 2nd Marine Logistics Group, made up of more than 8,000 Marines and sailors, includes Combat Logistics Regiment 27, Combat Logistics Regiment 25, Combat Logistics Regiment 2, 8th Engineer Support Battalion, 2nd Medical Battalion and the 2nd Dental Battalion.
U.S. Marine Corps Forces, Special Operations Command
U.S. Marine Corps Forces, Special Operations Command (MARSOC), is the Marine Corps component of U.S. Special Operations Command. As such, it trains, organizes, equips and, when directed by the commander of the Special Operations Command, deploys worldwide to support combat commanders and other agencies.
In October 2005, the secretary of defense ordered the Marine Corps to form a service component of U.S. Special Operations Command and begin providing forces to the commander. Formally established on Feb. 24, 2006, MARSOC is headquartered at Camp Lejeune and is made up of approximately 3,000 Marines, Sailors and civilian employees. MARSOC includes three subordinate commands: the Marine Raider Regiment consisting of three Marine Raider Battalions (1st MRB at Camp Pendleton, California; and 2nd MRB and 3rd MRB at Camp Lejeune), Marine Raider Support Group and Marine Raider Training Center.
A Marine Corps major general commands MARSOC with a support staff compatible with both USSOCOM and Headquarters Marine Corps. MARSOC headquarters identifies Marine Special Operations requirements; develops MARSOC tactics, techniques, procedures and doctrines; and executes assigned missions. Since August 2006, MARSOC has provided Marine Special Operations Teams and Special Operations Companies to support geographic combatant commanders. Missions have included combat in Afghanistan, and training foreign special operations forces in Africa, Asia and the Middle East.
MCIEAST-MCB Camp Lejeune
Marine Corps Installations East-Marine Corps Base Camp Lejeune (MCIEAST-MCB CAMLEJ) provides services, direction and oversight to six U.S. Marine Corps installations and stations on the East Coast. They include Marine Corps Logistics Base Albany, Georgia; Marine Corps Air Station New River, North Carolina; Marine Corps Air Station Cherry Point, North Carolina; Marine Corps Air Station Beaufort, South Carolina; Camp Lejeune; and Marine Corps Support Facility Blount Island, Florida. MCIEAST-MCB CAMLEJ implements policies, develops regional strategies and plans, and prioritizes resources to support operating forces, tenant commands and activities. Operations consist of providing substantial support for training exercises aboard Camp Lejeune, throughout the United States and abroad, and for operations conducted by tenant units worldwide. Additionally, Camp Lejeune annually hosts resident occupational specialty qualifying school training for approximately 36,000 Marines, and occupational specialty or similar enhancement training for another 8,000 Marines, Sailors, Coast Guardsmen members and Department of Defense employees. Enhancement training spans a vast range including computer use, operational risk management, equal opportunity and leadership.
MCAS NEW RIVER
Headquarters and Headquarters Squadron
The nucleus of this community is Headquarters and Headquarters Squadron. H&HS provides the operational and logistical support needed to keep the aircraft flying. From the air traffic controllers in the tower to the cooks working in the dining facility, the headquarters team is a crucial link in the New River chain.
Center For Naval Aviation Technical Training
The mission of CNATT Marine Unit New River is to provide the best possible technical training to enlisted personnel in the operation, and maintenance and repair of aeronautical equipment and systems in response to operating forces' requirements. Additionally, they provide mentorship and professional development of Marines, Sailors and Airmen, preparing them for the challenge of leadership and responsibility. The CNATT Marine Unit New River is composed of a headquarters element, two Maintenance Training Units and a Training Support Branch. The CH-53 MTU and the
V-22 MTU each provide state-of-the-art, computer-based maintenance instruction in conjunction with hands-on aircraft training. In addition to training enlisted technicians, CNATT develops guides and lesson plans, and provides an opportunity for fleet to conduct refresher and specific systems training. The Training Support Branch provides logistics, maintenance, administrative, IT and curriculum development support to each of the MTUs.
MACG-28 Marine Air Control Squadron 2
MACS-2 is a unique element that helps make deployed combat air power possible. From air traffic control to command and control communications, the Marines of MACS-2 are a professional unit ready to go in a moment's notice. They aid in the establishment and operation of expeditionary airfields, making it possible to project air power deep into enemy territory. Their radars can sweep the skies to guide aircraft to targets and bring them back to the airfield from which they departed.
Additional MACG-28 Units
2d LAAD
MASS-1
MTACS-28
MWCS-28
Marine Tiltrotor Test and Evaluation Squadron
The mission of VMX-22 is to provide operational test planning, execution, reporting, support, tactics development and technical expertise for assigned tiltrotor weapons systems, subsystems and related support devices. It operates under the oversight of the chief of naval operations via Commander, Operational Test and Evaluation Force.
In the mid-'80s, the Marine Corps identified the need to update current aviation combat capabilities. This led to the development of new technology and the MV-22 Osprey.
The Osprey continues to replace the aging fleet of CH-46E Sea Knight helicopters. The capabilities of this aircraft include twice the speed, three times the payload and the ability to fly six times farther than the CH-46E helicopters it is replacing.
Additional Support Units
MAT SS
362d Training Squadron
USAF-58OG
MAG-26
MAG-26 was activated June 16, 1952, and assigned to MCAS New River in July 1954. The Marines and Sailors of MAG-26 have had a challenging and diverse mission throughout the past 50 years, taking part in contingency and training operations around the globe. Helicopter and tiltrotor squadrons of the group have participated in operations including: Operation Provide Promise in the Adriatic Sea; Operation Provide Comfort in northern Iraq and Turkey; Operation Victor Squared in Guantanamo Bay, Cuba; Operation Deny Flight in the Balkans; Operation Continue Hope in Somalia; Operation Silver Wake in Albania; Operation Allied Force in Kosovo; and Operation Iraqi Freedom and Operation Enduring Freedom.
The beginning of 1995 was met with many firsts for MAG-26. In conjunction with USS O'Bannon (DD-987), HMH-461 was the first fleet squadron to perform a hover in-flight refueling mission while hovering over a naval vessel. HML/A-167 was also the first squadron to use the Night Targeting System on the AH-1W Super Cobra. More recently, MAG-26 provided the first Osprey squadrons to Iraq and Afghanistan. On Jan. 28, 2009, MAG-26 turned over with Marine Aircraft Group 16 and assumed primary command of aviation support in Iraq's Al Anbar Province. This yearlong deployment for the MAG in support of Operation Iraqi Freedom culminated in November when the 2nd Marine Aircraft Wing headquarters turned over its mission as the aviation combat element of Multi-National Forces West to MAG-26 (Rein). The final elements of MAG-26 returned from successful operations in Iraq in February 2010. Their success across the world demonstrates the versatility and focus on mission that is the hallmark of MAG-26. During 2010, VMM-162 (Rein) returned from operations with the 24th Marine Expeditionary Unit while the first MV-22 squadron, VMM-261, returned from Afghanistan. In the past year, MAG-26 was restructured to include all of the Marine Corps MV-22 Osprey tiltrotor squadrons.
Marine Wing Support Squadron 272
This squadron is the muscle on the ground that can build and sustain airfield operations nearly any place in the world.
From heavy equipment operators to water purification experts, the Marines and Sailors of MWSS-272 are equipped and trained to support a warfighting aviation combat element.
MWSS-272 trains on a day-to-day basis with both Marine Aircraft Groups located aboard New River. They deploy around the world on a regular basis to support exercises and operations. More recently, the MAG's squadrons have served in Operation Enduring Freedom and Operation Iraqi Freedom.
Additional MAG-26 Units
MALS-26
VMM-162
VMM-261
VMM-263
VMM-264
VMM-266
VMM-365
VMMT-204
MAG-29
MAG-29 was activated May 1, 1972, at New River and within 11 days swelled to include three flying squadrons. During their first operational year, they flew more than 23,500 flight hours. From the mid to late 1980's, MAG-29 supported multiple Marine Amphibious Unit deployments to the Mediterranean and deployments to Norway in support of Exercise Battle Griffin. Throughout 1989 and 1990, MAG-29 participated in numerous exercises and operations, which culminated with all MAG-29 units deployed in support of Operation Desert Shield/Storm and Landing Force, 6th Fleet commitments.
MAG-29 has been a constant part of the II Marine Expeditionary Force's deployed combat-ready arsenal. From contingency operations through the 1980's to operations in Southwest Asia, the pilots and crews of MAG-29 squadrons have been on the tip of the spear. As innovators, one of their squadrons was the first to use an AH-1W Super Cobra to mark targets for AV-8B Harriers to drop laser-guided bombs.
Marine Medium Helicopter Squadron 365 supported Operation Enduring Freedom in Afghanistan following the terrorist attacks of Sept. 11, 2001. In January 2003, MAG-29 (Rein) deployed to become the 3rd Rotary Wing Aircraft Group for 3rd Marine Aircraft Wing in support of Operation Iraqi Freedom. During its combat deployment, MAG-29 (Rein) squadrons flew more than 111,000 combat flight hours, and supported the tactical movement of 187,000 passengers and the aerial medical evacuation of 4,500 coalition and Iraqi force personnel. In February 2008, MAG-29 was replaced by MAG-16 and redeployed to MCAS New River. The next year, MAG-29 was also restructured to house all Marine Heavy Helicopter and Light Attack Helicopter squadrons assigned to New River. During 2010, HMH-464 returned from Afghanistan as well as a partial unit attached to the 24th MEU.
Additional MAG-29 Squadrons
MALS-29
HMH-366
HMH-461
HMH-464
HMLA-167
HMLA-269
HMLA-467
HMHT-302
MWSS-274
Arrival

DRIVING DIRECTIONS
Cellphone use by the driver of a moving motor vehicle is prohibited on all Department of Defense installations, unless the cellphone is used with a hands-free device.
To MCB Camp Lejeune from Albert J. Ellis Airport
If you drive from the airport, head northeast on Albert J. Ellis Airport Road toward NC-111. Turn right onto NC-111S and follow it until you reach NC-24E/U.S. Highway 258 South. Continue onto NC-24E/U.S. Highway 17 North. From NC-24E, use the right two lanes to take the exit toward Camp Lejeune.
To MCAS New River from Albert J. Ellis Airport
Head northeast on Albert J. Ellis Airport Road toward NC-111. Turn right onto NC-11S and follow it until you reach NC-24E/U.S. Highway 258 South. Merge onto US-17 BUS S/Wilmington Highway. Turn left onto Curtis Road for the MCAS New River Main Gate.
CHECK-IN PROCEDURES
MCB Camp Lejeune
Joseph "Randy" Reichler Reception Center
Bldg. 59/60
Molly Pitcher Road 8609/8628
After hours, JRRRC Duty 910-451-2123
www.lejeune.marines.mil/Units/Headquarters-and-Support-Bn/Check-In
All personnel reporting to Camp Lejeune must report to the Joseph "Randy" Reichler Reception Center (JRRRC). The Inbound Section of the Installation Personnel Administration Center will endorse the Marine's orders and from there the Marine will be directed to the New Joins Section of the IPAC in JRRRC. Make sure you bring your orders and report in the service "A" uniform. Sailors reporting for duty during working hours must report in dress whites or dress blues, depending on the season. All service members must have their original orders, SRB/OQR, health and dental records, and a valid active-duty ID card. Single or unaccompanied service members will receive billeting assignments in the squad bay.
Personnel who arrive on the weekend or a holiday should have original orders endorsed by the duty officer in Bldg. 59/60, 910-451-2123.
The JRRRC is a one-stop in/out process with 15 agencies that serves active/reserve duty military and their families as well as Civil Service and NAF employees and civilian contractors. For more information and a directory, go to www.lejeune.marines.mil/New-Personnel/Checking-In.
MCAS New River
Installation Personnel Administration Center
Bldg. AS-201 910-449-7268
www.newriver.marines.mil/Welcome-Aboard
All Permanent Personnel Marines reporting into MCAS New River will first check in with the IPAC Inbound Branch (Bldg. AS120) where they will receive a reporting endorsement/stamp. Marines who report after normal working hours will check-in with and be issued a reporting endorsement/stamp from the MCAS Command Duty Officer (Bldg. AS211, 1st Deck) then be required to check in with the IPAC Inbound Branch no later than 0800 the following business day. The uniform for check in at IPAC is the uniform of the day.
The Service "A" uniform is required when checking in with the CDO and at the gaining command. It is both the individual and command's responsibility to ensure that all Marines ordered to report to MCAS New River physically check into IPAC/Station CDO no later than the date and time specified on their PCS orders, and prior to reporting to their work centers. It is the Marine's responsibility to ensure that the IPAC audit clerk receives all original PCS orders, endorsements, and travel receipts to conduct a proper audit. Travel claims cannot be submitted without required documents.
Other service personal and civilians assigned to MCAS New River do not report to IPAC. The respective S1 will join them into MCTFS via MOL.
The Inbound Branch will process requests for advance pay and Basic Allowance for Housing (BAH) Own Right (Staff Sergeant's only), and BAH rates at locations other than Permanent Duty Station (PDS) for qualifying newly joined.
The DMR deduction will be started for all who are not authorized to mess separately. If not indicated on a command approval letter signed by the respective unit's Commanding Officer the DMR deduction will be started regardless of MOS/billet until a NAVMC 10522 is received from the gaining command. Ensure NAVMC 10522's are signed respectively in accordance MCO 10110.47.
For further questions call IPAC at (910) 449-7835/7724 or contact the respective Command Duty Office listed below:
Marine Air Group-26
(MAG-26) - Bldg. AS-217 (910) 449-6126
Marine Air Group-29
(MAG-29) - Bldg. AS-4122 (910) 449-6345
Center for Naval Aviation Technical Training
(CNATT) - Contact the Duty at (910) 449-6725/(910) 376-1034
MCAS New River Air Station
(HQ) Bldg AS-211 (910) 449-5411
TEMPORARY LODGING
Inns of the Corps, Lejeune
Holcomb Boulevard 910-451-3041
www.mccslejeune-newriver.com/inns
The award-winning Inns of the Corps, Lejeune, is approximately 4 miles from the main gate on Holcomb Boulevard, just minutes away from numerous eateries, the Main Exchange, MCX Food Court, commissary, and several banks and ATMs. In 2013, the addition of a three-story building consisting of 50 rooms with queen and king suites, 42-inch flat-screen televisions and more was completed. Extensive renovations have recently been finished on the remaining 90 rooms. Room types include standard double, executive double, king ADA-accessible, suite and family suite. Nicely appointed pet-friendly rooms are also available. All rooms offer a microwave and refrigerator; the new suites have full kitchens. Visitors in all rooms have access to a free hot breakfast buffet, a playground, a courtyard, a dog park, guest laundry and complimentary Wi-Fi. PCS reservations may be made one year in advance. TAD and TDY reservations may be made 90 days in advance. Leisure travel reservations may be made 60 days prior to arrival date. Eligible patrons include active duty, retirees, dependents and DOD employees. Reservations are strongly recommended due to very high demand.
Check the website for current room rates and more information.
MCAS New River Transient Housing
Bldg. AS 705, Flounder Road 910-449-5024
www.newriver.marines.mil/Welcome-Aboard/Visiting-Officers-Quarters
The transient housing facilities operated by the Billeting Fund provide professionally managed, affordable lodging and hospitality services to personnel on temporary duty, to personnel and families executing permanent change of station orders and to other authorized patrons. Advance reservations for TAD/TDY travelers can be made up to 30 days in advance. Space-available reservations for all authorized patrons can be made up to seven days in advance.
Getting Settled

HEALTH CARE
Naval Medical Center Camp Lejeune
100 Brewster Blvd.
Information 910-450-4300
Appointment Center 910-450-4357
Pharmacy Refills 866-207-1028
www.med.navy.mil/sites/nhcl
The Naval Medical Center staff serves the military community with patient and family-centered care, readiness and professional development. The center provides primary and specialty care to more than 35,000 eligible beneficiaries. Primary care and specialty care are provided to active-duty members and their families enrolled in TRICARE Prime.
The Naval Medical Center health care delivery team consists of more than 2,000 personnel, including officer, enlisted, civil service and contract personnel who strive to make the Naval Medical Center your medical center of choice — The Medical Center of the Marine Corps.
Marine Center Medical Home New River
Branch Clinic
Bldg. AS-100, White Street
Appointments 910-449-5064
https://tinyurl.com/y7sx8zuw
MCMH New River provides routine appointments/physicals, acute care and some specialty services to active-duty military personnel only. Dependents and retirees may be seen for all appointments and urgent care via Naval Medical Center Camp Lejeune.
2nd Dental Battalion
H-1 Branch Clinic 910-451-6122
New River Branch Clinic 910-449-6515
www.2ndmlg.marines.mil/Units/2nd-Dental-Battalion
2d Dental Battalion Naval Dental Center Camp Lejeune maintains 11 geographically disbursed dental treatment facilities at New River, Cherry Point and Camp Lejeune. 2d Dental Battalion provides dental services to active duty Marines and Sailors. The Naval Medical Center can provide limited dental care to family members. Family members of active-duty personnel are encouraged to enroll in the TRICARE Dental Program.
More than 40,000 family members in the Camp Lejeune area are enrolled in the TRICARE Family Member Dental Plan. This volunteer program, sponsored by United Concordia, covers comprehensive dental care for family members of active-duty personnel. Information about the TRICARE Dental Program can be obtained by calling 844-653-4061 or visiting www.tricare.mil/CoveredServices/Dental/TDP.
TRICARE
TRICARE is the health care program for active-duty and retired service members, their families and survivors. TRICARE provides health plans, prescriptions, dental plans and other special health programs to its beneficiaries. TRICARE's mission is to enhance the Department of Defense and the nation's security by providing health support for the full range of military operations and sustaining the health of all those entrusted to their care.
TRICARE offers a range of health care plans. TRICARE Prime is the mandatory health care option for active-duty service members. Family members of active-duty service members, retired service members and their families may also use this option. If you use TRICARE Prime, you are assigned a primary care manager at a military or network provider who delivers most of your care. If you need care your PCM cannot provide, you are referred to a specialist. Active-duty service members and their families pay nothing out of pocket for this option; however, there is less freedom to choose your provider. On Jan. 1, 2018, TRICARE Standard and Extra were combined into a new plan, TRICARE Select. Select is a standardized fee-for-service plan available to family members of active-duty service members, retired service members and their families. After you enroll in TRICARE Select, you may schedule an appointment with any TRICARE-authorized provider. Referrals are not required, but you may need prior authorization from your regional contractor for some services. You will pay a copay or cost share based on the type of care and provider you see. Costs for Select vary, but you will pay an annual deductible as well as a percentage of covered services. Non-network providers may charge up to 15 percent more than the TRICARE allowable charge; you are responsible for these extra charges. TRICARE also offers plans for remote and overseas locations, reserve military members, young adults who are no longer covered under regular TRICARE coverage and other scenarios.
TRICARE coverage is completely portable, so it moves with you when you relocate. Follow these simple steps to ensure you have no break in coverage when you move:
Do not cancel your TRICARE Prime enrollment option before you move.
Update your personal information in DEERS immediately when you arrive at your new location.
Select a new primary care manager.
If you are already using TRICARE Select, moving is easy. When you arrive at your new location, update your personal information in DEERS. Then find TRICARE-authorized providers in your new area. Remember, you may have a new regional contractor and claims filing address.
TRICARE's online tools can help you find and compare plans that you are qualified to use. Beginning in 2019, however, TRICARE will allow you to switch between plans only if you have a "qualifying life event" such as the birth of a baby or a move. For a complete description of the types of coverage programs and regions, visit www.tricare.mil. For more information about recent changes to TRICARE, visit https://tricare.mil/changes.
HOUSING
Family Housing Division
MCB Camp Lejeune
Bldg. TT43, Inchon St. 910-450-1628
www.lejeune.marines.mil/Offices-Staff/Family-Housing-Division
The Family Housing Division supports Marines while they are transitioning to a new home and community. Its office provides resources to help you become familiar with the housing options and support services available. Visit the office for information, counseling and guidance before signing a rental or sales contract or a lease for housing.
Family Housing
MCB Camp Lejeune
Atlantic Marine Corps Communities
888-690-4304
http://cl.atlanticmcc.com
Lincoln Military Housing
910-238-3083
http://lincolnmilitary.com/installations/camp-lejeune-mcb
At MCB Camp Lejeune and MCAS New River, military family housing is privatized. In addition to your option to buying or renting housing in the local community, you may now choose to live in privatized housing by signing a tenant lease agreement with Atlantic Marine Corps Communities or Lincoln Military Housing; they own the family housing and are responsible for maintaining, repairing, constructing and managing the communities.
For comprehensive information about homes and amenities available in Camp Lejeune or MCAS New River privatized housing, visit the Camp Lejeune Family Housing website.
MAIL
Consolidated Post Office
1770 McHugh Blvd. 910-451-5553/1715
www.lejeune.marines.mil/Offices-Staff/Post-Office
The full-service Post Office on base provides window service on weekdays and is open to personnel with base access. Personnel who reside off base or in base housing will receive their personal mail at their residential address.
PETS
Camp Lejeune Veterinary Services
Animal Control
Bldg. 979 910-451-5143
Veterinary Treatment Facility
Bldg. TT-2459 910-450-1607
Dogs, cats, tropical fish, hamsters and caged birds are the only pets authorized in family housing. Other pets must be specifically authorized in writing by the commanding general. Pets in base housing must be registered within five working days with the Security and Emergency Services Department, Domestic Animal Control, Bldg. 979.
Domestic animals that display traits of aggression represent an undue risk to the safety and tranquility of Camp Lejeune and its personnel. Full or mixed breeds of pit bull (American pit bull, American Staffordshire terrier and Staffordshire bull terrier), Rottweiler, wolf hybrids or any canine breed with dominant traits geared toward aggression, as determined by Animal Control, are prohibited aboard Camp Lejeune. If any Animal Control officer deems a dog to be a possible banned breed or a mix including a banned breed, the final determination must come from a DNA test administered by a licensed veterinarian at the owner's expense. During this determination process the dog will not be allowed on base.
RELIGIOUS GUIDANCE
MCIEAST/MCB Chaplain Corps
Bldg. 67 910-451-3210
https://tinyurl.com/yad9uo5w
The Chaplain Corps is dedicated to preserving your constitutional right to freedom of religion through provision, facilitation, care, and advisement. Chaplains will assist you to find spiritual support for any denomination or faith group.
The Chaplain Corps offers various types of counseling and seminars including pre-marital, marital, religious, stress, grief and loss. All counseling sessions are covered by 100% privileged communication making chaplains your first choice when unsure where to go for help.
VEHICLE REGISTRATION
There is no longer a requirement to display a Department of Defense windshield sticker on your vehicle, however, if you are stationed or work aboard Camp Lejeune, you must register your vehicles at the Main Gate Visitors Center (Bldg. 818) with the following documentation in hand: DOD ID Card, current driver's license, proof of insurance and registration. Contractors registering vehicles should proceed to the Contractor Vetting Office located at Bldg. TT-13 outside the Wilson Gate. For MCAS New River, the Vehicle Registration Office is in Bldg. AS187 on the right, just before the Air Station Front Gate. North Carolina state traffic laws apply on base; see the Getting To & Around Onslow County chapter for more information. All vehicles entering or leaving base are subject to search.
Serving You

DINING
For hours of operation, menus and special event information, visit www.mccslejeune-newriver.com and click on selections under the "Dining & Lodging" tab.
MCB Camp Lejeune
Berkeley Express
Berkeley Manor Marine Mart 910-451-9073
Domino's
Bldg. 1515, Holcomb Blvd. 910-451-3888
Duffers' Retreat
Bldg. 2015, Paradise Point Golf Course 910-451-0148
Dunkin' Donuts/Baskin Robbins
1238 Birch St. 910-451-2599
Industrial Grill
Bldg. 1057, Louis Road 910-451-8680
Jimmy John's
Bldg. 257, McHugh Blvd. 910-449-8850
Papa John's
Bldg. 62, Lucy Brewer Road 910-450-7272
Paradise Point Officers' Club & Smedley's Cafe
Bldg. 2615, Seth Williams Blvd. 910-451-2465
SNCO Club
Bldg. 825, Stone St. 910-450-9556
Spare Time Sports Grill
Bldg. 89, Bonnyman Bowling Center 910-451-5731
Subway
Bldg. HP-99, Wallace Creek Marine Mart 910-450-9295
Taco Bell
Bldg. 1232, Birch St. 910-450-6918
University Cafe
Bldg. 825, John A. Lejeune
Education Center 910-450-9567
Warriors' Command Post
Bldg. H1, Hospital Point 910-451-8822
Wendy's
Bldg. 1237, Birch St. 910-450-5479
MCAS New River
Bowling Center Snack Bar
Bldg. AS-205, Curtis Road 910-449-4918
Flightline Grill
Bldg. MWR-1, Campbell St. 910-449-6731
Heavenly Brew Cafe
Bldg. AS-4038, Schmidt St. 910-449-4529
La Casita Loca
Bldg. AS-257, Davis St. 910-449-7669
Subway
Bldg. AS-4044, Curtis Road 910-219-1031
Bldg. AS-4127, White St. 910-449-6987
The Landing at New River
Bldg. AS-710, Flounder Road 910-449-6409
Wendy's
Bldg. AS-4039, Curtis Road 910-346-6087
EDUCATION
John A. Lejeune Education Center

Bldg. 825 Stone St. 910-451-3091
Testing Center 910-451-3092
MCAS New River Education Center

Bldg. AS-212 Bancroft St. 910-449-5421
The Education Assistance Branch, Personal and Professional Development Program, of the Marine and Family Programs Division, oversees all off-duty education. Its two locations, at the John A. Lejeune Education Center aboard MCB Camp Lejeune and the MCAS New River Education Center, offer adult and continuing education to enhance personal growth and career development.
The opportunities offered by Education Assistance include the Military Academic Skills Program, basic academic advising, financial aid information, military transcripts, the U.S. Military Apprenticeship Program, comprehensive military and civilian testing programs, Learning Lab, the GED examination program and high school completion program via Coastal Carolina Community College, and the Personal Financial Management Program. A research and study library is inside the John A. Lejeune Education Center.
In-depth and comprehensive postsecondary programs are offered by various colleges on base that lead toward completion of an associate, baccalaureate or master's degree. Various schools also visit MCB Camp Lejeune on a rotating basis to meet in person with current and prospective students. The visiting school schedule is available through the Education Assistance Branch Office.
There are several universities represented locally — Boston University, Campbell University, Coastal Carolina Community College, Embry-Riddle Aeronautical University, Southern Illinois University Carbondale, University of North Carolina Wilmington and Webster University — offering both undergraduate and graduate programs.
Visit www.mccslejeune-newriver.com/edu for more information.
FAMILY SUPPORT
Career Assistance and Transition Seminars/Family Member Employment Assistance Program
The Career Assistance Branch, Personal and Professional Development Program, Marine and Family Programs Division provides the necessary tools and information so that all separating service members and their families can transition effectively from military to civilian life. Career Assistance provides Transition Readiness Seminars designed to give Marines and families ownership of their exit from the military and furnish them with resources and opportunities to make informed decisions when transitioning to the civilian sector. They also offer internet access for job hunting, employment-ready workshops and individual career counseling, and coordinate career expos. Transition Readiness advisers are available to meet one-on-one at Camp Lejeune, Bldg. 824, Stone Street, 910-451-3754/3781 or New River AS-912, Longstaff Road, 910-449-4914.
The Family Member Employment Assistance Program (FMEAP) helps family members seeking local employment. Services offered consist of computer classes, resume-writing assistance, individualized career counseling and workshops, research materials and resources and local employment listings. The FMEAP center is located in the Tarawa Terrace housing area, Bldg. 2455K, 910-450-1676; Russell Marine & Family Services Center, Bldg. 40, Brewster Blvd., 910-451-9381; and New River AS-912, Longstaff Road, 910-449-4902.
Child Development Centers & School Age Care
Brewster, Bldg. 631 910-450-8467
Courthouse Bay, Bldg. BB-353 910-440-6228
Heroes Manor I, Bldg. PP100 910-450-4078
Heroes Manor II, Bldg. PP200 910-450-4119
New River, Bldg. AS-1000 910-449-6712
Stone Street Youth Pavilion, Bldg. 842 910-450-8674
Tarawa Terrace, Bldg. TT-86/TT91 910-450-1646
Tarawa Terrace II, Bldg. TT-113 910-450-0545
Tarawa Terrace Youth Pavilion, Bldg. TT-19 910-450-1422

www.mccslejeune-newriver.com/cyp/#cdc
The Child Development Centers offer weekly care for children 6 weeks to 5 years old and hourly care on a space-available basis with reservations. The centers provide a safe, nurturing environment that promotes the social, cognitive, language and physical development of youngsters.
Children of active-duty military personnel, DOD civilian personnel, Reservists on active duty and DOD contractors are eligible. Fees are based on total family income. After requesting full-time care at www.militarychildcare.com, visit the Resource & Referral office (910-450-0553/0554/0555) to register.
Marine Corps Family Team Building
Bldg. 780, Brewster Blvd. 910-451-0176
www.mccslejeune-newriver.com/mcftb
The Marine Corps Family Team Building portion of Marine Corps Community Services is geared toward helping unit commanding officers and families maintain readiness. All MCFTB programs are free.
MCFTB includes the following programs: Unit, Personal, and Family Readiness Program & Support, Volunteer Coordination Program, Readiness and Deployment Support, LifeSkills Training and L.I.N.K.S. (Lifestyle, Insights, Networking, Knowledge, Skills).
Community Counseling Centers
MCB Camp Lejeune
Bldg. 799B Brewster Blvd. 910-451-2864
MCAS New River
Bldg. AS-90 Curtis Road 910-449-6110
www.mccslejeune-newriver.com/counseling
The Community Counseling Centers provide professional individual, marital and family counseling to military members and their families. Intervention and treatment for domestic violence and victim advocacy services are available through the Family Advocacy Program.
Exceptional Family Member Program
MCB Camp Lejeune
LCH 4014 D & E, Midway Park 910-451-4394
MCAS New River
Bldg. AS-112, Bancroft Street 910-449-5251
www.mccslejeune-newriver.com/efmp
This program provides special-needs families with information and referral services.
New Parent Support Program
MCB Camp Lejeune
Bldg. 799, Brewster Blvd. . 910-449-9501
www.mccslejeune-newriver.com/npsp
The New Parent Support Program is a professional team of licensed social workers, counselors and registered nurses who provide educational and support services to military families. From the early stages of pregnancy to the development of your child up to age 5, this program can better prepare you for parenthood. The program's trained, supervised staff has extensive knowledge of the issues encountered by parents. The team is sensitive to the unique challenges facing military families and can help them cope with stress, isolation, pre- and post-deployment, homecoming reunions and the everyday demands of parenting in the military.
All active-duty personnel and family members who are expecting a child or have at least one child age 5 or under are eligible.
School Liaison Program
MCB Camp Lejeune
Bldg. 780, Brewster Blvd. 910-449-9915
www.mccslejeune-newriver.com/schools
The school liaison office provides K-12 education information for public, private, homeschool and Department of Defense Education Activity schools on the installation. It also provides Camp Lejeune and Marine Corps Air Station New River families support during all states of transition and deployment to ensure children receive every possible opportunity for quality education.
Camp Lejeune and MCAS New River have seven Department of Defense Schools for base residents. For school registration information on- or off-base, visit the School Liaison website.
Youth Sports Office
Bldg. 780, Brewster Blvd. 910-449-9915
www.mccslejeune-newriver.com/schools
Single Marine Program
MCB Camp Lejeune & MCAS New River
Bldg. 564 M St. 910-451-4642
www.mccslejeune-newriver.com/smp
The Single Marine Program is the voice for single, unaccompanied Marines and any other single active-duty service member when it comes to identifying quality-of-life concerns, developing initiatives to address those concerns, and providing recommendations through advocacy, recreational trips and activities, special events and community involvement. The program accomplishes this through monthly council meetings of unit representatives in six geographical areas of Camp Lejeune. In each of these areas, the SMP runs Recreation Centers that cater primarily to Marines who live on base. These "homes-away-from-home" are equipped with the latest in recreation resources including video games, movies, large-screen TVs, computers, free Wi-Fi and special events. The centers are a comfortable setting for leisure-time activities and relaxation. Each contains a snack bar with foods and beverages.
Additionally, the SMP administers Camp Lejeune's volunteer program. The SMP staff matches those wanting to volunteer with nonprofit organizations and special events, keeps track of volunteer hours and ensures that those hours are formally recognized in military members' official records.
Youth Sports Office
MCB Camp Lejeune
1985 Stone St. 910-451-2177
www.mccslejeune-newriver.com/youthsports
FINANCIAL SERVICES
First Citizens Bank, Camp Lejeune (Main)
87 Holcomb Blvd. 910-353-3113
www.firstcitizens.com
Marine Federal Credit Union
1231 Birch St., MCB Camp Lejeune
4052 Curtis Road, MCAS New River
800-225-3967
www.marinefederal.org
LEGAL SERVICES
Legal Office
Bldg. 66 910-451-7085/9731/2284
Legal Assistance at Camp Lejeune is provided on a walk-in basis for new clients from 7 to 10 a.m. on Tuesday and Thursday. The office also provides separation and divorce briefs on Tuesday and Thursday at 7:30; clients need to check in by 7:15 a.m. Pre-deployment, will and power of attorney briefs are offered at 10 a.m. on Monday, Wednesday and Friday in Bldg. 66 on a first come, first served basis. A pre-deployment, will and power of attorney brief is also provided on Tuesdays at 1 p.m. in the base theater. Notary services are provided from 7:30 to 11:30 a.m. and 1 to 3:30 p.m. Monday through Friday in Bldg. 66.
No family based-immigration services are available at present time; however, naturalization services for active-duty service members are available on 8 to 11:30 a.m. and 1 a.m. to 4 p.m. daily.
Legal Assistance is provided at MCAS, New River on a walk-in basis for new clients on Mondays and Fridays between 7:30 to 8 a.m.
Appointments are scheduled on Monday and Friday between 1 and 4 p.m. A Pre-deployment, will and power of attorney brief is scheduled at 9:45 a.m. on Fridays. Notary services are provided from 7:30 a.m. to 11:30 a.m. and from
1 to 3:30 p.m. Monday through Friday.
LIBRARIES
Camp Johnson Library 910-450-0844
Harriotte B. Smith Library MCB Camp Lejeune 910-451-3026
John A. Lejeune Education Center Research Library 910-450-9845
Station Library, MCAS New River 910-449-6715
www.mccslejeune-newriver.com/libraries
The Camp Lejeune Library System includes the Harriotte B. Smith Library on Holcomb Boulevard, the Research Library at the John A. Lejeune Education Center, New River's Station Library and the Camp Johnson Library. Along with a large lending collection of books, DVDs, audiobooks, e-readers and children's materials, the libraries offer outstanding online services through the internet and mobile access EBSCO online database of magazine and newspaper articles, academic journal articles, e-book downloads and Transparent Language for language learning.
The Research Library offers a peaceful, academic environment for ages 13 and older with a full complement of library resources along with small meeting rooms and orientations for library services.
RECREATION
For information about the recreational programs at MCB Camp Lejeune and MCAS New River, visit www.mccslejeune-newriver.com.
All Points Travel
MCB Camp Lejeune
Bldg. 84, Hadnot Point Plaza 910-451-3535
MCAS New River
Bldg. AS-4044, Curtis Road 910-449-6530
www.mccslejeune-newriver.com/travel
At All Points Travel, you can find information and get military discount tickets for area attractions, including Walt Disney World and Universal Studios, Wet'n Wild Emerald Point, SeaWorld and more.
Whatever travel destinations you seek, the All Points Travel staff can help you plan your trips by assisting with airline tickets, hotels, rental cars and even cruises.
Auto Skills Center
MCB Camp Lejeune
Bldg. 1250, Birch St. Extension 910-451-1550
www.mccslejeune-newriver.com/autocenter
The Auto Skills Center has a wide variety of diagnostic and repair equipment and tools, along with a staff of experts to help with all your vehicle care needs. It's also a state vehicle inspection site.
Bowling
Bonnyman Bowling Center
Bldg. 89, Molly Pitcher Road 910-451-5121
New River Bowling Center
Bldg. AS-205, Curtis Road 910-449-4921/22
www.mccslejeune-newriver.com/bowling
Fitness Centers
MCB Camp Lejeune
Area 2*
Bldg. 201, McHugh Blvd. 910-451-8209
Camp Geiger
Bldg. G930, C St. 910-449-0609
Camp Johnson
Bldg. M-168, Main Service Road 910-450-1250
Courthouse Bay
Bldg. BB2 off Horn Road 910-440-7447
French Creek
Bldg. FC332, McHugh Boulevard & Gonzalez 910-451-5430
H.I.T.T. Center
Bldg. 401 across from Field House 910-451-0122
Morgan Bay
Bldg. H14, Hospital Point 910-451-1676
Stone Bay
Bldg. RR-136, Stone Bay 910-440-2055
Tarawa Terrace
Bldg. TT-2457, Tarawa Terrace 910-450-1681
Wallace Creek
Bldg. WC1 910-450-7649
MCAS New River
AS-4000 New River
Bldg. AS-4000, Schmidt St. 910-449-0294
New River
Bldg. AS-4400, Douglass Road 910-449-4961
www.mccslejeune-newriver.com/fitness
The fitness centers provide the latest in fitness and wellness programs. Designed for those who want to develop and maintain the optimum in physical conditioning and health, the centers offer the opportunity to enjoy individualized and group activities. Individual assessment and instruction at all levels is available from highly competent, professional staff. Programs include personal fitness training, weight management, comprehensive group exercise classes, small group training, high-altitude training, endurance challenges, run/walk programs, combat fitness training, strength training and more. The Wallace Creek Fitness Center, on Birch Street, is the newest addition to the base's arsenal of fitness centers. It features all the aforementioned programs, plus an elevated track, rock-climbing wall, juice bar, indoor lap pool, outdoor running tracks and a FEMA shelter.
*Editor's note: At the time of publication, the Area 2 Fitness Center was closed due to damage sustained by Hurricane Florence. Check the website for updates.
Marinas
MCB Camp Lejeune
Gottschalk Marina*
Bldg. 198, Julian C. Smith Road 910-451-8307
Courthouse Bay Marina*
Harvey St., Courthouse Bay 910-440-7386
MCAS New River
New River Marina
2800 Perimeter Road 910-449-6578
www.mccslejeune-newriver.com/marinas
Rent kayaks, stand up paddleboards, canoes and boats. Slips are available to dock your boat as well. Call or visit the website for more information about slip rentals, requirements to rent equipment or more.
*Editor's note: The Gottschalk Marina office was temporarily relocated in the Outdoor Adventures office (Bldg. 728) and The Ship's Store was closed; check the website for updates.
Movie Theaters
Camp Lejeune Base Theater
Bldg. 19, McHugh Blvd.
Midway Park Theater
Bldg. 4014A
Info 910-451-2785
Movie schedule 910-449-9344
MCAS New River Theater
Bldg. AS-240 Curtis Road
Info 910-449-6528
Movie schedule 910-449-6292
www.mccslejeune-newriver.com/movies
Enjoy the latest Hollywood flicks, with special price discounts on Wednesdays and free-movie loyalty cards. All theaters feature Dolby Digital Sound and are ADA-accessible. Theaters are available for private showings, perfect for birthdays, unit parties, family gatherings and more. Call the schedule line or visit the website for current movies and showtimes.
Outdoor Adventures
MCB Camp Lejeune
Bldg. 728 910-451-1440
www.mccslejeune-newriver.com/outdoor
Outdoor Adventures offers fun on the water with kayaks and canoes. A variety of camps are available for all ages that include rock wall climbing, archery, mountain biking, and archery tag.
Units can take advantage of the Unit Tri-Challenge to change up their PT routines.
Paradise Point Golf Course & Pro Shop
MCB Camp Lejeune
2015 Brewster Blvd. 910-451-5445
www.mccslejeune-newriver.com/golf
Paradise Point Golf Course has two 18-hole courses, the 70-par Scarlet and the 72-par Gold, along with driving ranges, a practice field and putting greens and a Pro Shop, all open to the general public. Golfers who have established a handicap in the Paradise Point Golf Course system may participate in any Paradise Point Golf Course tournament that is open to patrons. Golf lessons are available.
Pools
Indoor
MCB Camp Lejeune
Area 2, Bldg. 236 910-451-2024
Wallace Creek Fitness Center (lap swim only) 910-450-7659
MCAS New River
New River AS-4400, Bldg. AS-4400 910-449-4307
Outdoor
MCB Camp Lejeune
Paradise Pointe Pool, Officers Club 910-451-1316
Tarawa Terrace, Corner of TT and Iwo Jima Blvd. 910-450-1610
MCAS New River
The Landing at New River, Bldg. AS-710 910-449-6231
www.mccslejeune-newriver.com/pools
Get fit or take a dip in the six pools located throughout MCB Camp Lejeune and MCAS New River. In addition to lap and recreational swimming, pools offer swim lessons, splash camps, instructional classes and more. Camp Lejeune also offers a swim team for children age 5 to 18, with competitions in age groups against other youth throughout North Carolina. Call the pools or visit the website for prices and more information.
Recreational Equipment Issue Services
MCB Camp Lejeune
Bldg. 1100, West Road 910-451-1638/2360
MCAS New River
Bldg. Bldg AS-114, Bancroft St. 910-449-6387
http://www.mccslejeune-newriver.com/recissue
www.mccslejeune-newriver.com/recissue
Recreation Equipment Issue has a variety of equipment rentals including lawn & garden tools, sporting equipment, party supplies and games, inflatables, cookers, and trailers. Propane refill and tank exchange is also available.
Recreational Shooting
910-451-3889
McIntyre-Parks Recreational Shooting Complex Skeet Shooting and Archery
R-100 Range Complex (Old Sawmill Road)
Pistol Range
F-11A Piney Green Road
www.mccslejeune-newriver.com/shoot
Skate Park
MCAS New River
Bldg. AS-612, Agan St. 910-449-0294/5844
www.mccslejeune-newriver.com/skatepark
The 8,500 square-foot park is open 24/7 to all authorized patrons ages 10 and older. Grinding rails, intermediate jumps, and quarter and half-pipe platforms provide rad challenges for skateboards, inline skates and BMX bikes. Patrons must wear protective equipment and follow posted rules.
Sports
Camp Lejeune Sports Complex
Bldg. 751 Goettge Memorial
Field House 910-451-3762
www.mccslejeune-newriver.com/sports
SHOPPING
Commissary
MCB Camp Lejeune
1230 Holcomb Blvd. 910-451-5071
MCAS New River
4055 Curtis Road 910-449-6395
Save an average of 30 percent of your hard-earned dollars when shopping for groceries at the Commissary. In-store amenities and specialties include an ATM, bakery, custom photo cakes, a deli, fresh lobster, fresh sandwiches to go, hot foods, party cakes, plants, rotisserie chicken, sushi and a butcher shop.
Marine Corps Exchange
MCB Camp Lejeune
www.mccslejeune-newriver.com/mcx
The Marine Corps Exchange wants to be your first choice for shopping. It offers a price-match program that guarantees the lowest prices in town. Hours for services outside of the Main Exchange vary, so call or visit the website for detailed information.
Main Exchange
Bldg. 1231 910-451-5030
Customer Service ext. 1030/31/32
Furniture 910-939-0649
Military Clothing Store 910-451-2802
MCX Mobile Center 910-353-4040
MCX Departments
Alterations ext. 1088
Children's/Infants ext. 1052
Computers ext. 1065
Cosmetics/Fragrance ext. 1051
Domestics ext. 1069
Electronics ext. 1063/64
Firearms/Hunting ext. 1061/62
GNC 910-451-4845
Health & Beauty ext. 1072
Houseware/Giftware ext. 1068
Jewelry ext. 1054/55
Ladies ext. 1050
Men's ext. 1048
Men's Accessories ext. 1049
Semper Fi ext. 1047
Shoes ext. 1053
Sporting Goods/Tactical Gear ext. 1060
Things Remembered 910-451-6619
Toys ext. 1070
Marine Corps Exchange New River
www.mymcx.com/index.cfm/locations/new-river
MCX Complex
Bldg. 1231
A Floral Affair 910-451-2674
American Clipper Barber Shop 910-451-2400
Lane Optometry Optical 910-451-3937
Appts 910-451-5249
Starbucks 910-450-2825
Tun Alley 910-451-1430
Hadnot Point Plaza
Bldg. 84
All Points Travel 910-451-3535
American Slipper Barber Shop 910-451-2395
CHOPZ 910-4513896
DESIGNinc 910-451-3209
Enterprise 910-451-7744
Gamestop 910-450-9951
Gadget Geeks 910-376-8386
Goin' Postal 910-750-0541
H&R Block 910-450-5967/68
Hadnot Point Marine Mart 910-451-5070
Lejeune Harley-Davidson 910-353-9997
Model Laundry & Cleaners 910-451-5686
NAPA Auto Parts 910-787-9506
Subway 910-451-3378
Exchange
Bldg. AS-4040 910-449-0539
All Points Travel 910-449-6530
Barbershop 910-449-0593
Design Inc. 910-449-0133
GNC 910-449-0194
Model Laundry and Cleaners 910-449-7322
Subway 910-219-1031