Directions/Reporting In

DIRECTIONS
Quantico is conveniently reached by Interstate 95, and there are two airports nearby: Washington Dulles International in Chantilly, Virginia, and Ronald Reagan Washington National in Washington, D.C. Other transportation includes a bus terminal in nearby Triangle as well as Amtrak, 800-872-7245, and Virginia Railway Express, 800-RIDE-VRE (800-743-3873), train services.
REPORTING IN
All Marines reporting in during normal working hours 7:30 a.m. to 4:30 p.m. Monday through Friday check in at the Installation Personnel Administration Center at the Headquarters and Service Battalion on Hawkins Road. Phone: 703-784-4466.
If arriving after duty hours, check in with the area officer of the day at the Headquarters and Service Battalion, Building 2006. Phone: 703-784-2261.
Lodging and Housing/Household Goods

LODGING AND HOUSING
Crossroads Inn
The Crossroads Inn (Inn of the Corps at Quantico) offers "home away from home" accommodations: 78 comfortable rooms, 24 two-room suites and 42 efficiencies. For those traveling with small children, there is a playground on-site. There are no pets allowed, but the front desk can provide information about local kennels.
All ranks are welcome. For reservations, call 703-630-4444 or 800-965-9511.
Family Housing
The Family Housing Office, in the Family Center, 13201 Perkins St., offers on-base privatized housing and off-base referral services.
Quantico homes feature three- and four-bedroom accommodations. Service members are placed into housing according to rank, number of family members, Exceptional Family Member Program status and home availability. Service members must send a housing application (DD Form 1746) accompanied by a copy of either Web Orders or Permanent Change of Station (PCS) Orders along with completed disclosures to the Family Housing Office in order to be placed on the appropriate waiting list prior to reporting in. Once a member has reported aboard, he or she must present a copy of the reporting endorsement.
The housing office will utilize the date of receipt of the housing application (DD Form 1746), with all qualifying documents and PCS orders, as the control date for the housing waiting list. A control date will not be established without receipt of these documents. If the application, along with all qualifying documents and PCS orders are received separately, the control date will be established upon the receipt of the latest document.
Call the Family Housing Office at 703-784-2711 with any questions.
A public-private venture partnership was formed in October 2003 to redevelop the housing inventory aboard Quantico. The homes on the base are owned and professionally managed by Lincoln Military Housing (LMH). Once housing applications are processed by the Family Housing Office, homes are then offered and leased by the LMH staff. Leases are required with a minimum six-month commitment, and a 30-day written notice is required prior to the date quarters are vacated.
The LMH management staff is at the Family Center for a one-stop process for military families. For more information, call 703-432-8500, email Quantico@lpsi.com or visit www.lincolnmilitary.com.
Bachelor Housing
Officers and staff noncommissioned officers requiring bachelor housing must report to the Bachelor Housing Office in Liversedge Hall for assignment. Call 703-432-1347 or 703-784-3149.
Distribution Management Offices
The Distribution Management Office is located in building 2009 Zeilin Road. This office provides Personal Property, Passenger and Freight services. The hours of operations are 8 a.m. to 4 p.m.
Personal Property
The section assists with the movement of personal property. To arrange for government household goods, personally procured moves (PPMs), or non-temporary storage release shipments; login to www.move.mil and input application requests in the Defense Personal Property System. Applications should be submitted to the nearest Transportation Office. The Personal Property Section can be reached at 703-784-2831/2832/2833 or fax: 703-784-3567.
For information regarding inbound personal property shipments, contact the carrier responsible for shipping your personal property. If additional assistance is required, the contact info for the inbound section of the Joint Personal Property Shipping Office-Mid Atlantic, Fort Belvoir is 703-806-4900.
Vehicle weigh scale is provided for obtaining weight tickets from 8 a.m. to 3:30 p.m.
Passenger
The Passenger Travel Office handles commercial bus, commercial air and Air Mobility Command ticketing requests. The section can be reached at 703-432-0635/0636/0637 or fax: 703-784-2004.
Freight
To arrange for outbound cargo shipping, small package drop-offs for express services and delivery of inbound freight contact Freight Shipping/Receiving at 703-784-2837/2674 or fax: 703-784-3777.
Registration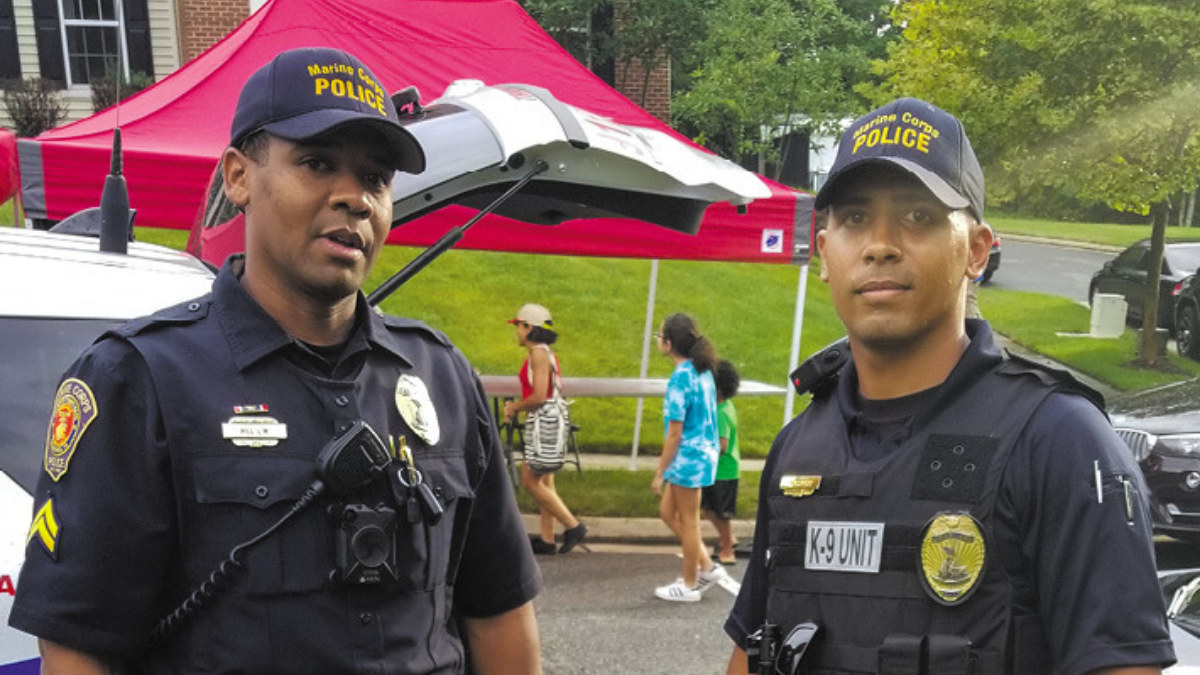 Vehicle, weapon and pet registration takes place at Security Battalion's Provost Marshal Office (PMO), 2043 Barnett Ave., Quantico, VA 22134, 703-784-2390.
Vehicles
Every person who is attempting to register, re-register or update their vehicle registration must provide proof of valid insurance, valid state registration, driver's license and military identification card or a DOD CAC.
If you are under age 26, you must provide a copy of the Driver Improvement Certificate. A link is provided to obtain the driver's improvement class on Marine Net, https://www.marinenet.usmc.mil/my.policy. Take a few moments to enroll and, on the left menu bar, go to browse the course catalog. Click on Annual Training; click on Driver's Improvement; click on Driving for Life; at the lower right-hand corner is an icon to enroll in the course. Complete the course, print the certificate and bring it in with the rest of your documents.
All personnel who work or live aboard base who are registering motorcycles must provide their Motorcycle Safety Card. A motorcycle is considered to be any two- or three-wheeled, motorized vehicle over 50cc.
If you are attempting to register a vehicle on base that is not registered to you, then you must provide a notarized letter stating that you are the authorized driver of the vehicle and that you are on the insurance card for the vehicle. On the notarized letter you must provide an adequate description of the vehicle including year, make, model and vehicle identification number (VIN).
For military personnel and DOD personnel, it is a good reminder that when you receive a new ID or CAC due to expiration, it is time to update the base registration on your vehicle.
Pets
To register a pet on base, you must provide the shot record for the animal, microchip information, verification of the breed of pet and your military ID. If your pet is a mixed-breed animal, you must provide a document from a vet identifying the majority breed of your animal. Upon completion of the registration of your pet at the Provost Marshal's Office, you will be provided documentation of registration, which needs to be provided to the Lincoln Military Housing Office. For additional information, call 703-784-2800.
Weapons
All persons who live on base are required to register weapons with the Provost Marshal Office at the Vehicle Registration Office before bringing any weapons onto the installation. To register, you will need to provide the following information for each weapon: serial number, weapon type, make, model, caliber, barrel length, action, year made, date purchased and description. For information, call 703-784-2800.
Fingerprints
Fingerprinting services are offered to service members, dependents and government civilian employees. Priority goes to active-duty service members, reservists, civilian employees and military family members, respectively. The fingerprinting service includes the fingerprinting of persons using a digital scanner and the printing of the fingerprint cards for the individual. The units and personnel are responsible for bringing in two copies of the FD258 (blue fingerprint card). Do not fill out the fingerprint card. The person helping you will use the computer to complete the information on the fingerprint card. For information, call 703-784-2800.