In Craven County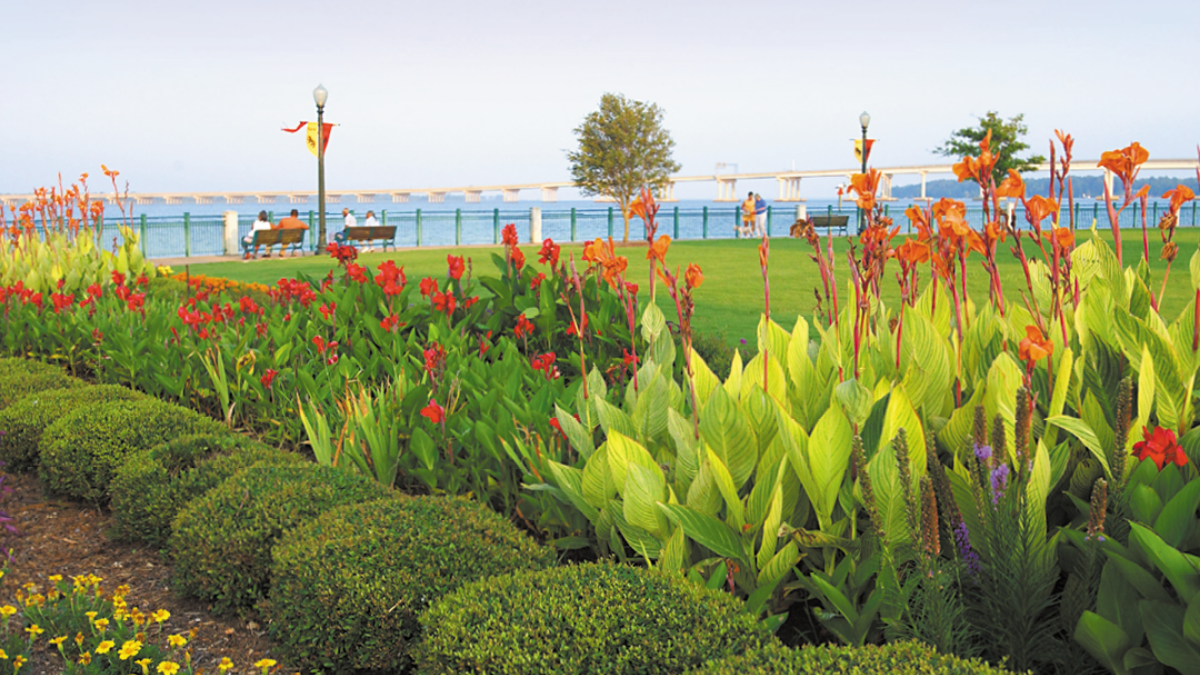 The local area boasts plenty of entertaining activities — music, sports, theater, museums, parks and shopping. Float down the lazy river at Lion's Water Adventure, for instance, or tee off at one of the challenging 18-hole golf courses in the area. Don't miss the Mumfest in downtown New Bern or the chance to compete at the Havelock Chili Festival. And be sure to check out the New Bern Firemen's Museum, celebrating the first chartered fire company in the state.
ANNUAL EVENTS
Residents of Craven County will enjoy a variety of annual events, festivals and community gatherings.
Craven County Fair
The Craven County Fair is the last week of October at the county fairgrounds in New Bern. The fair features thrill rides, vendors, carnival foods, music and fun for all ages.
Havelock Chili Festival
Havelock's annual chili festival is a two-day event in mid-October that includes a variety of cook-offs. Chili chefs compete to prove who has the best chicken wings, chili verde, red chili and salsa. Compete to earn your bragging rights, or just come to enjoy the food.
Havelock Christmas Tree Lighting Jubilee
On a Saturday in early December, Havelock hosts a Christmas Tree Lighting Jubilee. Activities for the afternoon include Santa's Parlor, a hot chocolate/cider/sugar cookie booth, booths to decorate cookies and Christmas cards, food pantry for area donations and a showing of "How the Grinch Stole Christmas." Visit the city website to find out the schedule for 2017's jubilee.
Mumfest
MumFest is a combination of family fun, entertainment, attractions, exhibitors and great food in the beautifully restored setting of downtown New Bern and its waterfront. More than 60,000 festival-goers enjoy Mumfestivities every fall. The award-winning annual event is held over a weekend in mid-November.
"The Polar Express" Train Ride in the Smokies
www.gsmr.com/events/polar-express
Fun for the entire family usually held from November to January. This round-trip train ride brings the magic of "The Polar Express" to life. Enjoy Christmas carols and hot cocoa while listening to the storybook being read. Arrive at the "North Pole" and find Santa Claus waiting to board the train and present everyone with a special gift.
Arts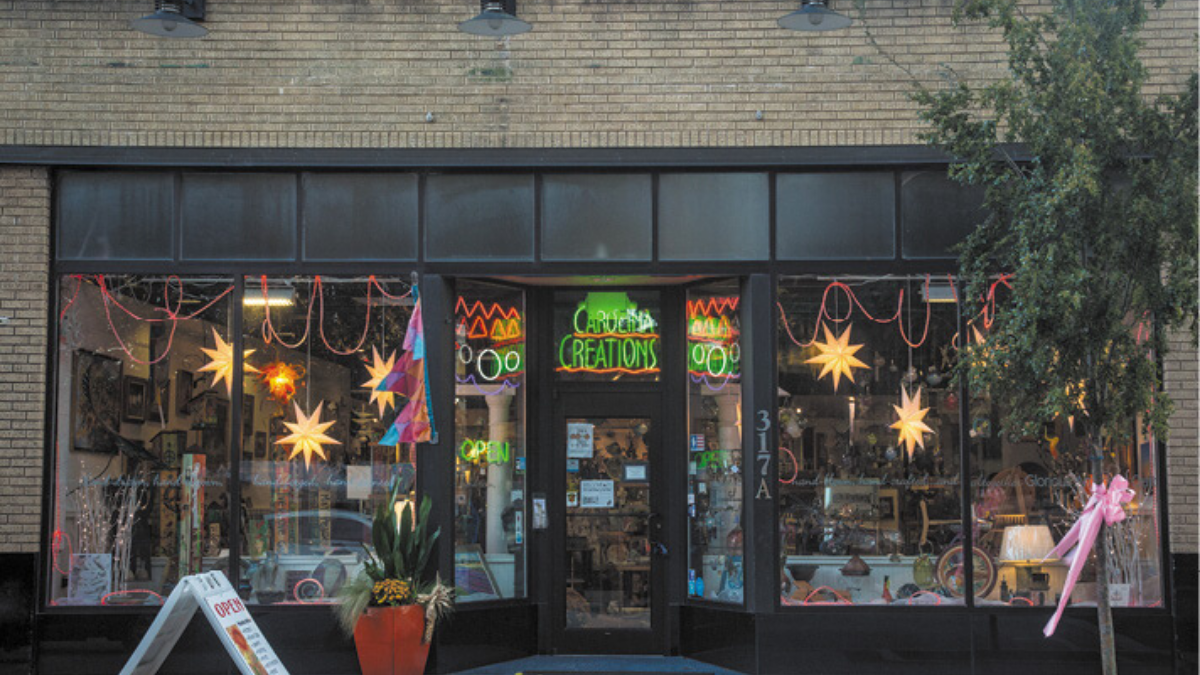 Craven County residents enjoy a wealth of artistic endeavors, from theaters to music to dance and more.
ArtWalk
317 Middle St.
New Bern, NC 28563 252-638-2577
www.cravenarts.org/artwalk.html
The second Friday of every month downtown New Bern is home to ArtWalk, where art venues, participating restaurants and shops extend their hours for a host of festivities. Enjoy a walking tour around historic downtown, explore galleries, listen to local musicians, talk to local authors and more. For details on participating businesses and other information, visit www.cravenarts.org/artwalk.html or call the Craven Arts Council and Gallery at 252-638-2577.
Carolina Ballet
919-719-0900
www.carolinaballet.com
Carolina Ballet has garnered critical praise from the national and international media, staged 80 world premiere ballets, and toured internationally in China and Hungary. Its principal venue is the Duke Energy Center for the Performing Arts in Raleigh, North Carolina.
New Bern Civic Theatre
414 Pollock St.
New Bern, NC 28560 252-634-9057
www.newberncivictheatre.org
New Bern Civic Theatre is proud to be an important part of the New Bern Community for over 40 years. Performing hundreds of shows for audiences both young and young at heart, New Bern Civic Theatre has always been about more than just entertainment.
North Carolina Symphony
3700 Glenwood Ave., Suite 130
Raleigh, NC 27612 919-733-2750
www.ncsymphony.org
Founded in 1932 and the first state-supported symphony in the country, the North Carolina Symphony is a vital and honored component of North Carolina's cultural life. Its 175 performances annually are greeted with enthusiasm throughout the state in communities large and small, in concert halls, auditoriums, gymnasiums and outdoor settings. Visit the website to see the schedule of performances.
Museums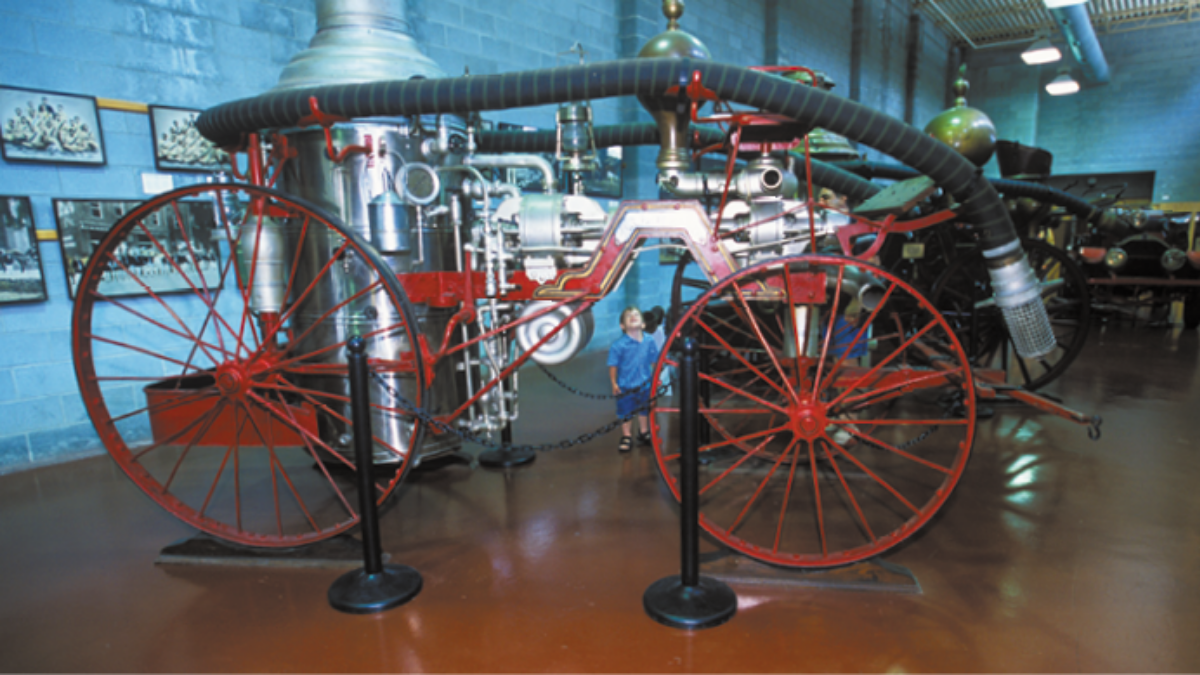 Learn about the North Carolina's history and cultural contributions by visiting any one of the many local museums.
Museum of the Marine
824 Gum Branch Road, Suite P
Jacksonville, NC 28540 910-937-0033
www.museumofthemarine.org
The design of the first phase of the Museum of the Marine (formerly the Marine Museum of the Carolinas) was presented in May 2016, along with the unveiling of the eagle, globe and anchor statue that will adorn the Reflection and Celebration Park grounds at Lejeune Memorial Gardens. Plans for the museum are going forward after a 17-year delay. Visit the website for updates.
New Bern Firemen's Museum
420 Broad St.
New Bern, NC 28560 252-636-4087
www.firemensmuseum.com
Visit the New Bern Firemen's Museum for the history of the first chartered fire company in North Carolina. Experience the Great Fire of 1922 that destroyed over 1,000 buildings and left much of the city in ruin. Talk to New Bern's famous fire horse, Fred, and bring the kids for a day of learning. With hands-on exhibits and an impressive collection of authentic memorabilia, this is a museum you don't want to miss. Hours are 10 a.m. to 4 p.m. Monday through Saturday.
The Birthplace of Pepsi
256 Middle St.
New Bern, NC 28560 252-636-5898
www.pepsistore.com
Take a trip to the birthplace of Pepsi, in New Bern, North Carolina. Step back in time and enjoy a fountain Pepsi, learn about the history of the inventor and browse the shop for souvenirs. Hours are 10 a.m. to 6 p.m. Monday through Saturday and noon to 4 p.m. Sunday.
Tryon Palace/North Carolina History Center
529 S. Front St.
New Bern, NC 28562 800-767-1560
http://tryonpalace.org
At Tryon Palace, North Carolina's history is more than a story — it's an experience. It was here where governors ruled, legislators debated, patriots gathered and George Washington danced. Today, costumed guides, working craftspeople, engaging character interpreters and American history come to life on its grounds. Enjoy the Governor's Palace and surrounding historic homes, stunning gardens and interactive exhibits. The North Carolina History Center is a new $65 million addition to the Tryon Palace & Gardens complex. Hours are 9 a.m. to 5 p.m. Monday through Saturday and noon to 5 p.m. Sunday, with some seasonal changes. Visit the website for more information.
Parks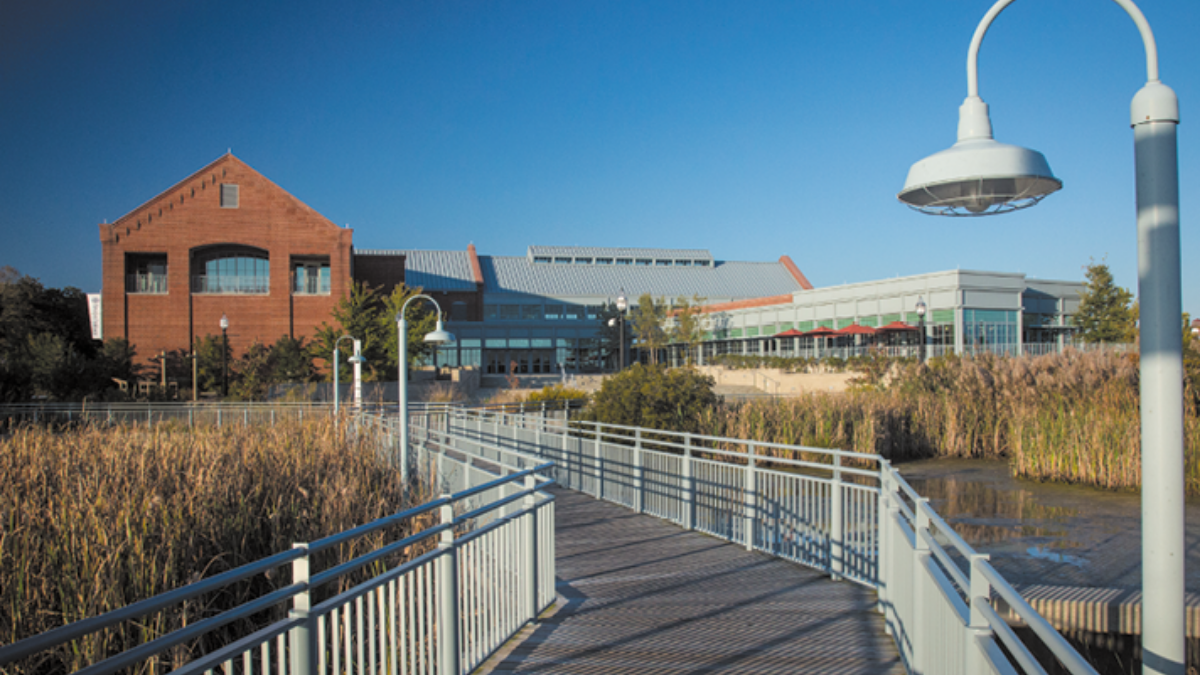 There are a multitude of parks and recreational areas in Craven County. Check your community's parks and recreation listings to see more of what your local area has to offer.
Bicentennial Park
Highway 24
Swansboro, NC 28584 910-326-2600
http://swansboro.recdesk.com/recdeskportal
Bicentennial Park, on the shores of the White Oak River along the Swansboro waterfront, includes areas on both sides of the White Oak River Bridge. This attractive and popular facility features a fishing dock, picnic facilities, brick walkways and a boardwalk, benches, historical information and restrooms.
Fort Macon State Park
2303 E. Fort Macon Road
Atlantic Beach, NC 28512 252-726-3775
www.ncparks.gov/fort-macon-state-park
Fort Macon State Park is a multifaceted place. It's the site of a perfectly restored Civil War-era fort, a museum-quality coastal education center and an unspoiled shoreline for swimming, surf fishing and beachcombing. Nearly surrounded by water at the eastern tip of Bogue Banks, the park offers undisturbed natural beauty and opportunities to explore and learn about salt marshes, estuaries and dune fields. Cannon and musket demonstrations and guided tours are regular features, complementing extensive exhibits indoors and out. A bathhouse and handicapped-accessible beachside areas complete the recreational fare.
Fort Totten Park & Field
490 Fort Totten Drive
New Bern, NC 28560 252-636-4060
Tucked between Neuse Boulevard and Trent Road on Fort Totten Drive is the 5.4-acre Fort Totten Park. It's the perfect spot for get-togethers with family or friends. For the little ones, a modular playground and tot lot make a visit to the park unforgettable. For something more competitive, challenge your friends to a game of ball on the lighted softball field. Fort Totten Park has a picnic shelter with grills and picnic tables for any size gathering.
Hammocks Beach State Park
1572 Hammocks Beach Road
Swansboro, NC 28584 910-326-4881
www.ncparks.gov/hammocks-beach-state-park
Hammocks Beach State Park offers a Welcome Center with nature exhibits showcasing island wildlife and history, picnic tables and a gazebo, ferry shuttles to and from Bear Island year-round as well as several opportunities for recreation on the island itself. The island boasts a wealth of unique shell finds, year-round fishing, primitive camping and covered picnic tables as well as a concessions stand and swimming on the east shore from Memorial Day to Labor Day.
New Bern Aquatics Center
1155 Laura Drive
New Bern, NC 28562 252-639-2981
The family-oriented New Bern Aquatics Center features zero-entry pool depths, interactive water features, slides, swim lanes and a large deck. Also included are family locker rooms, concessions, office space and a conference room. A full-time certified pool operator, lifeguard and attendants are all on hand at the center. Swimming lessons, monthly summer passes and facility rental are also available.
Shopping
From malls and major department stores to unique boutiques and souvenir shops, there's something for every taste and budget.
Jacksonville Mall
375 Jacksonville Mall
Jacksonville, NC 28546 910-353-2477
www.shopjacksonvillemall.com
Jacksonville Mall features more than 70 specialty retailers, three department stores, a 16-screen movie theater and a number of dining choices.
New Bern Farmers Market
421 S. Front St.
New Bern, NC 28560 252-633-0043
www.newbernfarmersmarket.org
New Bern Farmers Market has been bringing patrons the freshest produce, baked goods, handmade crafts plus other specialty items for the past 20-plus years. The market is open year-round Saturday and open Tuesday from April through December.
New Bern Mall
3134 Highway 17
New Bern, NC 28562 252-633-2800
www.newbernmall.com
The New Bern Mall offers 361,000 square feet of enclosed retail shopping and dining space. The mall features several department stores, apparel, jewelry and specialty stores.
Sports and Recreation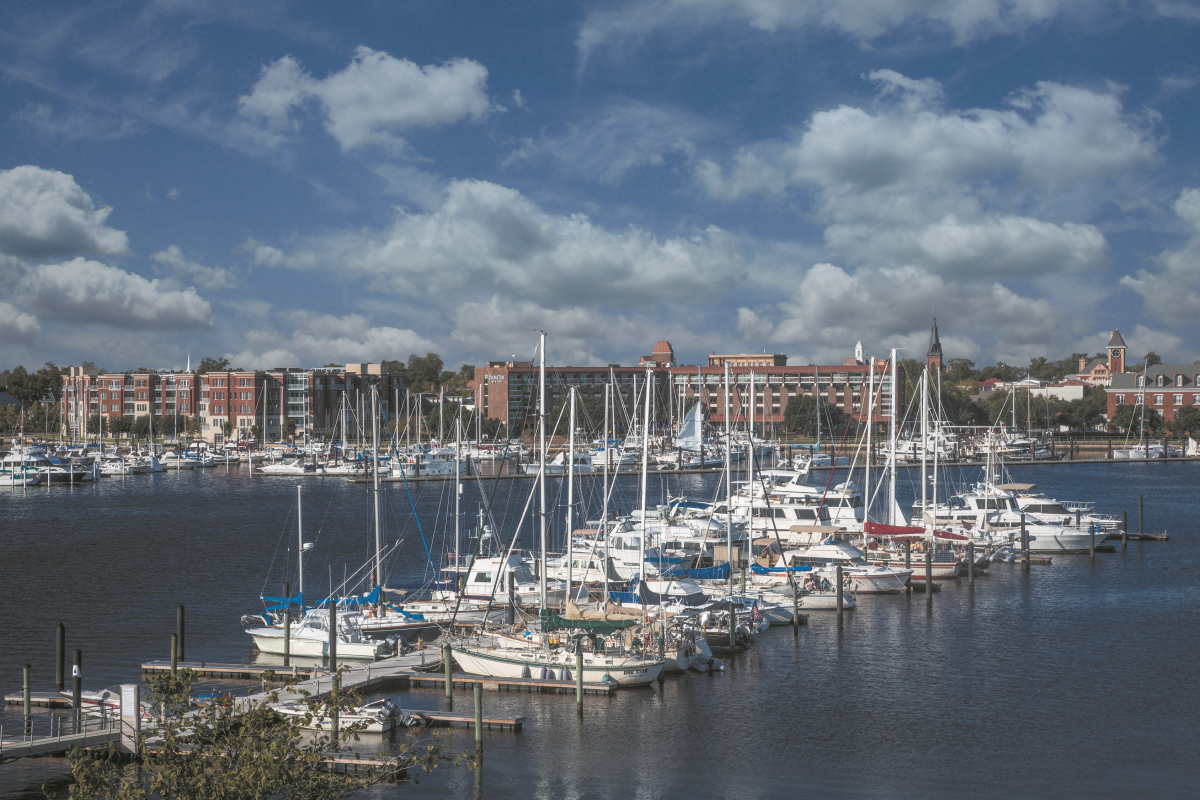 Whether you're looking to take ghost tour or go behind the scenes of a NASCAR race, Craven County offers a variety of recreational opportunities.
Charlotte Motor Speedway
5555 Concord Parkway S
Concord, NC 28027 800-455-3267
www.charlottemotorspeedway.com
Visitors can attend one-of-a-kind race spectacles such as the Coca-Cola 600, NASCAR Sprint All-Star Race & Bank of America 500; take behind-the-scenes speedway and race shop tours; and drive an 800-horsepower stock car. The 167,000-seat facility also hosts numerous other events including three of the nation's largest car shows; a 10-week series of Legends Car, Bandolero and Thunder Roadster racing; and the Richard Petty Driving Experience.
Ghosts of New Bern
Discover if ghosts really do exist as you walk through the historic district of New Bern. Candle-lit lanterns add to the experience as a knowledgeable guide shares the stories of the ghosts that haunt the homes and buildings as well as the paranormal investigations that have been held. Family friendly and wheelchair friendly make the tour perfect for everyone. Visit the website for more information on this walking tour.
Golf
Step to the tee among stunning mountains, rolling hills or beautiful beaches. North Carolina offers 400-plus golf courses across the state with temperatures that allow play year-round. A variety of public and country club courses are available in Craven County, including the Rees Jones-designed Emerald Golf Club, named one of the top 50 courses in the Southeast by Golf Weekly; the challenging Carolina Colours Golf Course that appeals to all handicap levels; and the resort-style Harbour Pointe Golf Club where golfers can enjoy a unique natural setting of picturesque coastal marsh lands. For a full list of public and private courses in North Carolina, visit www.visitnc.com/golf.
Kirkman's Farm and Petting Zoo
5255 N.C. Highway 55 W
Cove City, NC 28523 252-638-1847
www.newbern.insiderinfo.us/kids-stuff/farm/kirkmans-farm-and-petting-zoo/profile
Kirkman's Farm and Petting Zoo is a working farm, inviting visitors since 1999 to see the family-run operation and to feed and pet farmyard and exotic animals. Situated about 20 minutes west of New Bern, Kirkman's Farm demonstrates preparing the fields, planting, fertilizing and harvesting corn, wheat, rye, oats, hay and pumpkins. Besides seeing the farming activities and machinery, you can enjoy the farm's goats, potbelly pigs, rabbits, ponies, cows, a miniature donkey, ostriches, an emu, a rhea and more.
Lions Water Adventure
2602 W. Vernon Ave.
Kinston, NC 28504 252-939-1330
www.lionswateradventure.com
Lion's Water Adventure is in Kinston, 35 miles from New Bern. The water park has three water slides, a kiddie lagoon, lazy river, lap pool and therapeutic pool, shady bungalow to view the lazy river and locker/changing room area. Lion's Water Adventure is open daily from Memorial Day through Labor Day. Visit the website for more information.
Lynnwood Park Zoo
1071 Wells Road
Jacksonville, NC 28540 910-938-5848
www.lynnwoodparkzoo.com
Lynnwood Park Zoo sits on a 10-acre parcel with a 1/2-acre pond next to the picnic area. It is the only animal exhibiting facility in Onslow County and the Camp Lejeune area. The zoo displays over 80 animal exhibits with many species ranging from zebras, antelopes, potbellied pigs and skunks to alligators, pythons, box turtles and barn owls. Tours are available for groups of 20 or more. The zoo closes in the winter.
North Carolina Aquarium at Pine Knoll Shores
1 Roosevelt Blvd.
Pine Knoll Shores, NC 28512 252-247-4003
www.ncaquariums.com/pine-knoll-shores
The North Carolina Aquarium at Pine Knoll Shores has something for the whole family to enjoy. Watch river otters play. Touch a stingray. Look a shark in the eye. Explore shipwrecks — without getting wet. See a rare white sea turtle. Thousands of aquatic animals take you on a journey from the state's grand peaks to the open Atlantic. For more information on hours and ticket prices, visit the aquarium's website.