Lodging

TEMPORARY LODGING
Whether visiting Naval Submarine Base New London for a short stay or arranging a permanent change of station (PCS) move, most newcomers need a temporary place to stay. Since the base is located in the heart of New England's most popular tourist area, local hotels and motels are often booked early and are very expensive. A cost-effective alternative is staying temporarily either off base at the Navy Exchange-operated Navy Lodge, on base in NGIS or at the on-base Groton Chalet Hotel.
NAVY LODGE
2 Proteus Ave.
Phone: 860-446-3119 or 800-NAVY-INN (628-9233)
The attractive, modern Navy Lodge – renovated in 2016 – provides temporary quarters for military personnel and their dependents, Reservists, Department of Defense employees and retired military personnel.
With 68 units, each room includes air conditioning, a kitchen, private bath and family accommodations. Standard rooms are furnished with one or two queen size beds. Each kitchen comes equipped with a refrigerator, stove top, microwave, sink, pots, pans, dishes, dinnerware and silverware. One-bedroom and two-bedroom suites are also available. Complimentary breakfast is provided daily. The Navy Lodge is pet friendly and offers free Wi-Fi throughout the building. Room rates as of October 2016 are $75.50 per night for standard rooms, $100 per night for a one-bedroom suite and $125 per night for a two-bedroom suite.
Reservations are accepted for all eligible personnel on an as received basis. Reservations can be made at any time. Military personnel assigned to the New London Submarine Base on PCS orders or on temporary duty get priority.
Location — The Navy Lodge is approximately 1 mile from the base. From Interstate 95North or South, take exit 86. Turn right at the light onto Route 12. Travel a half-mile down Route 12 and turn left on Pleasant Valley Road (Shell Gas Station on the left). Take a right onto Highland Avenue, then a right onto Proteus Avenue. Navy Lodge is on the right.
VISITOR'S QUARTERS
Navy Gateway Inns & Suites
Building 429 (Tautog Avenue)
Phone: Commercial 860-694-3117
DSN: 694-3117
Fax: 860-694-3556
On-base rooms are reserved through the NGIS front desk. NGIS has 80 single rooms and two VIP suites. Since officers attending the Submarine Naval School are also billeted in Navy Gateway Inns & Suites, newcomers are encouraged to make reservations through the front desk as soon as orders are received.
All rooms include cable TV, a 35-inch flat-screen TV, Keurig coffee makers, a microwave, a refrigerator, local phone calls and coffee in the lobby each morning. No smoking is allowed in any room. Call anytime, 860-694-3416. Space A travel arrangements can be made30 days in advance. Room rates, as of January 2016, are $58 per night. VIP suites are $78 per night. They include a 42-inch TV, dining area, kitchenette and living room. Basic housekeeping service (clean, dust, replace towels and linens) is available seven days a week.
Groton Chalet
Building 532
Phone: 860-445-6699
The Groton Navy Chalet is centrally located on the base near the gymnasium, subschool and lower base. This property is known for its friendly and hospitable staff houses both students and retirees. All 150 rooms are equipped with refrigerators, microwaves, coffee makers, hairdryers, irons and ironing boards and wireless internet.
Common areas include a kitchen area for student cooking, computers, vending, comfortable TV lounge and complimentary guest laundry facilities.
Permanent Housing

Bachelor Housing
Building 429 (Tautog Avenue)
Phone: Commercial 860-694-3117
DSN: 694-3117
Fax: 860-694-3556
On-base bachelor housing is available to permanent party personnel E-4 and below. Eligible Sailors are encouraged to call and reserve on-base housing any time after orders are received. There are 520 rooms available in buildings throughout the installation. Each unit consists of two bedrooms with a shared entryway, bathroom and kitchenette. A combination TV-DVD player is available in each room along with a bed, a desk, a chair, and closet and storage space. A microwave and refrigerator is in every kitchen area. All housing units and buildings are smoke free. Designated smoking areas are available along the outside perimeter of each building.
Permanent Party Officers — There are no single permanent party officer quarters available on base. Single officers are encouraged to contact the Base Housing Office at 860-694-3851 or toll free at 877-843-5236 to find an affordable quality rental property or a home in the local community.
Geographical Bachelors — All geographical bachelors must apply for a room. Selection will be determined by a geographical bachelor review board, which generally takes seven to 10 days.
Student Quarters — The Naval Submarine School provides 725 rooms in three buildings for students E-6 and below who are attending officer and enlisted courses at Naval Submarine Base New London. Each two-person room includes a microwave and refrigerator. Student officers are billeted in Navy Gateway Inns & Suites or the Groton Chalet.
Housing Service Center
Building 83, Room 148, Dealey Plaza(between the torpedoes)
Phone: 860-694-3851
DSN: 694-3851
Toll Free: 877-843-5236
Fax: 860-694-3154
Email: Housing.NSBNL.fct@navy.mil
Hours of Operation: 8:00 a.m. to 4:00 p.m. Monday, Tuesday, Wednesday and Friday; 8:30 a.m. to 4:00 p.m. Thursday
One of the biggest decisions for newcomers moving to a new base is finding a nice, affordable home in a great neighborhood with wonderful amenities and good schools for their children.
One of your first calls, after you receive PCS orders, should be to the SUBASE Family Housing Welcome Center. Its sole mission is to help you find an affordable home, whether it is in the private sector or one of our privatized housing units.
Public Private Venture (PPV) Housing — All former Navy housing areas have been privatized since 2004. A private developer, Balfour Beatty Communities, now provides our military families outstanding-quality homes with rental costs that fall within the service member's basic allowance for housing (BAH).
Balfour Beatty Communities provides 24-hour maintenance services and facilities, which include playgrounds, basketball courts and three community centers, two of which have pools — one with a water spray park.
The PPV housing communities include single-family homes, duplexes and town houses with numerous amenities, including carports and garages, dishwashers, garbage disposals, private patios or deck areas and lawn care provided by Balfour Beatty Communities.
Floor plans, photographs and a variety of other information on the housing areas can be viewed at www.NSBNewLondonHomes.com.
Most of these PPV housing areas are off base in the local community within 2 miles of SUBASE.
Families interested in living in a military housing community are encouraged to apply early since there may be a waiting list, depending on the number of bedrooms required.
Military families can apply for family housing by submitting an application package as soon as PCS orders to SUBASE New London are received. Please contact us utilizing www.HEAT.com to apply. If you are applying in person, please have your current copy of orders and your record of emergency data.
In addition to PPV, the Housing Welcome Center offers two other types of referral programs to help bachelors, military families and DOD employees find homes in the local community. Other programs include:
Rental Partnership Program — SUBASE New London has a robust Rental Partnership Program (RPP). This program is designed to provide active-duty military personnel with affordable off-base housing. It is governed by an agreement between the landlord and SUBASE New London, enabling military personnel to rent off-base at a reduced monthly rate as well as a reduced or waived security deposit and no application fees. The landlord may not deny renting to an RPP applicant based on credit history but can deny renting due to negative rental references. The program requires applicants to meet income requirements, and military tenants must agree to pay their rent by allotment. The landlord may make renters insurance and liability insurance mandatory for the military RPP applicant. Units that are offered under the RPP are evaluated and qualified to meet Navy standards. For additional information on this program, call the Housing Service Center at 860-694-3851 and ask for the RPP referral specialist or email us at Housing.NSBNL.fct@navy.mil.
Community Referral Program — The Housing Service Center (HSC) has a Community Referral Program to assist military families, singles and geographical bachelors in locating housing within the local community. Service members are able to obtain a personalized listing of available rentals that meet their individual needs, i.e., price range, location, number of bedrooms and baths, etc.
New London County has a relatively high cost of living, with the price of rentals ranging from $800 to $2,500 or more per month. When renting in the local community, you may be required to pay various types of deposits and fees, i.e., application fee, credit check fee, pet fee, security deposit, pet deposit, etc. Keep in mind: Deposits are returned, fees are kept.
Landlords will generally require tenants to sign a lease for the rental property. We strongly recommend you bring your lease to the HSC prior to signing. We will go over your lease with you to ensure you fully understand all the requirements and have an adequate military clause in the event you receive PCS orders before the term of the lease. You can expect to have an upfront cost of the first month's rent and the security deposit at the time you sign your lease. The security deposit amount is typically the equivalent of one month's rent.
It is standard practice for landlords and property managers to run credit checks on potential tenants. Negative findings may limit your rental options and make the rental process very difficult. If you are having credit issues, the Fleet and Family Support Center staff can help you start the credit repair process.
Renters insurance may or may not be a requirement within the terms of your community lease. We strongly encourage purchasing renters insurance with supplemental general liability coverage even if it's not required by your landlord. This insurance protects you against a potential financial burden in the event of an incident such as fire or flood.
The HSC is your contact for any problems you may encounter, such as discrimination complaints, tenant-landlord disputes, or any questions or problems about living in the community. Take advantage of the resources available to you before you decide to sign a lease. In addition to helping you find a home, we offer lease counseling services for those first-time renters and outbound housing information when it is time for you to transfer.
For additional information on our Community Referral Program, please contact the Housing Service Center.
Personal Property (Household Goods)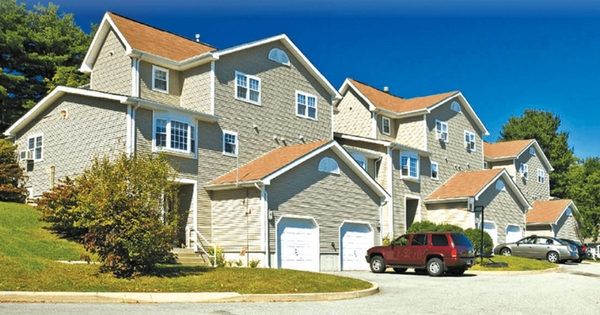 Building 84, Second Floor
Phone: 860-694-4650
DSN: 694-4650
Toll Free: 877-313-0682
When moving, military families want to ensure their household goods are transported in a safe and timely manner to their new duty location. This is the responsibility of the Personal Property Office at both your current duty station and the Personal Property Office here.
As soon as you receive PCS orders, you are encouraged to contact the Personal Property Office at your current duty location to arrange for shipment of household goods to your next duty station. Once you have arranged for either temporary or permanent housing near Naval Submarine Base New London, you need to contact the Personal Property Office to arrange for delivery of your household goods when you arrive. The number to call for delivery is 860-694-4650 or 877-313-0682.
SUBASE New London's Personal Property Office is committed to providing quality customer service and arranging every facet of your move so that it takes place as smoothly as possible. Whatever your moving needs are, we are here to help you. We handle all moves for Navy, Coast Guard, Marine Corps, Army, Air Force and DOD civilians in southeastern Connecticut.
We provide services in the following areas:
Setting up a government move.
Setting up a do-it-yourself move (DITY).
Short- or long-term storage.
Providing briefs for deploying units.
Group counseling.
General assistance in planning your move.
When you receive permanent change of station, retirement or separation orders, you can schedule your household goods move over the internet on the website www.move.mil. This allows you to point-click-move 24/7. This system provides you an application module, online counseling and online entitlement information. You will need to have the following available: your official orders, dependent documents and a power of attorney, if required.
For people who like face-to-face contact, the Personal Property Office provides friendly, trained staff to help you with your move. Just call the outbound/counseling staff at 860-694-4650 or toll free 877-313-0682, or visit the Personal Property Office, in Building 84 across from the Dealey Plaza. The Personal Property Office's hours are 7 a.m. to 4 p.m. Monday through Friday. If you have a special need, contact the Personal Property transportation officer to make other arrangements.
The things that you will need to bring to execute your move are:
One copy of your PCS orders.
Power of attorney or notarized letter of authorization (if someone other than the service member is arranging the move).
Our carriers and agents require notice, in advance, of at least five working days to accept a shipment. Please take this time frame into consideration when planning your move.
For additional information regarding any household goods movement entitlement or program, contact our Personal Property Office at 860-694-3670/3504/4650/3591, DSN 694-3670/3504/4650/3591 or toll free 877-313-0682.