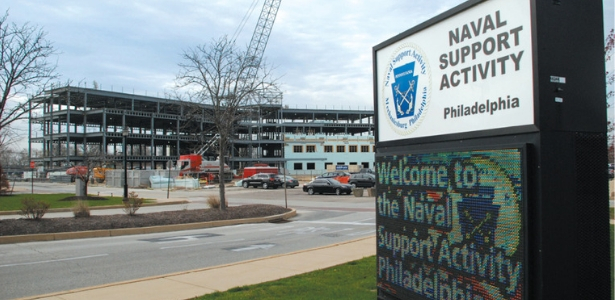 Building 10, Floor 2
215-697-4606

Cmdr. Michael Vaas
Officer in Charge,
Naval Support Activity
Philadelphia
Welcome to Naval Support Activity Philadelphia. We are in northeast Philadelphia in the community of Lawncrest on Robbins Avenue.
The Naval Support Activity staff provides base operating support to 37 buildings with 2.25 million square feet of space.
With 150 employees and a $4 million budget, this small staff makes big strides, ensuring some 5,200 base employees come to work each day in a safe, secure, functioning work environment. We are committed to providing effective and efficient world-class base operating support to our tenants, visitors and residents, while enabling our warfighters and supporting our families.
Employees
Military: 25
Civilians: 108
Contractors: 17
Total: 150
Online:
www.cnic.navy.mil/regions/cnrma/installations/nsa_philadelphia.html
History

The storied history of Naval Support Activity Philadelphia in many ways parallels the founding of our nation. Although specifically established in World War II as the Naval Aviation Supply Depot, some of the organizations that reside here today trace their lineages back to a time well before aircraft.
The predecessor of the Defense Logistics Agency started in 1800 with the construction of the Schuylkill Arsenal in Philadelphia. Built to function as a quartermaster and provide the U.S. military with supplies, one of its most famous tasks was outfitting the Lewis and Clark expedition. This organization would grow and transition into the Defense Industrial Supply Center, and its headquarters would locate at the Naval Aviation Supply Depot Compound in northeast Philadelphia in the mid-1940s.
Prior to its purchase by the Navy in 1942, NSA Philadelphia was home to the Keystone Brick Co., a bustling enterprise that provided many facades throughout the city. One of the company's most famous buildings was its headquarters. With elaborate brickwork, both interior and exterior, it was a structure of regional prominence. After purchasing the brickyard site, the Navy refurbished the building into "Quarters A," home to the highest ranking officer on the installation.
In the late 1940s, the supply depot mission at NSA Philadelphia began to phase out. In response, the Navy converted storehouse space into offices, a trend that continued for decades. Through its more recent history, the Naval Support Activity has grown as Base Realignment and Closure Commission actions consolidated missions and moved them to the installation.
Today, NSA Philadelphia is a robust, bustling, 134-acre installation with some 5,200 employees and 424 tenant organizations.