Commissary
The NAS JRB Commissary is the place where military personnel, retirees and their families enjoy their commissary benefit. Authorized patrons can purchase groceries at cost plus a 5 percent surcharge, which covers the costs of building new commissaries and modernizing existing ones. As a result, commissary shoppers save on their purchases, compared with commercial prices — savings amounting to thousands of dollars annually, depending on individual shopping habits.
This NAS JRB commissary, opened in 2011, was built with surcharge dollars. In addition to a full lineup of fresh produce, fresh meats and frozen, chilled and dairy items, the store features a full-service deli-bakery, and the meat department can provide specialty cuts to order.
Visit www.commissaries.com for more information about the commissary benefit. For hours and store events, visit the store's location on the website.
Education

Belle Chasse Academy
Located on NAS JRB New Orleans in Belle Chasse, Louisiana, Belle Chasse Academy (BCA) is the first public charter school on a military installation.
BCA opened its doors in September 2002 and has a current enrollment of about 950 students in grades K-8. Conceived by military personnel, educators and community leaders in 2000, BCA incorporated as a Louisiana nonprofit corporation in January 2001. The Louisiana Board of Elementary and Secondary Education has approved BCA as a Type II charter.
BCA serves children of active-duty, Reserve and retired military members and civilian employees, providing a challenging, research-proven core curriculum for all students. Complementing the school's rigorous academic program is a structured, orderly environment, shaped in large measure by a fully integrated character-education program.
The mission of BCA is to educate military-dependent children, no matter their background or previous school experience, to fully achieve their personal and academic potential. It has established and continues to sustain a quality community charter school that fosters an educational environment focused on academic excellence and tailored to the needs of the military-dependent child, specifically providing:
Acknowledgement of the unique needs of the military child.
Reduction of service-connected disruption and stress.
Substantial, direct community and parental participation.
The following documentation must be presented at the time of enrollment:
Child's Social Security card.
Military ID (Sponsor/Parent).
End-of-year report card from previous school year.
Proof of residence (lease, if living on base).
Copy of the current Individual Education Plan if the student has been receiving special education services.
Standardized test scores if entering from home-school.
Child's original birth certificate.
Louisiana Education Assessment Program scores for fifth-graders if entering from a Louisiana school.
Documentary proof of adequate immunizations: DTaP — diphtheria, tetanus, pertussis (whooping cough); IPV (inactive polio virus); MMR — measles, mumps, rubella (German measles); hepatitis B; and varicella (chicken pox). All students are required to present evidence of having the appropriate number of vaccine doses. Consult the school nurse for the appropriate number of doses. All students 11 and older must have proof of immunization for TDap (tetanus, diphtheria and acellular pertussis) and meningococcal conjugate vaccine.
For more information, visit www.bellechasseacademy.org or call 504-433-5850.
Emergency Management
The Emergency Management Department is designed to help protect life and property, mitigate the effects from man-made or natural hazardous incidents or emergencies, and achieve rapid mission restoration through the use of comprehensive plans and procedures, using the Emergency Operations Center in Hangar 4. Emergency Management is the liaison for Defense Support of Civil Authorities, assisting civilian agencies and local parish governments coping with emergencies and disasters.
Food Service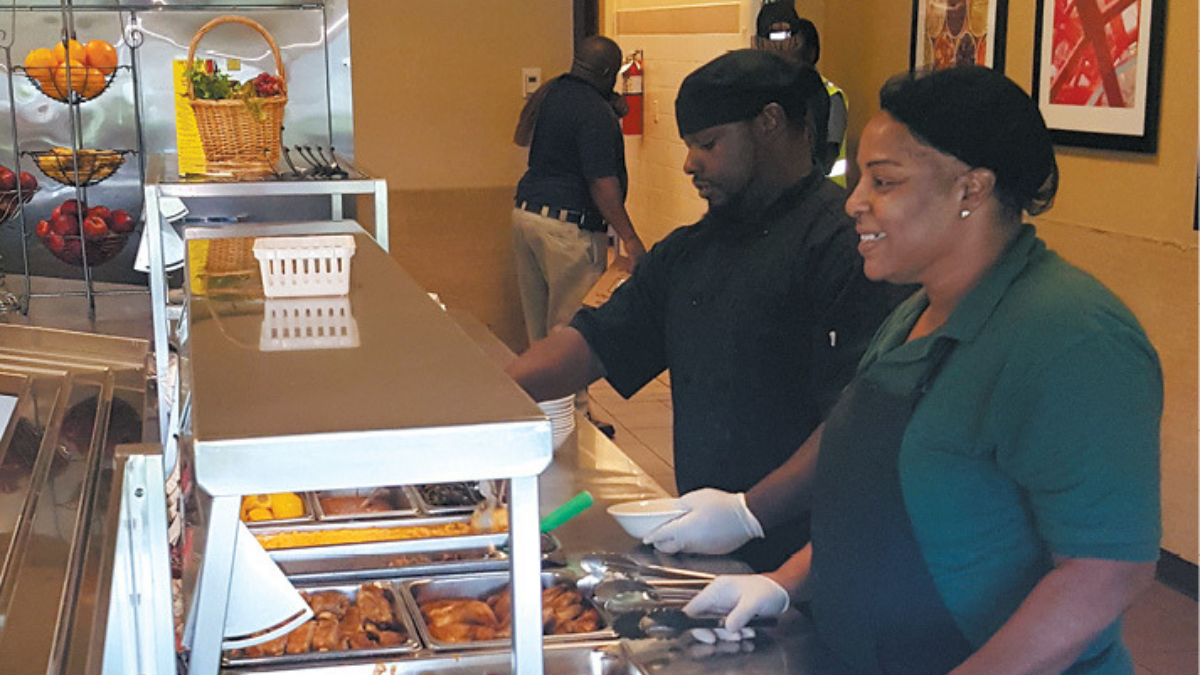 The base galley, Redfish Rocks, in Building 513, prepares up to 400 delicious and nutritious meals each day, including many fresh-baked cakes, pastries and breads. The five-star accredited facility is dedicated to serving customers the finest meals in the best possible way.
Having been in continuous operation since the base opening, the galley has long-standing pride and dedication to customers and the support of shipmates.
Customers can hear the daily menu by calling 504-678-9652. Serving hours are: breakfast, 7 to 8:15 a.m.; lunch, 11:30 a.m. to 12:45 p.m.; and dinner, 4:45 to 6 p.m.
The galley is open to DOD civilians, active-duty military members and their dependents, and Reservists who are on active duty and their dependents. (Dependents must be with their sponsor.)
Retired military members and others are allowed only for "special events meals" throughout the year where they are welcome to dine in the galley.
Phone
Galley 504-678-3421
(if food support is needed)
Menu line 504-678-9652
Food service officer 504-678-7580
Twitter
Naval Branch Health Clinic Belle Chasse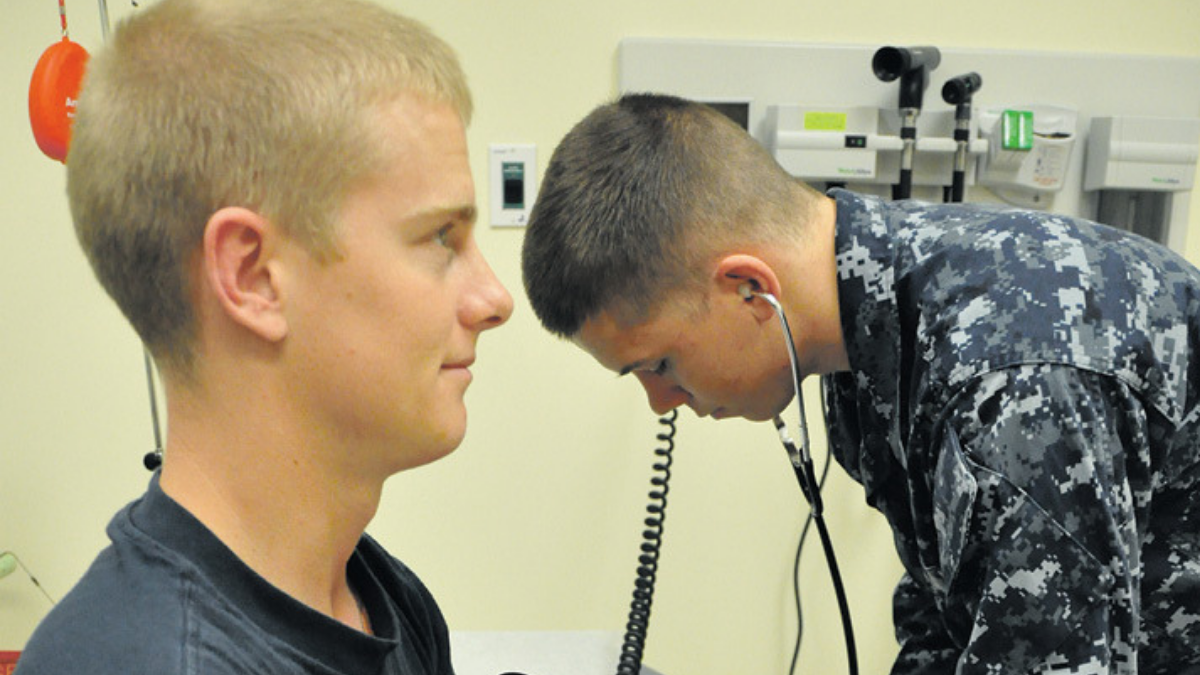 Naval Branch Health Clinic (NBHC) Belle Chasse, in Building 41 at NAS JRB New Orleans, is one of 10 branch health clinics under the Naval Hospital Pensacola, Florida network.
Members assigned to the clinic provide primary care outpatient, wellness, dental and supporting health care services for more than 20,000 eligible beneficiaries stationed throughout the greater New Orleans area. Emergency, surgical and hospital care and many other specialty services are provided through the civilian network via coverage from TRICARE — Humana South health agencies.
Hours are 7:30 a.m. to 4 p.m. Monday through Friday. The clinic is closed on federal holidays.
Drilling Reservists may also have access on the day of their drill for physicals and acute health care. Selected Reserve providers, including flight surgeons, augment the Navy Operational Support Center's full-time support medical staff on monthly drill weekends to provide physical health assessments and physical examinations. Patients who are in a drill status Monday through Friday may bring a copy of their official muster sheet and be seen for illnesses or injuries that interfere with performance during the drill period.
Reservists on orders for 31 days or more must update their DEERS status to enroll for TRICARE Prime or Remote and to gain access for dependents. Those activated for fewer than 31 days must present a copy of their orders upon check-in.
Administrative Services
Internal administrative services support the requirements of the health care departments and their operations.
Behavioral Health
The goal of the clinic's behavioral health staff is to provide treatment within the clinic with the staff psychiatrist and licensed counselor whenever possible. If necessary, the clinic will facilitate treatment and continuation of care by consult entry and direct contact with TRICARE and civilian providers. The clinic also strives to provide mental health awareness education to the base in concert with local Fleet and Family Support Center counselors.
Anyone with urgent behavioral health concerns should visit www.militaryonesource.mil or call 800-342-9647.
Case Management
The Case Management office, available for active-duty service members, their spouses and children, provides assistance in coordinating care for routine and catastrophic mental health cases, including network utilization of addiction and inpatient services.
To discuss the need for case management please send a secure message to your provider using www.tricareonline.com.
Dental
The Branch Dental Clinic is available for routine exams, comprehensive dentistry care and dental hygiene. Hours are 7:30 a.m. to 4 p.m. Monday through Friday.
NBHC dental serves all active-duty members and Reservists on active-duty orders for greater than 30 days. To schedule a dental visit, please call 504-678-7965.
After-hours emergencies should be seen at the nearest emergency room.
Health Benefits
The managed care department is ready to assist with enrollment, medical billing issues and referrals for all of its beneficiaries. The Health Benefit Advisers (HBAs) are focused on training everyone to take ownership of their health care benefits. The principal means for accessing these benefits is through TRICARE South, 800-444-5445 or by visiting www.humana-military.com.
The HBAs can facilitate referrals, acting as a liaison obtaining referral approval and the civilian network partner (TRICARE/Humana), to obtain the referred service in the local healthcare network. Most non-urgent referral services can be accomplished at www.humanamilitary.com or by calling 800-444-5445.
To reach the managed care department, call 504-678-3660, option 5, between 7:30 a.m. and 4 p.m.
Health Promotion Department
The department provides innovative and evidence-based health promotion programs and services that promote lifelong healthy behaviors and lifestyles. Services include counseling with smoking cessation, healthy nutrition, managing high blood pressure, managing blood sugar, lowering cholesterol and more. Classes include Tobacco Cessation, ShipShape (the Navy's official intervention program for weight management), Weight Management (includes exercise recommendations) and Sleep Management. Individual and group counseling at individual commands can be arranged on a wide variety of health-related subjects by appointment.
Call 504-678-7912 for more information.
Laboratory
The laboratory provides services for the beneficiaries of NBHC Belle Chasse. The staff collects samples for routine and specialty testing and prepares them for transport to outside reference testing centers.
Questions concerning available services can be answered by calling 504-678-7950/8005.
Medical Home Port
Medical Home Port Primary Care Managers (PCMs) provide comprehensive care and preventive medical services, with nearly 6,000 patients enrolled in the PCMs in Medical Home Port. PCMs are concerned with preventing illness, ensuring patients receive recommended health exams and taking care of patients when they are unwell. If patients require specialty care, the patient's PCM will generate a referral. A behavioral health specialist (psychologist) is also available through PCMs or by self-referral to evaluate and treat behavioral and emotional health concerns.
All medical care is scheduled by appointment. Use the Patient Portal to book all appointments at www.tricareonline.com. If an appropriate appointment is not available, please send a secure message to the PCM using the Patient Portal at www.tricareonline.com or call 504-678-7914 or 504-678-7915.
Patients with emergency concerns should call 911 or go to the nearest emergency department.
Medical Readiness
The Medical Readiness team is the other primary access point for regular medical care. This team is principally concerned with Military Readiness exams including aviation medicine, audiology, overseas screening, flight physicals, PHAs, separation/retirement/commissioning screenings.
Service members stationed locally who desire an appointment for their PHA, suitability screening, flight physicals, overseas screenings or other similar evaluations should email the Readiness Center at usn.nolaepha@mail.mil with their DOD ID number and a phone number in which they can be reached. The phone number for this section is 504-678-3660, option 8.
Medical Records
All health care records for beneficiaries are maintained on-site by military instruction.
Navy medicine is hard at work digitizing every health care encounter into the electronic medical record. Records should be turned in when checking in to commands and enrolling with the Branch Health Clinic, and any hard-copy medical encounters in the civilian network should similarly be turned in (otherwise it won't exist in the official electronic record). People may receive a courtesy copy of their electronic medical record; call ahead for notification and an appointment: 504-678-7905/7944.
When receiving care from a non-military provider, please have all treatment notes faxed to 504-678-7974 for scanning into electronic medical records.
Optometry
NBHC Belle Chasse offers full routine eye exams and contact prescription exams for active-duty members and Reservists. Dependents are seen on a space-available basis. Active-duty, Reserve and retired members may order eyeglasses.
Appointments may be made by speaking with an optometry technician at 504-678-7927.
No emergency care is available. Hours are 7:30 a.m. to 4 p.m. Monday through Friday.
Pharmacy
The pharmacy stocks medication via Navy Medicine formulary guidance with input from Naval Hospital Pensacola and based on local requirements — not all civilian prescription or other military prescription orders can be filled. To avoid inconvenience when attempting to fill a prescription, review the clinic's formulary in advance on the Express Scripts website at https://health.mil/formulary. Pharmacy hours are 7:30 a.m. to 4 p.m. Monday through Friday.
For refills of previously filled medications, please call 888-513-4164 10 days in advance. All refills arrive at NBHC Belle Chasse Pharmacy from Naval Hospital Pensacola. Patients should allow 10 days for medication to be refilled.
Physical Therapy
The NBHC Belle Chasse physical therapy department provides outpatient physical therapy services to active-duty personnel and their dependents with musculoskeletal and neuromuscular pathologies and Tricare Prime retirees ages 18 to 64. Services include examination, evaluation, diagnosis, treatment plans and prognosis. Treatment is administered through manual therapy, therapeutic exercise, modalities (moist hot packs, cryotherapy, ultrasound, electrical stimulation, iontophoresis, kinesio taping and traction) to decrease pain, improve range of motion and strength and return the patient to the prior level or maximum level of function. Hours are 7:30 a.m. to 4 p.m. Monday to Friday. A referral from a Primary Care Manager (PCM) is required for all physical therapy (PT) services. For physical therapy inquiries, dial 504-678-3660, option 3.
Radiology
Belle Chasse Radiology's mission is to care for all basic X-ray needs with state-of-the-art equipment and cutting-edge technology to better identify problems such as bone spurs, shin splints and fractures. The goal is to assist patients along the road to recovery with greater speed and efficiency.
For additional Information, including digital copies of exams performed at the lab, call 504-678-7939.
NAS JRB Credit Union
The NAS JRB Credit Union is a full-service financial institution with a full range of financial products including savings and checking accounts, youth accounts, Visa credit and debit cards, online banking, a mobile app, e-statements, bill pay and many more to fit everyone's needs. It also offers a variety of loans including auto, signature and mortgages through CU Member's Mortgage.
Membership is open to all active-duty and active Reserve members of all branches, federal civil service employees, all military retirees, all members of Veterans of Foreign Affairs and all of their immediate family members and organizations of such persons. The NAS JRB Credit Union has proudly supported the military for more than 70 years and strives to continue to serve and provide support in the years to come.
With two conveniently located branches in Belle Chasse, the CU is also a member of the Shared Branching Network which expands to more than 6,000 worldwide branches. The main office is in Building 509 on Russell Avenue aboard NAS JRB New Orleans, and the branch location is at 7532 Highway 23, Suite A, in Belle Chasse, Louisiana. The phone number for the main office is 504-678-3563; the branch office number is 504-394-5574. Visit www.nasjrbcu.org for additional information.
NAS JRB Legal Services
Two separate and distinct legal commands provide services to Navy, Marine Corps and Coast Guard commands and personnel in Louisiana: Region Legal Service Office Southeast (RLSO SE) and Defense Service Office Southeast (DSO SE). The distinction is important. RLSO SE provides commands with legal advice relating to military justice and command services and also furnishes legal assistance to eligible individual service members and their families. DSO SE provides legal advice and personal representation for service members facing courts-martial and administrative separation boards.
Prosecution of Courts-Martial
The New Orleans branch office for RLSO SE provides preliminary processing including drafting of charges, review of preliminary inquiries and advice regarding the preferral and referral of court-martial charges. The staff conducts litigation of courts-martial trials, including the preparation and authentication of records of trial, and provides victim and witness assistance as required. The staff judge advocate (SJA) office is in Building 46, and the attorney assigned to this position serves as the SJA for the base's commanding officer. The SJA and the staff also provide command services and military justice advice and training to command leadership of tenant commands at NAS JRB New Orleans as well as Navy commands across the state of Louisiana.
Command Services
RLSO SE provides post-trial courts-martial assistance including timely review and advice regarding the convening authority's action, preparation of promulgating orders and forwarding of records of trial to appellate authority as appropriate.
Additionally, summary courts-martial (SCM) advice and assistance, including drafting of charges, review of preliminary inquiries and referral of charges, is available. Along these lines, RLSO SE can provide advice and training to potential SCM officers or provide an SCM officer in certain instances.
RLSO SE provides advice and assistance for all aspects of non-judicial punishment including preliminary processing, conducting the NJP hearing, preparing letters of censure and forwarding appeals.
Moreover, RLSO SE conducts JAG manual investigations training, advice and assistance to investigating officers in preparation of reports and review by the convening authority. It provides administrative separation advice and assistance in all aspect of the administration separation process including providing Recorder in appropriate cases.
Miscellaneous command services (and training) in myriad administrative law matters includes, but is not limited, to the following topics: officer/enlisted performance, detachment for cause, government ethics, fraternization, sexual harassment, search and seizure, IG/congressional Inquiries, FOIA/privacy act, freedom of expression, mental health evaluations, indebtedness complaints, hate crimes issues and family advocacy issues including child abuse, paternity, family support and domestic violence.
Commands requiring services which fall within any of these categories can call the RLSO SE branch office New Orleans at 504-678-4664/9589.
Base Legal Assistance Office
The base legal assistance office is in Room 225A in Building 492. The attorney assigned to this position works directly for the RLSO SE legal assistance director in Pensacola, Florida. The legal assistance office enhances the readiness and welfare of active-duty and Reserve members of the armed forces by providing quality legal services regarding personal civil legal matters to eligible persons and by educating eligible persons regarding their personal legal rights and responsibilities.
Legal assistance staff accomplishes its mission by direct client assistance services and a vigorous preventive law program that educates and informs the military community through a variety of creative and stimulating outreach efforts. This office provides legal assistance services to clients eligible to receive services in accordance with federal law, applicable regulations and service policies. Legal assistance attorneys draft wills, living wills, medical powers of attorney, and other special and general powers of attorney. They also provide basic advice on diverse matters such as divorce and child support, landlord-tenant issues, consumer protection laws such as the Fair Debt Collection Act, the Unfair Deceptive Acts and Practices Act, and the Service Members Civil Relief Act, as well as mobilization/active duty recall-related laws including the Uniformed Services Employment and Re-employment Rights Act. Notary services are also available. To set up an appointment with the legal assistance attorney, call 504-678-4692/4694.
Services and advice to eligible individuals are related to a wide range of legal issues. Common issues include, but are not limited to:
Consumer law: identity theft, general and automobile contracts, creditor/debtor and consumer fraud/abuse.
Family law: divorce, child and spousal support, and paternity issues.
Estate planning: wills, basic trusts, medical powers of attorney, springing powers of attorney and living wills.
Landlord/tenant and property law: review and interpretation of leases, security deposits, evictions, housing codes and review of real estate purchase agreements.
Immigration law: naturalization, immigration for dependents and other personal citizenship issues.
Servicemembers Civil Relief Act (SCRA): advice on the protections and effects of the SCRA, including protections from default judgments while deployed, interest caps on pre-service debt obligations (e.g., student loans), and ability to break property and service leases in case of deployments or permanent change of station (PCS) moves.
Uniformed Services Employment and Re-employment Rights Act (USERRA): advice on the protections and effects of USERRA as well as assistance in exercising rights under this law, for Reserve Component members.
Taxes: advice on federal, state and local taxes. The office also provides income assistance with online tax filing during the January through April tax season.
Upon request by an active or Reserve command, RLSO SE legal assistance attorneys also can provide pre- and post-mobilization legal briefs, as well as briefs on any legal assistance subject referenced here.
Legal Assistance Hours
Notary and power of attorney services are available 7:30 a.m. to 4 p.m. Monday through Friday on a walk-in basis (no appointment required). Emergencies are dealt with on a case-by-case basis.
Legal assistance appointments are available 8 a.m. to 3 p.m. Monday through Thursday. Emergencies are handled on a case-by-case basis.
Eligible individuals requiring legal assistance services may call 504-678-4692 or DSN 678-4692 for more information.
Limitations on Legal Assistance
A legal assistance attorney cannot represent individuals in a civilian court but can give advice on civil matters and can provide assistance in finding civilian counsel where applicable. A legal assistance attorney may not advise or assist in, or become involved with, individual interests opposed to or in conflict with the interests of the United States.
Eligibility for Legal
Assistance Services
Military personnel: Active-duty, retired, Reservists (pre- and post-mobilization and when on active duty for 30 days or more) and their eligible dependents are eligible for all services. Members of allied forces and their dependents may also be eligible for services.
Civilian personnel: DOD civilians deploying for at least 30 days to a combat zone, in support of a contingency operation or aboard a naval vessel are eligible for all services. Legal assistance may also be provided to dependents of these civilians, both before and during deployment, on deployment-related matters. All services are to be provided within current means and capabilities of the legal assistance office. Additionally, legal assistance may be provided to civilian employees and their dependents for a reasonable period, but not to exceed 30 days, after the civilian returns from deployment to close out ongoing legal assistance matters related to deployment that arose before or during deployment.
Navy Exchange Facilities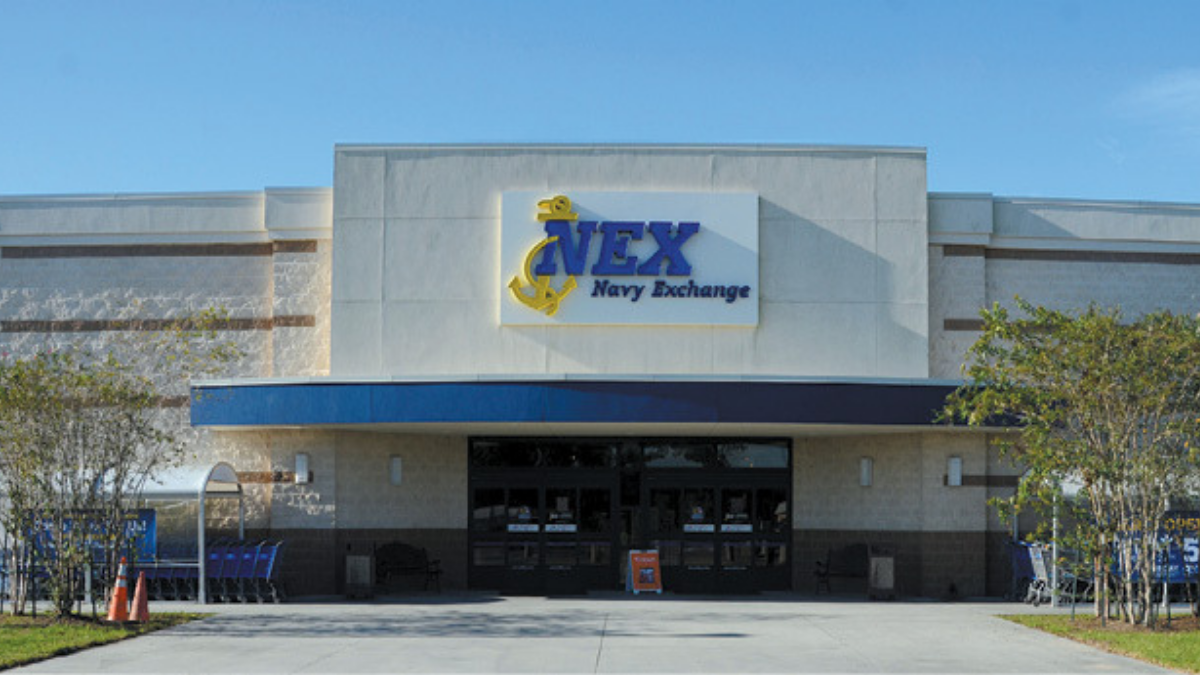 The Navy Exchange in Building 502A at NAS JRB New Orleans has a wide range of retail departments featuring men's, women's and children's clothing; shoes; household goods; magazines; books; school supplies; toys; luggage; small appliances; car accessories; fishing, workout, storage and motorcycle equipment; and seasonal items for every holiday. In addition, the NEX offers layaways, Military Star Card applications and payments, and special orders.
Hours are 7 a.m. to 8 p.m. Monday through Friday, 9 a.m. to 8 p.m. Saturday and 10 a.m. to 6 p.m. Sunday. For more information, call 504-678-2057. The gas station at NAS JRB New Orleans is in front of Building 269, and pumps operate 24/7 with a credit card.
Beauty/Barbershop
504-678-2724
The beauty shop offers relaxers, color and highlights, perms, deep conditioners, cuts and styles; the barbershop can provide all types of haircuts. Barbershop hours are 7:30 a.m. to 7 p.m. Monday through Friday, 8 a.m. to 6 p.m. Saturday and 10 a.m. to 6 p.m. Sunday. Beauty shop hours are 10 a.m. to 6 p.m. Tuesday through Saturday.
Electronics
504-678-2053
The electronics department offers LED/LCD televisions, tablets, iPads, cameras, GPS/stereo systems, home theater systems, gaming systems (PlayStation, Xbox, Wii), speakers, boom boxes, portable DVD players, CDs/DVDs, cellphones for AT&T service, cellular phone accessories and home telephones and accessories.
GNC
504-678-2795
This outlet offers weight loss and weight gain vitamins, meal supplements/enhancements, etc. Hours are 9 a.m. to 8 p.m. Monday through Saturday and 10 a.m. to 6 p.m. Sunday.
Optical Shop
504-678-2723
The optical shop offers contact lenses, single-vision stock lenses, full frames and designer frames. Hours are 9:30 a.m. to 6 p.m. Tuesday through Saturday. The shop is closed Sunday and Monday.
Personalized Services
504-678-2725
Services include Western Union, FedEx Express, FTD Flowers, floral arrangements, dry cleaning, gift wrap, Teleflora, all brands and styles of tires, Louisiana souvenirs and Louisiana-flavor products. Please call for details.
Subway
504-398-9500
Hours are 7 a.m. to 8 p.m. Monday through Saturday and 7 a.m. to 7 p.m. Sunday.
Uniform Shop
504-678-2780
The uniform shop features military uniforms and accessories, along with a tailoring drop office. Any item not available in the store or out of stock can be ordered at the courtesy phone at the customer service department. Orders can also be placed online at www.mynavyexchange.com.
Wireless Advocate
504-684-8554
The wireless advocate offers cell phones, cell phone accessories and cell phone plans. Hours are 9 a.m. to 8 p.m. Monday through Saturday and 10 a.m. to 6 p.m. Sunday.
Navy-Marine Corps Relief Society
The Navy-Marine Corps Relief Society is a private nonprofit charitable organization that provides financial assistance and education, as well as other services, to members of the Navy and Marine Corps, active duty and retired, and their eligible family members, widows and survivors. The society's mission is to help service members, through education and assistance, become financially self-sufficient. Additionally, the society coordinates with other service branches to provide assistance to members of the Air Force and Army.
Non-Financial Programs include:
Financial counseling/education
Budgeting for Baby Workshop (gift of a Junior Seabag for attendees)
Financial programs include:
Interest free loans and grants for emergency needs
Quick Assist Loans
Disaster assistance
Education Assistance
The office is on NAS JRB New Orleans, Building 555. Hours are 9 a.m. to 2 p.m. Monday through Thursday. Assistance is provided by appointment, except requests for Emergency Travel and Quick Assist Loans.
For more information or to learn about volunteer opportunities, call the New Orleans office at 504-678-4652, or email neworleans@nmcrs.org or visit www.nmcrs.org.
Outside regular office hours, emergency requests can be made through the American Red Cross Armed Forces Service Center by calling toll free 877-272-7337. Identify yourself as a military Navy or Marine Corps service member seeking emergency assistance.
Religious Programs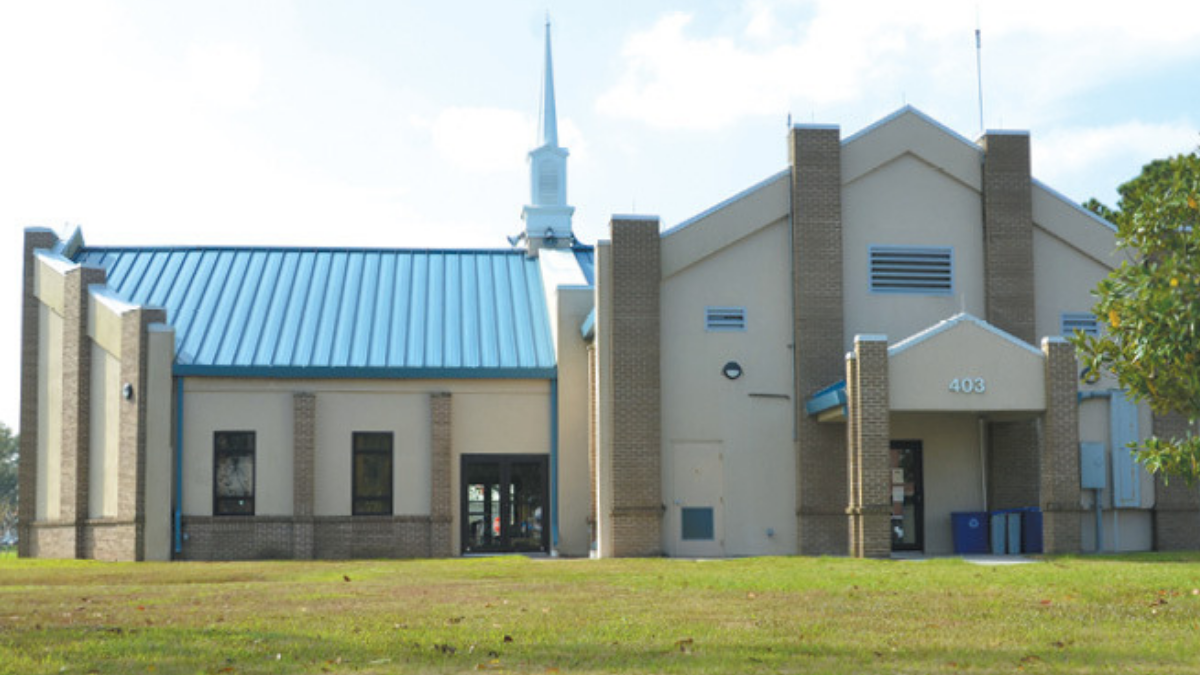 Roman Catholic Mass is celebrated at 8 a.m. Sunday in the NAS JRB Chapel followed by Catholic Religious Education at 9 a.m. Protestant Sunday School is at 10 a.m. with worship at 11 a.m.
Additionally, Catholic Mass is offered at the chapel at 11:30 a.m. Tuesday through Friday and Air Force Bible Study on Wednesday from 11:30 a.m. until 12:30 p.m. Additional services and time slots are available upon request. The chapel also hosts special services throughout the year such as Thanksgiving, Christmas, National Day of Prayer and Easter.
Relationship education, marriage enrichment retreats, family enrichment retreats, personal growth retreats, marriage workshops and SAFETALK/ASIST suicide intervention workshops are also sponsored from the chapel by CREDO. The chapel also provides or hosts other classes or workshops such as Catholic Theology, Grief and Loss, Friends of Bill 12-Step Recovery Group and CREDO marriage enrichment workshops.
The chaplain provides counseling services to all authorized users: marriage/family issues, ethics dilemmas, spiritual needs, emotional distress and more. Chaplains are also available to assist when requested with crises such as sexual assault or suicide intervention. Military chaplains have absolute confidentiality, so authorized users can feel free to share in a caring and confidential setting.
The base chapel supports community service projects throughout the year, including coordinating an annual food drive each summer, "Feds Feed Families."
Office hours at the chapel are 7:30 a.m. to noon and 1 to 4 p.m. Monday through Friday. For up-to-date information on Sunday services, week-day events and community projects or to request chaplain services, call the chapel at 504-678-3525, email NORL.N00R@navy.mil or visit us on Facebook at www.facebook.com/GoodShepherdChapel.
Servmart
The ServMart Base Supply Center at NAS JRB New Orleans offers government-purchase cardholders in the area a competitively priced option when buying procurement list items, such as office supplies, cleaning supplies and operational supplies.
The ServMart is operated by the Raleigh Lion's Clinic for the Blind (RLCB) Inc., based in Raleigh, North Carolina. RLCB is one of many nonprofit agencies associated with national Industries for the Blind, which provides products and services to federal government customers through the auspices of the AbilityOne Program, formerly known as JWOD.
The ServMart is in Building 574 at NAS JRB New Orleans and can be reached by calling 504-265-9045 or emailing bellechasse@rlcb.net. Shoppers can order online at www.rlcbofficeessentials.com.
Veterinary Clinic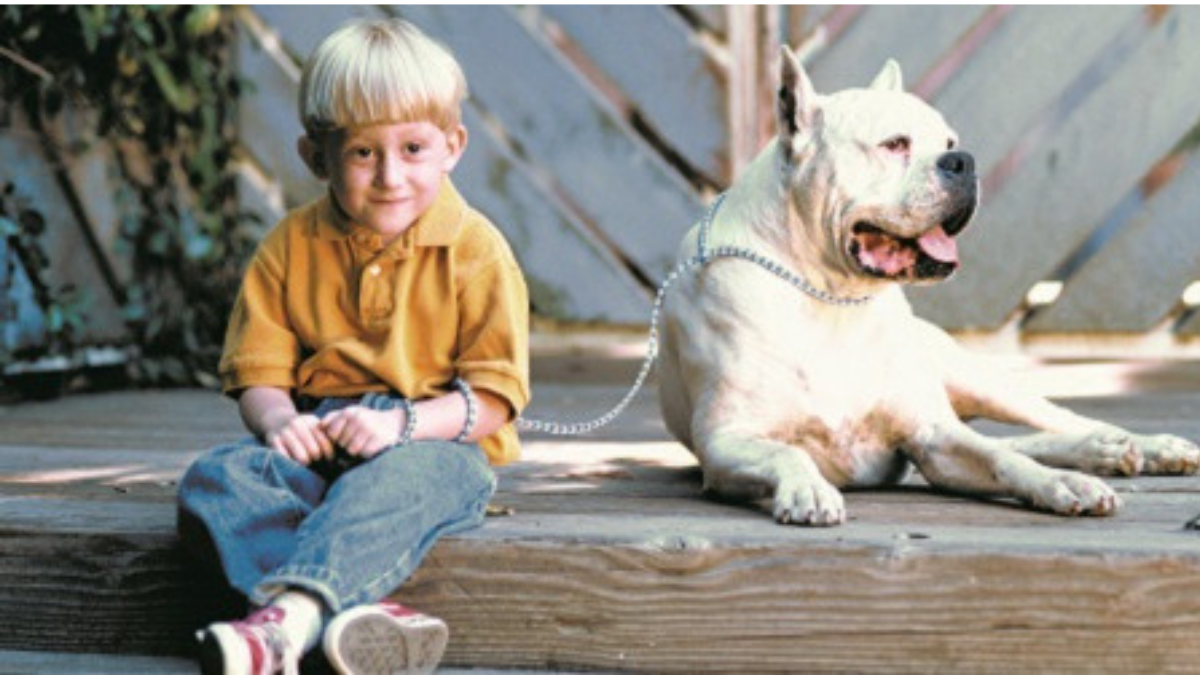 The clinic is staffed by one veterinarian and is open 8 a.m. to 4 p.m. Tuesday and Thursday by appointment only. All active-duty, Reservists, retirees and dependents are eligible to receive veterinary services for their pets. Call 504-678-4600 for more information and to set up an appointment.