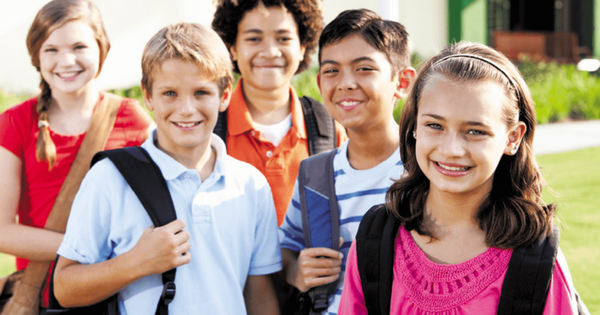 Finding the right schools and educational opportunities for each family member is an important part of any move. This chapter outlines Churchill County's public schools system, private schools, charter schools and home schooling criteria, as well as local libraries and higher education institutions. To be enrolled in a Nevada school, a child must be at least 5 years old by Sept. 30 of the school year. Those wishing to register their child in school should bring the following to the school office: a birth certificate or other proof of the child's age, and the child's previous school records and immunization records. For more details on Nevada's minimum vaccine requirements for students in grades K-12, please visit the Nevada Department of Education's website at www.doe.nv.gov. Check with the school for additional requirements.
In 2010, Nevada, along with the majority of other states, the District of Columbia, Guam, American Samoa, the Northern Mariana Islands, the U.S. Virgin Islands and the Department of Defense Education Activity, adopted Common Core State Standards that provide a consistent set of educational expectations for students regardless of ZIP code. When a family moves, a student's education is often disrupted because the student may be forced to repeat material or learn at a different level at the new school. With common standards across states, this disruption will be reduced — of particular interest to military families. At present, national Common Core State Standards exist only for English language arts and mathematics though Nevada has state standards across the full curriculum. For more information, visit www.corestandards.org.
Choosing a School
Choosing the right school is very important, so be sure to research each one before deciding. Contact the school by phone or by visiting its website, which is a valuable source to learn about a school district's statistics and curriculum. Talk to people in the area, especially friends and colleagues who already live there.
If the school shows promise, schedule a visit and bring a list of written questions about student-teacher ratios, computer availability, extracurricular activities, sports programs, music programs, gifted programs and grading standards.
Discuss the potential school with your child: what they liked and what they didn't like. Your family's ability to readily adapt to a move and to find happiness in your new home may depend, in part, on how happy your children are in their new school.
CHARTER SCHOOLS
Charter schools are public schools of choice that are tuition-free, serve all students and have open enrollment. For more information or a listing of charter schools in Nevada, visit the Nevada Department of Education's website at www.doe.nv.gov/Charter_Schools.
HOME SCHOOLING
For an introduction to home schooling in Nevada, visit the Nevada Department of Education's website at www.doe.nv.gov/Homeschooling. You will find information on home-school rules and regulations, school district home-school contact information and accredited programs.
Nevada Homeschool Network
www.nevadahomeschoolnetwork.com
The Nevada Homeschool Network advocates for home-schoolers and their families, reporting on legislative and legal matters that are relevant to the home schooling community. Their website also provides a wealth of information for home-schoolers, with links to support groups, resources and services.
Northern Nevada Home Schools
Northern Nevada Home Schools was founded to support, encourage and assist home-schoolers in the region. The group offers information and social opportunities for home-school families through a wide variety of activities and events.
PRIVATE SCHOOLS
To search for local private schools in Nevada, visit the National Center for Education Statistics website and use the private school search tool at https://tinyurl.com/ybhpwoyt. Users may search by location, religious affiliation, school type and more.
PUBLIC SCHOOLS
Churchill County School District
690 S. Maine St.
Fallon, NV 89406
775-423-5184
www.churchill.k12.nv.us
The Churchill County School District offers programs and services to approximately 3,100 students in preschool through 12th grade. Schools include one early learning center, three elementary schools, one middle school and one high school.
The district offers an Early Childhood Program for 3- and 4-year-olds and an all-day kindergarten program. Schools are equipped with STEM labs (science, technology, engineering and mathematics). The district has a comprehensive special education program and offers second language support.
Churchill County High School offers an Advanced Placement Program, the JumpStart to College program at Western Nevada College and Nevada Junior Reserve Officers Training Corps. CCHS offers a well-rounded Career and Technical Education program with 16 courses. CCHS also has an excellent fine arts program in music, theater, art and ceramics and an award-winning athletics program that includes basketball, cheerleading, football, golf, soccer, tennis, track and field, volleyball, swimming and wrestling.
UNIVERSITIES AND HIGHER EDUCATION
Churchill County offers the opportunity for continuing education. Use the following contact information to start your search for the school that is right for you.
Carrington College – Reno Campus
5580 Kietzke Lane
Reno, NV 89511
775-335-1714
http://carrington.edu
University of Nevada, Reno
1664 N. Virginia St.
Reno, NV 89557
775-784-1110
www.unr.edu
Vincennes University – NAS Fallon Campus
Building 309, 4755 Pasture Road
775-423-3932
https://my.vinu.edu/web/military/nevada
Western Nevada College – Fallon Campus
160 Campus Way
Fallon, NV 89406
775-423-7565
www.wnc.edu
LIBRARIES
The public library in Churchill County offers learning, recreation, distance education, internet connections and other resources for users — all for free. In addition, school libraries that support the curriculum and offer internet access and other resources are in most public and private schools, and academic and special libraries are found in colleges and universities. The Nevada State Library, Archives & Public Records, https://nsla.libguides.com, supports libraries in the state with resources, interlibrary loan and other assistance.
In Fallon, residents can enjoy and make use of the Churchill County Library. Get information about services, hours and events by visiting the library's website.
Churchill County Library
553 S. Maine St.
Fallon, NV 89406
775-423-7581
www.churchillcountylibrary.org