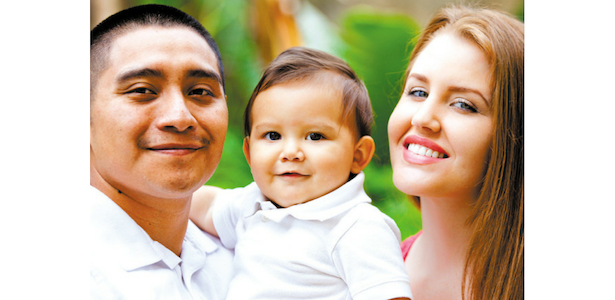 This section highlights parental resources for the many stages of childhood: infant to toddler, to kindergarten, transitioning into primary and secondary education, and finally preparation for higher education. As a military family, you have many resources available to support you and your family throughout these many stages.
CHILD CARE
Navy Child and Youth Programs (CYP) professionals are extensively trained to provide high-quality, enriching child care for our military families. To sign up or for more information about the following CYP services, visit www.militarychildcare.com.
Navy Child Development Centers (CDC) are conveniently located on base and throughout the community. CDC programs serve ages 6 weeks to 5 years.
Child Development Homes (CDH) provide care to infants, toddlers and preschool- and school-age children in the certified provider's home. Providers are subject to the same high standards for child care as the Child Development Centers.
Hourly Care is also available. Call the CYP facility nearest you for availability. Visit www.navylifesw.com for locations. For hourly care in one of our Child Development Homes, visit www.militarychildcare.com.
School Age Care serves military children from kindergarten to 12 years old before and after school. Full-day programs are offered during summer and holiday breaks.
The Navy Youth Recreation Program is a year-round recreation and sports program serving youth from kindergarten to 12th grade. Activities are designed to foster social interaction, fitness and skills development. Youth Recreation Centers are conveniently located in eight San Diego military housing areas. For details, visit www.militarychildcare.com.
Respite Child Care is a special program for children of Exceptional Family Member Program families. For more information, call 619-553-8280.
YMCA Child Care Resources
Call 800-481-2151 or visit www.crs.ymca.org for income-sensitive programs.
Head Start
Call 888-873-5145 for more information on income-sensitive programs for ages 0-5 years.
Child Care Subsidies
Reduced rates or subsidies are available to those who qualify. Call 800-793-0324, ext. 341 or visit www.usa.childcareaware.org for more information.
Give Parents a Break Program (GPAB)
The GPAB program is designated for families experiencing stress due to a deployment, a sponsor's TDY status, recent transfer, family illness, caring for a child with special needs or other unique circumstances. These families are eligible for up to 16 hours of free hourly child care each month for child(ren) of identified families, depending on space availability. Navy Child and Youth Programs (CYP) understands the challenges and stress military families may experience and supports families by meeting these unique child care needs. The installation CYP will accept a completed certificate for eligibility of child care (certificates are available at your local CYP facility). Referrals may only be made by commanding officers, executive officers, command master chiefs, medical doctors, Fleet & Family Service Program (FFSP) personnel, chaplains and installation CYP directors. Children must be eligible for CYP enrollment in order to receive this service. A staff member from CYP will meet with the family to complete the registration process and provide availability of center care or identify potential care providers. This program is not a substitute for regularly scheduled child care and may be used at the discretion of the parent at a minimum of two-hour increments. To learn more about the GPAB program, please contact your local CYP facility director.
BASIC MEDICAL INFORMATION
Insurance
See Healthcare for TRICARE/Health Net coverage information.
Naval Medical Center San Diego, Pediatric Department offers health education support to local families. Please visit the NMCSD website for the most
up-to-date information: www.med.navy.mil/sites/nmcsd.
NEW PARENT SUPPORT
Navy New Parent Support is designed to help you with your transition into parenthood. New Parent Support staff will help inform you about pregnancy, childbirth and the postpartum phase, as well as teach child growth and development and parenting skills. Please contact New Parent Support at 619-791-6195.
The Budget for Baby Program offered through the Navy-Marine Corps Relief Society is operated entirely by volunteers. This program is designed to serve new or prospective parents who want to learn about the effect a new baby can have on the financial situation of the family. Clients learn about variations in pay and increased expenses, common consumer pressures targeted to new parents and entitlements available through both government and private sources.
A Layette, "Baby's First Sea Bag," is given to any eligible recipient who attends a Budget for Baby workshop or receives individual counseling. It consists of a coordinated set of bedding and clothing, a baby book and a handmade gift from a society volunteer, packed in an environmentally sensitive tote. To receive a layette, eligible clients should contact the Navy-Marine Corps Relief Society to register for our Budget for Baby class or make an appointment to see a caseworker. Visit their website at www.nmcrs.org.
First 5 San Diego provides parents with a no-cost Kit for New Parents filled with resources and information about pregnancy and early childhood. The kit comes with a baby book, a DVD with advice for new parents, a guidebook about the first five years of development and more.
To order your free kit, call 888-5FIRST5 (534-7785). For more information about First 5 San Diego, visit www.first5sandiego.org.
TODDLER RESOURCES
Playgroups offer both young children and their parents the opportunity to enjoy playtime with other children and meet other parents. These playgroups are offered at several housing locations through SAY San Diego, a community agency. Through a program called Healthy Start Military Family Resource Center, military families have access to these playgroups and many more resources. For more information regarding Healthy Start, call 858-496-0044.