Navy Exchange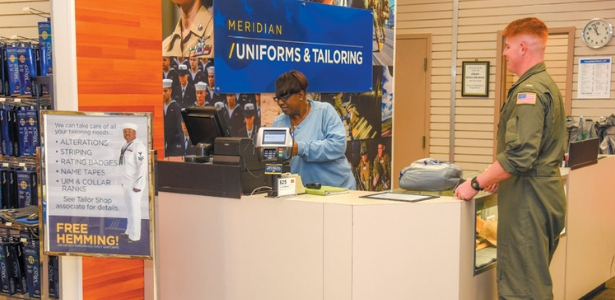 The Navy Exchange is centrally located near both accompanied and unaccompanied personnel quarters.
The main exchange store offers a wide array of merchandise to include: uniforms, clothing, shoes, luggage, domestics and appliances. Other services available include a beauty salon, a barbershop, laundry and dry cleaning, a tailor shop, Western Union and FedEx services.
The Navy Exchange Mini Mart offers a variety of beverages, food items, pet supplies, sporting goods and electronics including cellphone service. The mini mart also houses the package store. Phone: 601-679-2665.
The exchange gas station is in Building 228. Self-service pumps are open 24/7.
Crews Corner is a small retail store in the NTTC complex. A snack bar and barbershop are in the Training Air Wing 1 hangar.
Naval Branch Health Clinic Meridian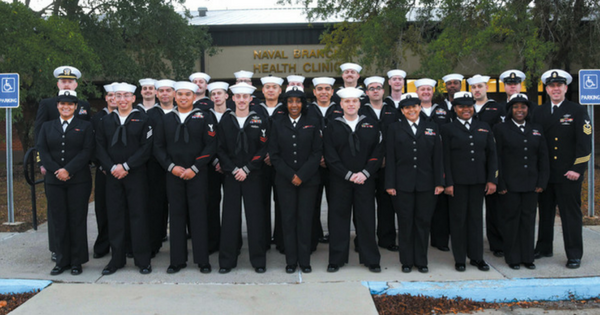 Naval Branch Health Clinic Meridian is part of the Naval Hospital Pensacola, Florida, branch health system and is fully accredited by the Joint Commission (National Hospital and Health Care Facility Accrediting Organization). The clinic offers a limited number of services, which are listed in this chapter. Hours of operation are 7 a.m. to 4 p.m. Monday through Friday. The clinic is closed weekends and holidays.
Appointments
Appointments for all departments are made by calling the numbers listed for each individual department. No open sick call is conducted. All patients are seen by appointment.
Med Home (Primary Care)
There are two appointment types that you can schedule. A same-day appointment is just that — you call in and we make every effort to see you within 24 hours. These appointments are intended for urgent needs that can be addressed here in the clinic so that you don't have to spend your valuable time waiting in an emergency room. Though intended for urgent needs, they may be used for routine care. You can also book a future appointment. These appointments are for chronic concerns, health maintenance exams or any other type of follow-up visit.
If you receive medical care from an emergency room or if you are admitted to a civilian hospital, we need you to contact the clinic at 601-679-2210 within 24 hours (or the next working day) and make a follow-up appointment with your primary care manager. Please bring with you any discharge paperwork and medication lists the civilian hospital provides you.
Nursing Advice
There may be times when you have a health question that may not require an appointment. We encourage you to call and ask to discuss these with the team. He or she will consult with your provider as necessary. Our policy is to return your call within a maximum of 72 business hours. For help with urgent care questions after hours, you may call the Nurse Advice Line at 800-874-2273 (option 1) to speak to a nurse for medical advice.
Relay Health (Online Health Care)
NBHC Meridian is online at RelayHealth. Now, you can do a number of exciting things online, such as: communicate securely with a registered nurse, request your next appointment, request medication refills, receive your test and lab results or maintain your own Personal Health Record. Keep in mind that the response time for messages is one business day, but additional time may be necessary for a full resolution of your issue. If you would like more information, visit www.relayhealth.com or ask the front desk staff for assistance in how to sign up.
TRICARE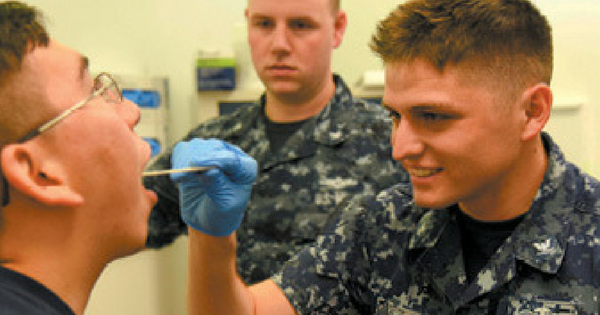 Active-duty personnel stationed in Meridian must complete a check-in at Medical Records. Prime enrollment for all other TRICARE-eligible beneficiaries and general TRICARE information is available by calling 800-444-5445 or via the web at www.humanamilitary.com. TRICARE Prime patients must obtain a referral from their PCM prior to services to see anyone other than their PCM.
Authorized persons should present their military ID for services. If you have a medical emergency that does not allow time to get a prior authorization, seek medical care immediately and get authorization from your PCM within 24 to 48 hours. TRICARE Select patients should present their military ID card for direct billing to TRICARE for office visits and outpatient services, with the exception of services that require "prior authorization," such as cosmetic surgery, non-emergent inpatient admission, etc. These will require prior authorization from your provider. If your provider has questions or is unsure if services provided need prior authorization for a TRICARE Select beneficiary, please have them access the provider website to verify authorization requirements. A beneficiary may be asked to pay a percentage prior to receiving care. Active-duty service members who are directed to a local medical facility should present their military ID card as an insurance card.
In the event healthcare is needed after normal clinic hours, TRICARE beneficiaries in the Meridian area have several options to choose from.
TRICARE also provides access to a nurse 24/7 through the Nurse Advise Line. TRICARE beneficiaries can call the NAL at 800-874-2273, option 1, to speak with a registered nurse who is available to answer a variety of healthcare questions. The nurse can assist with deciding if a visit to an Emergency Room or after-hours clinic (for non-emergent visits) is necessary, or if an appointment with your Primary Care Manager would be more appropriate. Additionally, the NAL nurse can schedule appointments with your PCM at NBHC Meridian.
Remember to follow up with NBHC Meridian the following work day to make sure a referral was placed for any afterhours visits to avoid being charged for the visit. A list of the available after hours clinics are as follows:
Family Medical Clinic
1500 Highway 19 N
Meridian, MS 39307
Phone: 601-483-5353
Hours: 7:30 a.m. to 6:30 p.m. Monday through Friday
Adults any age; walk-ins welcome
Immediate Care Family Clinic
1710 14th St.
Meridian, MS 39301
Phone: 601-703-1485
Hours: 8 a.m. to 8 p.m. Monday through Sunday
Walk-ins; ages 2 and up
Family Medical Clinic Pediatrics
1500 Highway 19 N
Meridian, MS 39307
Phone: 601-696-3232
Hours: 8 a.m. to 4:30 p.m. Monday through Thursday and 8 a.m. to noon Friday
6 months and older; call for appointment
No walk-ins accepted
Central Mississippi Family Health Clinic
905C S. Frontage Road
Meridian, MS 39307
Phone: 601-486-4210
Hours: 8 a.m. to 6 p.m. Monday through Friday
Walk-ins accepted; any age
Family Practice Department
Rush Medical Group
1800 12th St.
Meridian, MS 39301
Phone: 601-703-9265
Hours: 8 a.m. to 5 p.m. Monday through
Thursday; 8 a.m. to noon Friday; walk-in only
Walk-ins must be before 3:30 p.m. 18 years and older
Some age restrictions according to provider on staff; therefore, please call first for age specifics.
Urgent Care Centers
Neshoba Urgent Care Clinic
Distance: 63 miles
1120 Main St.
Philadelphia, MS 39350
Phone: 601-656-1465
Hours: 8 a.m. to 7:45 p.m. Monday through Friday, 8 a.m. to 5:45 p.m. Saturday and 10 a.m. to 4:45 p.m. Sunday
Dental Services
The Dental Department, a modern facility within the Naval Branch Health Clinic, provides exams, oral diagnoses and restorative dentistry for active-duty military personnel.
Dental treatment for family members of active-duty military personnel is limited to overseas screenings and emergency care, on a space-available basis only. Family members of active-duty personnel are highly encouraged to enroll in the Family Member Dental Plan. Active-duty personnel may report to the Dental Department 7 to 8:45 a.m. Monday through Friday. The dental clinic does not operate on weekends or holidays. Appointments for routine care can be made by calling 601-679-2383.
Emergency Services
All medical emergencies that happen on board NAS Meridian will result in the patient's immediate transport to a local emergency room in Meridian. A medical emergency is defined as "a sudden medical condition endangering life, limb or eyesight." For off-base and civilian ambulance services, call 911 from any telephone with off-base access.
Clinic Services
Acute Care Clinic
The ACC is not an emergency room. The primary responsibility of the ACC is the care and treatment of urgent medical needs, regardless of beneficiary status. An urgent medical need refers to a medical condition that although it is not life-threatening, it is serious enough that any delay in treatment could result in a medical emergency.
Laboratory and Radiology
Most basic diagnostic laboratory tests and radiographic examinations ordered by military physicians can be performed in the branch health clinic. If you wish to request your recent lab or X-ray results, please call our front desk at 601-679-2210 and the receptionist will leave a message for your PCM. You may also access your results by registering at www.RelayHealth.com or www.TRICAREonline.com. Please allow one week for processing.
Medical Records
A medical record is maintained on each eligible member of the Military Health System and may not be altered, added to or disposed of, except by government employees in the course of their duties. Outpatient records are the property of the federal government, and as such, will be maintained at the responsible military treatment facility assigned to the sponsor's unit.
Medical records maintained by a branch health clinic will not be kept in the possession of the patient. It is extremely important to observe this requirement as critical medical information may not otherwise make it to the medical record. This can severely impact the health care plan determined by the medical provider and delay medical treatment. Personnel having an appointment at another medical facility are encouraged to obtain their record on the working day prior to the appointment. Records must be returned promptly after the appointment.
If you wish to request a copy of your outpatient medical record, call the Medical Records Department at 601-679-2205. For active-duty members who are separating or retiring from military service, allow at least two weeks from your date of request before you come to the clinic to pick up your copies.
Mental Health
The psychologist at NBHC Meridian is specifically trained in the behavioral management of health problems as part of the Medical Home Port. The psychologist offers assistance when habits, behaviors, stress, worry or emotional concerns about physical or other life problems are interfering with someone's daily life or overall health. You can either self-refer or see your PCM for assistance.
Obstetrics and Gynecology Care
PAP smears, birth control counseling and routine pelvic examinations are conducted on an appointment basis. Pregnancy testing is part of our routine laboratory service. Appointments may be arranged by calling 601-679-2210.
Uncomplicated pregnancies will be referred to local OB-GYN clinics. Once care is established with a provider, the OB provider will care for all needs throughout pregnancy and until released post-partum; once released from their care you will return to the branch health clinic for your primary care needs.
Optometry
The Optometry Department is a specialty service primarily for active-duty and TRICARE Prime patients; however, there is space available for other beneficiaries. The clinic provides full-scope optometric care. Appointments may be arranged by calling 877-879-1621.
Pharmacy
The pharmacy accepts written prescriptions for medications listed on our formulary. Most non-controlled, chronic medications may be dispensed for up to a 90-day supply with three refills. Some exceptions do apply. Limitations are placed on the dispensing of controlled and narcotic medications.
All refills are processed by the pharmacy at Naval Hospital Pensacola, Florida. Refills may be requested by calling toll free 888-513-4164 to connect to the automated refill system at Naval Hospital Pensacola. If you experience any issues, please call the health clinic pharmacy at 601-679-2243.
Refills are processed in five working days and shipped via FedEx to the branch health clinic. Refills are held up to 10 days before being returned to stock.
Pharmacy hours are 7 a.m. to 4 p.m. Monday through Friday. All written prescriptions submitted after 11:30 a.m. Friday will be ready for pick-up the following Monday. Pharmacy wait times are extremely sensitive and are determined by the number of prescriptions presented from both civilian and military providers.
Pharmacies (TRICARE Network Approved)
Wal-Mart (Bonita Lakes) 601-485-2218
Wal-Mart (Highway 19) 601-482-3170
Winn-Dixie (Highway 39) 601-485-0808
CVS (North Hills Street) 601-482-3141
Immunizations
Immunizations are provided on a walk-in basis 7 a.m. to 3 p.m. Monday through Friday. Call 601-679-2232 for additional information.
Other Services

CHAPEL AND RELIGIOUS MINISTRIES

The NAS Chapel, in Building 211 on Fuller Road, was dedicated Oct. 20, 1963, and is on the National Register of Historic Buildings. The sanctuary seats 230 and recently had a new roof installed and major interior renovations completed. It is the center of the Command Religious program and houses the offices of the Religious Ministry Team. The chapel is open during office hours Monday through Friday for prayer and meditation, and the chaplain is available by appointment for counseling.
As of this printing, NAS Meridian has one nondenominational Protestant chaplain. Protestant worship is at 11 a.m. on Sunday. We warmly invite you to join the other families, Sailors and Marines in worship. We are always looking for additional volunteers to lead and teach Sunday school, assist with child care, or share musical and vocal talent at Mass or in Christian worship. Occasionally, the RMT will conduct additional classes, faith-based studies or workshops. The topics range from ethics to marriage enrichment to financial stewardship to Bible study. Please call the chapel office to see what is currently on the schedule.
The chapel hosts several private and public functions such as weddings, baptisms, winging ceremonies, memorial services and retirements. All requests for use of the chapel facilities must be scheduled through the chapel office and must be requested at least one month in advance. Please keep in mind that approval to use chapel facilities in no way implies the endorsement of, nor guarantees the professional services or involvement of the chaplain. Sacraments requested (weddings, baptisms, etc.) require prior consultation with the chaplain and will be conducted according to the tenets of the chaplain's faith group. These types of events will not be scheduled or conducted on short notice, so plan ahead. Chapel services, programs and counseling are available and open to all military personnel, retirees and their dependents, regardless of faith, gender, nationality, sexual orientation, race or creed.
For more information, please visit or call the chapel office at 601-679-3635. In emergencies or after normal working hours, the chaplain can be reached via the command duty officer or station security.
COMMISSARY
The commissary, across the street from the Navy Exchange complex, strives to provide armed forces service members, retirees and their families an outstanding assortment of high-quality groceries and household supplies at a significantly greater savings than commercial counterparts.
On average, you can save more than 30 percent on your grocery bill, which translates to more than $4,400 a year for a family of four. Other special benefits include the freshest meat products cut to order and fresh produce products from around the country.
The commissary supports NAS Meridian activities and outreach programs when possible. All this is part of the benefit our customers have earned. Commissaries throughout the world sell name-brand, high-quality groceries that are sold at cost with a small surcharge, which is used for facility construction, upgrades, repairs and new equipment worldwide.
Hours of operation are 10 a.m. to 6 p.m. Tuesday through Friday and 9 a.m. to 6 p.m. Saturday. It is closed Sunday and Monday. Phone: 601-679-2554.
The commissary is here to serve you, the best customers in the world! Come take advantage of the savings. "The Commissary — It's Worth the Trip!"
FLEET AND FAMILY SUPPORT CENTER
Fleet and Family Support Programs support individual and family readiness through a full array of programs and resources that help Navy families to be resilient, well-informed and adaptable to the Navy environment.
The NAS Meridian FFSC has been in operation since 1985. It has been fully accredited in all functions at four-year intervals, most recently in 2017. This means the FFSC meets or exceeds all quality standards established by the Navy for Fleet and Family Support Programs.
FFSC programs include:
Transition Support (TAP GPS) — Transition support to ensure Sailors and their families are prepared for civilian life. TAP GPS provides extensive tools, education and support needed for a successful transition from military service to the civilian community.
Family Employment Readiness Program — Help for family members to make career decisions and develop employment search skills through education, information and referral, giving family members the competitive edge in finding employment in the local area.
Personal Financial Management — Financial education, training, counseling and budgeting assistance that emphasize long-term financial responsibility.
Professional Counseling — Licensed counselors provide short-term individual, couples, family, child and group counseling to address problems in living.
Family Advocacy Program — Prevention, identification, treatment, follow-up and reporting of spouse and child abuse and neglect geared toward victim safety and protection, offender accountability and rehabilitation.
Crisis Response — Assistance to reduce tension and anxiety, help solve problems and develop plans during natural disasters, mass casualties, mobilization and repatriation.
Sexual Assault Prevention and Response Program — Provision of support and resources necessary for recovery after a sexual assault.
Life Skills Education — Provision of solution-oriented programs to develop knowledge and social skills to enhance self-esteem and interpersonal relations. Programs include, for example, parenting skills workshops, anger management, stress management, communication skills and conflict management.
Relocation Assistance Program — Assistance includes a range of services: How to deal with movers, information about travel pay and allowances, information about overseas move (passport and visa requirements, etc.) and details about the new homeport.
Information and Referral — FFSC maintains a database of base and community educational, life-enhancing and therapeutic resources and other local area resources and makes referrals to appropriate military and civilian agencies.
Ombudsman Support — FFSC trains Ombudsmen, attends and coordinates quarterly Ombudsmen assemblies and offers support to command Ombudsmen.
CAREER INFORMATION CENTER
The Career Information Center is in Administration Building 255, Room 201, and offers a variety of services for active-duty military, retirees and their dependents.
Information is available on continuing educational opportunities with SOCNAV, SOCMAR and Navy College Distance Learning Partnership schools. Assistance is also provided with scheduling CLEP, ACT, SAT, GRE and ASVAB examinations and participating in the United States Military Apprenticeship Program.
Information and counseling on Navy Career programs is available for active-duty staff members assigned to NAS Meridian and tenant commands.
The office is open 8 a.m. to 4 p.m. Monday through Friday. For more information, call 601-679-2588.
Community College Office
The Community College Office is in the arcade of Administration Building 255, Room 151, and is staffed by a representative from Meridian Community College (MCC) on Wednesdays only. For more information on programs call 601-679-3570 on Wednesday or the Military/Veterans Services Coordinator at any other time at 601-553-3468 at MCC. The college representative offers guidance to all military, their dependents and civilians on board NAS Meridian who are interested in pursuing a college degree. For information about classes at Mississippi State University-Meridian Campus call 601-484-0153/0170.
NAVY-MARINE CORPS RELIEF SOCIETY
The Navy-Marine Corps Relief Society (NMCRS) is a private, nonprofit military service organization whose mission is to provide financial, educational and other assistance to active-duty and retired Navy and Marine Corps personnel and their eligible family members and survivors. Programs and services are provided by a trained staff of volunteers. Navy-Marine Corps Relief Society Meridian provides the following programs:
Budget counseling and financial education.
Quarterly budget for baby workshop.
Resource referral.
Volunteer opportunities.

Interest-free loans and grants are provided for: emergency leave travel, basic living expenses, medical and dental copays, funeral expenses, vehicle repairs, verified pay problems and other areas of need as outlined in the society's policies.
The Navy-Marine Corps Relief Society Meridian office is in Administration Building 255, Room 283. Office hours are 8:30 a.m. to 1 p.m. Tuesday and Thursday.
Clients can be seen on a walk-in basis during office hours when a caseworker is available or by scheduled appointment. Call 601-679-2504 for appointments and information on programs and volunteer opportunities.
Emergency Travel Assistance can be requested outside of normal office hours by calling the on-call active-duty caseworker at 601-604-2206.
NAVY FEDERAL CREDIT UNION
Navy Federal Credit Union is a full-service financial institution that offers products such as savings, checking, certificates, loans and mortgages with the convenience of online banking, mobile banking and web bill pay. The NAS Meridian branch is in the arcade of Administration Building 255. Hours are 8:30 a.m. to 4:30 p.m. Monday through Friday. An NFCU ATM is at the Navy Exchange store on the base. Phone: 888-842-6328.
CEREMONIAL DETAIL TEAM
The Ceremonial Detail Team participates in an average of 100 events a year, which include military pallbearers and funerals, parades, ceremonies and community events. The team travels to 29 counties in Mississippi and four counties in Alabama to honor pallbearer and funeral requests. Requests for military funeral honors are done through the funeral home. All other requests are done through the Public Affairs office at 601-679-2602.