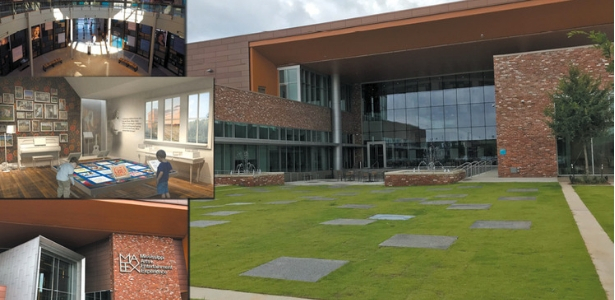 Meridian, which lies 15 miles southwest of the naval air station, is a progressive and rapidly growing city. When pressed for a one-word description of the city, natives and visitors alike would probably choose "friendly." Others describe Meridian as "beautiful," "accessible" and "a good place to raise a family."
Centrally located in the Southeast, Meridian is 155 miles southwest of Birmingham, Alabama; 90 miles east of Jackson, Mississippi; 247 miles northeast of New Orleans; and 180 miles north of Pensacola, Florida. Airline, bus and train services are available. Modern highways crisscross the rolling countryside, leading to major surrounding cities and numerous recreation and historical sites.
Many industries have chosen the area as home because of the strategic location for transportation purposes and excellent local labor force. Major categories of manufacturing are wood, metal fabrication, electronic equipment, aircraft parts, insulation board, furniture, paper and print products.
The city of Meridian is home for more than 40,000 people, and Lauderdale County totals almost 80,000. Many homes are located on rolling terrain, graced by native pines and hardwoods. There are a variety of local housing choices with reasonable rental rates and purchase prices. Numerous hotels serve the many visitors and newcomers.
The Meridian Public School District is the 12th largest in the state of Mississippi. MPS serves more than 6,000 students in grades K-12. The Lauderdale County School District provides educational opportunities for approximately 6,500 students. The Meridian area is also served by several private, parochial and Christian schools.
Opportunities in higher education are offered on the Meridian Community College campus. The fully accredited college offers both day and night courses. MCC also now offers a unique Workforce Development program for individuals seeking various trade skills. In addition, junior, senior and graduate-level courses enabling students to complete requirements for undergraduate and graduate degrees are offered at Mississippi State University which has two non-residential campuses in Meridian. MSU-Meridian's College Park Campus is across the street from Meridian Community College and houses the Arts and Sciences and Education divisions. The Riley Campus in downtown Meridian consists of the MSU Riley Center, the Deen Building, which houses the Business division, and the Rosenbaum Building, where the university's kinesiology program is located.
With two general care hospitals serving the area, Meridian is a medical center for all of eastern Mississippi and western Alabama. There also is a mental health clinic, a hearing and speech clinic, and a state mental hospital.
There are over 200 churches representing 40 denominations in the city.
Lauderdale County and the surrounding area are served by a daily newspaper, The Meridian Star, and several weekly community papers. There is also an area social magazine, Meridian Home & Style, which comes out bimonthly and showcases various events and citizens from the area. Cable television facilities are available, and there are numerous local radio and TV stations. United Artist Theater at Bonita Lakes Mall provides first-run feature films on numerous screens with state-of-the-art sound.
Meridian serves as the headquarters for the Mississippi Council of the Navy League. The organization provides support to active duty personnel and their families serving in the sea services of the United States at installations around Mississippi and provides scholarship support to Naval Reserve Officers Training Corps students at The University of Mississippi, and deserving dependents of enlisted (active duty or retired) personnel or NROTC students. More information can be found at www.msnavyleague.org.
They also present the annual "Flight Instructor of the Year" and "Military Citizen of the Year" awards. The "Golden Stick" award, sponsored by the Mississippi Council of the Navy League and local businesses and individuals, is presented to the top student naval aviator in each winging class.
The local entertainment and art scene offers exceptional opportunities not often found in a town of Meridian's size. The Mississippi Arts + Entertainment Experience — known as The MAX — showcases Mississippi's global legacy in every area of the arts, honors Mississippi's legends in arts and entertainment and inspires tomorrow's artists through exhibitions, performances, classes and events. The MAX is at 2155 Front St. in downtown Meridian. Hours are 9 a.m. to 5 p.m. Tuesday through Saturday and 11 a.m. to 5 p.m. Sunday. Call 601-581-1550 for more information.
First opened in 1890, The Grand Opera House of Mississippi was the most spectacular stage of its time in the South, and the theater has been restored by Mississippi State University to its original beauty. Now named the MSU Riley Center for Education and Performing Arts, it is part of MSU-Meridian's Riley Campus in the heart of downtown. The multi-faceted center attracts 70,000-plus visitors to downtown annually for conferences, meetings and performances throughout the year including various musical artists, dance performances and plays.
The Meridian Little Theatre presents four plays each season. Many military personnel have appeared onstage or worked behind the scenes; newcomers are always welcome.
Local musicians and singers combine their talents to form the 65-piece Meridian Symphony Orchestra and the Meridian Symphony Chorus. The Meridian Art Museum is open year-round and features local and area artists.
Amusements and tourist attractions in the area cater to both the young and the young at heart. Annually, Meridian hosts the State Games of Mississippi, which brings almost 5,000 amateur athletes to town for the Olympic-style competition.
Highland Park, home of one of only two working Dentzel carousels built in the 1890s, is the location of the Jimmie Rodgers' Museum, honoring the famed "Singing Brakeman" of the 1920s, often referred to as "the father of country music."
Lauderdale County is home to several historic trail markers. They include The Civil Right Trail: The Civil Rights Era was a time of activism that changed America forever. This movement toward voting rights, educational and employment opportunities, and racial equality encountered resistance and often violence. Although the dark days of this period continue to define Mississippians to the rest of the world, Freedom Summer workers remember Mississippi as a catalyst for change.
The Civil War Trail: For many years residents of Meridian, Mississippi, regarded Valentine's Day not as an occasion for hearts and flowers, but as the anniversary of the day they lost everything. On Feb. 14, 1864, General William T. Sherman and a Union force of 20,000 entered Meridian, intent on destroying it. Its position at the junction of two railroads made Meridian a key link in an important Confederate supply line and a tempting target for Sherman's wrath.
Musical Legacy Trail: We know music. It's in our blood, it's in our bones. It's why the very first trail marker along the Mississippi Country Music Trail was unveiled here, in honor of the Father of Country Music, Jimmie Rodgers. It's why we're also home to a number of markers on the Mississippi Blues Trail, and it's why Meridian means live music all the time and legendary musicians everywhere you look. Information can be found at http://www.visitmeridian.com/index.cfm/historic-trail-markers.
The Sam Dale Memorial Park and monument, in Daleville, was built to honor the famous historic Indian fighter.
The surrounding area is steeped in history. Civil War battlefields and other sites can be visited easily in a day. The Vicksburg National Military Park is 120 miles west of Meridian, and the Shiloh National Military Park lies about 200 miles to the north. Other nearby places of interest to Civil War buffs include Jefferson Davis' home, Selma, Mobile Bay and several Confederate cemeteries.
The Natchez Trace National Parkway was once an Indian path, then a wilderness road, between Natchez, Mississippi, and Nashville, Tennessee. From 1800 to 1830, it became a highway binding the old Southwest to the Union. The Natchez Trace was a vital factor in the growth of the Southeast and our nation.
Thanks to its hospitable climate, Mississippi is one of America's great "outdoor" states. Near Meridian, there are some 4,000 acres in the upper reaches of the Lake Okatibbee reservoir area that are licensed to the Mississippi Fish and Game Commission as a game management area for public hunting. Okatibbee also provides fantastic fishing opportunities and is a boaters' paradise. Swimming, fishing, picnicking, camping — there is nearly something for everyone at Lake Okatibbee.
Beautiful Dunn's Falls, along the Chunky River 11 miles south of Meridian, is open Wednesday through Sunday. It features a 65-foot waterfall, a swimming area, trails and a gristmill. It is a great place for a picnic.
The mild temperature is reflected in the numerous open-air events held throughout the year, which are enjoyed by residents and visitors alike. A few of these include: the Ralph Morgan Rodeo each April and August in Lauderdale; the Jimmie Rodgers' Music Festival each May in Meridian; the 59Twenty Music Festival held every spring; Juneteenth, held on a "teenth" Saturday in June in Meridian; the Meridian Mardi Gras and Parade held two weekends before Mardi Gras in Meridian; the Threefoot Art Festival in April in Meridian; the Choctaw Indian Fair, a thrilling taste of American Indian life, held in July on the Pearl River Reservation near Philadelphia, Mississippi; and "The World's Largest House Party," the Neshoba County Fair, also held in July in Philadelphia, Mississippi. The arts and crafts fair, held in May and October in Canton, Mississippi, is another event you won't want to miss.
The East Mississippi Business Development Corp., the local chamber and economic development office, provides information to newcomers as well as demographic information to prospective businesses to our area. For more information, contact the EMBDC at 601-693-1306.
For visitor information, the Lauderdale County Tourism Bureau may be reached at 888-868-7720.
Familiar, nostalgic, historic, unusual, relaxing or exciting — it's all right here in Mississippi, and it's yours for the asking all year 'round. As you can see, Meridian has much to offer, but to sum up the atmosphere in one word, it's definitely "friendly."